Frank Campanale: E.F. Hutton was a whole generation ago.
Brooke's Note: We won't say this comes as a big surprise. Why hang your hat on E.F. Hutton when there's Lebenthal Holdings to be had? The risk of using an old brand is that it'll seem … old. And getting it going is very much a start-up effort. So perhaps Mr. Campanale has made the best investment decision of his career here.
When Frank Campanale announced his plan to revive the E.F. Hutton brand as a boutique investment advisory firm back in the spring of 2012, there was considerable anticipation on the part of RIA industry observers eager to see the contours of the ambitious effort by talented veterans take shape. See: Frank Campanale's E.F. Hutton reboot starts to take shape as ex-Hutton executives sign on.
The specifics of the business model were never nailed down, however, and after the first rush of excitement and the naming of high-profile E.F. Hutton alumni executives to the board of directors, little was heard. See: How Frank Campanale's E.F. Hutton resurrection, a TD management hire and upbeat advisors electrified IMCA's annual conference.
(Re)Introducing
Now Campanale — who was looking to recapture some of the magic he brought to Smith Barney as a godfather of its then-killer wrap program — has embarked on a new road with more throwback faces.
Yesterday, Lebenthal Holdings LLC announced the expansion of its wealth management arm under a triumvirate of Wall Street veterans.
Campanale — who says he is still an investor in the E.F. Hutton brand that will be launched sometime soon — is now the chairman and chief executive of Lebenthal Wealth Advisors LLC; Andrew Grillo, a former regional director of Smith Barney, will assume the role of president; and Jeffrey Lane, 71, former chief executive of Bear Stearns Asset Management, is chairman of the board of Lebenthal Holdings LLC.
They will serve under Alexandra Lebenthal, president and CEO of Lebenthal Holdings and Lebenthal & Co. LLC, an investment bank that specializes in tax-free municipal bonds and was founded in 1925 by her grandparents. See: Why the slow-evolving metro New York area is still on course to be the capital of the RIA business.
Where everybody knows your name
Lebenthal Wealth Advisors currently has $500 million in assets under management, but that amount will climb rapidly under the new management of the expanded operation, according to Campanale, as the new team works to entice free-standing RIAs and wirehouse teams to the office of supervisory jurisdiction, with the lure of a corporate RIA, a national broker-dealer and a nationally known name. See: With big LPL backing, the Robertson Stephens brand revives to roll up advisors to the suddenly wealthy.
"Lebenthal is a well known and highly regarded brand," says Campanale, who notes that no matter how successful an RIA or a newly independent wirehouse team may be, "nobody knows them outside their own community." When an advisor team joins Lebenthal, they will take on the Lebenthal brand name. See: Big Midwestern RIA buys itself a national presence in deal with CBIZ.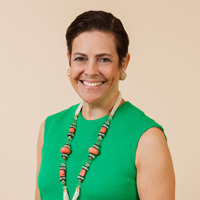 Alexandra Lebenthal: Sometimes you get engaged
and find your true love was
somewhere else.
That brand name was reacquired in 2007 by Alexandra Lebenthal and her father, James, who had sold the firm and brand in 2001.
While declining to divulge how many firms are in the pipeline, Campanale says the number is significant and that announcements naming the firms will be released in the coming weeks.
He did share his overview of the end-clients Lebenthal Wealth Advisors will be serving and the services the firm aims to provide.
"E.F. Hutton was a whole generation ago. Now baby boomers are in same place as the Greatest Generation was in the '70s but they are now living longer. The term 'wealth management' is overused and not delivered upon both sides of client delivery. We will give advisors the tools and technology so they can really do it." See: Why exactly Dave Loeper and a Smith Barney/E.F Hutton legend are teaming up.
True love elsewhere
Campanale affirmed that the next-generation E.F. Hutton still exists and will see the light of day as a "a business that will launch in Canada." He says that he's still an "investor in the brand." Other than that, Campanale declined to elaborate or to draw any thematic comparisons between it and Lebenthal Wealth Advisors' game plan.
But Alexandra Lebenthal has a take on Campanale's shift in focus.
"Sometimes you get engaged and find your true love was somewhere else," she says. "We found we all wanted the same culture, and we had a common bond with Jeff."
The glue
The launch of the expanded Lebenthal Wealth Advisors was the result of the coming together — just in the last few months according to the principals — of philosophically aligned veterans with industry interconnections, and brought together by one central figure: Jeffrey Lane.

Andrew Grillo: If they're taking home
55%, they'll take home at least
that now and probably more.
In addition to running Bear Stearns Asset Management, Lane has served as chairman and CEO of Neuberger Berman Inc., and a vice chairman of Lehman Brothers Holdings Inc. Previously he was with Travelers Group as vice chairman. Before assuming those responsibilities he had been vice chairman of the company's Smith Barney subsidiary, responsible for the asset management, mutual funds, international, futures and commodities divisions.
"I had worked with Jeff Lane," says Campanale. "When I met with him and Alexandra, we recognized we were on the same page."
Lebanthal agrees: "Jeff was the glue that held us together." She has known Lane for years; he had once tried to hire her away from the family firm. "When he connected me with Frank and then threw himself into the mix, it worked right away."
Andrew Grillo was the last piece of the puzzle. He and Campanale worked together at Smith Barney, and Grillo consulted on the latest E.F. Hutton effort. See: Why Smith Barney is now the most target-rich environment for recruiters of breakaways.
"He was one of the first people I called on," says Campanale. "He's an exceptionally competent executive, highly regarded and a big draw for advisors. He's also the hardest working."
Intangibles
The firm is looking to recruit teams and firms in the "top quintile," says Grillo, meaning those with a minimum of a $100 million in assets and an average of $200 million to $300 million in AUM. See: Bob Veres' vision: Scalable, multi-partner RIA firms will be profitable and powerful enough to beat the wirehouses.
Lebenthal Wealth Management is building up its technology platform. "We will develop in conjunction with what advisors tell us they need," says Campanale. "We'll be building on an ongoing basis."
Lebenthal Wealth currently custodies at Pershing Advisor Solutions. Going forward, however, the firm intends to be "custody agnostic," says Campanale.
Grillo summed up the firm's essential pitch: "We bring a lot to the table. We have a full-blown B-D — not a shell," he says, referring to the firm's in-house broker-dealer, which focuses on both institutional and retail clients.
"We have a corporate RIA. Firms can retain their 1099 status. As for crunching numbers, if they roll up under our label, if they're taking home 55% they'll take home at least that now and probably more. And then there are the intangibles — and the brand."
---
Mentioned in this article:
---
---
---
E.F. Hutton alumni
October 17, 2013 — 4:12 AM
First of all it was " when e.f. Hutton speaks…... people listen" then it was Smith Barney that used " we make money the old fashion way we earn it" so let's get our marketing hook correct. Second of all it takes more than using an old respected name to create a wealth management business today. If it didn't work with Hutton today ( which I am glad to see will now be a powerhouse in Canada????) what's to say it will work with Labenthal? Best of luck!
Elmer Rich III
October 16, 2013 — 8:21 PM
As a marketer, always appreciate a good "hook" "E.F Hutton….the olde fashioned way." Suppose all clients want to go back to old time market returns – including bonds!
Elmer Rich III
October 17, 2013 — 1:44 PM
Interesting how those lines must have been, and still are so evocative of some emotional/psychological need. Why does anyone think?
Jeff Spears
October 17, 2013 — 1:43 PM
Tough to "revive" an OLD brand. Will be interesting to watch the "revival" of Robertson Stephens.
Rick Ferri
October 23, 2013 — 8:13 PM
Is that an old picture, Frank? You never seem to age!
Brooke Southall
November 11, 2013 — 6:30 PM
I suppose we need a little gallows humor on Mondays.
Brooke
John
November 11, 2013 — 4:38 PM
You stand corrected EF Hutton "Alum". The correct slogan was ."When EF Hutton talks, people listen" .
After the coloring book was distributed to all the reps, the slogan changed to: "EF Hutton listens"...that unfortunately morphed into a running joke amongst the RR's to "EF Hutton listens… to anyone offering $50/share".
Sad but true.
Dave
November 11, 2013 — 10:21 PM
LOL Brooke. You nailed it. Gallows humor is exactly what's exchanged between the old Hutton veterans. If you really want an ample dose of gallows humor treat yourself and read: "The fall of the house of Hutton". I was there during those Foman-years and I can tell you there was sort of a parochial, boysclub feel to the culture of EF Hutton; from Johns' comments, it sounds like he also was a bona-fide member…the coloring book tipped me off. I still have mine and was offered $500 (from a novelty collector, not selling though) for it just a few months ago. Sorry to hear Frank is giving up on the revival idea for now, however, I wish him good luck with his new firm.