Jeffrey Maggioncalda: I think it becomes harder and harder for a product solution to replicate this holistic service solution that we put into the marketplace.
Brooke's Note: When this company was first getting going in 2000, I was starting at InvestmentNews working out of San Francisco. Financial Engines often pitched me to do stories about it. I liked the concept but dot-coms were coming and going daily. That company had lots of smoke — venture capital, Stanford types in charge and a Nobel laureate, Bill Sharpe — but not much fire. Now it seems the company is showing some combustion — not because of all that intellectual DNA but because Jeffrey Maggioncalda never gave up. Whether Financial Engines can automate its way to a world takeover is still open to question but its ability to compete is not.
For the first time since its initial public offering, Financial Engines has riveted Wall Street's attention as it accelerates its growth and shows that new DOL regs may be doing more good than harm to its value proposition.
Shares of the Sunnyvale, Calif. -based provider of financial advice largely to 401(k) participants have rocketed nearly 150% in the past year, up from $24 on Oct. 1, 2012, to more than $59 as of yesterday's close.
Fueling the exuberance are the kind of strong growth metrics that Wall Street analysts warm to.
The company is also telling a more believable story about how it is pulling ahead of the competition — providing reasonably good advice at a reasonable price. This is a challenge especially as the Department of Labor cracks down on how plan sponsors invest on behalf of participants. See: How giant advice provider Financial Engines can sweep the 401(k) field — or not.
Financial Engines increased its revenue 30% to $57.8 million in the second quarter, from $44.3 million in the the year-earlier period.
The company's assets under contract were $667 billion at the end of the second quarter, up from $536 billion a year earlier. The assets under management were $74.3 billion, up from $54.2 billion.
As of June 30, Financial Engines had 530 plan sponsor clients who offer their services to plan sponsors and employees — that's up 7% from 497 at the end of last year's second quarter. It had more than 713,000 participants in managed accounts, a 17% increase from 610,000 participants a year earlier. See: 10 most influential individuals in the 401(k) industry affecting RIAs in 2012, Part 2.
Cornering the small-business market
One key area of growth for the company is its profitable professional management revenue, which grew 38% to $48.5 million in the second quarter this year, up from $35.2 million in the second quarter of 2012.
Still, Wall Street doesn't get fired up about a company or a stock unless it believes that it possesses the monopolistic edge to win new business and charge the prices it needs to grow profits at a surpassing rate.
Essentially, Financial Engines is positioning itself as providing both a higher level of counsel than target date funds and a better ability to handle large numbers of clients than RIAs — a growing force in the small-plan market. See: First Allied, LPL aim to sell customized 401(k) plans for the small-business market.
Jeffrey Maggioncalda, chief executive of Financial Engines, spoke in the company's second quarter conference call directly about the lack of competition among RIAs, saying that his firm has an edge because it has been on the scene for so long without any real competitors.
A question of traction
In fact, Maggioncalda says he doesn't feel there's any competition from RIAs at this point.
"I understand that a number of firms, smaller firms in particular, have seen the attractiveness of the market in terms of the size of the assets, and they have announced that they're entering the space. This is over the last year or two. We don't see much traction. And I wouldn't say anybody, in terms of a new entrant, has registered in any meaningful way with respect to competition. I have not seen any party, in terms of a new entrant, get traction in the space." See: Fidelity Investments recognizes power of RIAs in 401(k) market and has increased efforts to work with advisors.
The competition
But one RIA making headway in the 401(k) business is CAPTRUST Financial Advisors, a Raleigh, N.C.-based firm that manages nearly $103 billion in assets. Its chief executive, Fielding Miller, says many participants want a brand of personal advice that Financial Engines doesn't offer. See: CAPTRUST wakes up the 401(k) industry by buying $1-billion advisor/recordkeeper that adds the 'magic' to its arsenal.
"We view them as solutions that might be right for some clients," he says. "Technology is the answer for them because they've built a massive infrastructure. But for employers who want more personal interaction, they want an advisor, which we have."

Fielding Miller: Technology is the answer
for them.
Another contender is Buckingham Asset Management LLC. Chief executive Adam Birenbaum says the firm's BAM Alliance has built up about $1.5 billion in retirement assets — primarily from the smaller-plan market — without clashing with Financial Engines, GuidedChoice and the like. San Diego-based GuidedChoice is another smaller competitor that gets far less attention but has a deal with Charles Schwab to serve as the advice component to Schwab's Index Advantage 401(k) plans.
Target date fund challenger
Indeed, Maggioncalda says his firm isn't trying to beat RIAs in their markets as much as it is trying to tap in to the growing river of assets that flow into the swelling ocean — about $500 billion — of target date funds. See: Why target date funds fail in the one area they're supposed to succeed — downside protection.
He points to this effort to explain dramatic growth in Financial Engines' managed accounts program — a direct competitor to target date funds — where he believes his company can demonstrate a higher level of investment counsel.
"I mean, that really is our primary competitive initiative — to broaden and differentiate the services from target date funds, which continue to get cheaper and cheaper, frankly, as these products get commoditized. So that's really the competition that we focus on," Maggioncalda says. See: What led to Vanguard allowing its 401(k) plan sponsors to shop around for non-Vanguard target-date funds.
Bit player
Still, despite Maggioncalda's upbeat comments about the firm and its size, critics say Financial Engines remains a small player in an atomized industry.
Industry leaders point out that Financial Engines has latched on only to the largest employers and is grabbing accounts from some of the smallest participants. In fact, the median participant account size is about $47,000.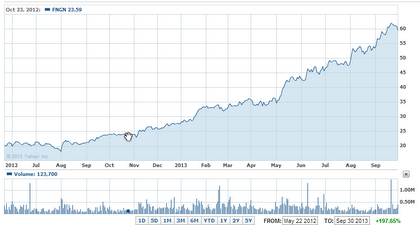 Financial Engines is getting steadily better
support from Wall Street.
Cerulli Associates Bing Waldert counsels keeping perspective on Financial Engines' success and its real prospects for gaining a market edge.
"They're one of the managed-account providers active in the defined-contribution space," Waldert says. "They're the largest and most successful so far. But that being said, managed accounts is still a very small portion of the industry. I think Financial Engines' control of the defined-contribution space will always be small."
At the end of 2012, there were about $3.6 trillion of 401(k) assets in the 401(k) industry.
Survivor
But Rick Meigs of 401khelpcenter.com LLC says that Financial Engines has shown an instinct for survival — it's on the enviable footing of being the last online retirement advice provider standing from the original dot-com technology boom.
"Financial Engines is unique that they've survived," says. "They're the only survivor of that big push 10 or more years ago to get in and do this online advice. What Financial Engines is doing now and the reason they've survived is because they switched the focus to asset management. They've got online advice that people can take advantage of, but it's the professional management product that is really growing for them."
Competition creeping on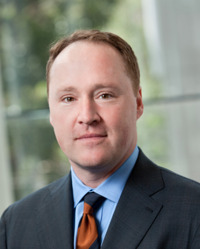 Stephen Bozeman: All of us are
trying to solve the same problem
for investors and deliver specific information
to participants, and [Financial Engines has]
been successful.
Though Financial Engines dominates its niche with efficiency and scale, Maggioncalda is mindful that his company's pioneer status could attract the attention of giants. During a call with investors, he notably mentioned the menace posed by the world's largest asset manager, BlackRock Inc., owner of both BlackRock funds and iShares. BlackRock also has a big oar in the defined-benefit business. See: How BlackRock plans to grow iShares using advisors as one key.
"This is another sort of effort that they're taking on, and I expect that they'll be a competitive force in the marketplace," he says.
Still, Maggioncalda asserts that his company is keeping most competitors from crossing the moat to its growing kingdom by providing conflict-free advice at a low cost.
"The real trick is finding a solution that works for participants in delivering lifetime income and also works for the plan sponsor, given their risk-averse stance with respect to really doing anything that would be either uncertain from a regulatory perspective or have potential conflicts of interest or high costs," he says.
[Stephen Bozeman, who is responsible for leading BlackRock's CoRI Retirement Index business, says his company's new offering is different than anything else on the marketplace — including anything from Financial Engines.
Still, he gives a nod to his smaller competitor.
"All of us are trying to solve the same problem for investors and deliver specific information to participants and [Financial Engines has] been successful," Bozeman says.
Not so fast
Jim Smith, vice president for client solutions at Morningstar Inc.'s investment management division, says his company stacks up plenty well against Financial Engines. The Morningstar unit had more than 900,000 participants in its managed-accounts program at the end of June 2013, up from about 820,000 at the end of 2012, so it has gained almost 10% in the first half of the year and close to 30% since 2010. As of this June, the company had $27.9 billion in assets under management in managed accounts, a 42% increase from its 2010 numbers. See: The case for Chicago as an epicenter of the RIA world.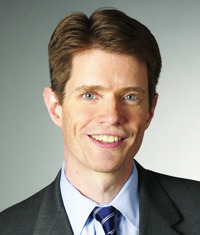 Jim Smith: The participant probably doesn't
even know it's us.
He concedes that his firm doesn't get the same recognition as Financial Engines in this market but says that's due to plan sponsors' private labeling Morningstar — a branding move that reduces his firm's name recognition in this arena.
"It does cause confusion, because people say they don't see Morningstar's name behind it and instead see the name of the provider. The participant probably doesn't even know it's us," Smith says.
Smith says his firm is larger than Financial Engines, judging by the number of participants in the latter's managed-account program.
When asked about the lower number of assets for the giant number of participants, he says it is based on the fact that the average participant account at his firm is about $31,000.
He says managed-account fees range from 35 to 75 basis points. He says that his firm also offers a great deal of additional services compared to a firm like Financial Engines.
"We're not just offering advice and managed accounts," Smith says. "We offer our fiduciary services. We'll also work with advisors," Smith says.
Bread and butter
Financial Engines is also working to bolster its services, says Chris Jones, the firm's chief investment officer.
For example, Financial Engines is trying to help participants tweak Social Security benefits to get a larger monthly income.
He says that his firm has been successful by helping the little guy to retire, whereas the rest of the industry has focused on high-net-worth near-retirees. He feels the Social Security strategy is important because it broadens the expectations of retirement income. See: 9 things advisors to 401(k) plans must do to keep clients out of hot water.
"Social Security is really a key foundation element when you think about when people will be retiring," Smith says. "It's really important to the person's decision-making process and we want to help them think about when they should start collecting Social Security income."
He points out that individuals get a significant boost by deferring Social Security income. He says an investor can gain 6% to 8% of income by deferring Social Security even just a few years.
"What we're trying to do is broaden people's views of what it means to develop retirement investment strategies," he says. "You want to think about how to get maximum advantage from all of the income sources – whether its' Social Security income or a 401(k) plan."
---
---
Mentioned in this article:
---
---
---
Robert Boslego
October 2, 2013 — 4:40 AM
I was a finance student of Professor Sharpe's at the Stanford Graduate School of Business in 1976. While I certainly defer to his accomplishments in finance, what I'm finding is that many investors today do not want the experience of the buy, hold, and rebalance modern portfolio strategy, hoping for recovery for their retirement portfolios after large drawdowns. After 2008, I think things have changed for a large segment of the investing public, especially those nearing or in retirement.
Brian Murphy
October 2, 2013 — 10:10 PM
The next wave of 401(k) advice is already here, and we're behind it. You can see for yourself at www.kivalia.com
Though we're not covered yet by the media, I suspect that will change as we're the only completely flexible, independent and free guidance solution for the nation's plan participants.
400 plans on the site and growing, an open advice platform to serve the individual investor either through indexed strategies or more active approaches.
There is a huge opportunity in the defined contribution space, but the existing parties are too wedded to their current business models to be the big winners going forward.
Maria Marsala
October 6, 2013 — 6:59 PM
Thanks for the article. I'll pass it along to my subscribers. I'm a BIG proponent of niches, ideal clients, segmenting, and the like. I see it work for clients and those who do it all the time. If someone asked me for the name of an FA who works with divorced women, I can name names, 1-2-3. Someone who works with military personal, someone who works with professors, etc.
Niching does bring in the riches. :)