News, Vision & Voice for the Advisory Community
Eric Clarke will serve Foster Group but he's also becoming a vendor of the firm's startup, Orchestrate, which automates work flows through Salesforce
January 9, 2013 — 3:58 AM UTC by Brooke Southall
Brooke's Note: Left to their own devices and unattended by people on the West and East coasts, Midwesterners will find their own ways to do things. A couple of years ago, Travis Rychnovsky and Eric Clarke ran into each other in the airport returning from an FPA event in Boston heading to their respective homes in Des Moines and Omaha. Now, they have a series of collaborations and deals going that seem to be benefiting both's companies. Schwab PortfolioCenter is a minor casualty of that airport encounter and Salesforce comes up roses.
Orion Advisor Services LLC has won the account of another billion-dollar-plus RIA — with a couple of interesting twists.
The Omaha, Neb.-based provider of portfolio accounting software has been selected by Foster Group Inc., a $1.3 billion RIA in Des Moines, Iowa — a firm that made an RIABiz headline in November when it received a Best in Business award from Schwab Advisor Services at IMPACT. See: Schwab names a $1.1 billion RIA in Iowa as 'best,' but the story behind the Zero Alpha firm's growth is better.
The twist here is that Orion Advisor Services LLC unseated Schwab PortfolioCenter as the provider of portfolio accounting software — a switch that Foster Group did not undertake without careful consideration, according to its chief operating officer, Travis Rychnovsky. Foster concentrates its efforts on serving medical professionals.
"We wanted functionality that PortfolioCenter didn't have and the ability to scale in ways they couldn't, more-open architecture, more-robust reporting and better connections to Salesforce," he says. "It's a just a better fit for us long term."
Change partners and dance
The other wrinkle in the Orion-Foster Group love affair is that the RIA, through a separate entity, Orchestrate LLC, is selling its own Salesforce-connected software, ProcessComposer. Orion has been using the software internally for a number of years but will now make it available to its advisors.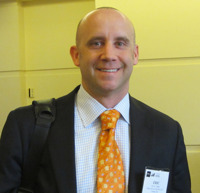 Eric Clarke: The work flow tool
is difficult to use but visual
flows can be created in much
less time.
Process Composer creates a visual image of automated work flows delivered through Salesforce's AppExchange.
Reaping work flow benefits
This functionality closes an important gap, according to Eric Clarke, president of Orion.
Orion's integration with Orchestrate's ProcessComposer provides advisors with dozens of ready-to-go work flows streamlining repeatable tasks. ranging from client meeting preparation to executing trades and rebalancing. Work flows are becoming a big deal in the RIA world. See: Schwab escalates the RIA custody arms race by releasing more plug-in business practices called workflows.
Orchestrate has made the software available to LPL advisors for several months now and will soon do the same through TD Ameritrade, Rychnovsky says.
CLS Investments LLC, Orion's sister turnkey asset management program and RIA, will be implementing ProcessComposer within the first few months of this year.
"Our advisors will immediately reap the benefits of integrating ProcessComposer into their work flows," Clarke said in a release.
---
Mentioned in this article:
---
---
Share your thoughts and opinions with the author or other readers.
---