Phyllis Borzi is poised to continue her mission of protecting 401(k) investors in 2013: "The laws need to keep up."
Brooke's note: Welcome to the second installment of our countdown of the Top 10 people who have had the biggest impact in the 401(k) business in 2012. As in the earlier part of the list, there are a few controversial picks, and these individuals all have their critics. But these are people pushing for new products and new legislative rules in the 401(k) arena to ultimately help participants. Typically our picks in these lists tend toward the meteoric mezzanine-level entrepreneurial companies. But some big companies and big-time bureaucrats are acting their size and making some big, impressive moves to reflect the cut-the-crap times.
5. J. Fielding Miller, chief executive of CAPTRUST Advisors LLC
CAPTRUST is often mentioned in 401(k) reports from Cerulli Associates Inc. as one of the premier RIAs specializing in the 401(k) industry. See: Cerulli report: Specialized RIAs likely to win middle-market 401(k) plan battle.
Although the Raleigh, N.C.-based firm has its own broker-dealer, about 99% of CAPTRUST's business is fee-based. Over the course of the last five years, Miller has catapulted this firm from a boutique RIA to a national player in the 401(k) industry.
Fielding is most proud of his firm's five-year growth track record that has seen its staff grow from 91 in 2007 to 201 in 2012. In that same time period, as part of Miller's plan to reel in retirement advisors from wirehouses and other venues, the company's advisor force has grown from 28 to 62. This year alone the firm has added 10 advisors, among them, Pamela Popp, former CEO of JPMorgan Retirement Plan Services.
The firm's assets were at $18 billion in 2007 and have grown 355% to $82 billion, growing $22 billion in the last year alone. The firm now has 18 offices and oversees 1,175 retirement plans, up from 494 five years. The firm has added 197 plans in the last year.
"These things are really coming together," Miller says. "I'm really proud of our 10-year plan coming to fruition. We're really proud of our internal team."
Miller also allows that his firm has been the beneficiary of the string of regulatory changes that have helped RIAs, specifically the 2002 Sarbanes-Oxley legislation which focused on the need for specialized advice and fiduciaries. He says the Pension Protection Act of 2006 further highlighted RIAs as the best choices for plan sponsors because of clarity provided around fiduciary topics. See: 7 things a financial advisor needs to know to succeed in the 401(k) business.
Most recently, the fee disclosure rules that went in place in 2010, 408(b)2, placed a huge emphasis on RIAs in this specialized space. See: Why the DOL's proposed 401(k) rules could ding brokers and leave the spoils to RIAs.

J. Fielding Miller: The specialized retirement
RIA is gobbling up market share.

"My job is simply setting strategy, finding talent and aligning that talent toward a common vision," says Miller. "The real work is done by my colleagues. There is a rapid emergence of the specialized retirement advisor as a key cog in the retirement solution. The advisory industry is still a new kid on the block in the 401(k) arena. where there used to be consultants and brokers. Now, the specialized retirement RIA is gobbling up market share."
Goals for 2013
Miller doesn't necessarily think year-to-year; he's more into the big picture. After spending the last five years acquiring a lot of advisors from wirehouses, he's hopeful the firm can set the stage for more organic growth.
"We've really built up our business so that we can be an organic growth machine," he says. "Our focus has always been organic growth. We did acquisitions to set the stages for the organic growth and that's where we are at now." See: Best advice for 2012: Risk being a bit boring and focus on the organic growth of your practice.
He sees the bar becoming higher for RIAs who want to start out on their own in the 401(k) industry and therefore sees more growth shifting toward specialized firms like CAPTRUST and SageView. [LINK TO PART 1]
4. Christopher Jones, chief investment officer and executive vice president of investment management Financial Engines
Financial Engines Inc., which many RIAs used to mock for its online questionnaires, has stepped up to the plate, offering professional management options to employees who are starved for useful advice.
Jones, who heads up the retirement division for Palo Alto, Calif.-based Financial Engines, says 2012 was a remarkable year of growth for his firm, thanks in part to regulations which he feels sets his firm up for success in the coming year. See: How giant advice provider Financial Engines can sweep the 401(k) field — or not.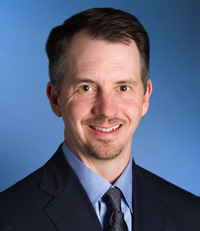 Christopher Jones: We've established ourselves as
the go-to standard of larger operations.

The public company had $560 billion in assets under contract as of Sept. 30 and its assets under management were $61.5 billion, up 46% from a year ago. The firm had 648,000 participants in professional management as of Sept. 30. The firm's revenue increased 36% to $48.4 million in that third quarter, up from $35.7 million in income a year ago.
As of that time, the firm also had about 500 plan sponsor clients for its professional management services, representing 6.3 million participants.
The firm's investors seem to be happy with its progress so far. At year-end, the stock was trading at nearly $28 a share, just shy of the 52-week-high of $28.12.
Of the Fortune 500, 140 companies have hired Financial Engines. Participants' median portfolio is $42,000.
"We're most proud of continuing to grow," says Jones. "We've established ourselves as the go-to-standard of larger operations. We're very proud of that." See: What to make of yesterday's Wall Street Journal report on Schwab's 401(k) 'bet'.
In addition to its managed-account growth, Jones feels the firm has broken ground by offering a unique retirement income offering this year. The income solution is different from the many insurance options available because the firm runs the 401(k) plans more like a defined-benefit plan using derivative investing techniques. The program does offer annuity options if investors choose to implement them, but investors aren't locked into long contracts, he explains.
The product has proved popular since it was introduced with more than 50 signed contracts representing $79 billion in assets. Financial Engines has already rolled it out for $30 billion in assets and the rest will be rolled out in coming months. It represents 30,000 employees.
"We've seen some pretty rapid adoption," he says.
Jones sees income offerings remaining a big challenge for his firm and the industry alike in 2013. "This has been a problem for a long time, and when we looked back at the income solutions back in 2007, we felt like they weren't very good. I think more firms are working to solve this problem as well. There are a lot of really talented and smart people working on this solution."
He also is hopeful that education to participants about simple strategies such as delaying Social Security benefits until age 65 will also make a meaningful impact on participants' retirement income.
"Retirement income is a huge thing," Jones says. "People have been confused about the accumulation phase and once they get to retirement, the anxieties are even higher. Most people don't have any idea how to translate retirement dollars to an income." See: Why brokers from Nationwide, LPL, Merrill Lynch and others are giving RIAs a cut of their 401(k) action.
3. Jim MacDonald, head of Fidelity's 401(k) business
Fidelity remains the largest provider in the 401(k) industry and MacDonald is heading up the firm's efforts. He feels the firm has had a strong year despite intense competition and challenging market conditions. See: Fidelity reports 57% boost in 401(k) sales as it sets its sights on smaller plans and advisors.
MacDonald says the firm brought over more than 1,400 new plan sponsor clients across all markets and industries and nearly 900 of those plans were in the advisor space.
Cerulli gives Fidelity the crown as the leader in the 401(k) market with $853 billion in assets and a 27% market share.
"Equally as important is our client satisfaction rates, which are at some of their highest levels and have enabled Fidelity to retain 98% of existing clients that went out to bid for a new provider," MacDonald says.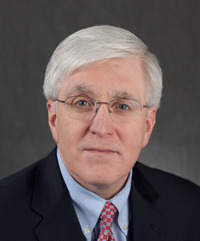 Jim MacDonald: Our advisors are not
necessarily looking for Fidelity to shake
things up.
One of Fidelity's key accomplishments in 2012, according to MacDonald, was the launch of a new platform dubbed Plan for Life, which helps employees plan for their retirement in a manner more tailored to their specific needs and goals. The program includes new web-based tools and technologies to help employees make decisions, increased education that includes onsite retirement planning consultations and on-the-spot enrollment using mobile tablets, as well as an expanded team of phone support representatives.
The firm has also upgraded its NetBenefits platform, which allows 15.8 million participants to manage their workplace savings accounts as well as the firm's Plan Sponsor WebStation.
Goals for 2013
MacDonald says that the industry can expect his firm to focus this year on many of the same issues that drove its success in 2012, namely "an intense focus on providing the advisor community with the tools, resources and support they need to provide a high level of service to their clients." He adds, "as we continue to make investments in this market, the advisor community should expect to see several new capabilities such as 'model portfolio' rolled out as well as significant enhancements both on the plan sponsor and participant websites."
Furthermore, "For 2013, we expect to continue to grow our business and gain market share by helping advisors continue to meet the business needs of their plan sponsors. This includes new and expanded investment options, more robust reporting capabilities and additional technologies to help advisors provide a high level of guidance to their plan sponsors."
While Fidelity's competitors, specifically Charles Schwab & Co. Inc., are launching new massive initiatives such as an ETF-only platform, MacDonald maintains his firm doesn't need to overhaul anything. See: How Schwab is gearing up its RIAs to fight for 401(k) assets.
"We are constantly listening to our advisors and introducing new programs to help them provide greater service to their clients. However, our advisors are not necessarily looking for Fidelity to shake things up — they continue to look for the support and technologies to service their clients and grow their business."
2. Steve Anderson, head of retirement business at Charles Schwab & Co. Inc.
Schwab, late to the 401(k) game, has been a small player ignored by the giant firms, but the industry has its eyes on Schwab as Anderson works hard to become the first RIA custodian to launch ETF-only 401(k) plans. See: Technical challenges may push Schwab's ETF-only 401(k) plan schedule into 2014 — deferring an intriguing financial clinical trial.
Although Fidelity is still the nation's largest provider of 401(k) plans, Anderson nudges MacDonald's Fidelity out of the
No. 2 spot on this list because of his firm's bold move to introduce ETF-only 401(k) plans. Even though the initiative has been deferred a few years, Schwab is embarking on a project that many others have said could never be done. If it succeeds, it could send shock waves through the 401(k) industry. See: Schwab adds $2 billion of assets from Windhaven, with RIA help, and another $2 billion of assets from 41 new RIAs.
Right now, Schwab has just $105 billion in 401(k) assets, compared with Fidelity's $863.7 billion. Schwab still makes
Cerulli's Top 10 list of 401(k) providers, but asset-wise it seems impossible that Schwab could ever come close to Fidelity.
"I'm not concerned about the size," Anderson says. "We didn't get into this business until the mid-1990s and we'll never be the largest. We've moved the needle and we've championed an open investment approach that's not favorable to fund companies that are some of our competitors." See: Schwab to make long-awaited move in 401(k) market with an all-indexed mutual fund and ETF strategy.
Last year, Anderson launched Schwab Index Advantage 401(k) platform, which he feels will change the industry because of its low cost as well as its professional management program.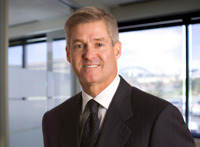 Steve Anderson: We've moved the needle
and we've championed an open investment
approach that's not favorable to fund
companies that are some of our
competitors.
For the index-only platform, Schwab has 40 employers that have either signed on or are ready to sign on with about 30,000 participants and so far. 88% have agreed to the professional management option. Anderson points out that many companies charge 70 to 80 basis points for the investment costs alone. His firm is providing the investment and professional management at just under 60 basis points.
"This is a truly different approach to anything out in the market today," he says. "This is a huge accomplishment. We're not doing this for our benefit. We're doing this because we hear everyday that participants aren't getting enough advice in the 401(k) space. This is absolutely the best way to do it."
Anderson says the low cost coupled with the managed-advice portion will blow out other products in the market — particularly the popular target date funds that put participants in an investment based only on their age and retirement date. The managed-advice portion of the index funds uses a number of factors that Schwab has access to from the participants' payroll including the person's salary and current savings as well as some information about spouses.
"I'm confident that this is not a short-term product feature," Anderson says. "We're looking at where the industry should be in five years. We want to play a leadership role in this. I don't measure our role by size of assets, but by driving value for participants."
Goals for 2013
Anderson hopes to get an announcement out by the fourth quarter of 2013 alerting plan sponsors that the ETF-only 401(k) plan will be in business by the start of 2014.
Schwab has been criticized over the ETF-only 401(k) plan because of delays that make critics wonder if the firm bit off more than it could handle. This fall, Schwab CEO Walter Bettinger announced there would be a two-year delay and that the efforts wouldn't be ready until the end of 2013 or early 2014. See: Technical challenges may push Schwab's ETF-only 401(k) plan schedule into 2014 — deferring an intriguing financial clinical trial.
Anderson makes no apologies for the delay, saying his firm wants to get everything right on this difficult project. For instance, the firm needs to change systems for trading ETFs because they are traded in an entirely different way than mutual funds. The latter trade at the end of the day in batches in 401(k) plans after the market closes. ETF pricing fluctuates throughout the day and the timing of the trades affects the price.
"You're talking about creating fractional shares, and there's just a lot of complexity to it," Anderson says. "We're more concerned about building out a comprehensive solution in the market than to beat anyone. We want to make sure we introduce something to the market that our plan sponsors are proud of."
1. Phyllis Borzi
Assistant Secretary of Labor Phyllis Borzi was the prime mover behind all of the dramatic rule changes that shook the 401(k) industry this year and she's poised to continue her mission in 2013. See: What to make of a fiduciary flag-bearer's alleged misappropriation of $5 million from clients — and his denial of the charges.
Borzi has been described as formidable, and that's not an overstatement. She's been active in Washington since the early 1990s when she served on Hillary Clinton's health care reform task force, and was also a lawyer on a House subcommittee working on health care issues.
Given her health care background, Borzi's comments to RIABiz shouldn't come as a surprise. When asked about her biggest accomplishments this year, the head of the Employee Benefits Security Administration responded by e-mail: "I'm so proud of the incredible work that my EBSA team did to complete the 401(k) fee disclosure regulations, thus assuring greater transparency for both plan sponsors and participants about the costs of saving associated with 401(k) and other participant-directed plans. EBSA had be working on that effort for years, and we were finally able to get it done this year. And, of course, I am equally proud of my health team, who, working with our fellow federal agencies, have helped to lay the groundwork for full implementation of the Affordable Care Act."
!https://www.riabiz.com/i/12938401/b(Phyliss Borzi: I'm so proud of the incredible work that my EBSA team did to complete the 401(k) fee disclosure regulations.)!
Concerning 401(k)s, Borzi has long had a three-pronged approach. She wants advisors to spell out their fees to plan sponsors. In turn, she wants plan sponsors to spell out their fees to participants and finally she wants to ensure that the government sees these fees as well. See: A Q&A with Phyllis Borzi, the DoL powerbroker aiming to remake the retirement market.
Her goal has been to reshape investment advice by helping participants and small companies better understand the fees they're paying for their retirement plans. She feels the fee-disclosure regulations would highlight outrageous fees.
Even though she's fought to get fees out in the open, some in the industry argue that Borzi didn't do enough to highlight those nasty 12(b)1 fees. See: After years of DOL bluster, new 401(k) rules appear to make RIAs' low expenses look higher than those of brokers.
Industry leaders say Borzi bent to pressure from mutual fund companies allowing 12(b)1 fees to be hidden from participants.
Borzi has also been criticized for not understanding the industry. For instance, she was for what the industry perceived as a blindsiding eleventh hour when her department indicated it wanted self-directed brokerage accounts to receive the same monitoring as other investments in a 401(k) plans. Ultimately, Borzi's department tweaked its proposal, explaining that self-directed accounts don't need the same level of monitoring.
Goals in 2013
Borzi still has big issues on her plate, including helping participants better understand their outcomes in retirement. It's likely there will be rules detailing disclosures focused on participant outcomes.
In a blog post earlier this month, Borzi wrote:
"A key part of our job here at EBSA is establishing policies that safeguard the money that workers and employers set aside for workers' retirement."
She went on to write that that are 48,000 private-sector defined-benefit plans that hold approximately $2.6 trillion in assets. In addition, there are nearly 670,000 private-sector 401(k) and other defined-contribution plans that hold about $3.9 trillion in assets. Individual retirement accounts hold an additional $4.7 trillion. In fact, more than 40% of U.S. households — nearly 50 million — own some type of IRA.
"Our responsibility to plan participants and workers is one we take extremely seriously," Borzi said in the post. "It is particularly vital as Americans' retirement security depends in large measure on the sound investment of this money. We continue to see the shift from defined-benefit to defined-contribution plans, where investment decisions are being made not by professional money managers, but by individual workers who must manage their own 401(k) accounts and IRAs. To guide their decisions, workers often rely on advice from trusted experts. The marketplace is changing rapidly, and in order to better protect you and your retirement savings, the laws need to keep up."
---
---
Mentioned in this article:
---
---
---