Ben Welch: We are bridging that gap.
Brooke's Note: This is a shot across the bow of all the other RIA custodians — and all the non-free providers of rebalancing software like Tamarac, RedBlack and Total Rebalance Expert. Other custodians may feel pressure to provide branded technology (Schwab and Fidelity already provide free rebalancing software; Trust Company of America leads the way with this.) like this for free. TD has also been doing this in partnership with Orion and other tech vendors in recruiting new advisors to its platform. The rebalancing providers will now need to work even harder to prove the value of their offerings. Of course, TD is not making this move without risks of its own. It has just added overhead to its RIA unit and if the move doesn't generate significant new business above what it was already getting then the move could be a loser. Nobody was clear how it would get a return on its purchase of iRebal. Now it has doubled down. See: TD Ameritrade will continue to provide free software to breakaways on an ad hoc basis.
TD Ameritrade Institutional announced in San Diego this morning at its National Conference that it is launching a web-based version of iRebal at no cost through Veo. See: TD Ameritrade showcases what API can do with slick Veo-iRebal harmonization.
The number three asset custodian for RIAs with more than $200 billion of assets will make its typically cost prohibitive software for rebalancing portfolios available for the taking to its approximately 4,000 advisors. There will be no asset minimum for advisors using TD Ameritrade as its custodian. See: Once good for a few million, TD Ameritrade's foot-in-the-door strategy is starting to net billions.
Stuart DePina, president Envestnet|Tamarac, the industry-leading rebalancing software by serving about 550 firms, had this to say about competitors giving away the software.
"I'm not concerned about the fact that these tools will be 'thrown in for free' as custodians (Schwab and Fidelity) have been offering rebalancing applications for free for years. I recognize that there is a segment of the market that have their issues solved in this regard. I also know from our client base and many prospects alike that sophisticated portfolio's require sophisticated solutions that the free tools just haven't been able to address which has led to the opportunity that we have in the market we serve."
Web ready
TD Ameritrade owns iRebal but until recently mostly only RIAs with $500 million or more in assets under management were known to use it. And it has never been available over the web before. The new iRebal technology will be a true web software as opposed to desktop software pumped in via the Internet. See: Tech Review: iRebal thrives after TD Ameritrade acquisition.
The move to make the software free reflects both the growing size and sophistication of RIAs using TD and the productivity gains that TD expects to bestow upon them with this technology addition.
"As the RIA industry continues to experience strong growth and advisor assets under management increase, so do the difficulties in maintaining properly allocated portfolios," says Tom Nally, president, TD Ameritrade Institutional.
"With iRebal in Veo, advisors can reduce weeks-long processes down to minutes, putting them in a better position to pursue potential opportunities, react to changing market conditions and ultimately provide more valuable service to their clients. Rebalancing technology can also help advisors achieve greater scale for their investment management businesses, allowing a wider range of investors to benefit from the services of a financial advisor."
Eric Clarke, president of Orion Advisor Services, LLC says this is as good as it appears for advisors.
"I think that this is great news for advisors and will create a lot of efficiencies for firms not currently using a rebalance tool. We are seeing more and more of our advisors using iRebal, it's become increasingly popular among our advisor user base."
"I understand that the technology will be limited to those accounts custodied at TD so we'll have to see how that use case works for firms who choose to be multi-custodial.
He adds: "I also think that this confirms that rebalancing has moved into the "must have" category as opposed to a "nice to have" which validates the growth we've seen in firms using the Tamarac rebalancing solution over the course of the last 5 years."
Matt Stroh at Tamarac questions just how much training that TD advisors will get in the use of the new software. Tamarac provides two full days plus three weeks of intense support.
Welch of TD said this about training:
"This product will be fully integrated with Veo, and advisors will receive free training as they do today for all other aspects of Veo. We will host webinars, provide self-training videos, and also plan to hold a few regional events for advisors."
Rebalancing for the masses
iRebal closes a technology gap between those advisors that can and cannot afford rebalancing.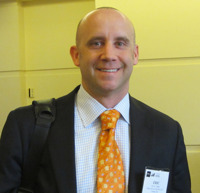 Eric Clarke: It's become increasingly popular
among our advisor user base.
"The cost of top rebalancing products and the limitations of more inexpensive solutions has created a gap in the market and left many advisors with inefficient, labor-intensive processes," says Ben Welch, director of advisor business development and iRebal, TD Ameritrade Institutional. "We are bridging that gap by offering all advisors who custody with TD Ameritrade Institutional access to a practical, yet powerful online version of iRebal available through Veo."
iRebal Desktop Software is still being made available to RIAs requiring a high degree of customization and dedicated support.
Pricing: One-time implementation fee of $10,000. Annual software licensing fee is based on a firm's assets under management (AUM) and starts at $20,000 for firms with less than $450,000,000 in AUM.
Comments from at least one iRebal competitor will soon be added to this article.
---
---
Mentioned in this article:
iRebal
Trading/Rebalancing
Top Executive: Benjamin Welch
---
---
---
Peter Giza
February 1, 2013 — 5:50 AM
Brooke,
This comes as no surprise. Rebalancing has been on an inevitable track to becoming a commodity. A slight modification to Stuart DePina's comment with regard to rebalancing is a "must have" for advisors.
Rebalancing is a "must have" for any financial services platform that wants to remain a significant player. It is part of the tools in the toolbox that sales and service teams alike need to attract and retain clients.
Applications such as rebalancing and streamlined trading are key influencers in attracting new business, businesses that are progressive thinking and looking to scale.
I couldn't agree more with Eric Clarke's comments on process efficiency gains. Of course I am a bit biased, however the results are clear and the facts indisputable; rebalancing brings the largest ROI in efficiency and cost-effectiveness over any other technology system dollar for dollar..
TD's announcement puts pressure on all existing services platforms that lack rebalancing functionality or whose technology is significantly dated. Rebalancing software, unlie trading and CRM, is a relative newcomer so there is plenty of run rate left in most product backlogs of the current independent rebalance players.
TD remains the only custodian with a rebalancing platform that is sophisticated enough to manage larger firms with specialized needs. It will be very interesting to see how good of a job Ben's team has down with the repurposed web version of iRebal.
I am looking forward to see what happens next!
Kind regards,
Pete
Peter Giza | Managing Partner | Spitbrook LLC