Abby Salameh: I could see the vast ocean below. We were descending quickly towards it.
Brooke's Note: When something terrible happens, we face a choice of whether to simply get over it or to embrace it. Abby Salameh had one of those experiences last week aboard a commercial airliner and she is embracing it as a teachable moment. Fortunately, she is also sharing it with all of us, so hopefully if we go down in a plane crash we can think more about our unchecked bucket list than financial loose ends.
I just had a harrowing experience. It was one of those experiences that is life-defining and changes the course of your actions.
I was 35,000 feet above the ocean last Thursday on a business flight from Newark, N.J., to Fort Lauderdale, Fla. There was nothing exceptional about the United flight and I was eager to get some work done in 2-1/2 hours without distraction.
Two hours into the flight, I was in the midst of reviewing a presentation when my ears started popping. My chewing gum wasn't helping the situation, and it seemed worse than just normal adjustment — certainly for being this high in the air.
Horrid smell
Then out of nowhere, the oxygen masks deployed. No one said anything. There was no announcement. One by one we all put on the oxygen masks silently and then we heard a loud explosion. A horrid smell filled the air, and yet we still did not know what was happening.
My advisor does all my financial planning for me. Like many of you, he focuses predominantly on investments, but he has the ability and demonstrated success in also providing insurance products when they make sense. He truly is a comprehensive planner.
Skeptical and invincible
Really, when my advisor (who I've had for about 10 years) first proposed life insurance, I was somewhat skeptical. Like many, I probably believed I was invincible. It wasn't until my children were born (the oldest will be 10 soon) that I thought more about it.
What really pissed me off as I was spiraling towards the ocean (no joke — I had the window seat and was staring at us going from 35,000 feet down to under 800 feet — where you need to be in order for the oxygen to work appropriately — although I did not know that at the time) was that my husband and I had recently discussed increasing our life insurance but had yet to act on it.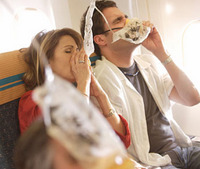 When oxygen masks appear unannounced, you
are about to find something out
about yourself.
Right around holiday time, we were talking about how we are so lame and have been meaning to up our life insurance policy for years — how we now have three kids, and so on and so forth.
Final text message
And of course, we never did up our coverage because life gets in the way of plans. Ironically, it was also my husband's birthday that day (Jan. 24) and I texted him while the plane was going down. When we got lower, it actually went through. I wrote in my message that I was so angry we had not upped our life insurance, and he actually called our advisor at that moment in time to see if anything could be done.
Back down to earth
Turns out my plane's air pressure machine blew up. There was no pressure control in the cabin and no oxygen to breathe. We ended up making an emergency landing in Charleston, S.C., and thankfully no one was hurt. Once safely on the ground, I called my family to let them know I was safe and sound and that I loved them dearly.
And then I called my financial advisor and asked him to increase my life insurance. I had $2 million of coverage and I realize that that is only going to take a family in the New York metro area so far. We are still trying to determine how much more coverage to we need and how much it will add to monthly premiums.
When all was said and done, my husband thanked me for not dying on his birthday.
Abby Salameh brings to Fusion Advisor Network 20 years' experience working directly with independent advisors. Having started her career at Sanford C. Bernstein & Co. Inc. in 1992, Abby went on to help launch InvestmentNews for Crain Communications Inc. In 2002, she joined TD Ameritrade to head the marketing efforts for its institutional services. More recently, Abby has been providing strategic and tactical marketing consulting for leading industry firms, including large broker-dealers and independent advisors. She joined Fusion Advisor Network in September 2011.
---
---
QualityTermLife
January 30, 2013 — 4:59 PM
How is my previous comment spam? It does include a URL to a free, no-obligation resource that addresses and supports the author's stated need to somehow determine just exactly how much life insurance coverage she should have. And it should help RIABIZ readers who have had the same question raised in their minds by the article.
Brooke Southall
January 30, 2013 — 3:15 AM
I removed a spam comment from a life insurance company.
QualityTermLife
January 30, 2013 — 3:06 AM
Smart idea to think about what is the right amount of insurance you should carry for your family. Recent surveys have found that far too people who should have life insurance are underinsured or not insured at all.
For that, you can use a needs calculator available on many online term insurance sites. You can find one at QualityTermLife's website (http://www.qualitytermlife.com/#needs) that is fast and easy to use. After you've found the coverage amount that fits your situation, you can also shop and compare rates from nearly 100 insurance companies.
Pete Giza
January 29, 2013 — 10:02 PM
Abby,
Thank you for sharing such a harrowing and life changing experience. Food for thought for us all.
Pete
Pete Giza
January 30, 2013 — 2:37 PM
Brooke,
Its still there.
Pete
Brooke Southall
January 30, 2013 — 5:05 PM
Okay, go ahead and re-post it. I won't take it down.
Brooke