Peter Raimondi and Scott Dell'Orfano are building on a relationship forged as client and custodian exec in Boston.
Scott Dell'Orfano has joined Banyan Partners LLC as its chief strategy officer charged with overseeing the acquisitions portion of a growth strategy aimed at adding $5 billion to $10 billion of assets under management. He has also invested in the venture.
The former executive vice president of Fidelity Investments Institutional Wealth Services Group joined the Palm Beach Gardens, Fla.-based firm in a move that renews his relationship with its founder and chief executive, Peter J. Raimondi. Dell'Orfano was at Fidelity for eight years. See: Power shift in Fidelity's RIA sales: Scott Dell'Orfano is out; Rich Policastro defects from Schwab.
Raimondi, 57, founded The Colony Group in 1986 and sold it in 2006 after it had grown to about $900 million in assets under management from 600 clients. It was subsequently sold to Focus Financial. See: A look inside Focus Financial's big deal with The Colony Group.
Capital aplenty
Despite his company's fast start, Raimondi plans to accelerate his firm's growth both organically and inorganically with the addition of Dell'Orfano.
The combination could prove productive, according to David DeVoe, CEO of DeVoe & Co., an M&A firm in San Francisco.
"This has the potential to be a powerful combination: Peter's experience running and acquiring large RIAs will be complemented by Scott's Rolodex, one of the best in the industry. The addition of Scott to the company positions Banyan well to grow aggressively."
The hire of Dell'Orfano closely follows Banyan's raising of equity from a Toronto-based firm called Temperance Partners that was founded last April by Kevin Tice and Paul Sorbara. The cash is not traditional private equity in the sense that it was raised from Canadian families and the firm will not exert control over the company, according to Raimondi. Though declining to say how much capital his company raised, he says it is sufficient to fulfill his stated aspirations. Tice says that his company is prepared to make additional investments should it be required.
DeVoe says that this type of funding source can prove advantageous because their deal terms can be more attractive than a traditional private equity firm and the timelines for liquidity can be more flexible.
"As a result, consolidators backed by this type of private equity can potentially make a stronger case for sustained 'independence' and less pressure for a liquidity event. The potential trade-off is the 'depth of the well'. Ideally, the investors have very deep pockets and are in a position to make follow-on investments at the appropriate time."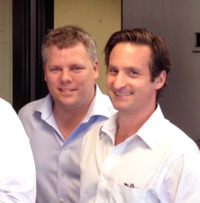 Kevin Tice and Paul Sorbara learned
about Banyan Partners in an RIABiz
article.
(Tice and Sorbara looked at hundreds of ways to invest in the financial advisory industry and found out about Banyan after reading an article about its early deals in an RIABiz article).
Hitting the ground
"We wanted to hit the ground running in 2013. We wanted to be prepared for multiple acquisitions in the $800-million range," Raimondi says. "Scott Dell'Orfano's knowledge of the industry, experience in running large, growth-oriented businesses, and his relationships throughout the RIA community are second to none."
Dell'Orfano, who will keep offices in Palm Beach Gardens and Boston, says he will help identify and negotiate deals and help with the transitions. He has two children in high school in Boston.
He adds that Banyan is not a ltypical roll-up and should be viewed more in the light of a Mariner Wealth Advisors LLC, a Leawood, Kan.-based RIA that has been on a roll buying practices to add talent, assets and geographical reach. See: Marty Bicknell self-declares a slowdown after bringing on $700 million more of RIA assets to punctuate an epic streak of deals.
Mariner also hired a chief dealmaker from Fidelity. See: Big Midwestern RIA hires away a Fidelity exec to realize its $50 billion plan.
Dell'Orfano chose Banyan after fielding some offers from big corporate employers. He left Fidelity at the start of 2013.
Banyan, which has 40 employees, is using an approach that relies on managing 95% of its assets in-house. It has 13 people who are either portfolio managers or research analysts.
Atlantic breezes
"I was much more interested in building a firm that used an options overlay (rather than using mutual funds and other outside managers)," Raimondi says.
Mariner, like Banyan, uses Fidelity as its primary asset custodian. Banyan uses TD Ameritrade as its other major custodian and maintains a small relationship with Schwab. Dell'Orfano and Raimondi became close personally after meeting in 2004 — sharing meals together and the like.
But Raimondi eventually wanted out of his RIA — partly because of the lure of tropical Atlantic breezes.
"After 20 years in Boston, I'd had enough, and I had lots of clients here [in Florida]" he says.
Raimondi adds that he was happily surprised to find that there was little substantive competition from RIAs in the Miami area and few big firms at all.
"There was a real niche here — not many RIAs of substance here. I kept wondering why that was the case."
Rugged dualism
But Raimondi knew that he couldn't do it himself.
"He called me the day I left Fidelity," Dell'Orfano says.
---
Mentioned in this article:
Mariner Wealth Advisors
RIA Welcoming Breakaways, RIA Serving Endowments/Foundations, Advisory Firm
Top Executive: Marty Bicknell
---
---
---
Brooke Southall
January 25, 2013 — 6:56 PM
Jeff,
You are right! The fact that RIAs have the critical mass to hire people from
the professional managerial class continues to be one of those quiet fundamental
changes that bodes well for sustained growth of this business.
Brooke
Jeff Spears
January 25, 2013 — 6:35 PM
We need to coin a new phrase – "breakway custodian exec"