Maury Fertig: When it came to their personal investments, they were bad as everyone else.
It turns out Wall Street folks need as much help with their wealth as other investors. Working on that premise, Chicago-based RIA Relative Value Partners has increased its assets by $100 million in assets last year alone fueled by a client base heavily weighted with executives who have held various jobs at investment banks.
Gaining a niche of Wall Street clients was a natural fit for co-founders Maury Fertig, 52, formerly a managing director at Salomon Brothers/Citigroup Inc., and Bob Huffman, 53, also formerly a managing director for Salomon Brothers. Fertig was the head of Midwest institutional corporate bond sales at Solomon/Citi, working there for 17 years, and Huffman worked there for 20 years in various roles — including in corporate bond sales — until becoming head of Midwest institutional-fixed-income sales in 1999. Fertig is chief executive of the RIA and Huffman is chief investment officer. See: The six key points about Wall Street's surprising employment picture.
Even though neither man had worked with individual clients, it only made sense when they decided to form Relative Value Partners LLC in Northbrook, Ill. in 2004, to build out their client base by wooing former colleagues.
"We had a lot of peers who were traders and investment bankers who had solid years of personal earnings," says Fertig. "They were good at their jobs, but when it came to their personal investments, they were bad as everyone else," Fertig says. "They got caught up in the tech bubble and lost a lot of money in 1999. Before that 1999 tech bubble crash, many of these people were in a position to retire, and they lost all of their savings. They were notoriously bad investors." See: Wall Street thriller 'Margin Call' is a cautionary tale — even for RIAs.
Ears to the ground
The RIA, with eight advisors saw a spike in its assets under management from $600 million a year ago to more than $700 million currently. It aims to hit $1 billion in assets in 2014. RVP serves about 240 clients — gaining, Fertig says, about 20 clients a year. It keeps most of its assets under custody with Fidelity Institutional Wealth Services. It uses Black Diamond for its performance-reporting technology, as well as Fidelity's WealthCentral.
The partners credit their sophisticated clientele to the firm's wealth management approach. The company purchases closed-end funds at discounts to gain returns for clients. It manages clients' money in separate accounts in equity, fixed-income, balanced and absolute return strategies tapping into closed-end funds seeking solid returns while protecting clients from the volatile market swings. In fact, the firm's name — Relative Value Partners — stems from the institutional approach of staying fully invested in the market at all times, but selecting the asset classes and sectors that offer the best relative value. RVP believes that markets are reverting over time. The firm is constantly searching for asset classes or sectors that are trading at historically low valuations. See: Schwab steals a big chunk of SMA market share from wirehouses, according to new Cerulli data.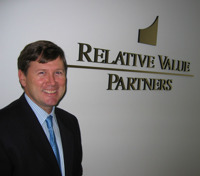 CEO Bob Huffman logged 20 years
at Salomon Brothers before forming RVP
with Fertig in 2004.
"It's not tied so much to the market, but they're looking for funds to invest their money in which are low-volatility but can do better than bonds in the environment without taking huge risks," Fertig says. He points out that his firm's strategy is similar to that of a hedge fund but is more transparent and iess costly. The strategy also allows daily liquidity for clients.
About 80% of the firm's first $100 million in assets came from clients on Wall Street, says Fertig. Over time, Relative Value added some referrals and new clients in other industries such as real estate. Wall Street clients still make up close to 50% of the client base and the firm's average client is around age 50 with $3 million to $10 million in assets.
"They know they have enough money to retire as long as they don't do anything stupid," Fertig says.
Given how cynical many people in the financial services industry are, it's clearly a challenge to build a solid group of clients who work on Wall Street. says Ryan Shanks, founder and CEO of Finetooth Consulting LLC.
"People in the industry know that there are things going on that aren't complimentary so we're skeptical and extremely critical," Shanks says. "Your ears are on the sidewalk and you see and hear everything. For an RIA to build a business like this it seems that the principals are either phenomenal and have a tremendous amount of integrity or they're doing something really unique." See: In a Q&A, Todd Thomson explains why Wall Street's glitter faded beside Dynasty opportunity.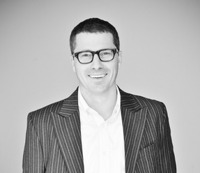 Ryan Shanks: The principals are either
phenomenal and have a tremendous amount
of integrity or they're doing something
really unique.
Bit by bit
Fertig acknowledges that it takes a while to build trust with his financially savvy clients, given that his firm is smaller than those most of his clients are employed by. Many Wall Street clients are reluctant to hand over all of their assets to his RIA, instead starting out with a small chunk of their wealth.
"Sometimes, I think they don't want to give 100% of their money to two guys who are managing all of the money. We don't farm the money out. I'm OK not getting all of the assets," Fertig says.
Fertig and Huffman manage all of the strategies for the firm.
Another reason that clients don't hand over all of their assets is that some of them want to manage their own money. "We understand that we're smaller and people wouldn't feel comfortable giving us 100% of their assets, but we've noticed over time we get more and more assets, and it's nice because it means we've done a good job," Fertig says.
No time to invest
Industry leaders say Wall Street executives need as much help as any other high-net-worth clients. Many Wall Street employees and executives have issues with concentrated stock positions as well as deferred compensation, says John Straus,a partner in Darien, Conn.-based FallLine Strategic Advisors LLC, an industry consulting firm. Straus has worked at a number of Wall Street firms, including JPMorgan Chase & Co. and Morgan Stanley.
"Many of the needs of Wall Street employees are similar — such as concentrated stock and deferred compensation. My experience is folks in the financial services industry are frequently experts in the areas they're focused on such as derivatives but they're not necessarily well-versed in issues around wealth management. Just because you are an expert on derivatives doesn't mean you are an expert in constructing a portfolio." See: Former Morgan Stanley and UBS wealth management chief flirts with roll-up model then pivots to management consulting.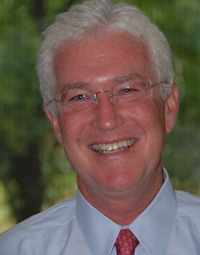 John Straus; Just because you are
an expert on derivatives doesn't mean
you are an expert in constructing
a portfolio.
These clients also work extremely long hours. Peter Ruhlin, a partner at FallLine, also points out that Wall Street executives simply don't have enough time to manage their own assets. "If you look at the financial services industry, these are some pretty intense jobs," he says. "They're 10- to 12-hour days, and even these people just don't have a lot of free time because they're constantly working. They may be talking derivatives all day, but there's other issues around wealth management."
Full discretion
One big challenge of having a Wall Street clientele is that many are restricted in terms of their investments. For instance, many Wall Street executives are allowed to have brokerage accounts only at their own firms. And, if they decide to go with an RIA they must give the RIA full discretion.
"There's no policy that you can't go with an RIA, but you have to give them full discretion," Fertig says. "I may trade in a stock where employees at their firm are restricted, but if they have no input they are allowed because we have full discretion."
Performance issues
Fertig acknowledges that in some cases, his clients are more sophisticated in certain areas than he is simply because of their specific niche. "Someone who is a corporate-bond trader knows a hell of a lot more about corporate bonds than I do. We were originally concerned that people might try to micromanage things but we've been pleasantly surprised they don't micromanage at all. They've taken the step of entrusting us," Fertig says.
He says there's no question his firm's clients are set on getting solid returns. "When times are good, they are more performance- driven and analytical given the business we're in," Fertig says.
For instance, in an up market, Wall Street clients will know that 8% gains might actually be lousy. They want to beat the market. "They are much more performance-oriented that other clients," Fertig says. "They want to know how much they overperformed. In that respect, you've got to be a little more on top of your game."
Wirehouse rivals
He says that while there are a host of RIAs in Chicago, many of his clients consider the wirehouses as well. The growth has been purely organic and the firm intends to keep it that way. See: The case for Chicago as an epicenter of the RIA world.
"The biggest competitors we have are wirehouses," Fertig says. He says that many clients who work on Wall Street are comfortable with large firms but don't like the fees.
---
Mentioned in this article:
FA Match
Consulting Firm, Specialized Breakaway Service, Recruiter
Top Executive: Ryan Shanks
---
---
---
http://web-professor.net/demo/user/kopetpdlng/
three. Creation in the apple iphone and iPad I am proud to state which i am the owner of each products and solutions and will not be happier. When Apple established out for making the iphone (supposedly, they really manufactured the iPad initially, but thats just speculation), its virtually just as if they did not overlook a person single detail. The lengthier you employ the apple iphone, the more intricacies you see while in the product or service. Relating to the iPad, I could praise this product or service for months. Acquiring back to #2, Apple designed this hand-held computer just as they created the iphone. For that reason, turning into acclimated to your iPad usually takes location virtually instantaneously.
Maria Marsala
January 24, 2013 — 12:23 PM
Excellent story on the importance of niching!
http://www.iwsamerica.lfchosting.com/index.html
Once the firm demands surgical codes rather than anesthesia codes, Sharon Merrick, CCS-P, coding and payment analyst for that American Modern society of Anesthesiologists, implies 59409 (Vaginal supply only [without or with episiotomy and/or forceps]) to possess an straightforward vaginal delivery.