News, Vision & Voice for the Advisory Community
The $60-billion-AUA firm has its mojo back as it brings on a woman-run firm with a 49-state presence
January 10, 2013 — 6:36 AM UTC by Lisa Shidler
Brooke's Note: Men and women who seek spouses with a strong streak of independence are courting a challenge. The prospective mates may be so ruggedly individualistic that basis for a relationship gets squashed. Rudy Adolf knows something about that from his business dealings. He is building a unit of firms that are seeking to join him but maintain their autonomous side. So it is pretty fascinating that the chief of Focus Financial has finally won over Merriman after a seven-year courtship. Usually if it takes that long then you can write off the chemistry, right? But if the deep-down chemistry of two fierce independents is there then maybe each passing year just makes the heart grow fonder.
If you're trying to build a giant RIA to $100 billion in assets, you won't get there if you give up easily.
Focus Financial founder and chief executive Rudy Adolf, for instance, spent seven years trying to convince Colleen Lindstrom, CEO of Merriman Inc., to sell her $1.5 billion firm to his company. See: Focus Financial gets its first beachhead in HighTower's backyard — buying an exhibit-A organic-growth RIA with a hankering to go inorganic.
Adolf originally became interested in the Seattle-based RIA in part because it was a respected name in the Northwest. And he began courting the firm in 2006. Merriman has more than 2,000 clients across 49 states with the majority in the Pacific Northwest region. The RIA has 36 total staffers including nine advisors.
Over the years, Adolf urged Lindstrom to call him at any time with any questions — and she did. But it was last year, when Adolf pulled out a few more stops by inviting her to the company's inner sanctum — its partner meetings — that she finally became convinced. Lindstrom attended one meeting in May and another one in December. Lindstrom's deal with Focus was finalized Dec. 31.
Meet the parents
But not until she got to meet her future siblings.
"When I went to the partnership meetings, I really felt the firms collaborate and [how they] are truly meaningful to one another," Lindstrom says. "To me, it's truly a team where you can reach out to others and look at opportunities for sharing ideas. It's dynamic. The caliber of the firms is quite impressive." See: A look inside Focus Financial's big deal with The Colony Group.
Strong enough to stand alone
Adolf says he's willing to work on a purchase as long as it takes. "It is correct that many of our deals take quite awhile to ferment, like a good bottle of wine," he says. "We only do deals with an elite group of firms that can certainly afford to just keep going for a long time on their own. They have strong business models, are profitable and, most importantly, are doing the right thing for their clients. A deal with Focus Financial Partners LLC happens when the stars are aligned, they are ready and we are ready. Sometimes it takes three months, sometimes it takes years." See: RIAs join Focus Financial with their own acquisition plans.
Long courting process
In this case, Lindstrom says, there was a wide range of factors that led to the deal's consummation. On one hand, she saw how much Focus has grown in recent years as a dominant player, but there were also internal factors that had changed at her firm.
Lindstrom left accounting firm Berkman Burgher Purdy & Lindstrom, where she was a partner, in 2006 to join Seattle-based Merriman. She became CEO in 2010, a year before Paul Merriman, who had founded the firm in 1983, retired.
Lindstrom began talking to Focus leaders as soon as she joined Merriman. But once she became CEO, she realized the importance of finding a financial partner firm. "I had the next generation of advisors saying that they wanted opportunities to have equity and to build something of value," she says. "When I stepped into the role of CEO, this was my major challenge. This was a huge roadblock for me. I spent a significant amount of time researching opportunities and doing a lot of due diligence.
Lindstrom says she often takes an analytical approach to big decisions.
"I typically gather and review a significant amount of data and input before making a decision," she says, "the amount, of course, being commensurate with the importance of the decision. My almost seven-year conversation with Focus was related to my goal of staying aware of trends and opportunities in the industry."
The right bedfellow
Mindy Diamond, CEO of New York-based Diamond Consultants LLC, says that Focus provides ample resources to firms that are seeking to reward employees with equity ownership and are also eager to grow inorganically.
"Firms like Merriman are realizing that if they don't have enough capital to recruit the top talent that they will need help in growing," Diamond says. "It takes years to find the right partner — the one you want to share you bed with every day. Focus allows all of the resources advisors want and need but still lets them be independent."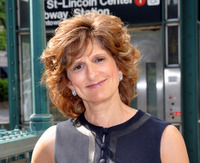 Mindy Diamond: It takes years to
find the right partner — the
one you want to share your
bed with every day.
This deal is a coup for Focus, says David DeVoe, founder and managing partner of San Francisco-based DeVoe & Co.
"Colleen has known many on the Focus team for several years now. The trust and confidence developed through personal relationships creates a fertile ground for a successful business partnership. Focus' continued success has become a virtuous cycle. Focus has the greatest number of affiliates as proof points, has created a true community of advisors who can share best practices, and has developed relationships with prospects now that stretch back six years in some cases. Merriman is a well-managed organization that has achieved critical mass."
Bragging rights
Focus has had many naysayers and critics attacking the firm's approach, but Adolf maintains that it has led to the firm's success.
Last year, rumors swirled when Focus' venture capital partner, Summit Financial Partners LLC, tried to sell off shares of the firm but ultimately chose not to do so. See: Focus Financial VC backer says IPO still on the table after private auction yields no sale.
But since that time, the firm has had success, buying a $500 million RIA in Chicago, and also has seen its largest firm, Buckingham Asset Management LLC, grow dramatically. "This business had $3 billion in assets in January 2006 and now we have $60 billion and almost 1,000 employees," Adolf says. "There aren't any stories in this industry of a firm that has had this type of success in just seven years. "See: Focus Financial gets its first beachhead in HighTower's backyard — buying an exhibit-A organic-growth RIA with a hankering to go inorganic.
Adolf feels that his firm is in a unique position to boast about its success because last year it added $14 billion in new client assets.
"Quite frankly, there's no other firm in this industry, period, that has added $14 billion in assets in just one year," he says. "And, success breeds success. Year after year, we've had this type of success."
Adolf adds that he feels the firm will remain strong this year. "There could be more deals coming. We really like the momentum and what we've seen."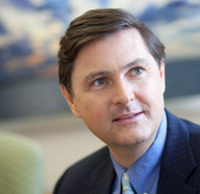 Rudy Adolf: Quite frankly, there's no
other firm in this industry, period,
that has added $14 billion in
assets in just one year.
Big win
While industry leaders are often quick to offer constructive criticism of Focus, they are also noticing that the company has been consistent with its follow-through in its deals, and Merriman appears to be a perfect fit.
"It seems like a typical Focus deal," says David Selig, CEO of Advice Dynamics Partners LLC. "It is yet another notch in the win column for them. This is great momentum for a firm like Focus in the new year."
Staying quasi-independent
Lindstrom believes there aren't any other firms in the industry that would allow her firm to retain its independence while also getting financing so that it could give other advisors equity ownership stakes and also have the ability to grow inorganically through sub-acquisitions.
DeVoe, who knows Lindstrom, believes this will be an excellent deal for Merriman.
"Colleen is a very thoughtful leader and was exploring a variety of ways to solve several critical business issues through transition planning." DeVoe says. "Merriman's management team is very passionate about the fiduciary model and ensuring that the organization is able to maintain it's values and vision. They felt strongly that Focus is aligned in these areas."
A rare woman
And Adolf says that Merriman is the perfect type of firm for Focus. "They're a true fiduciary and a true fee-only firm, and it's just the ideal fit for us," he says.
Lindstrom, however, is one of few female CEOs among Focus' firms. One of Focus' best-known CEOs is Lori Van Dusen. See: Dynasty Financial wins the account of Lori Van Dusen's new RIA through Focus Financial.
"We've known Colleen for many years, and there aren't that many women in this industry and we wish there were more. We're thrilled to have a number of high-profile women in the industry," Adolf says.
Lindstrom, who spent the bulk of her career in the accounting field, was stunned to see the comparative lack of women in the financial advisory industry when she made the switch seven years ago. See: Eavesdropping on the Women Advisors Forum: Rainmakers share their secrets. Hint: They revolve around finding a niche.
"I was surprised by how few female advisors there are," says Lindstrom, who adds that she's hoping to hire more women. See: A Harvard MBA takes her team from a $3-billion Boston RIA to join a $29-billion RIA based in Baltimore.
---
Mentioned in this article:
---
---
Share your thoughts and opinions with the author or other readers.
Maria Marsala said:
January 11, 2013 — 3:09 AM UTC
East marries west. OR is it west marries east? :)
I've attended a few of Paul's workshops. Merriman has an excellent reputation here in the PNW. And it's great to see a women at the helm although I look forward to the day that "that" doesn't matter.
---
---