Philip Palaveev: If it meant leaving Fusion behind, God knows what decision I would have made.
The way Philip Palaveev puts it is that he gained his academic grounding in the advisory business doing research for Moss Adams LP and learned about humans from his recent stint as the staff consultant to the advisors in the Fusion Advisor Network.
Now the Seattle-based consultant is doing things his way combining elements of both as he launches The Ensemble Practice LLC from an office that overlooks Lake Union where the rowing teams of the University of Seattle do battle on a daily basis. Jonathan McQuade and Victoria Godyn are joining him in his new venture.
The new business will continue to serve advisors in the Fusion Advisor Network much as it did before the threesome spun off in July. National Financial Partners acquired Fusion in early July. See: Former Moss Adams star begins to taste success in the 'real' world.
James Poer, President NFP Advisor Services Group says that he believes the relationship will work well in its new form. See: National Financial Partners buys longtime partner Fusion signaling a shift away from the 'roll-up' model.
"Fusion and NFP Advisor Services Group have a long-standing relationship with Philip and we look forward to continuing to work closely with him through a mutually beneficial consulting arrangement." See: What exactly is Fusion Advisor Network and who did it draw to Las Vegas last week.
Ensemble effort
Palaveev, 39, says he is very glad he didn't have to choose between the two.
"If it meant leaving Fusion behind, God knows what decision I would have made." He characterizes Fusion metaphorically as his best friend and Fusion founder, Stuart Silverman, as literally his best friend.
"You can't have multiple wives but you can have more friends," Palaveev adds.
At the center of the new business plan is The Ensemble Institute, which is a series of business management classes held over a number of years. Ensemble firms are ones with more than one practicing principal and The Ensemble Practice is targeting them because data shows that they tend to grow more rapidly than solo firms. See: How a swath of billion-dollar-plus RIAs are posing a threat to indie advisors.
Satisfaction guaranteed
The concept may capture firms in an underserved niche, according to Timothy Welsh, president of Nexus Strategy of Larkspur, Calif.
"The consulting offering includes not only the strategy but also the implementation component, for firms that have established a presence but need advice and guidance to get to the next level somewhere between the $1 million to $10 million in revenue range," he says. "This market has traditionally been underserved as the top management consulting firms don't play in the advisor space and the smaller, individual coaches focus on sole practitioners or firms just starting up."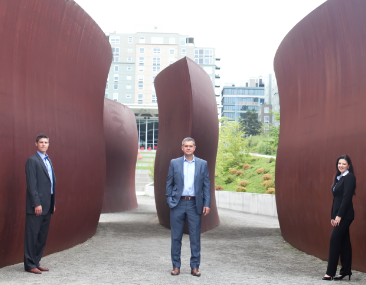 Seattle chic: Jonathan McQuade and Victoria
Godyn flank Philip Palaveev.
Topics such as differentiating your firm in the marketplace, career paths and compensation, partnership agreements and business development training for associates and staff. The Institute targets firms that are going through a transformation from successful practice to systematized business. The first session of The Ensemble Institute will be held in Denver January 2013, and will bring together 15 ensemble firms who are looking to improve their business through a data-driven, practical approach.
The training is expected to take place over about four years and it'll cost in the range of $7,000 to $12,000 per year for a firm. A firm can send as many principals as they like to the training sessions. To embolden advisors to hazard this kind of outlay, Palaveev is introducing a unique money-back guarantee such that somebody will make at least enough extra profit to cover its cost — or be reimbursed.
But what if a practice does poorly because it executes good advice poorly.
"We'll take that risk and we'll be very selective about which firms we work with."
Peer to peer
Palaveev has chosen to emphasize the classroom model because he finds that, in fact, advisors learn much more from each other than from consultants and that he plans to go to some pains to find good advisors for that reason.
"As much as I'm arrogant, I believe we'll learn a lot from our clients," he says.
Palaveev is also stretching it over years because otherwise he finds it doesn't have a real effect on an advisory firm's success. And he wants to make it a management consulting approach rather than a coaching approach. he believe coaching tends to be too canned and predictable — and ultimately not so successful.
"The most successful advisors are not franchises so coaching doesn't fit them very well. We work with your firm, not with you."
---
Related Moves
March 12, 2019 – 10:14 PM
---
---
Mentioned in this article:
Moss Adams
Consulting Firm
Top Executive: Rebecca Pomering
---
---
---
Maria Marsala
September 7, 2012 — 5:34 AM
Best of success to this new company. Getting FAs away from their office and sharing information is a key to their growth. That's why masterminds or peer coaching groups have long been very successful.
While there are canned coaching programs, I've seen canned management consulting programs, too. Over time, you see what works, and offer it as a program. But for most coaches, that's just part of what we offer customers.
But like advisors, a few portfolio types are helpful to your ideal clients, as long as they also contain some flexibility. Flexibility is the key whether a management consulting program, coaching program, or business advising program. Why? Because we're in business to help our customers.
What works best in a situation is what will help the customer the best. Coaching works. Management Consulting works. As do other modalities. But it all works the best when the customers are informed, motivated and willing to make changes.
Jim Cannon
September 8, 2012 — 11:08 PM
No question Philip Palaveev will have great success with this venture. It goes without saying the ensemble model drives significant growth if properly executed by aligned principals. Having compatible partners and a program such as this or a way to instill discipline and accountability are key ingredients.
On paper, this approach seems highly viable, but in practice it remains difficult to execute. This is just one reason we continue to see independent, solo advisors seeking support structures where they can access expanded services, an accountability mechanism by working with other experts and the peace of mind of knowing they simply don't have to go at it along.