News, Vision & Voice for the Advisory Community
Some are still pining for Ron, but Lauren Locker is confident she'll be able to win over her audience
September 6, 2012 — 1:50 AM UTC by Lisa Shidler
Brooke's Note: NAPFA was thrown a curve ball when Ron Rhoades resigned before even taking office. The organization was then faced with the task of finding someone new, vetting him or her to make sure that the new person was squeaky clean — and doing it all in a big hurry. The group that makes its advisors take a vow of fiduciary care as its differentiating factor may have succeeded. The trick was to find somebody good who was, in effect, a turnkey-vetted director. It may have found that very person in a woman who has been around long enough in other NAPFA capacities that people are pretty certain that none of her skeletons live in a closet.
Lauren Locker is well aware that even though Ron Rhoades never officially took the post as chairperson for NAPFA, he'll still be tough to replace given his industry wide reputation for hammering fiduciary issues. "I'm getting asked questions about Ron being such a champion for fiduciary issues. Well, so am I. I just haven't been as vocal," she says. "The good news is Ron's still a NAPFA member and he can continue to champion these same issues."
Locker, a 54-year-old CFP, parachuted into the NAPFA national chairmanship on Sept. 1 after Rhoades withdrew before he even began due to a compliance glitch in Florida.
Rhoades, president and chief compliance officer of Alfred, NY-based investment advisory firm ScholarFi, relinquished his post on Aug. 21 after what he described as a careless registration glitch. A few days later, the state of Florida declined to sanction him and restored his Florida. See: State of Florida gives low sanction to Ron Rhoades.
We want Ron!
Locker founded Locker Financial Services LLC in Little Falls, NJ in 1992 and joined NAFPA in 1998. She has about 125 clients and manages more than $32 million in assets and works mostly with middle-income individuals as well as women and baby boomers. She recently created ElderLife, a new division aimed at working with aging adults.
She and Rhoades have been on the national board together for two years and have been in touch recently about her assuming this role. Locker is lesser known than Rhoades outside of NAPFA by fiduciary advocates but she is well respected in NAPFA, says Ellen Turf, CEO of the Arlington Heights, Ill.-based non-profit group.
There's no question that many industry leaders have had a difficult time with Rhoades resigning from the post. In fact, Clark M. Blackman, a CFP and president of Alpha Wealth Strategies LLC in Kingwood, Texas, wrote a blog post recently asking NAPFA to reconsider Rhoades for the post. Blackman is not a member of NAPFA.
Blackman says as a courtesy to Rhoades he won't keep pushing the issue.
"I was hoping that the next best thing would be for NAPFA to reconsider Ron for the position next year. However, when I spoke to Ron, he said they would have to change their bylaws to do that since only sitting board members who are ending their three-year term can be considered. Unfortunately, Ron is now off the board having served his full term. At this point, given there is really nothing that can be done, Ron has asked me, very politely of course as is his way, to let this go. I believe this is the best thing as well."
The people's chair
Turf is confident that Locker will impress NAPFA members because of her sense of humor, ease around advisors and ability to deal with difficult issues with a cool head.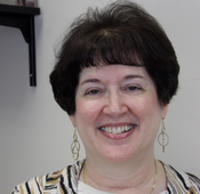 Ellen Turf:I think she's going to
bring that sense of humor and
light-heartedness to some tough decisions.
"I sort of see her as the people's chair," Turf says. "I see her representing all factions of the membership — whether it be solos, or larger firms or women's initiatives. I think she's representative of everyone. Lauren is really her own person. She has wide recognition throughout the organization."
Locker is the immediate past-Chair of NAPFA's Northeast/Mid-Atlantic Board, which has 650 members and has served on NAPFA's National Board for the past two years
Locker feels that as the immediate past president for her region, it will be a smooth transition for her to move on as chairperson of the national group. "It's just an extension of what I've already been dong," she says. "I feel very confident that I'm ready to jump right in with both feet."
18 questions
Turf says that the past two weeks were a whirlwind for her organization. She was stunned by Rhoades' resignation and then had to jump into the process of replacing him. See: Before taking a self-imposed vow of silence, Ron Rhoades sounds off on the RIA industry and tells what's it's like to hit a professional wall.
But despite the upheaval, Turf says the group was cautious in its decision to appoint Locker. NAPFA checked out Locker's compliance history making sure everything was up to snuff.
This was the first time a chairman had resigned, putting NAPFA in a unique position of how to handle the situation. Turf says the national board quickly established a process in which current national board members were encouraged to apply for the job. Locker threw her name in first and once word got out, other board members felt comfortable with her in the post.
Then, board members sent in 18 questions and Turf whittled them down to about eight since some were duplicates. Locker answered the questions in a written format quickly and then board members had a chance to quiz her before voting for her to take the helm.
"There was an opportunity for all board members — the new ones and current ones — to ask her anything they wanted," Turf says.
For her part, Locker who has served on the national board for two years says that much of the vetting took place when she became part of the national board two years ago.
Up to speed
Turf says she's looking forward to what Locker will do as NAPFA chairperson. "She's got a great sense of humor," Turf says. "She's really good at reaching consensus and helping to talk through issues and I've seen her do it in many different circumstances. I think she's going to bring that sense of humor and light-heartedness to some tough decisions that need to take place."
Turf concedes that Locker is not as knowledgeable about the ins-and-outs of the fiduciary movement as Rhoades was, but she feels that Locker will focus on issues important to both her and the organization.
"I think she'll get up to speed on those matters and will be a good spokesperson," Turf says. "There have been plenty of chairs and they each are unique. I don't think she'll do what Ron would have done, but Susan didn't do what Ron would have done either. She'll bring her own passion."
Elder care
One of Locker's passions is eldercare and she has gotten training so that she can work with her clients and help them deal with various issues. Her office will work with elderly clients and talk about issues such as health care, complicated Medicare questions as well as talk about the right time to tap into Social Security.
She has volunteered with a local hospice. "It's an extra service we offer and that's just part of what we do."
While that issue is near to her, Turf says she intends on following NAPFA's platform, which includes a wide range of issues.
"There's a lot of work to do now," she says. "I'm very, very busy."
---
Mentioned in this article:
---
---
Share your thoughts and opinions with the author or other readers.
---