Charles Goldman: The number of hybrids has been tapering off and it's been tapering off for a while.
Brooke's Note: Attending a good conference is an exercise in deliberate attention deficit. Once I had written a few articles about my encounters with many of the leaders and thinkers of the RIA business at the MarketCounsel Summit, I had exhausted my story possibilities but not my notebook. My final observations find a place in this last — but not necessarily least — article.
Not rain, nor sleet, nor hail keep folks away from the MarketCounsel Summit. Take the case of Tim Oden, senior managing director of business development for Schwab Advisor Services, who was caught in a Miami rainstorm en route to Las Vegas and got so thoroughly drenched that his business suit looked like a swim suit. "I looked like a drowned rat," he says.
Oden actually boarded the flight to Las Vegas in that soaked state and arrived at the Summit's M Resort venue and made inquiries about dry cleaning services (emphasis on the dry). Though he was delayed in joining the proceedings, it was not by much and he remarked to me that he is amazed at what services are available in Vegas in a pinch. Tim looked sharp, pressed and squeaky clean.
Less tidy than Oden's newly cleaned suit is some of the intellectual grappling about inorganic and organic growth that seemed to form the core debate at this conference and there was a very even representation of voices pressing both cases. There was also dynamic interplay between those executives bent on consolidating advisor energies by owning them, empowering them or outsourcing to them. See: Best advice for 2012: Risk being a bit boring and focus on the organic growth of your practice.
Model seeks prototype
The serial buyers showed up in droves. See: What exactly the CEOs of HighTower, Focus Financial and Dynasty Financial revealed when they shared a stage in Las Vegas.

Tim Oden flew from Miami to
Las Vegas sopping wet.
Joe Duran, CEO of United Capital Financial Advisers LLC, weighed in with his own ideas about a new model of service and professionalism that hasn't really found its polished prototype. He sees professionals aggregating in the advisor equivalent of Kaiser Permanente, the nation's largest managed-care organization, and transacting more like doctors — offering up alternatives instead of dictating solutions. See: Joe Duran lays out his latest case for why wirehouses — and classic RIAs — risk losing out to a coming oligopoly of new-model holistic firms.
Safe place to fall
But then again, so did a good swath of John Furey's crew, the Alliance for RIAs, which is promoting the industry's growth by creating its own landing places for succession-minded RIAs — minus the roll-up mentality and private equity. Matt Cooper of Beacon Pointe Wealth Advisors, John Burns of Exencial Wealth Advisors and Ron Carson were among its representatives. The group came armed with a white paper. See: John Furey is creating a think-tank out of six big RIAs that want to grow like roll-ups without the pressures of an IPO.
Too smart by half?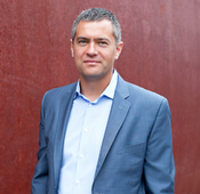 Philip Palaveev: Do you want to
go to the largest restaurant in
the world?
Philip Palaveev, CEO of a newly launched firm called The Ensemble Practice, calls into the question the whole idea of scaling advisory practices — no matter how you do it.
"Sometimes smart people can be too smart. We hear a lot about scalability, but the service business isn't very scalable by definition. Do you want to go to the largest restaurant in the world?" he asked during his speech. He added: "What drives scale is the opposite of what clients want; service destroys scalability. The more variety, the more we destroy scale."
Later we discussed this point and I said that the answer might be 'yes' for many people, if the answer is Starbucks or McDonald's.
Still, Palaveev has an opinion about how he bets, assuming scaling of RIA-type advice is possible, about how it might play out.
"Is it ultimately going to be private-equity firms or is it going to be super ensembles? The worst thing about private equity is that it isn't very patient … it's a race to the public market … That's what will give ensembles the advantage." See: How a swath of billion-dollar-plus RIAs are posing a threat to indie advisors.
Charles Goldman, CEO of Advizent, may be Switzerland in all of this, but he did not hold back on offering a few sharp opinions. One of them was documented in this article: See: The two dramatic moments everyone was buzzing about at the MarketCounsel conference.
Whether it's organic growth or inorganic growth, the choice to get bigger is not optional, Goldman insisted.
"Without growth, it's death," he said.
Goldman offered the glass-is-half-empty version of the RIA movement, pointing out that the growth line has flattened out in terms of the numbers of practices.
More strikingly, he showed that everybody's darling, the "hybrid RIA," is not the explosive category that everybody thinks it is.
"The number of hybrids has been tapering off and it's been tapering off for a while," he says. See: 5 Reasons why the hybrid RIA model may be a bigger deal than ever.
There are currently about 3,300 RIA firms with $100 million or more of assts advised. There are about $2 trillion of RIA assets.
Bogle-approved
Goldman questioned whether wirehouses are really having such a rough time of it. "Wirehouses still have about half the assets; their model is broken but they're fixing it. The main "fix" he mentioned was the heavy use of fee-based accounts.
The reason that RIAs are slow in taking command of the market is because their marketing is still fairly invisible, Goldman said.
"Nobody knows who you are — a lot of your clients would probably say you're a broker … We [in the RIA business] don't market. It's expensive and it's hard to track ROI."
Regionals, banks and insurance companies are all taking share, according to Goldman. "A lot of people out there are winning with a lot of different models. but nobody's talking about why the client should be first. Nobody's out there trying to build that brand today."
Of course, Goldman is promoting not only this idea but also his new enterprise, Advizent, which is built around protecting the consumer with standards approved by Jack Bogle and creating a national brand around those standards that RIAs can use cooperatively. See: Steve Lockshin and Charles Goldman begin to unveil Advizent, a venture that could put thousands of RIAs under a single cooperative.
Currently Goldman's venture has RIAs with a combined $110 billion of assets whose principals have offered a handshake deal that they'll join in on the plan. Despite his mindfulness of how tenacious the wirehouses are in holding on to assets, Goldman isn't building his business around RIAs for nothing.
"There's a lot of money and a load of trust. The wind is at your back."
Follow the leads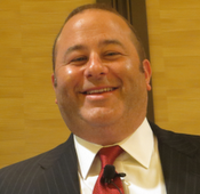 Brian Hamburger: Other folks have come
to fill this need.
It took Palaveev to bring the event back to earth, remarking that companies that don't have multiple partners have retarded growth but adding partners, even one, is no mean feat.
"The number one reason that ensembles fail is that partners are fighting with each other," he says.
Palaveev offered other sobering challenges related to bringing aboard partners. Most entrepreneurs take a pay cut — for a long period of time.
"It takes five years to groom a professional," he says.
At RIAs, the problem often boils down to finding smart people who can't prospect their way out of a paper bag. "It's not sales skills; they can't find qualified leads."
Still, Palaveev offered some encouraging words, too, about taking the necessary plunges to achieve growth. "If you don't start, you'll never finish. I have run marathons, and 99% of people finish marathons. If you run the first mile, you'll cross the finish line."
Turnkey conference
MarketCounsel LLC chief Brian Hamburger picked up on the start-small theme by mentioning how only five years ago the MarketCounsel Summit was just a relative handful of people in Tenafly, N.J., and how it has blossomed in a half a decade. He has hopes of taking it to another level next year with "RIA" instead of "MarketCounsel" in the title. His hope is to create a turnkey conference of sorts where other RIA-focused companies can plug their own events into the central RIA event and have their own content — but share general sessions and generally network together. See: MarketCounsel buys Beneficial Concepts Group with an eye toward calming smaller RIAs' compliance fears.
He also announced that he had sold MailBanc, which he founded five years ago. "We started it five years ago out of need. There weren't any systems in place that RIAs could afford. We said: 'We're going to have to build this.' Now other folks have come to fill this need, allowing us to step aside.
MarketCounsel sold MailBanc to Global Relay, which had a booth at the MarketCounsel event.
A cabbie's tale
As a final note, I'd like to say that I again learned almost as much in the 10-mile cab ride to and from the conference as I did during it. This happened two years ago at the same event. See: Advisors in the airport shuttle make suggestions for taking the MarketCounsel Member Summit to the next level.
My driver was a young single mom. I pointed out the window at a housing development of seemingly never-ending look-alike homes cleaved end-to-end and asked, give-or-take, what she thought one of them would cost. She replied that the spot I was pointing at was where she had just bought a house herself for which she had paid $105,000. It had three bedrooms and had never been lived in before and had been sitting empty since it was built back before the 2008 crash. Her mortgage payment is $750.
My next question was how much she could get if she rented it, and she said it would easily be $1,400 or more. I asked why the whole world wasn't buying these houses and she said that they should because of the strength of the rental market. She added that landlords have it made because the houses are brand new so nothing is likely to need maintenance for 10 years.
I'm not sure I'm up for being a Las Vegas landlord, but it sounded like this cab driver knew as much about a good investment as many financial advisors.
---
---
Mentioned in this article:
---
---
---