Jeff Cusack: The average RIA doesn't think of Nuveen when he's thinking of alternatives.
Brooke's Note: The old saying about following the money is useful. But it may be even more enlightening to follow the talent. Fortunately, we didn't need to choose here as Jeff Cusack has teamed up with Nuveen and its mega-hoard of $211 billion of managed money. Cusack hasn't made much news (though he's had impressive jobs at JPMorgan and elsewhere) since he left Schwab where he ignited the growth of what is now the biggest managed account platform in the industry. But that may be because he is a platform guy and an RIA guy and here he is being put in charge of RIAs and an alternative assets platform — which is different from his intervening gigs. This hire has an intriguing feel to it.
With the hire of ex-Schwab and ex-Smith Barney hotshot Jeff Cusack, Chicago-based Nuveen Investments is hoping it has finally found an RIA division head that will be able to jumpstart that channel. The fourth RIA division head in five years, Cusack will be charged with expanding the investment management firm's $14 billion RIA business — a small portion of its total $211 billion in assets.
The company's plan to bring in more advisors hinges on expanding another attractive sector of its business at the same time: alternatives. Cusack will head up both pushes, doing double-duty as the head of RIA distribution and in a newly created role as head of liquid alternatives. While the RIA and alternatives jobs are separate, the two divisions will have some overlap with Cusack at the head of each — and that's something Cusack hopes to capitalize on.
"Jeff had the bandwidth for both the RIA and alternatives businesses," says Carl Katerndahl, executive vice president and head of distribution for Nuveen. Katerndahl couldn't comment on former RIA channel head, David Archer.
It depends…
Cusack, who is considered a godfather of sorts for both the managed accounts businesses at Schwab (2000-2003) and Smith Barney (1988-2000), could succeed where others have failed, says Morningstar's head of alternatives research Nadia Papagiannis, but it'll depend on what kind of products Nuveen rolls out.
If the company adopts a strategy where it brings in top managers from high-quality hedge funds — many of which are struggling to raise funds, she says — or buys up those hedge funds and smaller alternatives firms or sub-contracts with managers, then Nuveen could be successful at its alternatives expansion. But, if it simply takes in-house talent and tells them to develop alternatives products, then it will fail in the crowded marketplace, says Papagiannis. See: Step-by-step on finding a platform for alternative investments.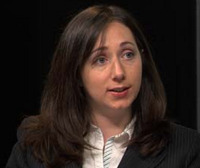 Nadia Papagiannis says Jeff Cusack needs
to bring in top managers from
high-quality hedge funds to make Nuveen
successful in bringing alternative investments to
RIAs.
"It all depends on the kind of products they come out with," she says. "If they do it all in-house, it won't be successful."
Fortunately, what she's suggesting is exactly the model that Cusack spearheaded most recently as president at San Francisco-based Forward Management. See: ReFlow seeks a new president with a knack for raising capital.
Katerndahl says the company is "open to strategic acquisitions where we have product gaps."
A leader with no troops
For now, Cusack has six sales people working in the RIA channel, but no actual employees under him as the head of alternatives. Nuveen has $20 billion in alternatives spread out across three of its seven affiliates. Cusack's job is to coordinate among the different affiliates and divisions and come up with a new cohesive strategy. While he may hire people eventually, he says there's no point in duplicating the resources Nuveen already has.
"I don't need to hire a new sales team or operations team," says Cusack.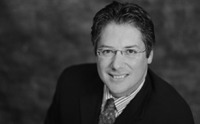 Carl Katerndahl: Jeff has the bandwidth
for both the RIA and alternatives
businesses.
Mostly, since starting on Aug. 22, Cusack has been getting his feet wet and attempting to figure out what this newly created position means. "Up until now, we've not had a person that has been driving alternatives," Cusack says.
The first job is to figure out what new products the company might need to fill gaps in its existing directory, roll-out products already in the pipeline, and then market that whole alternatives line-up.
"Still getting my feet on the ground," says Cusack. "It's too early to talk about what we're going to do."
"We're all working on alternatives and we need to find out where the gaps are," says Katerndahl.
While Nuveen is known more for its safe, institutional investments, Cusack says he was pleasantly surprised after he started by just how many alternatives products they already have in the pipeline to be launched in the next month or two.
"It's better than I thought," he says. "There's actually more here than I originally thought. It's a work in progress, but it's not starting from scratch."
Nuveen has an RIA division?
It may not bode well that even the new head of alternatives and RIA distribution didn't realize how much Nuveen has available. Marketing itself as a hot alternatives option and a resource for RIAs will be a large part of Cusack's challenge.
"The marketplace is unaware," says Cusack. "We've got to work on that. The average RIA doesn't think of Nuveen when he's thinking of alternatives."
While many have overlooked the $14 billion in RIA assets that are dwarfed by Nuveen's $211 billion in total assets, Katerndahl doesn't consider the effort a failure. The goal is to sell $4 billion in the RIA channel in 2012 — a goal Katerndahl says they're well on their way to meeting.
"Nuveen has a bigger RIA business than people know," says Katerndahl. "Not very well-known, but a very successful effort."
When Frank Maiorano left Nuveen in 2008, after the company was bought by Madison Dearborn Partners, he had built the RIA channel at Nuveen up from scratch to just under $10 billion. See: Stephen Finn taps Maiorano to take small custodian to the next level. Nuveen has gone through a few RIA division heads while looking for some growth. Jeff Carlin followed Maiorano as head of the RIA channel until moving over to head national sales at Nuveen for the wirehouses. Archer then had the job for a little over a year.
But, Cusack is only looking forward.
"I really can't speak to the history of how we got where we are now," says Cusack.
Alternatives and RIAs
Both Katerndahl and Cusack believe it makes perfect sense to tie the alternatives effort to the RIA effort. Both are fast-growing channels and RIAs — as opposed to wirehouses — tend to be quicker to adopt new products and trends. As demand for alternatives grows among RIAs, Nuveen hopes to capitalize on that.
"RIAs tend to be early adopters," says Cusack. "It's just logical."
"[RIAs] are one of the fastest growing segments in the marketplace," says Katerndahl.
Papagiannis says there's another motive to getting into the alternatives business and its the same reason lots of more traditional investment companies are flocking to the alternatives space as well: better profit margins.
"The same reason all the other traditional firms are getting into alternatives," says Papagiannis. "The margins are higher on these products. The growth is where there aren't ETFs."
Moving forward
Cusack comes from Forward Management in San Francisco, where he helped grow the alternatives business as president of the company. Forward Management is the sole advisor of Forward Funds, founded by the Getty family.
Forward announced last week that it did a shuffle and created a number of new positions in the wake of Cusack's exit. Clay Smudsky, who had taken over a number of Cusack's duties after his departure, will have the newly-created role of managing director, head of distribution. Smudksy was previously president of institutional assets at Forward. The company also created another position, vice president of institutional sales, which it brought on John Harty from Pyxis Funds to fill, as well as added some intermediary sales roles.
"Forward has been steadily expanding its portfolio management capabilities and strategies, with more new products slated to come on line this fall," said Forward CEO J. Alan Reid, Jr. in a press statement.
The company, however, has not filled Cusack's position and is searching for a new president.
Before starting at Forward in 2008, Cusack was previously executive vice president, head of sales for JP Morgan private client services, head of managed accounts at Charles Schwab and spent 11 years as senior vice president and divisional director at Smith Barney Consulting Group.
"Jeff is a talented executive," says Chip Roame, managing partner at Tiburon Strategic Advisors.
Katerndahl, whose known Cusack since his days at Smith Barney, sought him out when Nuveen was looking for someone to take over the positions they had imagined. "He's really talented," says Katerndahl.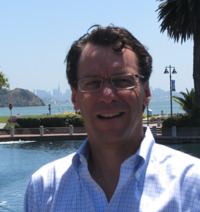 Chip Roame: I think Nuveen is
primed to do well in the
RIA market.
Now, he's hoping Cusack is the person to jumpstart the company's new products and sales.
Onward
In the coming months, Nuveen will have to have "sensible product launches," Papagiannis says, that fit in with their current offerings and present a clear, cohesive portfolio to advisors. And, then, advisors will have to be made aware of the new offerings and educated about alternatives as a whole — something Cusack shouldn't have a problem with.
"That's actually what Jeff has been really good at," Papagiannis.
"I think Nuveen is primed to do well in the RIA market," says Roame. While Nuveen has long been known more for its focus on wirehouses and institutions, he says, "it's possible the firm has shifted strategies. We will see…"
"I certainly didn't come in not to increase the RIA division," says Cusack.
---
---
http://thescripter.com/_keywordindex.htm
Now when you may have chosen the colour for that gown, you have to pick several variations. A really perfect gown ought to compliment your body style and you happen to be uncomplicated in it much too. Let get a search about a number of styles and types which will help you in looking for graduation attire.
http://www.foetoke.com/user/e6htiucc6/
Apple cider vinegar is designed from fermenting apple juices 2 times. The quite initially time turns the juice into apple cider despite the fact that the 2nd fermentation turns it into cider vinegar. Although it's going to take quite a few fermentations to achieve the last item, it nevertheless retains the nutrients from its unique variety at the same time as including enzymes and additional acids created within the fermentation process.