Shirl Penney (l.) and Elliot Weissbluth (middle) take their turns listening as Rudy Adolf (r.) explains his firm's impressive M&A feats.
Brooke's Note: We're not fascinated by the roll-up-type buyers for nothing. They have taken on the challenge of creating big new financial companies out of virtually nothing and doing it with the very loud ticking of a two clocks — their private equity investors and the limits on confidence that their advisors' have to make things click the way they promise. Add to that the challenge of doing it all in an ever-shifting advisory market, regulatory atmosphere and with the vagaries of dealing with individual entrepreneurs and you have the recipe for theater. With the major players in attendance in Las Vegas at the MarketCounsel Summit, I got a front row seat and picked up what I could from these very public people who keep many of the details private.
When Rudy Adolf, Elliot Weissbluth and Shirl Penney shared a stage for the first time at the MarketCounsel LLC Summit in Las Vegas this month, people expected some fireworks.
The heads of Focus Financial Partners LLC, HighTower Advisors LLC and Dynasty Financial Partners LLC are all alpha dogs who compete to win — and their co-panelists are their closest competitors in the eyes of many financial advisors.
Despite some twitching in their seats, the men went out of their way to avoid sparks flying between them but there were plenty of thunder rumblings and the occasional flash of lightning. See: The two dramatic moments everyone was buzzing about at the MarketCounsel conference.
These companies are thriving but are also guilty until proven innocent of choosing a business model that has known its share of trouble in both the advisor world and other industries.
This bifurcation of the industry's vision was captured in comments made by Mark Tibergien last week in a Q&A in this publication. See: 5 questions for Mark Tibergien on his 5th anniversary as CEO of Pershing RIA unit.
"What history teaches us is that the key to success for these 'middleware' platforms is to be well-capitalized and first to market, while those who languish in either aspect fail. Advisors like to bet on the winning horse, so those platforms that are well-branded with visible success of recruiting will have a self-fulfilling prophecy," said the Pershing chief.
The first rule of roll-ups…
The goal Brian Hamburger, principal of MarketCounsel, had in mind in convening these industry gunslingers was to demonstrate that the term "roll-up" is a myth. By that he meant that — aside from forming big relationships with big players on a rolling basis — that the business models of these firms are surprisingly diverse.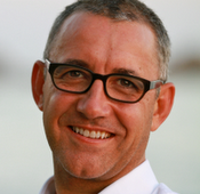 Joe Duran is allergic to the
roll-up label — so much so
that he declined to share the
stage with the other high-powered execs.

"By assembling the three guys making the biggest bets on independent RIAs, I had hoped to showcase the differences in their philosophies and approach," Hamburger says. "That was a given. But what I found most striking was the commonality of purpose; they all believe that the brightest spot in financial services is where independent advisers reside, and they have each built the platform they think can best give advisers the benefit of scale while retaining their independence." See: This generation of advisor aggregators puts the roll-up ghosts to bed, for now.
The person known as the third or fourth horseman in this group — wrongly from his perspective — is Joe Duran, CEO of United Capital who did not appear on stage at the same time as the other three — even though he made the trek to Las Vegas for the event.
United Capital's model is similar to HighTower's in having a single brand. Duran has always been the most allergic of the crowd to the term 'roll-up' and says he declined to share a stage with the other three to avoid even the whiff that his firm could be considered one.
"We're onboarding employees and they're selling services," he says. He likens his company's serial acquisitions to a software giant that is known for doing so, without the roll-up label. "Nobody calls Oracle a roll-up," he says. See: Joe Duran lays out his latest case for why wirehouses — and classic RIAs — risk losing out to a coming oligopoly of new-model holistic firms.
The truth is that none of these entrepreneurs likes "roll-up" as a term and the crowd appreciated their willingness to play ball despite being part of a panel with those words in its title.
They get called roll-ups mostly because it is easier to say than strategic buyer, consolidator or aggregator — and most certainly easier than venture-backed wealth management firm that buys a bunch of advisory firms along the way.
But also because they most certainly do roll up other firms, Dynasty aside, as part of their growth efforts.
Don't bank on it
Dynasty is also roll-up that happened to exit that role, intentionally, after acquiring a single $5 billion practice of Mike Brown, who left U.S. Trust and now outsources a one-stop platform to fee-paying big advisory shops. And one strategic buyer, HighTower, is getting into Dynasty's platform business. See: HighTower throws open its doors to non-partner firms who want service and/or brand.
Focus Financial CEO Rudy Adolf, who appeared on stage sporting a serene demeanor and white-soled deck shoes, led off the panel by giving Brian Hamburger credit for creating the legal structure for the New York company and for helping with the legal transition of the biggest partner firm. Adolf's company has 24 partner firms with a combined $50 billion of advised assets that comprise 100 partners and 750 employees.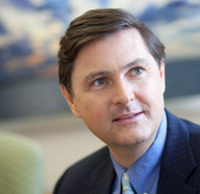 Rudy Adolf: There's no price that's
high enough" for Focus' partners to
agree to be sold to a
bank.
He presented the value of his company is a way I hadn't quite heard before. "We are really in the succession-planning business and we help groups to avoid selling to the banks. It's what these guys have marketed against their whole lives and then they sign over to them because they have the check."
Somebody in the crowd (OK, it was I) asked each of the three executives on stage whether this strategy might all be for naught if their businesses get acquired wholesale one day by a bank or wirehouse. In effect, all them said that they wouldn't allow that to happen.
No way, no how
Adolf was most emphatic on this point.
"There's no price that's high enough" for Focus' partners to agree to be sold to a bank, he says. Focus Financial's venture capitalists, Polaris Venture Partners and Summit Partners LP, put the company on the block this summer but did not follow through on a sale. See: Focus Financial VC backer says IPO still on the table after private auction yields no sale.
Adolf says that his company has proven itself as a competent M&A force not only for buying big-time RIAs but for helping partner firms make deals of the same size. One stunning deal was Buckingham Asset Management LLC's recent purchase of another Focus firm, Founders Financial Network LLC. See: Why sudden wealth at Facebook is gushing into a $17-billion RIA and triggered a merger of two DFA giants.
The deal was completed with some urgency because of the joint opportunity to reap a windfall of Facebook clients, and the closing was facilitated by the fact that the firms had long known each other.
And the deal showed that doing deals is something that can be learned by people who have a mindset of organic growth. "[Buckingham executives initially] said: "Talk to us about anything but tuck-ins," Adolf says. Now they've done their sixth.
Focus Financial foresees revenue of about $215 million for 2012, up from $179 million in 2011. That revenue level is helping Focus to get good pricing from vendors. Focus keeps about $15 billion of assets with Fidelity Institutional Wealth Services and another $25 billion with Schwab Advisor Services. "It gives us leverage that another firm couldn't have."
He mentioned other unforeseen synergies. For instance, LVW Advisors, a Pittsford, N.Y., firm that specializes in institutions and ultrahigh-net-worth clients, never had a place to send its merely affluent.
"Lori [Van Dusen, principal of LVW] used to hand off $5 million to $10 million clients to Morgan Stanley [her old employer]," Adolf says. See: Dynasty Financial wins the account of Lori Van Dusen's new RIA through Focus Financial.
The Goldman Sachs conundrum
Elliot Weissbluth, demonstrating a more fiery demeanor, portrayed his company as the team of advisors working with bulletproof armor. The team includes 24 offices with 70 advisors and the company has 200 employees
"When a financial advisor gets sued, he's not being sued personally, and our lawyers handle it," he says. "We put them in an atmosphere that feels like a wirehouse."
Still, he acknowledges the power of the big brands. "We get inbound calls when I go on CNBC."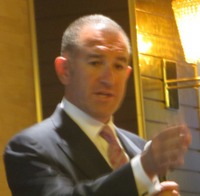 Elliot Weissbluth: When a financial advisor
gets sued, he's not being sued
personally, and our lawyers handle it.

Weissbluth adds that some Wall Street brands are still too impenetrable for poaching their advisors to be profitable. "We won't lift out from Goldman Sachs, because the clients stay with Goldman Sachs."
That comment prompted a comment from Tim Oden, senior managing director for business development at Schwab Advisor Services who attended the panel. My interview with him happened by phone.
"I'm not sure I'm willing to agree with Elliot — even if it is a longer [sometimes 18 months] sales cycle [to bring aboard a Goldman Sachs broker], they're great sales prospects even if they're less numerous." See: Why a $6 billion New York RIA is finally making its California debut with a Goldman talent.
A typical Goldman Sachs wealth manager has the trust of its clients, who eventually will follow that advisor, Oden says. See: A Goldman Sachs advisor breaks away, sits out for 90 days and builds a $1-billion-plus RIA.
Purchasing the cow?
Weissbluth pointed out that HighTower ranked 13th on the Inc. list of fastest-growing companies. "Anyone who is concerned: Is this [breakaway movement] real, this is a strong piece of data," he says. But despite the success that HighTower is having in purchasing companies — almost entirely at wirehouse or big bank expense — it is augmenting its strategy with an option it acknowledges takes a pages from Dynasty's model.
After the panel, Duran said in an interview that he sharply questions HighTower's decision to move in that outsourcing direction because he sees significant risk to the brand in having non-partners using it. He wonders how many partners HighTower can bring aboard now that the services are available without the big commitment of a sale.
"I look at HighTower and I say: why would I ever sell to HighTower if I can get all the service?"
HighTower will offer deeper servicing to partner firms and when it buys a firm, that acquired firm gets a big payday.
'Gee whiz' deals
Penney talked about Dynasty as most certainly not being a roll-up because it doesn't acquire practices or have the pressure of impatient financiers. In fact, Penney makes joining firms and partners pay in. "Everyone has written a check," he says. "...There's no private equity behind us."
Still, Penney seemed to be a reasonable addition to the trio because roll-ups tend to aggregate buying power and provide shared services and expertise, as his firm does.
Dynasty has come flying out of the blocks with 20 firms and by October's end foresees having $17.5 billion of advised assets — about two years after its founding was announced. This critical mass allows the firm to act as a $15-billion client of Wall Street, which allows economies of scale to make purchases that would be out of reach for most RIAs. Callan Associates Inc. research is a big one on the list — a service that can cost $200,000 — and that Dynasty can deliver far more cheaply.
The New York-based firm's goal is 100 firms with $100 billion of assets under advisement. At that point Dynasty believes it'll be able to pass along even better purchasing power to RIAs.
Penney also opened a window into some of the gee-whiz deals that his firm is helping facilitate through its connections to banks. One advisor got a $1.2 million fee for helping to fund the building of a sports stadium. Another received a $400,000 referral fee in a casino deal.
---
---
Mentioned in this article:
---
---
---
Elmer Rich III
September 25, 2012 — 4:04 PM
It would be professionally refreshing if serious, uncomfortable, difficult topics with data and evidence were discussed and reported but selling is always the priority. Fair enough.