Aaron Rowe of Edelman Financial and and Eric Clarke take the field of the Dallas Cowboys Stadium
Brooke's Note: My father was a big reader and I noticed it from a young age. But he read grown-up books and I was frustrated that I couldn't read them, too. At some point, however, he started to pass along books from his collection that he thought I would like. Some of these were by George Plimpton and I loved them. I was one of the youngest readers of "Paper Lion." Since then I've had a dream of creating more Plimptonian literature where an average person parachutes into an unusual situation and writes about it. In a sense I see myself that way in the RIA world but Eric Clarke is fast becoming the true Plimpton of RIABiz — this time serving as a fly on the wall of his own conference. Previously he wrote about his hike up Mt. Whitney with RIA execs. He also wrote about his trip to Warren Buffett's annual meeting. But this article isn't just humor and intrigue. There are nuggets from the head of a top technology company about what's next in his industry based on listening to the overwhelmed advisors in Dallas. Literature aside, Clarke was named one of the The top 10 people to watch in the RIA business in 2012.
With a year's worth of planning under our team's belt that included lively debate on conference content, rallying support from sponsors, multiple presentation preview sessions for each topic, reserving plane tickets and negotiating contracts for accommodations, I left Orion headquarters in Omaha last Tuesday afternoon to catch a flight to Dallas for our 11th annual Gemini & Orion Advisor Forum. As I walked out to my car, I met my wife who had just picked out a couple of new neckties for the event, grabbed my suit from the cleaners, and packed the last few items into my suitcase.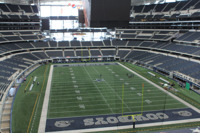 A private tour of the Dallas
Cowboy's Stadium was a highlight of
the conference.
Pre-show jitters
Airport bound, I felt like our team was prepared; but having sold out our conference with just over 400 attendees, the preparations and anxiety levels were both at an all time high. Advisor Forum aside, I was able to sneak in a conference call on the latest update from my IT team in order to provide an up-to-date timeline on over a $1 million dollar hardware upgrade that we are in the midst of deploying.
Just as I hustled through the terminal and boarded my flight, American Airlines gave me a call and notified me that my return flight had been cancelled. With my focus sharply on the next couple of days, I decided that I would deal with this inconvenience later.
As I settled into my flight, I combed through a review of the attendee list and made some finishing touches to my presentation. As I went through the agenda, I was confident that we had set the stage for this year's Advisor Forum environment were set to be better than ever to get advisors' feedback, network, and share best practices with each other.
4:30 a.m. wakeup call
Once I arrived at Dallas' Gaylord Texan hotel, it was great to immediately see some friendly faces and long-time business partners that have become good friends; Brian O'Donnell with iShares, Marty Kurtz with The Planning Center and Aaron Rowe with Edelman Financial Services. (FPPad.com Bill Winterberg interviewed Kurtz during the conference.)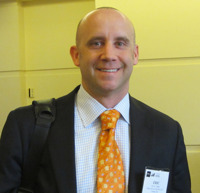 Eric Clarke: Having sold out our
conference with just over 400 attendees,
the preparations and anxiety levels were
both at an all time high.

Wednesday morning started early with a 4:30 a.m. wake-up call, and I set out to clear my mind with a six-mile run in the crisp Dallas fall air. The Orion Advisor Services, LLC team then gathered shortly after breakfast to set up a dozen Tech Lab stations. We wanted to get some one-to-one feedback from our advisors, and the Tech Lab setting came together nicely with our team in 'Orion Genius' T-shirts – things were starting to take on the look of an Apple Store…Orion style! See: Orion wins another RIA with $1 billion-plus in AUM.
We then began the afternoon with a small meeting of a dozen advisors who had agreed to come in early to give us their direct feedback and counsel with some new technology concepts that we were planning to announce. Discussions went well, and we were able to pick up some key insights from this trusted group.
Dreaming big
The conference officially kicked off Wednesday night with a keynote address from Lou Holtz, the only NCAA football coach in history to lead six different programs to bowl games. As TD Ameritrade's Rey Pajarillo got up to introduce the coach, Holtz leaned over and said, "Hey Rey — keep the intro short!" Coach Holtz's sense of humor and enthusiasm captured the audience's attention as he shared his core values and a lifetime worth of experiences that have made him successful: the importance of staying focused on your purpose and dreaming big; not making the mistake of simply maintaining excellence, but rather continuing to push yourself to become better. Holtz's comments reinforced the importance of a core value that we have here at Orion — innovation. See: The TD Ameritrade-Orion pairing again proves productive — this time to wrest assets from a $3.6 billion Schwab RIA.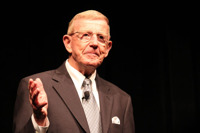 Coach Lou Holtz razzed TD Ameritrade's
Rey Pajarillo, telling him: Keep the
intro short!
As Holtz signed autographs and took photos with advisors, I slipped off to my room to do a last run-through of my presentation.
Innovation challenge
After another early morning run on Thursday, I met up with Bill Wostoupal, Orion's director of business development, to kick off the morning sessions with a knock-off of the Dollar Shave Club viral video. It was a fun way to start the morning sessions off before jumping into a year's worth of innovations that we have partnered with advisors to implement: 80-plus mobile apps in the Apple and Android stores, customized reporting tailored down to individual clients, and Orion Connect — our SalesForce Portfolio Accounting App that now has over 150 licensed users. See: Orion wins a $2-billion RIA account from Advent after two very long drives across the prairie.
We challenged advisors to take their businesses to the next level by utilizing the recently launched Social Metric report suite, and announced a new Orion initiative that leverages an old tech tool — Advisor eMail. See: Orion Advisor Services goes mobile with advisor-branded apps for the iPhone and Android.
The job gets bigger
As the conference presentations transitioned to activities that included a tour of Dallas Cowboys Stadium followed by dinner at Circle R Ranch, we had a great opportunity to network with advisors and get their feedback on what they were doing to take their businesses to the next level, along with some insights on how we could help.
As I listened to advisors, I couldn't help but pick up on a consistent theme. We heard over and over again that clients simply have too much access to too much information. Advisors discussed overwhelmed clients who were struggling to make sense of multiple account access points, the latest news reports on markets and global economies and election concerns. Being bombarded with information overload, the role of the advisor seems to be changing. See: Orion will take a page out of Facebook to help RIAs achieve better inter-office chats.
Instead of a value proposition rooted primarily in asset management, advisors are now adding financial planning, budgeting, video market commentaries and even counseling to engage with clients to distill information and help clients make sense of their entire financial lives. (Clarke echoes Joe Duran, chief of United Capital who has arrived at similar conclusions). See: Joe Duran lays out his latest case for why wirehouses — and classic RIAs — risk losing out to a coming oligopoly of new-model holistic firms.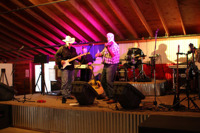 Advisors swing their partners in Texas-style
hoedown.
As advisors' value propositions add additional services to the line up and adapt to accommodate the changing nature of client relationships, our technology and reports at Orion will need to change to incorporate this new paradigm. See: What is the value proposition of a financial advisor — and how is a budding RIA culture upping the ante?.
In the coming year, the Orion system will integrate with financial planning tools providing integrated views for advisors and clients side-by-side with performance reporting. On the same report, client portal, or mobile app; advisors and clients will have access to integrated information from financial planning, analytic research and performance reporting at their fingertips. Roundtable discussions and some final sessions rounded out the conference reinforcing Orion's goal of providing technology that enables advisors to have positive portfolio conversations with their clients.
Sprint to the finish
As the conference wrapped up, I realized that I needed to book my return flight home — and thanks to a quick mobile purchase of a new ticket on Southwest, I jumped in a car headed to Love Field to begin my journey back home. While at the ticket counter, I found myself in line next to Chris Knowles from Barber Financial. Before he headed off to his Kansas City gate, we had time to grab lunch at Chili's To Go together and debrief on the conference. He shared a pic of a conference highlight with me – a 100-yard dash across the Dallas Cowboys Field racing against Orion's Implementation Manager, Jud Mackrill. I'll let you ask Chris and Jud who came out on top!
Now, re-energized after a weekend of rest, I can't wait to get started on the coming year of innovation fueled with the feedback that we received right here, at the 2012 Gemini & Orion Advisor Forum.
Eric Clarke is the CEO and founder of Orion Advisor Services, LLC LLC, a portfolio accounting service bureau reporting performance for more than $70 billion of assets for advisors.
---
---
Mentioned in this article:
---
---
---