Joe Duran: Your competition will not be Merrill Lynch. It will be the big players with value that you can't match.
Brooke's Note: In the RIA business, everyone is always asking: What's next? Joe Duran does, too, but then he ventures to start the conversation with bold, well-considered thoughts. Of course, no good argument deserves to go un-argued. Philip Palaveev, who also attended this speech by Joe, thankfully had countering thoughts of equal quality.
The advisory industry is working hard to mature into a profession but it may be chasing an anachronistic notion of what exactly constitutes professional behavior. To succeed in the long run, RIAs should be looking to doctors, lawyers and the like who have evolved from being providers of solutions to guiding on the use of information. And companies that don't wake up to that emerging reality are doomed to a low success rate.
That was the gist of Joe Duran's message in a speech delivered to financial advisors and industry executives at the MarketCounsel Summit in Las Vegas last Thursday.
Surf's up
"We think the next big wave is from investment management to financial-life management — from [managing] 'walking wallets' to [managing] people," says the CEO of United Capital Financial Advisers LLC. "Your competition will not be Merrill Lynch. It will be the big players with value that you can't match. There will be five or six megabrands for national advisors — like with doctors, agents, lawyers and accountants."
This is a tough conclusion to swallow for some industry experts, including Philip Palaveev, CEO of The Ensemble Practice, who says he is on board with many of Duran's observations on the future of the industry including: consolidation, increased competition, higher expectations and awareness of clients, importance of branding and other matters he mentioned during his speech, which Palaveev attended. See: Philip Palaveev hangs out his shingle with a new consulting model for RIAs and a money-back guarantee.
"I tend to disagree with the conclusion that the industry will be 'dominated' by several brands and will only leave scraps to smaller firms," he said in an e-mail sent after the conference. Not only clients but advisors themselves will resist mass consolidation, Palaveev says.
"The emphasis on the professional as the focal point of the relationship and the source of knowledge and judgment always tends to favor some fragmentation. As much as large companies tried to bring the herd together, [advisory] service professionals may prefer to work in smaller teams, with smaller number of partners and with more freedom to operate."
Duran says it's important to realize that wealth management firms that give "holistic" advice ( a term he dislikes) have really only been around for maybe 10 years so it's too early to judge what their natural orientation should be. Until now, advisory firms have been investments-centric, he adds.
Still, Duran does not say for sure if one of these next big players has made the scene yet, though he hints that his own company is making strides in the direction of a life-managing model with each passing year. Duran estimates that United Capital will get $60 million to $70 million this year from investment fees and about $10 million from advice-related fees. See: Joe Duran tries out novel financial planning strategy on himself and his wife.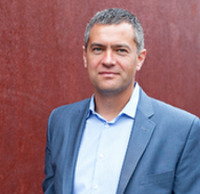 Philip Palaveev says that in advisory
firms, like it or not, there
is a gravitational pull to fragmentation.

Duran believes the more-holistic approach puts advisors on much-more-solid ground when they ask for big fees.
"I've never heard an answer even from the best financial advisors in the country to the question: Why do I pay you $20,000 a year?"
The one Duran uses is: To counsel investors so that they can make the best possible informed, objective financial decisions.
Quantum leap
In his talk, Duran drew from various other industries in which quantum improvements have taken place and where there are big new winners. These include Starbucks for coffee from the corner mom-and-pop java shop and Zappos, the mega website for shoes, replacing brick-and-mortar shoe stores.
"We have to think exponentially. Quantum improvements are what we do. Doing nothing will ensure you end up in the same place as a travel agent in the 1980s" — that is, fat and happy on the brink of extinction.
Scapegoats-in-arms
Bessemer Venture Partners, a big United Capital venture funder, has also invested in Betterment, he says. (Speaking at the same conference, Charles Goldman, CEO of Advizent, spoke up and said he wished Duran had used another online advisor, Personal Capital, as his example. Goldman is on the Personal Capital board.)
Duran said: "Once things are better, human beings never go back — like going to a video store to pay a late fee." (Editor's note: Some of us still pay those fees, but we get the point.)
Duran's point about the Betterments of the world is not that they are a threat to a full-throated investment advisory practice. Rather, he means that people with significant wealth simply aren't going to entrust their fortunes to a nameless, faceless, blameless website in the name of saving some basis points. He says that big RIAs with trained professionals can be paid for five services: Laying out alternatives, identifying blind spots, instilling objectivity, telling the truth and, finally, offering guidance.
"Advisors will always have a place because they share the blame; the stakes are too high [for clients to take on the burden themselves]," he says. "You can't tell me that Merrill Lynch or UBS will live up to that."
Co-opting the client
Duran further argued that people will execute advice only if they have made an investment in order to obtain it. "If they rent a plan, they won't use it," Duran says. "Make them pay. If they own it, they will use it. If they don't stick to it, whatever they pay for it is a waste of money."
There are side benefits to co-opting the client, such as fewer lawsuits, he added.
Only human
Duran's vision for the future of financial advice had other skeptics. At the MarketCounsel Summit, Goldman was one industry veteran who spoke up to say that he thought just presenting alternatives to clients wasn't going far enough. Goldman's basic argument was that clients shouldn't have to be put in the position of making decisions about complex issues. More detail about the differing views was covered in this article: The two dramatic moments everyone was buzzing about at the MarketCounsel conference
Duran's speech served as a sneak peek at a white paper that he is working on and expects to publish early in 2013. "The Consumer Revolution," released two years ago, sparked an earlier article in RIABiz: Why Joe Duran believes that classic RIA firms face extinction.
Palaveev thinks his view still could better incorporate human nature both on the professional and client side.
"Joe himself noted how ownership is extremely important and makes all the difference. Joe told us how you tend to care much more about your own car than the rental. My question is — do you still care about the car when you are one of 100 owners? What about 1 of 1,000? At some point the ownership becomes so diluted that its power disappears and then we see advisors leave the firm to start their own business. That does not just happen to wirehouses — it happens to many of the large RIAs, too."
---
---
Mentioned in this article:
---
---
---
Elmer Rich III
September 21, 2012 — 5:16 PM
This is a grand vision. "The future is unknowable."
Whether these predictions prove out is an empirical question and we'll see.
"...the reports of my death are an exaggeration." Mark Twain