Doug Pyle: U.S. Trust possessed that common culture of trust and personal responsibility for our clients.
When U.S. Trust bought Radnor Capital Management LLC in 1999, Radnor had $1.2 billion of assets under advisement, 26 employees and used its own broker-dealer.
Now Doug Pyle and Pierce Archer, original Radnor employees, have brought back the Radnor brand as an independent RIA with custody of assets at Schwab Advisor Services. The new firm, with a staff of five, including two advisors, will handle a combination of high-net-worth and institutional accounts. Most HNW clients are in the Philadelphia area. The company has more than $300 million of assets under management. See: The population of high net worth individuals is growing again, at fastest rate in four years.
While still at U.S. Trust, Pyle and Archer's practice established a minor national presence by selling socially conscious fund management services to foundations, religious organizations and the like.
Radnor revival
There is a palpable joy from Pyle that he is no longer part of a big bank. He was most recently with Columbia Management, which Bank of America sold to Ameriprise after divvying up U.S. Trust. Archer was with Pennsylvania Trust. Neither Pyle, 51, nor Archer, 56, had to deal with non-compete clauses upon walking out the door.
"We said: 'some day it'll be fun to bring back Radnor.' The timing was just right and we did it. We just love to be independent. It's just a pleasure to walk through the door and it's your place and to take care of your clients on a personal level," Pyle says.
Native tongue
This led Pyle to contact Tim Oden at Schwab Advisor Services, who laid out various platform alternatives. See: Fed up wirehouse advisors more eager to leave than ever, study says.
"Because of the connections to U.S. Trust, there was a natural linkage to some of the people affiliated with Dynasty," Oden says. "You see that with these guys [from the various wirehouses and big banks]. They refer to things in the same way. It kind of sealed the deal."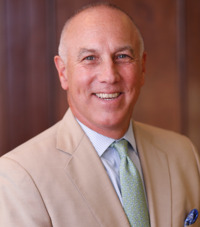 Mike Brown is still fluent in
U.S. Trust dialect.
Pyle explains it this way:
"I have noticed in business, in successful companies, a sense of shared values: a common culture. It is almost palpable in the way individual behave with each other and in their actions. So, while difficult to otherwise express, U S Trust possessed that common culture of trust and personal responsibility for our clients. I met Mike [Brown] during our due-diligence phase. I know him to have very been well regarded at BofA, and that he seems like a really good guy with strong loyalties."
Close to home
The U.S. Trust presence at Dynasty is mostly in the form of Brown, whom Dynasty rolled in and made a partner and board member as it was founded to help ensure that there was an advisor viewpoint on board. See: RIABiz goes to New York in search of RIA life in the land of investment banking giants.
Brown runs a multifamily office for a few UHNW families and was listed as having $5 billion of AUM at the time of his departure from BofA. He also sits on Dynasty's board and is available to partner with other Dynasty advisors as needed on various complex client situations. Brown had to jump legal hurdles to get out of U.S. Trust in one piece. See: Bank of America throws a legal wrench at big wealth management start-up.
Through all their iterations the Radnor people have stayed within a 100-yard radius in Wayne, Pa.
---
---
http://www.iwsamerica.lfchosting.com/postinfo.html
Initially, the objective of getting digestive natural dietary supplements is shateringly plain — they are really evidently meant to strengthen digestive well being. However, 1000's of people just about every year take without genuinely focusing on how they perform, or why their digestive tract needs the assistance to start with. Without the need of completely focusing on how the digestive tract will work and what sorts of points will go erroneous by making use of it, it really is not hard to choose a digestive supplement that is not appropriate for the certain challenge, or even worse, increase the severity of the difficulty or perhaps creates a replacement.
http://detaliko.ru/user/kopetpdeqe/
4. Creating the App Shop a necessity This was an additional tear-jerker of the efficiency on Apples behalf. Apple allowed the general public to make use of their creativity, ambition and knowledge of know-how to produce these wonderful applications (1st for that iTouch, then the iphone and now the iPad) which would press the technological limits from the clever cellular phone. Now, the identical people today are working with the iPad and it is actually however being witnessed what might be accomplished while using the tablet like pc. If your iphone is indicative of what the iPad can do, matters will get fairly exciting.