Knut Rostad demanded to know what Elliot Weissbluth meant by 'zero conflicts of interest.'
Brooke's Note: My biggest concern heading to Las Vegas for the MarketCounsel Summit was that you'd end up with a bunch of big-name RIA people in one place but with nobody willing to mix it up in any meaningful way. This has traditionally been the bane of the dream-team-type conferences I have attended; you get high-level people making mid-level comments. What a waste. So I am pleased to report that there was some good information delivered at the summit and that, as a bonus, there were even a couple of tense moments. Thank you to Joe Duran, Knut Rostad, Charles Goldman and Elliot Weissbluth for adding the tension that makes people think. See: HighTower throws open its doors to non-partner firms who want service and/or brand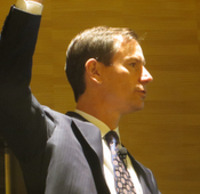 Charles Goldman: Handing [clients] the decision
is not the direction I would
want to go.
Chief executive Joe Duran was at the MarketCounsel Summit last week to explain just how he intends to make United Capital Financial Advisers LLC the first national RIA with a recognizable brand. One way, he said, when speaking as a keynote to a general session is to establish a culture whereby clients are addressed in particular way. Part of the explanation included Duran's take on how financial advisors should act with clients. Traditionally, high-end wealth managers take total charge of a client's assets and, when it comes to doling out advice, they try to do it with the certainty of a directive. Duran questions whether that is the way to go, feeling that the advice process deserves more interaction. See: Joe Duran tries out novel financial planning strategy on himself and his wife.
What drove this point home for Duran was the manner in which a doctor in the CEO's native Zimbabwe presented the treatment choices to him when his mother was very ill. Instead of telling him what he should do, the doctor professionally explained the matter in a way that made the choice clear."You're paid to lay out alternatives," Duran said. He added that the other jobs of financial advisors are to identify blind spots, instill objectivity and to tell people the truth.
Who decides?
Charles Goldman, CEO of Advizent (and formerly the overseer of the Schwab and Fidelity RIA businesses) who spoke as a second keynote to another general session immediately following Duran said he disagreed with Duran about how a financial advisor should give advice. He doesn't believe that a client should necessarily be left to parse through a range of choices and scenarios that an advisor would typically confront in the confines of his or her office, he believes it is up to the advisor to be the decider .
"Handing [clients] the decision is not the direction I would want to go," he says.
By the time that Goldman spoke, Duran had left, so it is not certain how he might have responded, but one observer said it sounded as if the doctor was presenting facts in a way that would nudge Duran in a certain direction.
When the next panel took the stage, Ron Carson, CEO of Carson Wealth Management, bridged the gap between these two views. "I'm between Charles and Joe. Clients do want peace of mind."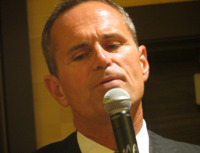 Ron Carson: I'm between Charles and
Joe. Clients do want peace of
mind.
Goldman himself sounded a conciliatory note when asked to expand on his views by e-mail after the event.
"As usual, I was trying to be a bit provocative on stage to get people to think — so I'm not sure that Joe and I were 180 degrees apart, I think his argument was basically that doctors and lawyers are moving toward giving options to clients and then pushing the client to decide. That is certainly the case with lawyers. My argument is that advisors should present options and trade-offs but must take responsibility for the fact that they are the knowledgeable, trusted advisor. The idea that an average person can and should be able to assimilate all of the information to make a good decision doesn't make sense to me. Moreover, if the average person can make that decision, why should they pay the advisor? I am not trying to make a black and white argument. Rather, I believe that advisors should educate clients on the trade-offs but the advisors must take responsibility for their decisions."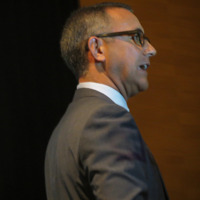 Joe Duran: Joe Duran encourages client
interactions that involve more client say
in decisions.
Fast ball
The second dramatic moment took place during a panel about the myth of the roll-up. MarketCounsel LLC founder and managing director Brian Hamburger had fashioned the discussion as a way to show advisors that so-called roll-ups don't resemble each other at all. Onstage, Elliot Weissbluth, CEO of HighTower Advisors LLC, was seated between Rudy Adolf, head of Focus Financial Partners LLC and Shirl Penney,Dynasty Financial Partners chief. The genius of the session's design was that each platform chief got 20 minutes (that they stretched much longer) and then there was a big block of time for questions from the crowd.
Knut Rostad, the head of the Institute for the Fiduciary Standard, stood at the back of the room signaling to Weissbluth that he was about to ask a question and that it wasn't going to be a softball. Weissbluth gave his best theatrical "uh-oh" look and the crowd of about 200 advisors and other industry participants sat poised. See: Fiduciary leaders splinter into two advocacy groups over divergent views.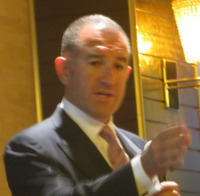 Elliot Weissbluth: We've structured out the
business conflicts. We don't get paid
twice.
Rostad, looking the part of the stern school master with with his distinctive features and eye glass frames, questioned a claim made by Weissbluth: "You said you have 'zero' conflicts of interest."
"I'm a recovering litigator," Weissbluth said cryptically.
As Rostad looked on, Weissbluth continued by saying that if a business is making money from a client in two different business lines that there's a conflict.
"So you don't literally mean you have no conflicts?" Rostad said.
"You're always going to have some technical conflicts," Weissbluth said. "We've structured out the business conflicts. We don't get paid twice."
---
---
Mentioned in this article:
---
---
---
Kogen
September 18, 2012 — 10:52 PM
I think some folks may have missed Joe Duran's point about "decision making". It seems some thought he meant specific stock picking investment decisions, but for those of us who were listening carefully to Joe's presentation, that's not what he actually said.
Stephen Winks
September 18, 2012 — 7:01 PM
Knut asked the right question of Elliot, soliciting supporting facts, and Elliot had the right answer, in but only in general.
Of course, the devil is in the detail which Knut sought and Elliot did not provide.
The important point to be made here is that none of the roll-up firms at the Market Counsel conference could provide the detail Knut was looking for which is needed if a broker or advisor represents themselves as an advisor acting in a fiduciary capacity.
The point that Elliot, Charles, Shirl and Ron need to make is their respective firms can make advice and fidiciary standing safe for advisors to acknowledge so it is scalable, easy to execute and manage as a high margin business at the advisor level at a lower cost than a packaged product. That would not only be news worthy, but it would transform the financial services industry as we know it. It would empower the advisor to add value in ways not possible in a broker format, it would be provably in the best interest of the investing public, it would be far less expensive than commission sales, address and manage and unprecedented level of investment and administrative values and add value in tangible, quantifiable ways again not possible in a brokerage format.
What is missing is (a) a simplifying authenticated prudent investment process (asset/liability study, investment policy, portfolio construction, monitoring and management) which makes advice safe, (b) tied to a functional division of labor (Advisor, CIO, CAO) which makes advice scalable, easy to execute and manage as a high margin business which provides expert personalized advice, not posible in a transactions format, (c) utilizing advanced technology in portfolio construction which facilitates transparency and continuous comprehensive counsel required for fiduciary standing, (d) conflict of interest management which has crippled the brokerage format from being responsive to the best interests of the investing public, and (e) expert advisory services support for each of the ten major market segments (Mass, Retail, HNW, Ultra HNW, DC, DB, Foundations and Endowment, Taft-Hartley, Public Funds, Profit Sharing) advisors serve.
There is still a distinct product focus in roll up firms that belie their fiduciary language which requires translation into the client focus required for fiduciary standing. It has been easy for rollups to simply extrapolate the brokerage format, when an advisory format is in order. Knute is simply calling the question, where are the necessary enabling resources necessary to make advice and fiduciary standing safe, scalable, easy to execute and manage as a high margin business—as they are not in existance today.
This is the great debate within the advisory services industry—there is a difference between supporting fiduciary standing in principle and in fact. For the broker, stuck in a brokerage format, who actually in fact wants to act in their clients best interest—large scale institutionalized support for fiduciary standing is required. The opportunity is not just observing that brokerage self interests thwart fiduciary standing, the opportunity is to in fact make fiduciary standing safe, scalable, easy to execute and manage at a lower cost than a packaged product. This is the transformational innovation that will win the market share that every roll up firm is envisioned to achieve.
The important point is the market share is there for the taking, but like Knut, advisors are just not going to take anyone's word for it. The large scale institutionalized support for expert fiduciary standing must exist in fact, not in principle.
SCW