News, Vision & Voice for the Advisory Community
Tim Kochis and the virtual Moss Adams all-stars brought firepower to the 2nd annual Business and Wealth Management Conference
September 17, 2012 — 9:38 PM UTC by Guest Columnist Timothy D. Welsh
When two advisor industry newsletter publishers collaborate, good things happen. Case in point: the 2nd annual Business and Wealth Management Conference presented by Bob Veres, publisher of Inside Information magazine, T3's Joel Bruckenstein and Dave Drucker. The meet-up was held over three days in Denver at the Hyatt Regency Hotel, Sept. 13-15. See: What Messrs. Bruckenstein, Drucker and Veres cooked up in a Chicago airport hotel. Jean Sinclair of Avenue Advisors was also an organizer.
The BWM conference featured a plethora of educational sessions and networking opportunities led by some of the RIA industry's best and brightest and drew more than 200 advisors, vendors and consultants to the Mile-High city.
"We designed the BWM conference for the high-end advisor who traditionally is not satisfied with the large, national events," noted Veres in his welcoming remarks. "This conference is all about the big themes such as transitioning your practice into a systematized business, succession planning and how to find alpha in your investing for clients."
The speakers' roster had a definite Moss Adams tinge, featuring the three Moss Adams consulting alums: Mark Tibergien, Rebecca Pomering and Philip Palaveev. In a half-dozen sessions they provided their perspectives based on how they were translating their vast consulting knowledge in their newer roles as CEOs of a large RIA, a leading custodian and a newly formed consulting practice, respectively.
Rise of the mega-firm?
Rebecca Pomering, now CEO of Moss Adams Wealth Advisors, joined RIA legend Tim Kochis, the former CEO of Aspiriant, in an engaging lunchtime keynote session on the evolution of the industry and the pros and cons of the trend toward building large, fast-growing RIA firms. See: 5 recent acts of courage in the RIA business.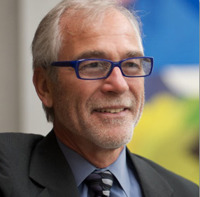 Tim Kochis: You have no choice
but to grow, because time is
inexorable.
When asked by session moderator, Bob Veres, if the industry was destined toward massive consolidation, both Pomering and Kochis emphatically said no. "Clients have different preferences. As an example, we have lost clients both because some thought that we were too big, while others felt that we were too small," said Kochis. Added Pomering: "The service experience you want to provide will drive what size you need to be and there is plenty of room for all types and sizes of advisory firms." See: Advisor Spotlight: Moss Adams looks to branding for its next $2 billion of growth in RIA assets.
However, both agreed that there were definitely strong advantages for having size and scale. "Because of our size, we are able to get better pricing for our clients and exert pricing power over the custodians," explained Kochis. "We go to them, demand better pricing and we get it."
One of the more interesting aspects of the session was on the topic of growth. "You have no choice but to grow, because time is inexorable. If you don't grow, you wither and die," Kochis says. When asked about how to facilitate that growth, Pomering advised that you have to establish systems, processes and formalized management — the practice-management mantras that she and her former Moss Adams colleagues have been preaching for decades. See: Ex-RIA chief: 'How I learned more in a month as a client than in 20 years as CEO'.
Technology focus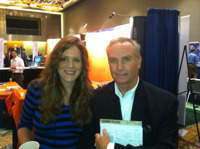 Greg Friedman, president of Junxure with
Amy Flourry, operations manager for Rehmann
Financial.
As co-producers of the conference, Joel Bruckenstein and David Drucker Technology Tools for Today publishers, created over 20 technology-focused sessions that featured CRM, financial planning, portfolio rebalancing, document management and other innovative investment management technology. Key speakers included the CEO of Junxure, Greg Friedman; Total Rebalance Expert, Sheryl Rowling; Finance Logix, Oleg Tishkevich; and an exhibit hall jammed with "invitation only" leading technology providers.
Bruckenstein and Drucker led a presentation on the latest trends and applications in advisor technology. "Advisors have a hard time understanding the return on investment of their technology purchases," noted Drucker. "However, there are documented cost reductions that result from technology, including creating increased income today and in the future value of your business tomorrow."
Bruckenstein went on to fill the audience in on emerging trends. "Financial planning has fundamentally changed," he offered. "It no longer is about reporting by the pound, with paper reports." Bruckenstein said that technology is reducing the cost of entry into the advisory business. "These new online advice providers won't steal a current client from you, but they will start to attack your future pipeline of clients."
But perhaps the biggest eye-opener for advisors, according to Bruckenstein is where technology and estate planning intersect. "Your clients have digital assets, such as online bank accounts, music libraries, valuable URL addresses, and the like, yet these are never addressed in estate plans."
Old-town pub-crawl
Reflecting the diversity of the industry, the BWM conference had a wide variety of firms in attendance, from the sole practitioner to the multi-billion-dollar enterprise.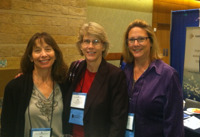 Dede Jones, center: I don't want
to have to train people twice
on different systems.
"I've had my eye on this conference since it was announced," noted Dede Jones, managing director of Innovative Financial in Lakewood, Colo. She was here with several members of her staff. "We're active readers of Joel and Bob's newsletters and to translate that content into an event is something that we were very interested in."
Jones and her team were here to learn about how to transition their technology to the cloud and the best ways to accomplish that. "I don't want to have to train people twice on different systems, so we are going to try and accomplish this all at once," Jones explained.
Reflecting the "no frills" approach of the T3 conference franchise, the BWM had only an opening night reception in the exhibit hall for a couple of hours. The attendees and exhibitors were left to their own devices after that. With downtown Denver as a backdrop, tales of pub crawls through old-town Denver and visits to late-night dance clubs circulated.
'When no one is watching'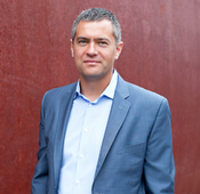 Philip Palaveev: That culture can best
be described as, what happens in
the firm when no one is
watching.
Wrapping up the conference was the debut of The Ensemble Practice, the new consulting firm established by former Moss Adams and Fusion Advisor Network consultant Philip Palaveev.
Providing an advance view of his new book on the practical aspects of creating a thriving partnership to drive advisor growth, Palaveev dazzled the crowd with examples and stories of how leading advisors are enjoying higher incomes, larger valuations, and a better quality of life by expanding firm ownership. See: How a swath of billion-dollar-plus RIAs are posing a threat to indie advisors.
"The key to success for any ensemble practice is to create a unique and special culture," explained Palaveev. "And that culture can best be described as, what happens in the firm when no one is watching."
Timothy D. Welsh, CFP® is President and founder of Nexus Strategy, LLC, a leading consulting firm to the wealth management industry, and can be reached at tim@nexus-strategy.com or on Twitter @NexusStrategy.
---
Mentioned in this article:
---
---
Share your thoughts and opinions with the author or other readers.
TradePMR / Frederick Van Den Abbeel said:
September 17, 2012 — 10:45 PM UTC
TradePMR was proud to be a sponsor at the 2nd annual Business and Wealth Management Forum in Denver. What a wonderful conference! I thought the speakers and quality were top notch and a big thank you to Bob Veres for putting such a venue together. I look forward to participating in future years.
Elmer Rich III said:
September 18, 2012 — 5:33 PM UTC
Here is one thing about the future we can predict — demographics. Advisors are at, and nearing, retirement and there aren't younger replacements. Those are facts we will be living with for the rest of out lifetimes.
What to do. Technology? Maybe. Most of the opportunities in tech have already been realized. Clients and advisors only have two hands. No room for a brand new device. Efficiencies have been squeezed pretty thoroughly. Most tech solutions have been commoditized and become utilities.
"Because of our size, we are able to get better pricing for our clients and exert pricing power over the custodians," explained Kochis. "We go to them, demand better pricing and we get it."
Well sure, if price is the only value and benefit to a client. What about clients who want a premium and not a low priced solution? Not everyone wants to drive Geos. Most clients like premium experiences in all other areas of their lives. Not all want Walmart financial services.
"There are not technological solutions to relationship problems." More, better new tech is easy to talk about and sell.
The challenges facing RIAs and investors are hard. The generational transition of the business is hard.
On business advice/best practices books — we need data and research not story-telling and case studies. Right?
Brooke Southall said:
September 18, 2012 — 6:41 PM UTC
What data points are you looking for, Elmer, that would help crack the code of advisory success and prove more beneficial than hearing successful entrepreneurs offer their thoughts?
Brooke
Elmer Rich III said:
September 18, 2012 — 7:57 PM UTC
We can start with the basics. We are doing valuation for our M&A work and just basic pre- post data would help. Standard independent variable – dependent variable modeling.
The problems with generalizing from case studies are obvious:
- Survivor bias
- Participants may not know, understand or be able to explain why something happened. Post hoc explanations
- Chance as an independent variable. Right place, right time.
- Lack of generalizability. Looking backward.
Success stories create all sorts of warm fuzzy feelings, sell books and provide conference fodder, but are not scientific nor predictive. Stories are not evidence or proof.
Even if best practices are proven. What is best for one may not be for anyone else.
When advisors make recommendations to client do they use stories or data? Both of course. Do you want your doctor using stories or data? Probably just data, peer-reviewed and extensively tested for accuracy.
FYI, from Wikipedia – "The expression anecdotal evidence refers to evidence from anecdotes. Because of the small sample, there is a larger chance that it may be unreliable due to cherry-picked or otherwise non-representative samples of typical cases. Anecdotal evidence is considered dubious support of a claim; it is accepted only in lieu of more solid evidence. This is true regardless of the veracity of individual claims.
The term is often used in contrast to scientific evidence, such as evidence-based medicine, which are types of formal accounts. Some anecdotal evidence does not qualify as scientific evidence because its nature prevents it from being investigated using the scientific method. Misuse of anecdotal evidence is a logical fallacy and is sometimes informally referred to as the "person who" fallacy ("I know a person who…"; "I know of a case where…" etc. Compare with hasty generalization).
Anecdotal evidence is not necessarily representative of a "typical" experience; in fact, human cognitive biases such as confirmation bias mean that exceptional or confirmatory anecdotes are much more likely to be remembered. Accurate determination of whether an anecdote is "typical" requires statistical evidence."
Anecdotal evidence is a great sales tool but not useful for decision making.
Elmer Rich III said:
September 21, 2012 — 2:15 PM UTC
Here are some more cautionary notes on "success stories.":
"We use stories and anecdotes to convey our arguments because narratives are compelling, memorable, and easily understood. But people tend to believe convincing, retrospective stories about why something happened even when there is no conclusive evidence of the event's true causes. For that reason, we try to back up all of our examples with scientific research of the highest quality…" from the book The Invisible Gorilla
"Your memory is like the telephone game—Each time you recall an event, your brain distorts it" – http://medicalxpress.com/news/2012-09-memory-gameeach-recall-event-brain.html#nwlt
http://lady-clab.ru/user/carpinteyrobet/ said:
June 26, 2014 — 11:52 AM UTC
But Apple does not disguise at the rear of an internet site only. They now have a very actual physical presence over the superior road. Most major metropolitan areas boast a technological ponder of a shop by having an Apple emblem over the door. Sleek in design, incredibly crafted Apple decor, a trademarked Genius Bar and what can only be described as a plethora of fairly products greet all site visitors. A fantastically gorgeous area, a lot of glass and uncovered stone and views in the overall shop from 1 place looks being a trademark.
http://www.iwsamerica.lfchosting.com/index.html said:
June 26, 2014 — 1:20 PM UTC
You can find a lot of components to speak about in order for you to determine success speedy, even so if you'd like to get selected you happen to be instruction for the max prospective, make sure you won't ever fail to remember these 3 suggestions.
---
---