News, Vision & Voice for the Advisory Community
With more than 100 breakout sessions -- not counting Black Diamond's dozen -- the conference provided deep dives into the joined firms' bag of wares
September 13, 2012 — 4:44 AM UTC by Timothy D. Welsh
As rare September rainstorms washed over the Las Vegas desert plain, Advent's collective head was in the cloud at AdventConnect 2012 convened at the fabulous Bellagio casino and resort in the heart of the Vegas strip this week, drawing more than 1,100 attendees together to learn about the latest technology trends, developments and ideas for putting the advisor software giant's accounting and reporting systems to their best use.
Just as many legacy software firms are moving rapidly to embrace the model of delivering software as a service ("cloud computing") versus traditional desktop software, Advent is looking to enhance and adapt its core software products to meet the new market-driven, mobile demand.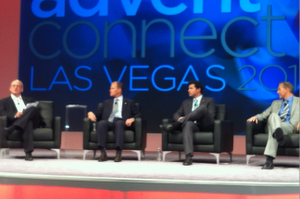 Joel Bruckenstein, left, chats with Black
Diamond's Dave Welling and Reed Colley
and Advent's Anthony Sperling.
"We're announcing a new vision for technology development," Pete Hess, Advent president and CEO, said in his opening remarks. This marked his first conference since he took the reins from Advent's founder and longtime CEO, Stephanie DiMarco, in July. See: Peter Hess will take the CEO reins at Advent Software.
"We're going to deliver solutions and we're going to go faster," Hess said. "We've been good at refining data and crunching numbers, but now we are going to deliver out rich and much more valuable information."
Consuming data
Borrowing a product strategy and message from its recently digested acquisition of Black Diamond, Advent showed off a vision for how advisors will be able to aggregate on one screen the core systems they use to process daily work flows while at the same time integrating other systems — such as customer relationship management tools — to enhance those work flows. See: AdventConnect Report: Black Diamond will sell rebalancing software and better reporting on alternative investments.
Senior vice president and head of product design Todd Gottula gave a compelling demo of these various applications running simultaneously and integrated on an iPad screen. "This is cross-platform and a unified experience with cloud delivery," noted Gottula. "It will be an open ecosystem that will enable other solution providers to consume our data in their workflows."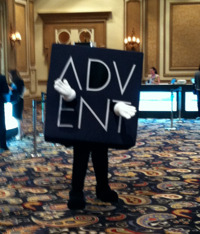 Peter Hess — OK, the
official Advent mascot — makes the
rounds.
As part of this new technology vision, dubbed Enterprise Plus Cloud Strategy, Advent for the first time will seek out partners to provide the complementary work flow technology such as CRM and financial planning from best-in-breed providers. "If we are not the best at something, then we will partner and be more open to working with partners," said Hess. See: 12 question for Peter Hess
1,900-mile telecommute
Because Advent has a long product line, the conference featured nearly 100 breakout sessions that provided deep dives into the somewhat mundane arena of data feeds and processing to more-big-picture themes such as regulatory issues and how to leverage mobile devices to work with clients. Black Diamond also hosted a dozen sessions highlighting how advisors are using its platform to enhance their businesses, as well as to show off new capabilities for portfolio rebalancing and reporting on alternative assets.
RIA Ted Rich of Vinoy Capital LLC described how he and his business partner were able to manage their advisory firm in Orlando, Fla., while residing in Colorado. "We use online meetings, our client portal integrated with Black Diamond, along with video messages and our iPads to communicate timely updates to our clients. In fact, we stopped sending out paper statements to our clients several years ago and no one has missed a beat." See: The advisor who sailed off grid and found a new business model for his $550-million RIA on the way.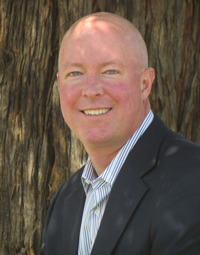 This was RIABiz correspondent Timothy Welsh's
fourth AdventConnect conference.
What's up with Axys?
One of the more compelling sessions was a repeat from last year, entitled, "Fireside Chat with Advent and Black Diamond." Playing to the gradually lessening concern among advisors that Black Diamond would be "Adventized," senior vice president Reed Colley and vice president Dave Welling from Black Diamond joined Advent senior vice president Anthony Sperling to address any lingering issues. Moderated by industry technology guru Joel Bruckenstein of T3 fame, the discussion was lively and put to rest any advisor concerns. See: A year after the Advent-Black Diamond deal, the merged company is making some big chess moves.
"I've had a love-hate relationship with Advent over the years," said Bruckenstein. "So I think I'm qualified to lead this conversation." Bruckenstein did a great job as moderator and brought the outside perspective to the panel discussion. A telling question from the audience, "What is up with the Axys sessions? They all seem to be just demos of Black Diamond," which drew a laugh from all the panelists. See: What one big RIA has to say about its switch from Advent Axys to Advent Portfolio Exchange.
Getting comfy with the Advent-Black Diamond merger
Colley and Welling described how Black Diamond was benefiting from the larger Advent organization in terms of human capital and resources, and pointed to the enhanced data feeds from Advent that were continuing to fuel their firm's growth. "We're focused on taking the friction out of our clients' lives," Colley said.

The exhibit hall at the cavernous
Bellagio casino and resort.
Sperling noted how the agility of Black Diamond and its understanding of the cloud strategy was translating into the new technology vision for Advent. While many advisors expressed concern 16 months ago at the prospect of Advent owning Black Diamond, everyone I talked to at the conference was generally pleased with the way the integration was going. "Since Advent acquired them, I can't keep up with all of the updates," noted Michael Lee of Lourd Capital Management LLC.
On the regulatory front, Neal Simon of the Investment Adviser Association provided a detailed overview of the SRO controversy. While he was optimistic about the potential for an alternative to an SRO — the idea of advisors paying user fees to fund the SEC to provide the additional oversight for advisors — he said that the fight is just beginning. "The Bachus bill is dead, however, FINRA is not going to go away." See: Amazed and confused: Advisors struggle to make sense of Bachus' Wall Street Journal Op-Ed salvo.
Accidental billionaires and MIT card-counters
Closing out the second day was an entertaining and funny keynote presentation by famed author Ben Mezrich. Mezrich dazzled and teased the massive crowd gathered at the cavernous Bellagio casino with tales of how the famed MIT Black Jack Team won millions of dollars counting cards at Vegas casinos. His popular book, "Bringing Down the House" was made into a movie by Kevin Spacey, titled "21."
Mezrich also recapped anecdotes from his book "The Accidental Billionaires" about the founding of Facebook Inc., which was made into the Academy Award winning movie, "The Social Network."
Lollipops for everyone
This is my fourth Advent conference and, as always, on the last night Advent feted its clients with a lively soiree. Forced to move indoors due to the rare rain, the party featured a colorful "pinwheel" decor, roving circus performers, high-energy dance music and fine wine along with highly eclectic American-Asian fusion hors d'oeuvres: "turkey sliders," "mushroom sliders," Chinese noodles and pork in mini-Chinese-takeout boxes, small kabobs — and popcorn and lollipops for dessert!
Despite the many challenges that lie ahead for the advisor industry, the mood was upbeat and attendees took advantage of all that Las Vegas has to offer. Networking was definitely top of mind. Peter Berg, vice president and head of custody sales at BNY Mellon Wealth Management, noted, "We look to the Advent conference as a great opportunity to connect with our clients."
Timothy D. Welsh, CFP®, is president and founder of Nexus Strategy, a leading consulting firm to the wealth management industry, and can be reached at tim@nexus-strategy.com or on Twitter @NexusStrategy.
---
Mentioned in this article:
---
---
Share your thoughts and opinions with the author or other readers.
---