News, Vision & Voice for the Advisory Community
FTJ FundChoice took its assets from a bank in the name of efficiencies aimed at big growth
September 12, 2012 — 4:26 AM UTC by Brooke Southall
Brooke's Note: To me, the TD Ameritrade brand has always been synonymous with retail investments — as the amalgamation of Ameritrade and TD Waterhouse, an online broker and a discount broker. That it has now solidly established itself as the No. 3 asset custodian for RIAs is an evolution. That it is now serving a host of healthy TAMPs — and still bringing on sizable ones such as FTJ FundChoice — is a an eye-opener of sorts. It may also help explain why the small custodian seems to be growing at an inordinate rate.
TD Ameritrade Institutional has brought aboard another $2.5 billion of assets and showed another side of itself — as a business-to- business provider.
The Jersey City, N.J.-based custodian won the business of FTJ FundChoice LLC, a turnkey asset management program based in Hebron, Ky., a suburb of Cincinnati. The assets were formerly held at Columbus, Ohio-based Huntington Bancshares Inc..
The choice was made after a careful vetting of all the industry players.
"We looked at all the major custodians, but in the end in came down to Pershing and TD. We decided to go with TD because of their integration with Orion," says Dean Cook, president of FTJ FundChoice. Pershing did not respond to a request for comment.
The 'everyman' TAMP
There were two advantages to the TD-Orion Advisor Services pairing — tight integration and a steep discount. The two companies have won several large accounts using that combination of aggressive introductory pricing and systems that flow easily into each other. See: The TD Ameritrade-Orion pairing again proves productive — this time to wrest assets from a $3.6 billion Schwab RIA
Though typically Pershing LLC is known as more of a B-to-B provider than TD Ameritrade, the latter custodian has quietly built a track record serving these advisors to advisors, including Lindner Capital Advisors Inc. of Atlanta and CLS Investments LLC, a TAMP based in Omaha, Neb., with 1,500 advisors managing 40,000 clients. Other big RIAs with inordinate numbers of accounts served by the TD-Orion pairing include Edelman Financial Services LLC and Mercer Advisors Inc. See: Once good for a few million, TD Ameritrade's foot-in-the-door strategy is starting to net billions.
Eric Clarke, president of Orion Advisor Services, LLC, says that TD has a leg up when it comes to winning TAMP business. "The API really allows [TD] to align with other partners to bring their B-to-B capabilities to play." See: TD Ameritrade showcases what API can do with slick Veo-iRebal harmonization.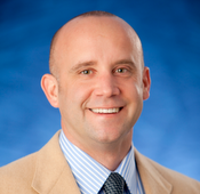 Eric Clarke: The API really allows
[TD] to align with other partners
to bring their B-to-B capabilities to
play.
FTJ FundChoice has been using the software of Orion since 2010 when it switched over from its own proprietary software. The driver of these changes is the fact that FTJ FundChoice has the relatively unique business model of being a TAMP with no investment minimum. As a result, it has nearly 75,000 accounts that filter in through 300 broker-dealers and about 75 RIAs.
"We're the TAMP for everyman," Cook says. FTJ FundChoice offers both model portfolios and also portfolios from several well-known managers, such as Litman/Gregory, Wilshire Associates and Advanced Asset Management.
As a result, it has nearly 75,000 accounts that filter in through 300 broker-dealers and about 75 RIAs.
Hyper-growth
Examples of greater efficiencies achieved with TD and Orion include the ability to transmit orders electronically rather than by exporting files and opening accounts electronically rather than printing and sending them. But the biggest change may be FundChoice's ability to offer more choices in its portfolios. It can, for instance, now use ETFs — as well as mutual funds — as building blocks.
"Our process definitely can handle scale," says Jon Patullo, managing director of technology product management at TD Ameritrade Institutional.
Still, Cook plans to continue to push for greater integration for his 56-employee company. "We knew we had to push both partners for deeper integration, but we felt they had a solid base to start upon," he says.
With TAMPs growing through the use of hundreds of IARS, TD Ameritrade may have, in turn, put itself on a path to hyper-growth. "These TAMPs are growing by leaps and bounds right now," Clarke says. "They're really booming right now."
Improved technology is at the core of these efforts to serve a high volume of investors, according to Cook. "Technology can play a critical role to increase the size, efficiency and value of our business as we look to improve the customer experience and speed of serving clients," he said in a release.
---
Mentioned in this article:
---
---
Share your thoughts and opinions with the author or other readers.
Elmer Rich III said:
September 12, 2012 — 10:21 PM UTC
Custody is where it's at. Investments are commodities and poorly performing, service is hard to differentiate, personal relationships are chancy or set in stone, tech is pretty much either a commodity or easily matched — that leaves custody, which can still be a differentiation.
Whether it's Big Box custodians or boutiques, an RIA firm can offer a truly custom configuration built around client's immediate needs — today. We call it bespoke or custom custodial services.
---
---