News, Vision & Voice for the Advisory Community
Under outgoing CEO Jessica Bibliowicz, the bruised but fast-growing New York aggregator no longer resembles its insurance-dependent 2008 self
September 11, 2012 — 2:48 AM UTC by Brooke Southall
Brooke's Note: This article was sparked when I was reading SEC documents relating to NFP and came across this line: "NFP has recently completed acquisition transactions that emphasize a more integrated business model, where the former owners of the acquired business become employees instead of principals." What I couldn't quite tell was whether the referenced acquisitions were a bailout on the old model or an affirmation that the company liked it so much that, in effect, it was buying back parts of itself. As I discovered in my reporting, there are elements of both.
If a stock price is any guide, National Financial Partners Corp. appeared to be road kill on November 2008 when its share price hit $1.21 — from close to $50 even a year earlier.
The subsequent chorus of "I-told-you-so's" was rampant because pessimists had long said that NFP's model of buying hundreds of smaller firms and bundling them together was destined to end in tears for investors and advisors alike. See: NFP found profitability but shed firms and office space last quarter.
But the New York-based aggregator and IBD has not closed up shop and it has a different explanation for the perception that the roll-up aspect of its business has unfurled. It was more a case of who got rolled up — namely life insurance businesses — and not the rolling itself that was to blame, according to Jessica Bibliowicz, chief executive of NFP. See: This generation of advisor aggregators puts the roll-up ghosts to bed, for now.
Bibliowicz, 52, stepped down as president last spring and plans to step down as CEO at the end of the first quarter in 2013. She will remain with the firm as non-executive chairman after that. See: Bibliowicz's turnaround plan for National Financial Partners includes rolling up RIAs.
Bullish on corporate benefits
Although its life insurance business hit the skids in 2008, taking NFP's share price and earnings down with it in 2008, other aspects of the business have held their own — and have provided a solid nucleus for a rebound, according to Douglas Hammond, 46, currently chief operating officer.
"We were able to ge through that [crisis] because of the wealth management and corporate benefits [divisions of the company]. Diversiification is everything," Bibliowicz says.
Hammond was named NFP's president when Bibliowicz stepped down. He continues to serve as chief operating officer and is expected to become CEO in April 2013. Hammond is a lawyer who has been with NFP since its founding in 1999.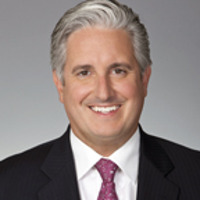 Douglas Hammond takes charge in 2013.

NFP has been quietly rebuilding its business around the divisions that remained healthy in the wake of its 2008 comeuppance. Most solid were its corporate benefits businesses, and NFP has been so bullish on it that segment that it has been acquiring those practices and making the partners employees.
Health in wealth
NFP's wealth management has also hung in there, albeit as a small portion of the business. Its Individual Client Group (ICG – which includes life insurance and wealth management) was 34.7% of total revenue. Of that, 17.9% of ICG revenue was from wealth management. Or, 6.2% of total NFP revenue was from wealth management.
About 32% of NFP revenues are from independent advisors and 32% of those advisory revenues are from NFP-owned wealth managers. Sontag Advisory LLC is one of those wealth managers.
Bibliowicz allows that wealth managers are the hardest of the advisory companies to acquire, but says that that's OK. "We don't have to own everybody."
Doubling down
Another RIA owned by NFP is ProVise Management Group LLC of Clearwater, Fla., It's president and CEO, Ray Ferrara, says that he remains pleased after more than a decade under NFP ownership, a time during which his advised assets have climbed from $400 million to about $725 million.
Ferrara meets fairly regularly with other RIA principals in the NFP network — once a month by phone and about twice a year in person — and he says that the morale remains high.

Ray Ferrara: You always hear the
grumblings.
"You always hear the grumblings, but it's not anything of concern. It's a clearly articulated plan that management has laid out."
So confident is Ferrara of NFP's future that when the shares plummeted in 2008-09, he doubled down a bit.
"I acquired more shares [in January of 2009] when things weren't going so well. A significant part of my net worth is tied up [in NFP stock]." The NFP shares have shot up since then and now trade above $15.
More than a mirage
The changes have been in more than perception — and happened more rapidly than many people might think, Biblowicz says.
"We stopped acquisitions and deleveraged and we really did that within a year."
Clues to NFP's future can be seen in its recent actions. it has built its independent broker-dealer into a brand that both Schwab and Fidelity have made a favorite for hybrids. See: Fidelity follows Schwab's lead on hybrid advisors — and four other items of RIA interest.
And its most recent acquisition, Fusion Advisor Network, was clearly aimed at making affiliated advisors into faster, more profitable growers unde rthe IBD umbrella. See: National Financial Partners buys longtime partner Fusion signaling a shift away from the 'roll-up' model.
"It's hard to get labels dissolved. This is not a roll-up," Bibliowicz says."
---
---
Share your thoughts and opinions with the author or other readers.
Elmer Rich III said:
September 11, 2012 — 7:42 PM UTC
We are doing more and more M&A work representing buyers and sellers. The roll-up model, driven, it appears by cheap buy-out fund availability, never had an opportunity to mature. Everyone was looking for a quick buck and we know how schemes go.
So that model is discredited which, along with this story, suggests a contrarian opportunity using a 2.0 version of roll-ups.
Stingy and strategic are usually opposites.
We define strategic as ROI horizon of 10+ years. We have one strategic buyer looking for multi-generational returns! That's long. Strategic buyers want to own a piece of a demographically growing business.
A strategic buyer will usually pay more since their payout horizon is longer. A tactical buyer needs a 3-5 year payout.
Since all financial services and retirement businesses are really entering the first generation of ownership transitions and liquidity events — there will be a lot of trial and error.
Often it is easier to focus on what doesn't work than the progress that is being made in helping RIAs and TPAs and firm owners secure retirement and estate funding from their life's work.
---
---