Nathan Sonnenberg is the first member of the Fortigent executive suite to depart since the firm was bought by LPL five months ago.
Brooke's Note: You can see why these departures might concern Fortigent clients. Many RIAs depend on the LPL subsidiary as a way to outsource their CIO and alternative investments. And the heads of those two areas are leaving. But Fortigent also got sold at least partially because it's overhead, i.e. big payroll, was high for a small company trying to grow. It needs to make hard decisions about how best to spend its dollars. These are some of the dynamics we kept in mind as we pieced together this article.
Two members of the Fortigent brain trust — its CIO and the head of its alternative investments arm — departed the company last week leaving industry tea-leaf readers, not to mention Fortigent, LLC clients, wondering what role, if any, the firm's recent acquisition by LPL Financial played in their exits.
Nathan Sonnenberg stepped down as chief investment officer of the Rockville, Md.-based outsourcer specializing in high-end RIAs. He was also a member of the firm's investment and investment quality assurance committees. See: How Fortigent got $50 billion on its platform by treating an RIA pain-point.
Robert Mileff, director of alternative investments and a member of the portfolio management oversight committee, has also left.
That uneasy feeling
Fortigent issued this statement about the departures through its spokeswoman Sharon McEvoy:
"Nathan Sonnenberg, CIO, and Robert Mileff, director of alternatives, will be leaving Fortigent to pursue new opportunities. Nathan is joining a local firm to pursue his passion for portfolio management, while Rob and his family are relocating to New York and he is changing career directions by moving into more of a business development and sales support role with his new firm. Nathan and Rob have been outstanding professional and personal contributors to the success of Fortigent, and we wish them both the best of success in their new endeavors."
Sonnenberg and Mileff could not be reached for comment.
Although Fortigent says in its statement that it is not conducting an active search to replace these executives — "The Fortigent research team is intentionally built and managed as a team and is not dependent on any one individual. Our coverage of managers, our advisor support, and our production of research deliverables will continue uninterrupted." — McEvoy says the firm is always open to finding new talent: "We are constantly looking for great people that fit our culture."
A big Fortigent client who asked not to be identified says that the departures leave him uneasy — and feeling a bit dissed.
"As a client that doesn't make me feel warm and fuzzy. I say: What does LPL really want to do? I'm trying to be an adult and not get too upset about it. I'd like to hear what the Plan B would be. You'd think I'd be at the top of the list [to be briefed]. I just got the heads up call 24 hours in advance."
The source says he understands that the two departing executives may have been hard to retain because they did not hold equity positions in the company.
Piecing it together
A second source with some familiarity with the situation, and requesting anonymity, says the departures could signal that LPL has folded Fortigent more deeply into the company fold and therefore can use some of its in-house investment expertise to fill any voids. On the other hand, the source speculates, these executiives might have looked for an exit because the LPL culture may have changed the atmosphere at Fortigent. "Culturally, it's very different at LPL."
The departures come five months after LPL acquired Fortigent in a head-turning industry move with the biggest independent broker-dealer acquiring a firm that serves some of the biggest and best RIA practices in the industry. See: LPL makes big advance into the RIA business with Fortigent acquisition. Industry observers have been alert to what, if anything, LPL will do with Fortigent beyond keeping it going as a largely autonomous unit.
The Fortigent client allows that LPL has brought some constructive changes to Fortigent.
"I've noticed a lot of positives on the reporting side. [Fortigent] needed dollars to finish up [reporting improvements]. That's happened. Fortigent has great tools but has not done a great job training advisors how to use them. They're doing that now. That's the result of somebody at LPL getting involved."
From zero to 'some money'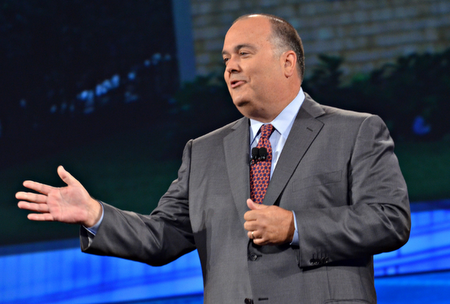 Mark Casady: [With] the number of
proposals that we're putting out for
cross-selling between Fortigent and LPL, we
know that over time that will
create a very profitable and very
good growth stream for us.
Mark Casady, CEO of LPL, gave a sense of his company's designs with regard to Fortigent in June at Morgan Stanley Financials Conference. See: Transcript of June 13, 2012 published by Seeking Alpha.
"We bought a number of companies in just the last year. Those companies generally have come to us with either no profits or losing a bit of money and we're going to take a year or two to basically invest in them and turn them into kind of profit-making organization we think they can be. ... It takes a couple of years to basically take that from zero profits to making some money," Casady said.
"You're going to see continued pressure on margin for the business based on those acquisitions, which essentially is investing ahead of our business and lets us think about new growth opportunities. Just based on the number of calls that we received inbound …. the number of proposals that we're putting out for cross-selling between Fortigent and LPL, we know that over time [it] will create a very profitable and very good growth stream for us."
Deep background
Sonnenberg was responsible for managing Fortigent's Monte Carlo simulation, asset allocation, and portfolio construction processes. He oversaw Fortigent's equity, fixed income, and alternative investment research teams, and helped steer the strategic investment research initiatives of the firm. See: The 4 biggest investment performance myths — and how they can torpedo advisor-client trust.
Prior to joining Fortigent, Nathan served as a management consultant with Coopers & Lybrand as part of its information technology group. He earned a Bachelors of Science in Systems Engineering from the University of Virginia, and holds the Chartered Financial Analyst (CFA) and the Chartered Alternative Investment Analyst (CAIA) designations.
Mileff was responsible for researching, selecting, and monitoring hedge funds and other non-traditional investment solutions for client portfolios and assisted in Fortigent's asset allocation and portfolio construction processes. Prior to joining Fortigent, Mileff spent several years at Monroe Vos Consulting where he most recently served as director of manager due diligence and investment consultant. He holds a Bachelor of Finance, Business Administration, from the University of Oklahoma, where he was an OU Honors Scholar. In addition, he holds the Chartered Alternative Investment Analyst (CAIA) and the Certified Investment Management Analyst (CIMA) designations.
---
---
Mentioned in this article:
---
---
---
Stephen Winks
August 30, 2012 — 7:22 PM
There is terrific high level redundancy occuring within the industry through the enhancement of technical capabilities achieved through acquisition.
LPL, EnvestNet/PMC and others are discovering further benefits of their acquisitions as they refine and shape their advisor value propositions—they can not only strealine their operations, greatly enhance their advisor value propositions and materially cut cost, they greatly enhancing their margins. As the industry matures, the new frontier is doing more with less through process and technology—something that Wall Street has been slow in doing.
It is very likely that LPL, EnvestNet and others through process and technology will find a way to preempt the major wirehouses with a value proposition and lower cost than a packaged product which outdate the old product focused commission brokerage business model. The opportunity is serving the best interest of the investing public, not product distribution where the broker is neither responsible or accountable for their recommendations.
This awakening to the consumer will entail much innovation and change in the best interest of the investing public, but the resulting transformation literally shifts the balance of power to advisors and firms who are focused on the well being of the consumer rather than product sales/distribution. It is what you do with a product or authenticated prudent process that adds value, not the product.
The end result is a much lower head count, much higer level of support achieved through process and technology, and an unprecedented level of investment and administrative counsel which results in far higher advisor productivity at a cost lower than a packaged product.
The departure of these esteemed Fortigent executives is the beginning of the industry at large taking a look at an outdated brokerage business model and embracing modernity…to be repeated time and again in every aspect of the industry until the competitive market place settles into how to best serve the best interests of the investing public—a very high standard not possible today.
The industry does more with less, advances an ever higher level of counsel while achieving unpreedented earnings, margins and multiple. What is required is the vision, management skill and talent at the top to execute.
SCW
Jeff Spears
August 30, 2012 — 5:13 PM
Unfortunately there is always some senior level fallout after a takeover.
As a Fortigent client – I am sad to see Nathan and Rob go, but I'm happy that Scott, Jamie and Andy remain.
Mr. Jesse Livermore
September 6, 2012 — 2:54 AM
Mr. Southall,
I believe the answer to your article's opening question (Was it LPL..?) is answered by Mr. Casady himself. You quote Mark as saying:
"we're going to take a year or two to basically invest in them… basically take that from zero profits to making some money."
That ho-hum stamp of mediocrity would inspire anyone to see the writing on the wall. You can feel the product manager(s) squirming in their seats knowing that what was once a product with a real future has now been relegated to an asset gathering tool. That is about as satisfying as Charlie Brown once said:
"Working here is like pissing yourself in dark clothes. It gives you a warm feeling but know one else knows"
I hope I am wrong, but given the performance of the behemoths like LPL I am not going to hold my breath. Then again I don't have to because I'm dead already.
JLL
Richard Anderson
October 15, 2013 — 3:05 PM
It was Fortigent – anyone that knows the inner workings of the company would know this. Something that had been coming for a long time.