In its third year, RIABiz moved out of this houseboat and into dog-friendly office space
Brooke's Note: Sometimes I wonder if I'm the Elwood P. Dowd of online journalism. I point, point, point at what RIABiz seeks to cover that other newspapers and blogs do not. It's an amalgamation of feverish capitalism, caring for humanity, evolution and entrepreneurism aimed at making financial advice into a more efficient, effective, profitable, ubiquitous, kinder and gentler profession. To people who don't see it, it's Harvey, the rabbit from the 1950 James Stewart film, but for you Elwoods out there, he's — go ask Alice — 10 feet tall.
RIABiz is now three years old, has three full-time writers, has been out of its houseboat headquarters for a year and has increased the number of unique visitors to its website by 38%.
Our Mill Valley, Calif.-based online publication — which covers the growth of financial advisory business through the prism of the highly entrepreneurial actions that are part of its metamorphosis to a customer-accountable structure — went from a 12-month period of July 31, 2010 to July 31, 2011 where we drew 27,000 unique visitors in our best month to the past year when 37,000 was our high-water month. See: RIABiz has its second birthday and reaches new milestones.
More equal than others
Our bet that all advisors, platforms and regulatory structures are not created equal — not even close in the long run — has its adherents. We believe our approach is the most inclusive one. Wall Street brokers are becoming RIAs, Wall Street clients are joining RIAs, 401(k) sponsors are choosing RIAs, hedge funds are becoming RIAs and independent broker-dealers are finding some of their biggest growth through hybrid RIA business.
A few seers, only half kidding, say wirehouses themselves may become RIAs.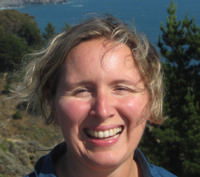 Lisa Shidler brought her irrepressible Midwestern
easygoing energies to California in July.
Increasingly RIAs handle institutional monies of super-rich families, foundations, endowments and other entities not traditionally associated with the RIA model. In other words, if you are not an RIA, you may be fast on your way to becoming one.
As RIABiz settled into life as a going concern this year, we spent as much of our concentration determining what to do as what not to do. We are determined to be a growth company but just as determined not to feed on our seed crop — by, for instance, spamming you or putting takeover advertisements on our website. We are also determined not to become a Department of Labor statistic. The data from its Bureau of Labor Statistics show that 66% of new establishments were still in existence two years after their birth, and 44% were still in existence four years after.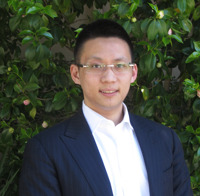 Franklin Tsung came to Mill Valley
and gave us an eye-opening view
of what is happening in RIA
technology … more to come.
We started our business into the teeth of the 2009 meltdown comfortable in the knowledge that we wouldn't become deluded by tail-wind-aided success. I agree with this article that says that starting a business in a recession is a good way to go. It quotes Horace from the first century BC saying: "Adversity reveals greatness; prosperity conceals it." See: Happy [First] Birthday RIABiz.
Adversity has convinced me that we can't stray from what readers want most — worthwhile writing and that is the one area where we continue to invest and focus most heavily. Lisa Shidler and Kelly O'Mara are our mainstay writers but I also continue to carry a full writing load, too. Dina Hampton continues to oversee the editing of all writing on our website. The publication remains open to bringing aboard writers that find writing about this industry to be an exciting way to spend time; an acquired taste.
Dropping by
We continue to try to live our motto: News, Vision and Voice for the Advisory Community. Each of those components has three common denominators — an understanding of what the heck is going on, why, and who the people are who are making it happen.
Besides getting me out of my houseboat in Sausalito, and Frank Noto, our business chief, out of his band-practice outbuilding in San Anselmo, our move to a downtown office space in Mill Valley had a pleasing unintended consequence: more conversations with real people.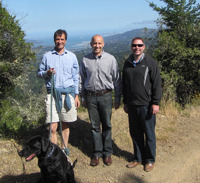 This Mill Valley hike sparked Eric
Clarke's epic Mt. Whitney article.
Visitors to our town included: Ed Swenson, Franklin Tsung, Eric Clarke, Tim Kochis, Tim Welsh, Derek Bruton, Mark Hurley, Candace Bates, Holly Kinzell, Smita Topolski, Steve Huxley, Mike Golaszewski, Justin Wisz, Ralph Pahlmeyer, Elizabeth Ostrander, Brian Hamburger, Sheryl Rowling, Jon Reiners, David Selig, Dina Hampton, Lisa Shidler, Jason Lahita, Dave Robinow, Sandi Bragar, Shawn Gardell, Brent Burns and David Waluk.
Not only do the conversations build trust and result in us gaining a better understanding of the business but they sometimes result in columns and articles that generate huge reader interest. Eric Clarke's visit ended with us going on a Mount Tamalpais hike and sparked his article about climbing Mount Whitney with fellow RIA business leaders. Tim Kochis' visit sparked his highly popular article about the mind-bending perspective he gained by becoming a customer of his own former firm. Mike Golaszewski's visit spawned some great technology columns. See: How RIA industry execs took on the ultimate teamwork challenge: Conquering the highest summit in the lower 48.
We met others in San Francisco, of course, and there were a handful of others we know would rather not be known to be fraternizing with RIABiz because of philosophical differences with their bosses.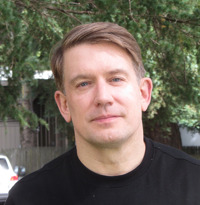 Mark Hurley brought his Texas-sized personality
to Mill Valley this spring.
What's next
As we look ahead to 2012 and beyond, we are looking to bring aboard more talent, possibly both on the editorial and business sides. We will also experiment with other sources of revenue. For instance, we have turned away requests for sending dedicated e-mails to date. We don't ever want our readers to feel like we are a spam factory.
But 14,000 of you have opted in and said that you are willing to receive dedicated e-mails. Before you actually receive any, we plan to send another e-mail to you asking whether you really meant to say "yes". If anyone ever receives an e-mail they don't want and our unsubscribe function isn't working for them, contact me directly at brooke@RIABiz.com.
We have also considered holding events but we're determined not to make it just another advisor event that clutters the calendar. Stay tuned.
Finally, I want to extend a giant thank you to all contributors of content. Special thanks to our most faithful contributors, Les Abromovitz, who ensures that we are never behind the compliance curve, and Tim Welsh, who provides intensive coverage of RIA conferences all around the United States (and Australia). Contributions from Abby Salemeh, Philip Palaveev, Jack Waymire, Brent Burns, Brian Hamburger, Rob Isbitts, Mark Tibergien, Susan Forman and Jeff Spears … have been at times huge hits with our readers. Other highly valued contributors include: Ron Rhoades, Jeff McClure, Pat Burns, Frederic St Laurent, Stanley Ehrlich, Robert Boslego and Maria Marsala.
Keep your eyes out for columns from the principal of one of the biggest RIAs and one of the industry's most esteemed recruiters in coming weeks.
---
Mentioned in this article:
RIABiz.com
RIA Publication, Blog/Social Networking Tool
Top Executive: Brooke Southall
---
---
---
Paul Damon
Happy Birthday RIABiz! Best wishes for your next (even more prosperous) adventure around the sun (from the comfort of your 'real' office). Thank you as always for the daily insight you provide. Keep up the excellent work.
Paul West
Congrats on your Third Birthday! The insight you provide informs and enteratains. We throughly enjoy your stories and approach to the market. It's a must-read every day. Wishing you many more years of success!
David Maurice
Yes, RIABiz, you rock and Happy Birthday!
I read a lot from as many sources I can find that help me know what is going in the business I concieve ourselves to be in. There is no other source I come to more consistently that in turn, consistently rewards my time by informing me, challenging my perceptions, educating me on the business I think I know and care about more than many because we've been doing essentially the same thing for over 20 years. Not only that, but while the art of writing is completely disappearing from the earth, this publication insists on running against that degenerative force by actually delivering text that is well written, edited and proofed. That's truly amazing.
I was fortunate to come across RIABiz in its first few months. Since then I've changed my outlook e-mail rules many times to move around my preferences to various folders and deleting many publications over that time. RIABIz has never been diverted from my inbox. That makes one of very few that have not either been ultimately eliminated or at least moved around from folder to folder.
Thanks to all of you!
Brooke Southall
August 3, 2012 — 10:41 PM
Paul, Jason, Claudio, Mindy, David, Mag, Paul West and Marie,
Thank you so much for the encouragement. I'm especially grateful that you note our efforts to inject some life and fun into what we do. That takes extra work and it's nice to be affirmed that it makes a difference to a reader. We really try to write what we think we'd enjoy reading — and in fact we do have to read it so maybe we're just being a little selfish. But seriously thank you. A world where flourishes, or attempted ones, become extinct would, I think, be pretty dull and lifeless.
Brooke
Marie Swift
My how time flies. Thanks for this great overview and recap of the past 3 years. Rock on!
Mindy Diamond
Congratulations on your third birthday! RIABiz is our firm's "go to" site for excellent, unbiased coverage of the advisory space. Many happy returns!
Jason Lahita
Happy Birthday RIABiz – the passion for this industry, the intregrity and the insight are unparalleled. It is thrilling to watch you grow year over year. In short, you rock.
Claudio Pannunzio
Happy Birthday RIABiz! You guys rock! Wishing you all continued success!
Sheryl Rowling
Congratulations Brooke! RIABiz has its finger on the pulse of the industry. I look forward to reading your online journal each morning!
Mag Black
Happy Birthday RIA Biz – you have great and relative content – keep it up! Too bad you gave up the houseboat, but congrats on the new digs and go dog friendly! Knew you were good folks!
John Stuart, Beverly Hills Wealth Management
I applaud your wonderful success and look forward to many more years of fantastic coverage and industry insight. Happy Birthday!
Stephen Winks
Brooke,
It is so good to see a company like RIA BIZ, which is focused on helping advisors to act in the best interest of the investing public, succeed. The trust and confidence of the investing public in Advisors has an unsurpassed advocate in RIA Biz.
From your formulation and the very inception of RIA Biz, you have not deviated from being a huge supporter of advisory services, when commission sales was the easy path to follow. At the time the trade press was exclusively focused on product sales and distribution and even questioned the relevency of anything outside a brokerage format, to include advisory services, prudent process, advanced technology, conflict of interest management, transparency, fiduciary standing, broker accountability and ongoing responsibility for recommendations.
Now, industry publications formerly geared to commission sales and product distribution have changed their names to be more advice centric, a Congressional mandate requires brokers who render advice to be accountable and responsible for their recommendations, investment vehicles like ETFs that afford no commissions and are designed for portfolio construction are eclipsing load mutual fund sales, and Fund companies like DFA which are built around helping advisors constructing portfolios, rather than selling products, are winning far more assets than distribution companies.
In many ways RIA Biz has lead the charge on financial services innovation, long neglected, which places you and your readers in the vangard of advancing the best interest of the investing public which will restore the trust and confidence of the investing public.
The political inexpediency of the industry choosing not to embrace the fiduciary standing of the broker is now comming back to haunt them and has been terribly self defeating as there is no longer a question that, by design, brokers are not accountable or responsible for tyheir recommendations. The industry can no longer run away from its SEC responsibility to provide the enabling resources necessary for brokers to make advice safe, scalable, easy to execute and manage as a high margin business cheaper than the cost of a packaged product.
RIA BIZ has played no small role in influencing the direction of the industry and giving voice to much needed innovation so each broker does not have to reinvent the wheel in support of fiduciary standing.
Congratulations, not just on your third anniversary, but on becomming a highly credible authentic voice in support of advisory services. You became an advocate when others did not have the courage to do the right thing.
The brokerage industry has been a powerful antagonist to fiduciary standing. Your principled stand for fiduciary standing not exhibited in the trade press was courageous.
As the industry and the trade press go through a difficult patch, I hope advertisers understand your unique editorial focus and readership that reflects uncommon courage and your industry redefining advocacy of advisory services and fiduciary standing. Nobody does it better.
SCW
Barry Schwartz
August 8, 2012 — 11:04 AM
Happy Birthday! Indeed, at our agency, RIA stands for "Read It Always!"
Best from the crew at Schwartz Public Relations,
Barry
Brooke Southall
August 15, 2012 — 5:07 AM
Thank you so much, too, Barry, Steve, John and Sheryl. Each of your well-wishes is plenty appreciated and affirms the extra effort we make to make articles something we might actually want to read.
Brooke