News, Vision & Voice for the Advisory Community
HSMC Wealth Management and its $40 million in assets is one of Mariner's smaller acquisitions of late as it looks to make smart, strategic buys
August 29, 2012 — 4:20 AM UTC by Lisa Shidler
Mariner Wealth Advisors LLC has spirited a rainmaking-averse advisor away from LPL advisor — but that's OK since the giant RIA already had eight staff members feeding leads to its advisors.
Admittedly, Paul Lutz, who was with LPL for nearly 12 years, operating HSMC Wealth Management LLC in Lee's Summit, Mo., and who has $40 million in assets, heads one of the smaller advisory firms that Mariner has poached in a recent series of strategic acquisitions. But both sides say it's a perfect fit.
Lutz, 55, grew tired of trying to gather new clients for his practice in and wanted to leave LPL to join a firm where he felt he'd get more support to expand his business. "I really think I'm good at being a wealth advisor and I'm really good at research," Lutz says. "I don't have time to go out an d knock on doors to get new clients."
The firm has eight business development professionals who reel in prospective clients and hand those prospects over to advisors who deal with their holistic planning needs. Mariner touts this staff as a positive point to prospective advisors who prefer to build client relationship and not bring on new clients.
Lutz, who is now just 15 minutes away from Mariner's headquarters in Leawood, Kan,. says he couldn't get the support he needed from LPL.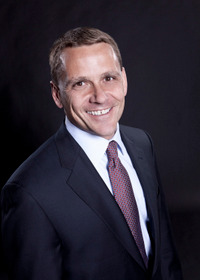 Marty Bicknell: Paul is not a
rainmaker and that's not what we're
looking for.
Mariner Wealth Advisors currently has 41 advisors and $3.9 billion in assets. The firm has signed on 20 new advisors in the last six months and hopes to have added 100 by the end of 2014. Its asset management company, Montage Investments, has some $10 billion in assets.
"We're very picky and selective about who we choose. It's really hard to find the right person," says Mariner chief executive Marty Bicknell. "Paul is not a rainmaker, and that's not what we're looking for. We want advisors that really wake up every morning and go to bed every night thinking about clients and really focusing on the planning aspect. We'll drive the new relationships to them."
Sleeper no more
Bringing over Lutz's firm is part of a larger-picture strategy for Mariner. Michael Bilotta, managing director with Gladstone Associates LLC says that Mariner is one of those firms that has had significant inorganic growth in the last few years.
"In, the past, they were almost like a sleeper firm," he says. "But they're growing with acquisitions and they're partnering with firms that have the right cultural alignment. They're looking for quality growth. They're growing through acquisition and partnering the right way."
In January, Mariner took a majority stake in Tulsa, Okla.-based wealth management firm Adams Hall Asset Management LLC, which brought $1.3 billion in assets to the rapidly expanding RIA. See: Mariner Wealth Advisors buys a $1.3 billion wealth manager that first unwound its ties to a bank.
Bicknell has lured breakaway brokers, brought off major acquisitions such as the nationally sprawled wealth management offices of CBIZ, an accounting firm, but he's also lured away major executives from Fidelity and other firms. See: Mariner Wealth poaches a chief investment officer from a big local mutual fund company. Also this year, the firm has hired 32-year industry veteran William B. Greiner away from Scout Investment Advisors in nearby Kansas City, Mo., as its chief investment officer. See: Mariner Wealth poaches a chief investment officer from a big local mutual fund company.
Where's the help?
Lutz, who is just 15 minutes away from Mariner's headquarters in Leawood, Kan. says he couldn't get the support he needed from LPL.
"I wanted to be independent, but LPL couldn't offer a lot with 12,500 reps scattered throughout the country," Lutz says. "They couldn't help me out in Kansas City with the type of experts that I might need. They've gotten so large they have a difficult time keeping support staff. When I called with a support question that wasn't obvious, they'd have to dig into it to find a person who could answer the question."
LPL declined to comment for this story.
The right fit
"He's culturally the right advisor for us," Bicknell says. "It's all about the client for Paul. He does the planning process and sits down with clients for all of the stages == from estate planning to retirement planning. He can be focused on the client service side with us and we'll take care of growth for him because we have business development people."
Bicknell says he feels his firm allows advisors to do what they do best. "The best producer isn't always the best advice-giver and the best-advice giver could starve to death in a system where producers are rewarded."
Lutz is also located in Lee's Summit, which is an area of about 100,000 people in which Bicknell says he'd love to see the firm add clients. In addition, Lutz is also located in the same office as an accounting firm, which is also attractive to Bicknell.
Previously, Lutz was majority owner of the advisory practice but Gary Hawkins, managing partner of the CPA firm — HSMC Certified Public Accountants — had a minority interest in the wealth management firm and sold it to Mariner so he can build out his accounting firm. Hawkins still gives referrals to Lutz, who also sold his interest to Mariner..
More to come
Bicknell says he expects there will at least be one more large deal announced by the end of the year — "possibly even two, and if we're lucky we'll get three done. They're in the neighborhood of $600 million in assets to a couple billion in assets."
Bilotta says that Mariner can help an advisor such as Lutz propel his business.
"Mariner is looking for the right cultural fit and they may find an advisor who needs a boost in a certain area and that means the advisor can spend more time on clients and client acquisition," he says.
---
Mentioned in this article:
---
---
Share your thoughts and opinions with the author or other readers.
---