Winnie Sun: We have doubled the size of our staff and published iPhone and iPad apps for our clients, and we will be starting to post YouTube videos.
LPL Financial's national advisor conference FOCUS 2012 finished with a flourish last week, driving the "Building a Winning Business" theme home with marquee speakers including the independent broker-dealer's president and chief operating officer Robert Moore; managing director and chief investment officer Burt White; vaunted film director James Cameron; and Cirque du Soleil director Lyn Heward. See: LPL kicks off FOCUS 2012 talking about service for UHNW investors.
On Wednesday, the final day of the conference held at the San Diego Convention Center, LPL also sought to inspire the 2,600 independent financial advisors and 1,000 sponsor partners in attendance by inviting several leading advisors to the stage to share their thoughts on what motivates them each day and to share their plans for the coming year. Following their remarks, the company congratulated each of these advisors by making surprise $5,000 donations to their favorite charitable organizations.
Personal mission
On Tuesday, Moore led off by discussing his personal mission within LPL Financial on behalf of its affiliated independent advisors. Moore concentrated on the efforts to align resources in the areas of independent research, investment solutions, and marketing and distribution to provide a comprehensive infrastructure in support of advisors' businesses, and emphasized the importance LPL Financial places on its position as a partner to advisors. See: LPL cannibalizes executive talent and launches mass-market entity.
"LPL Financial enjoys an amazing partnership with each of you," Moore said, "and our best is still ahead of us."
Moore also noted LPL Financial's constant efforts to update its platform and tools, including advisory tools for portfolio analysis and rebalancing and mobile applications for information aggregation, portfolio monitoring and client communications. See: LPL Financial hires a hiring, retention and culture czar.
Rocky road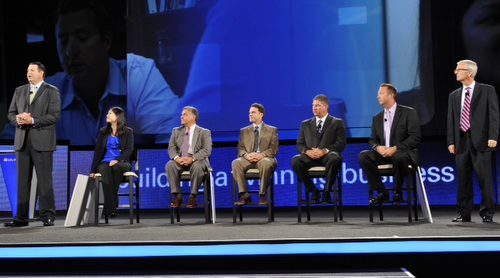 Advisor Panel included: Winnie Sun, Russ
and Glen Cesari, Jeff Thiesen and
Lance Dueker. LPL's Derek Bruton and
Andy Kalsbaugh stand on the right
and left flanks.
Following Moore's discussion, Zanny Minton Beddoes, economics editor for The Economist and former economist at the International Monetary Fund, shared her views of the major global trends and considerations driving the outlook for investors in the current environment. Minton-Beddoes noted that, while general sentiments regarding the global economy have improved somewhat, economic fundamentals may not support the growing sense of optimism, and that advisors and investors should continue to be cautious regarding political risk both domestically and overseas. "Over the next six or twelve months, political risk — not just here, but also in Europe and even in emerging economies — could cause an enormous amount of volatility," she said.
'Life portfolios' on life support
Burt White, LPL's managing director and chief investment officer, then spoke about helping investors navigate changes in the financial landscape. He noted that investors are currently exposed to significant volatility not only in their financial portfolios, but in their "life portfolios," encompassing assets such as paychecks and home values that have not historically been subject to large fluctuations. This volatility, said White, has translated into major shifts in financial markets, including large and ongoing outflows from equity funds and into high-quality corporate bonds and U.S. Treasuries.
Closing Tuesday's general session, Heward spoke about the building blocks of creativity and innovation, and how these concepts can serve as guiding forces for financial advisors' businesses. "Every business leader has the potential to be inspired," said Heward, "but you've got to go out and look for it. Inspiration comes from pushing yourself to experience new things and new perspectives."
Advisors should also not be afraid to take creative risks, said Heward. "In order to grow and realize your vision for your business, there will be times when you confront new challenges. At Cirque du Soleil, it sometimes takes us years to develop a concept from idea to reality, but we approach it as a process and opportunity to grow."
Advisors to use social media
On Wednesday, LPL managing director and national sales manager Derek Bruton and managing director and head of institution services Andy Kalbaugh took the stage to introduce several of LPL Financial's leading advisors, including Winnie Sun of Sun Group Wealth Partners; Russ and Glen Cesari of Northwest Financial Group LLC; and Jeff Thiesen and Lance Dueker of Thiesen Dueker Financial Consulting Group. Bruton and Kalbaugh led a discussion with the advisors on the sources of their inspiration and motivation, their goals for the coming year, and how they are utilizing LPL Financial's tools and platforms — including its social-media offerings — to expand their businesses and find new ways to communicate with their clients and better meet their needs.
Sun says her Irvine, Calif.-based firm has been, and will be, particularly aggressive in pursuing these growth-minded objectives.
"This year, we have doubled the size of our staff and published iPhone and iPad apps for our clients, and we will be starting to post YouTube videos about our practice and services soon. For 2013, we only have one goal: to continue to grow. LPL Financial gives us the tools to focus on expanding our market share while continuing to provide the first-rate service
Following the discussion, Bruton and Kalbaugh presented each of the advisors on stage with a surprise $5,000 donation to the advisors' favorite charitable organizations in recognition of their efforts to give back to their respective communities. The charities receiving donations included Care Fresno, the U.S. Naval Academy Foundation and Trauma Intervention Programs Inc.
Closing the conference, James Cameron, acclaimed director of the two highest-grossing films of all time, "Avatar" and "Titanic," spoke with former ABC News anchor Charles Gibson from the conference's main stage about the wide range of challenges he regularly encounters as he works to expand the limits of filmmaking and create new experiences for audiences. Cameron also spoke about his similar efforts in deep-ocean exploration, including his March 2012 expedition to the lowest point in the Marianas Trench in the western Pacific Ocean — the Challenger Deep, almost seven miles below the ocean's surface.
When to abandon ship
Cameron drew a link between his roles as an innovator and manager on large-scale film projects and deep-ocean expeditions and the role of independent financial advisors as they work to build their teams, manage their practices and develop solutions for clients' problems. Commenting on leadership, Cameron said, "In order to be a leader, the members of your team need to know that they can rely on you, the same way that you rely on them."
Cameron also spoke about another challenge that regularly confronts business owners and independent financial advisors: the relationship between growth, innovation and risk. "Sometimes it's riskier not to do the things that push you and challenge you, because the world is always changing and the market is always changing, and if you simply cling to what has worked in the past, you might find yourself clinging to the mast of a sinking ship," he said.
Joan Khoury is LPL's chief marketing officer.
---
---
Mentioned in this article:
---
---
---
Elmer Rich III
September 2, 2012 — 10:31 PM
Sure would be nice to have data, research evidence and proof and hard-nosed critical discussions of the business aspects of this hyper-competitive, heavily regulated and important business but I guess LPL sees themselves more in the showbiz and entertainment business. Maybe they are right.
Does LPL think advisors need to be entertained? How are a film director's off the cuff remarks useful for anything?
How about some hard numbers on social media for example, or at least case studies?
Is there a firm talking seriously to RIAs about the (many) challenging and serious issues they face? Apparently, not from LPL.
There's a marketing and recruitment opportunity — the non-entertainment focused conference.
Surprised the reporter isn't thinking more critically here.
---