Launch No. 2: RIABiz correspondent Timothy Welsh and T3's Joel Bruckenstein set sail.
Brooke's Note: If we are going to go from a handful of prototype paperless offices to a paperless RIA industry, somebody is going to need to do something about it — even if it involves having a few beers on San Diego's harbor. That helps explain what was going on at this more-popular-than-you'd-imagine event.
Laser App Software Inc. capped off a year of development with the debut of its new web-based technology platform at its sixth annual conference last week.
Nearly 300 advisors, tech vendors and representatives from all of the leading industry firms gathered at the Marriott Marquis and Marina resort in San Diego Aug. 22-24 to learn about the latest technology innovations and integrations that are making the vital, if admittedly unsexy, task of filling out forms and processing business easier and more efficient for RIAs. See: Laser App is showing the prosaic business form's sexy side at its San Diego conference.
For the past 12 months, Ontario, Calif.-based Laser App, which aggregates 29,000 forms from fund companies, broker-dealers and custodians, has let it be known that it was developing what it generically called the Advisor Project, giving out no details but dropping hints that it would be a groundbreaking technology initiative. On the opening session on Thursday, the firm publicly launched "Laser App Anywhere." In an industry that tends to preannounce technology initiatives and then take years to deliver, this "stealth launch" seemed a refreshing approach.
Laser App Anywhere is a mobile forms-filling program that enables advisors to conduct and process business forms from any location on any Internet device, computer, smart phone, or tablet — including iPads, iPhones, PCs and Android devices. Laser App Anywhere is a software-as-a-service model, which is fundamentally different from the company's legacy desktop, server-based software products. Despite his lack of a black turtleneck, marketing vice president Robert Powell provided an engaging demonstration of the new platform. See: Schwab connects CRM to account opening for RIAs.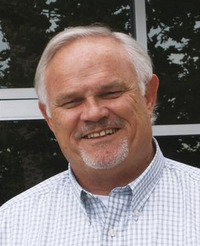 Ed Beggs: Technology tends to advance
and become more important when the
markets go down or someone goes
to jail.
Tech surge
Ed Beggs, chief executive and founder of Laser App, welcomed the attendees — whose number had doubled since last year's conference — noting that industry trends such as regulatory changes and market volatility were coming together to increase the demand for technology solutions — sometimes for counterintuitive reasons.
"The financial services industry has an image problem," he said. "There are too many scandals and frauds, and investors are losing trust. What is needed is more transparency into how business is processed, and technology can do that for us. Technology tends to advance and become more important when the markets go down or someone goes to jail."
Adding their presence to the event were Joel Bruckenstein, of T3 fame; Peter Montoya of the Marketing Library,net Inc.; and Jeffrey Green, compliance director for Laserfiche, along with custodian executives and advisors anxious to find out the latest tech trends and solutions.
Dan Skiles, executive vice oresident of fast-growing San Diego-based RIA custodian Shareholders Service Group Inc. was also on hand to learn about the latest initiatives and to interact with the technology community.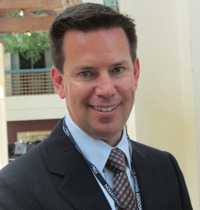 Dan Skiles: No matter what happens
with an advisor SRO, the number
of audits and examinations for advisors
are going to increase.
"We have over 1,000 RIAs on our platform now, so managing that growth is important to us." he says. "Additionally, with the changing regulatory environment, no matter what happens with an advisor SRO, the number of audits and examinations for advisors are going to increase. Firms are going to have to embrace technology to avoid inefficiencies and keep costs under control." See: A small RIA custodian in San Diego faces a new challenge: accelerating growth [updated].
STP central
Because the humble form is central to nearly all business processes in the financial advisory industry, just about every technology provider and financial institution is keen to strategically integrate with Laser App. Many of those firms were on display at the conference, demonstrating their solutions, with a focus on how their software integrates with Laser App's platform.
As an example, on Thursday, Laserfiche provided a standing-room-only demonstration of a new account "composite application" that showed how automated document management work flows can pull data from an advisor's CRM to pre-populate forms in Laser App, route them for approvals, and with the integration of electronic signature technology, create a new account without producing any paper. See: Laserfiche user conference draws a big crowd that wants to toss filing cabinets.
Known as straight-through-processing, this innovation was a key theme of the conference, with multiple sessions and demonstrations on the agenda. See: RIAs in the catbird seat to leverage straight through processing in 2012.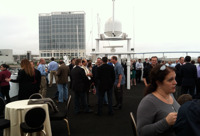 Mixing and mingling on the Laser
App dinner cruise.
SEALed, delivered
Laser App is known for choosing interesting and nontraditional speakers for its conferences; last year's featured former major league pitcher Jim Abbott. This year's pick was Lt. Cmdr. Roarke Denver, a Navy SEAL and star of the movie "Act of Valor," as the first-day keynote presenter.
Denver, a highly decorated and experienced naval officer, provided a engaging, entertaining and motivational speech on how preparation is the key to success for the select and elite warriors that make it through Navy SEAL training.
"How can you improve when you are operating at the highest levels? How can you find new ways to do things better?" Denver challenged the audience. "With the stakes so high in SEAL operations, we are constantly searching for ways to improve on what we do, how we can enhance our training so that we are ready for any situation that arises in combat or missions."
One concrete suggestion Denver offered was: "Embrace your rookies. The youngest and newest members of our teams have always produced in ways we never expected, so in your business, do not be afraid to give your newest and most inexperienced people direct-line responsibility."
All night long
Not least at the Laser App conference experience is the final-night party, which this year took the form of an elegant dinner cruise in San Diego Harbor. Guests sampled gourmet food and fine wines while observing the beautiful skyline and landscape that make San Diego a top destination. The dinner cruise was followed by an after-hours poker and gaming party that went well into the early hours of the morning.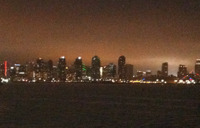 The San Diego skyline as seen
from the boat.
As the conference was winding down, Beggs provided some big-picture perspective on what's next for the industry.
"With the speed in which technology is moving, no one knows for sure what the next big thing will be. However what we do know is that for any technology deployment to be successful, it has to be adopted and used by advisors. Right now that pace is too slow and is really the next big challenge for the industry." See: Early adopters of social media, RIAs are growing disenchanted with its power to drum up new business.
Timothy D. Welsh, CFP, is president and founder of Nexus Strategy LLC, a leading consulting firm to the wealth management industry, and can be reached at tim@nexus-strategy.com or on Twitter @NexusStrategy.
---
Related Moves
---
November 20, 2019 – 10:19 PM
---
September 10, 2019 – 10:52 PM
---
---
Mentioned in this article:
---
---
---