News, Vision & Voice for the Advisory Community
The big broker-dealer also talks about big 401(k) plans and offers a couple of details about Fortigent
August 22, 2012 — 4:49 PM UTC by Joan Khoury Guest Columnist
Brooke's Note: We weren't invited to attend LPL's national conference this year but the company's CMO, Joan Khoury, is sending us updates. Here is the first. See: LPL opens focus11 to reporters for first time – with provisos.
LPL Financial's national advisor conference, FOCUS 2012, kicked off its first day of formal meetings Monday morning, centered on the theme of "Building a Winning Business." More than 2,600 advisors and 1,000 sponsor partners attended the event, which LPL Financial is working to make the top event for independent advisors in the industry. See: Six important things I learned about LPL at its focus11 conference in Chicago.
The first general session on Monday featured updates on the company's direction from members of the LPL Financial senior management team. Following an address by Bill Dwyer, LPL Financial's president of national sales, regarding the company's emergence as the destination of choice for independent financial advisors and their clients, managing director and national sales manager Derek Bruton and managing director and head of institution services Andy Kalbaugh delivered an overview of the firm's initiatives in the areas of growth, efficiency and practice management.
Commenting on specific areas of potential growth for the firm, Bruton and Kalbaugh focused on the high net worth advisory and retirement planning segments. See: LPL keeps advisors abreast of careening markets at focus11 conference.
Private briefings
In the high-net-worth segment, the two noted that LPL Financial has built a tailored support network across the firm's advisory and brokerage consulting, financial planning, insurance, PTC fixed income and research operations, and has implemented home office "Private Briefings" focusing on clients with over $10 million in investable assets. In addition, the company's recent acquisition and ongoing integration of Fortigent is expected to greatly enhance its capabilities in proposal generation, performance reporting and specialized research for high net worth clients. See: LPL makes big advance into the RIA business with Fortigent acquisition.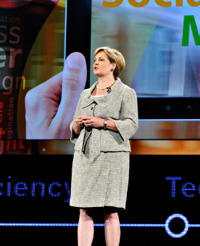 Joan Khoury says the event is
off to a great start.
In outlining opportunities in the retirement plan space, Bruton and Kalbaugh pointed to recent estimates that defined contribution/ 401(k) plans currently hold $3.5 trillion in assets; this total is expected to grow to $4.9 trillion by 2016. In order to address this opportunity, LPL Retirement Partners has brought significant resources to bear — including over 50 dedicated professionals focusing on this market — to help advisors understand the plan marketplace and win business in the sector. See: Amping up recruiting efforts, giant LPL firm grew its revenue by 300% in 2011.
Summarizing his and Bruton's comments, Kalbaugh told attendees, "It's our goal, regardless of which channel you're in, to deliver a stunning breadth of resources to increase market share, improve your bottom line, and help you achieve a balance of life that keeps you motivated and focused on your clients."
Rounding out the general session, former U.S. Sen. Christopher Dodd spoke about the Dodd-Frank Act and the future of financial reform. Dodd emphasized the importance of establishing a financial services regulatory framework that best serves middle class American households throughout the country, and enables their access to independent and conflict-free financial advice. Sen. Dodd's remarks were part of an on-stage conversation moderated by former ABC World News anchor, Charlie Gibson.
SalesForce software
One breakout session, "Internal Succession: Making it Work," presented by LPL Financial's Business Consulting group, focused on the unique factors advisors should consider in implementing a gradual transition from one generation of financial advisors to the next, as well as the potential benefits and challenges of this approach. Other breakout sessions included updates from LPL Financial's Research team; strategies for incorporating annuities into advisors' businesses; and best practices for using social media.
Looking forward to the next two days of the conference, LPL Financial's chief marketing officer, Joan Khoury, said, "This year's FOCUS conference is truly off to a great start as the premier education and training conference in the industry."
Joan Khoury is LPL's Chief Marketing Officer.
---
Mentioned in this article:
---
---
Share your thoughts and opinions with the author or other readers.
---