News, Vision & Voice for the Advisory Community
The head of a latter-day Swiss Family Robinson has been running his firm from a 50-foot catamaran for more than two years -- with unexpected results
August 13, 2012 — 5:43 AM UTC by Lisa Shidler
Brooke's Note: For most of us there is a little tape running through our heads when we disappear from work for a few days that says: I'm going to pay for this. In fact, some people worry what will happen when they lose their BlackBerry for three hours. So what happens to your finely tuned RIA when you bolt the office for three years to hang out in unreachable places? The answer is surprising — and exhilarating.
When we last left Scott Leonard, head of Redondo Beach, Calif.-based RIA Trovena LLC, in September 2011, he and his were in the middle of a tropical drama. Leonard had just left his wife Mandi and their three sons on their 50-foot catamaran, "Three Little Birds," in the Dominican Republic to make one of his concentrated business hops to Los Angeles.
Then, Hurricane Irene struck.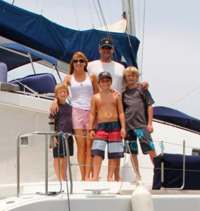 The Leonards, Mandi and Scott, and
their three sons/crew Luke, Jake and
Griffen on Leonard's floating RIA, Three
Little Birds.
"When I left to come home, it didn't look like there was going to be a major storm," he said back then. "It wasn't until I landed in California on Saturday and checked the weather again that I said, 'Oh, no.' I'd left my wife and kids behind on the boat; my wife still can't really drive the boat, and she doesn't know all the lines and stuff. The boat had to be physically moved, it had to be tied in a different way, and all the stuff had to be pulled off of the boat. See: RIA on the waves: Scott Leonard's three-year adventure running his practice from a sailing ship at sea.
Inside the volcano
Like a modern day Gilligan — except on purpose — Scott Leonard packed his family and his RIA onto his 50-foot catamaran more than two years ago and set sail on a three-year sojourn. While Leonard has a cell phone and computer handy, he doesn't keep his cell phone on much and checks his e-mail only intermittently. And as they've ventured further out into the world, getting online has become more of a challenge.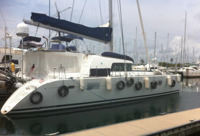 Leonard's very mobile office docked in
the Panama Canal.
Catching up with the Family Leonard a few weeks ago, the scene was completely different. Leonard reported that the boat was docked in the French Polynesian Islands, east of Tahiti, in the remote chain of (non-eruptive) volcanic islands called the Tuamotus, known for its low-lying coral reefs. See: Advisor spotlight: How one advisor is building his practice to sustain a three-year sailing sabbatical.
The Leonards had docked there mid-winter — an attractive season in that part of the world with 80-degree temperatures and mostly sunny days.
Since Leonard 44, his wife Mandi and three sons — Luke, 6; Jake, 10; and Griffen, 12 — set sail in July 2010 to carry out his dream of traveling the world, they've seen 20 countries on their 800-square-foot boat. It's been everything Leonard hoped it would be and more.
The question has been: Would his $550 million RIA, which has offices San Diego, Austin, Texas, and Roseland, N.J., thrive while he was gone?
Grand experiment
When Leonard and partner Christopher Van Slyke merged their practices in 2007, forming Trovena — they also have a successful retail arm, Oncubic, which works with clients with as little as $60,000 — they had similar goals: to maintain a build a practice without being chained to their office.
"We operate our businesses the same way, and when we are together we can sit down and be pretty efficient together," Leonard says. "Once you get to a firm like ours, I don't think the owners should be the first line."
Van Slyke's goals aren't as ambitious as Leonard's, but he wanted to move from California to his hometown of Austin to be near his family.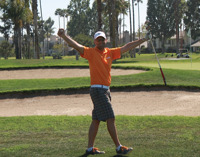 Meanwhile, back on land, Christopher Van
Slyke plays the links: I think
the employees like having us gone.

Van Slyke says he feels the first test for how the company would do in its owners' absence was when he moved to Texas in 2010 and wasn't in the office on a regular basis. It became clear that the business was flourishing in his absence.
"It was really a grand experiment to see whether the company could not only survive but thrive without the founders living where the clients are," Van Slyke says. "In fact, we're larger and more successful than we've ever been. I think the employees like having us gone. We have big personalities and it's probably nice for them to concentrate on their jobs."
Watertight infrastructure
Advisors can certainly live away from their practice as Leonard and Van Slyke are doing, but it takes awhile to achieve these goals, says David Canter, executive vice president and head of practice management and consulting at Fidelity Institutional Wealth Services. It would be a particular challenge for the owner of a small firm to leave the practice.
"Good for these advisors, because they are helping their clients reach their dreams and aspirations and they're reaching their own dreams, too," he says.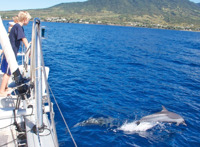 A pod of dolphins off the
coast of St. Kitts.
Canter points to a few successful RIAs that have partners who have moved to such far flung places such as Israel and Italy but had solid managers who took care of client contacts and handled major problems. It's crucial that the partners have superbly talented advisors who are capable of handling clients' concerns in their absence.
"The firms that have done this successfully have been able to put the right infrastructure in place and have the right service model to have the business function and they can still operate," Canter says. "The big picture here is, geographic boundaries are disappearing with sound business models. Whether you're sailing the world or going on a three-hour tour, you need a good business structure and continuity plan before you do anything."
Work and beach
In fact, Leonard and Van Slyke say that when they train new employees, they tell them first off that they, the owners, aren't in the office on a regular basis. They have key advisors who are trained to meet with clients and handle any problems that occur along the way.
That leaves Leonard and Van Slyke to focus on bigger-picture issues such as ways to expand the practice. Leonard has also been writing a book on the business while he's been sailing.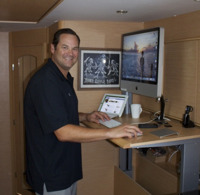 Another day at the office for
Leonard.
But Leonard doesn't consider this a complete hiatus from work. He's in touch with his co-workers and checks
e-mails and talks to clients on the phone once every week or two.
"Work doesn't have to happen with me sitting at a desk. We can be on the beach and the kids are playing around and I'm sitting there thinking about something to do with the business," Leonard says.
High-quality problems
One big challenge is traveling back to Los Angeles each quarter to meet with clients and staff members. He needs to book the flight in advance — a difficult task because he doesn't always know where he'll be able to dock the boat.
"We need to find a safe place for the boat, and I'm trying to arrange airfare beforehand. That's been a challenge that always kind of impacts the go-with-the-flow lifestyle that boaters have," Leonard says.
For instance he had planned to fly back to L.A. in February after docking at one of the French islands but a local festival at the marina made that impossible. Instead, he had to sail to St. Lucia. This meant canceling one ticket and buying another to fly out of a different country — an expensive exchange.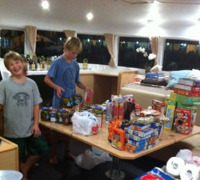 The family may go weeks between
grocery stores.
"Would it have been better if I'd have taken a year or two off and not had to deal with those work issues? Possibly, but I'm not sure with my personality that I could do that. I've got to be involved and have to have my mind thinking about stuff. Work is somewhat of an outlet," Leonard says.
How not to kill the staff
Since Leonard has been away from the office for such a long period of time, he acknowledges that those meetings in California are a whirlwind of strategic and client meetings intended to catch him up on all of the nitty-gritty details of the company.
"As you can imagine, those are pretty intense meetings," he says.
Leonard was more worried about the toll these meetings would take for staff members because the largest chunk of work actually takes place before he arrives.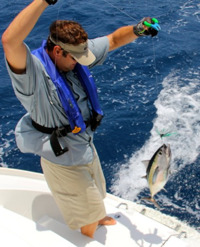 Catch of the day off the
coast of Colombia.
"One of our biggest fears was how are we going to do these meetings and not kill the staff. We've built the right systems and processes in place that allows us to be very efficient. We can manage the staff's time to help them get prepared before I come. so it's not too overwhelming for them."
Limited food
Certainly, Leonard also acknowledges that traveling in a boat carries a number of challenges that most people take for granted. Weather is always one of the most unpredictable factors.
But living on a boat is also a constant moving target when it comes to budgeting — like gauging how much electricity there is for the boat based on the generator. Laundry is a major electricity drainer.
Food can also be an issue. The family may go a few weeks at a time away from a grocery store. They depend on staples such as pasta, chili, canned foods and frozen foods like chicken and steak. Fresh fish from the boat makes for a tasty meal.
"It's a challenge for my wife to figure out where to shop, and she can't even prepare a shopping list," Leonard says. "She's got to see what's available on the fly and determine what to buy. We've got three boys who are always hungry, and they eat a ton. We eat out at times, but you never know when the next place you'll find a restaurant might be."
Too much togetherness?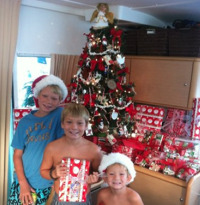 A child's Christmas in St. Martin.

Any family that's been together for days — never mind years — at a time can quickly attest that there is such a thing as too much togetherness. Even sailing on crystal blue seas for sometimes as long as 13 days straight it can be taxing because it means someone must be awake for 24 hours at a time. Leonard and Mandi home school the boys. Once they do dock, this family of five goes everywhere together.
"When the boat isn't moving, we're exploring and doing everything together. We've got to always make sure we can take a 6-year-old with us," he says. "It's great in that sense we're getting an incredible experience as a family."
Leonard acknowledges he and his wife miss hanging out with other adults — getting a bit of a break from kids. Likewise, his three sons miss playing with their own peers. Recently, they were able to do this when they met another family on a similar journey while in the Galapagos Islands.
EKG to go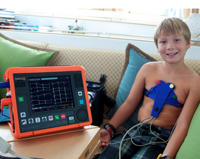 Jake demonstrates the boat's portable EKG.

Before the Leonards left for this journey, both Scott and Mandi took a five-day intensive medical training course in which they learned how to complete simple medical tasks such as sewing stitches. They're loaded with antibiotics and other medicines and supplies since they are often a few days away from the nearest hospital. They even have a portable electrocardiogram in a suitcase on board for emergencies.
"This is a really important issue. We were really worried about the kids' health and it's been incredible to have these resources," Leonard says. "The good news is by using these resources, we can determine how serious the situation is right now."
Exploring the Continent
Originally, The boat trip was slated to last three years, but Leonard is thinking of spending the final months of that stretch away on land in Europe.
"We're talking about going and exploring Europe where you can go and rent a villa for a month and take trains and visit the towns and move to another place. I think doing Europe by land would be better than by boat," Leonard says. "As we say out here in sailing, that's the plan today and these things change all of the time. What's so great about it is it's really freed our minds."
The pay off
Setting off, Leonard assumed his RIA would cruise along in his absence. But he was stunned to discover the company has actually grown — bringing in 80 new clients.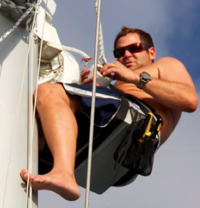 Home improvement.
"Not only have we not lost any clients, but we've continued to gain new clients," Leonard says. "I'm the rainmaker in the Los Angeles [area] office and I wasn't expecting to have the business grow with me not being there. It's a compliment to my staff and to Trovena, which has allowed the business to grow in my absence."
Leonard says the trip has changed his philosophy about mixing work and pleasure. Leonard now realizes he was less efficient when he was physically in the office. Away, he can do things more efficiently, in part because he doesn't need to be chained to his cell phone or laptop.
"We have this old way of thinking that if you're not in the office you're not working. What's happening more and more is technology is not freeing people away from the office but it's having the office be part of people's lives all of the time. We've let technology invade our lives as opposed to leveraging technology to allow us to spend less physical time at the office. It's understanding and using technology the right way."
All advisors dream of this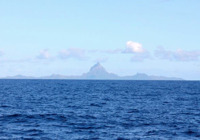 Just yesterday: 15 miles east of
Bora Bora.
Nevertheless, Van Slyke admits that he is looking forward to having Leonard back in the home office eventually.
"He's going to come back a changed man. I'm a changed man. I moved to Texas and have a 10-month old daughter," Van Slyke says. "I'm a completely different person than I was two years ago. He'll have a different perspective too."
Van Slyke says he hopes that other RIAs learn that it is possible to build a business in which you can travel.
"The story of the firm is these guys made it happen. We created a business that supported us in order to live our dreams. One went sailing across the world and the other just wanted to hopscotch across the country."
---
---
Share your thoughts and opinions with the author or other readers.
TradePMR - Frederick Van Den Abbeel said:
August 13, 2012 — 4:50 PM UTC
Congratulations to Mr. Leonard — he is truly taking mobile office and operating in the clouds to a whole new level!
Josh Meyer said:
August 13, 2012 — 5:28 PM UTC
I love hearing about this guy's story, so awesome!
Maria Marsala said:
August 13, 2012 — 5:51 PM UTC
This is a story that I'm going to send the many FAs I know who won't delegate but have BIGGER goals than working 80 hour work weeks!
Maria Marsala said:
August 13, 2012 — 5:55 PM UTC
P.S. I should have added the link to this story about getting started in delegating! http://www.riabiz.com/a/13336391/how-a-change-in-mindset-and-business-structure-can-get-you-off-the-hamster-wheel
Brooke Southall said:
August 13, 2012 — 6:01 PM UTC
I suppose if an advisor's job is to help you realize your dreamy goals and he or she is working 80 hours a week then you have to question whether or not you have the right advisor to get you past x's and o's. Somebody on turtle patrol will make you a believer.
Brooke
Maria Marsala said:
August 13, 2012 — 6:10 PM UTC
I certainly hear you Brooke! :) I'm off the next few days going to the lake as the cold will come to the Pacific NorthWest soon!
It's just amazing how many FA's hire cheap — and get cheap, of course, if they hire anyone full time at all. The answer to "so tell me again why are you doing that?" is usually met with the usual … it takes too long to train someone, I don't want to have to pay more in payroll fees, I'll hire them when I make "x" dollars etc. just boggles my mind.
This article shows them the end result of delegating and hiring so that your business can be run w/o you.
If not, one day the pain of not living life in firefighter mode — putting out the fires that come from not delegating — will get to them — if a heart attack or divorce doesn't do it first.
Brooke Southall said:
August 13, 2012 — 6:14 PM UTC
It sounds like column topic: Why delegating can build your practice and save you medical and divorce-lawyer fees in the bargain
Maria Marsala said:
August 13, 2012 — 6:17 PM UTC
he, he. Maybe the hamster wheel article I wrote should get changed. It was about delegating and running around in circles working — vs. working and enjoying life more.
Maria Marsala said:
August 13, 2012 — 6:21 PM UTC
I do thank you for this article because if someone can see someone else living an extraordinary life — their way they can picture themselves doing that, too. And vision is the first step in turning dreams into reality.
TradePMR - Frederick Van Den Abbeel said:
August 13, 2012 — 6:24 PM UTC
Mr. Leonard's location on the water….now THAT is definitely the headquarters of the RIA world!
:-)
Robert Boslego said:
August 14, 2012 — 1:43 AM UTC
Great story that makes a lot of sense! Here's something anyone can try without having to sail the South Seas: try quieting your mind in meditation. Concentrate on breathing. (Being in nature helps.) Once your mind is still, watch your creativity soar with new ideas! It usually takes being OUT of the office to realize the best results!
Maria Marsala said:
August 17, 2012 — 10:16 PM UTC
Robert,
You are so right about quiet time. Whether it be meditating, spending time away from all technology for a few hours or days, sitting in your yards — whatever floats your boat — it's so important to find ways to reenergize.
For some of us more introverted types that energy comes from being away from folks; and for the extroverts in the world, that energy comes from being with other people. Generalizations? For sure.
---
---