News, Vision & Voice for the Advisory Community
After Michael Brown earned CPA nirvana he realized what he really wanted to do -- become an IA
August 10, 2012 — 3:51 PM by Lisa Shidler
Brooke's Note: While I was editing this article, I called Michael Brown for a detail that I thought would add spice to the story. What events, I asked, in your life foreshadowed this kind of seemingly irrational decision? To Brown's credit, he laughed, took no offense and said that indeed there really were no clues along the way that he could do something that goes against the grain as much as a unilateral abdication of a Deloitte partnership 15 years in the earning. Brown had, before this, lived a pretty straight and narrow life. Of course, those of us in the RIA realm realize there may be nothing at all irrational at all about putting yourself into the succeeding generation of leaders at a $2 billion RIA where owners are within a decade of traditional retirement age.
When Michael Brown had to tell his partners at Deloitte Touche Tohmatsu that he was bolting for a new career with an RIA, he knew his heart was in the right place.
It was the digestive tract of the 38 year-old recruit to Dowling & Yahnke, a DFA-using firm in San Diego that manages about $2 billion in assets, that wasn't entirely on board.
"I was just sick to my stomach," he says.
Breaking the news
It had been hard enough for Brown to tell his wife that they would be uprooting from South Florida for a new life in San Diego. And it was also unsettling to give up so much security at a time when his daughters are 8 and 11. "It's a long-term annuity unless you really screw up," Brown says of working for Deloitte. See: How Rob Francais combined two giant RIAs and then added the assets of Deloitte Investment Advisors.
But it was even harder telling the Deloitte partners who got him over the career hump.
"That was the most difficult thing about this. There were partners who invested in me and went to bat for me … Others were really excited for me"
Brown had achieved a long-sought-after partnership in the firm a year ago, after a 15-year tenure. Deloitte did not respond to e-mails seeking comment.
"That was my career aspiration — to be partner," Brown says. "Sometimes, when you hit those milestones it causes you to reflect and say, 'I've achieved my goals and I've got another 25 years to go, and it caused me to reflect on how I wanted to spend my time and what I wanted to do with the rest of my career. I decided I wanted to be an advisor and really wanted to help people."
Transplanted passion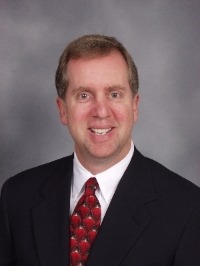 Dale Yahnke: I have no
doubt that Mike will become a
partner, but the pressure is on
him.
"I have no doubt that Mike will become a partner, but the pressure is on him," Yahnke says.
What steeled Brown to make this unlikely leap — and take a big pay cut in the process — was an overwhelming desire to follow his heart. The groundwork for his decision began in 2006 when he went back to school and got his MBA. The flames were further fanned by his job as an auditor working with clients like Tyco on the Fortune 500 side and Blackstone Group on the private-equity side. Brown was crunching numbers relating to valuations in deals. "I loved saying: 'Why are they doing this?'" Brown believed he could apply his passion for puzzle solving to investing on behalf of individuals.
RIA inspired
Brown began setting his sights more on working for an RIA after doing work for one as a member of Deloitte.
"I really liked the RIA model versus the bank or brokerage house," Brown says. "I thought the RIA model gave you the freedom to pursue clients' best interests. I decided I wanted to be a professional investor and I wanted to work in investment management for the rest of my career. At the end of the day, serving clients is all about putting them first and being responsive and proactive. Whether you're in a public accounting firm or a financial advisor, serving clients is the same."
Dowling & Yahnke, which keeps its assets under custody at Charles Schwab & Co., has just one location, but has clients in 32 states. The average assets of clients are about $2.5 million, but many have a net worth much closer to $10 million in assets.
DFA loyal
A customer of Dimensional Fund Advisors LP for 21 years, Dowling & Yahnke has experienced "slow and steady" growth, according to Yahnke. The company had $1.3 billion in assets in 2009, and $2.1 billion as of June 30. See: With tax deferral at a rising premium, DFA forms a deal with an annuity company focused on RIAs.
"We thought that DFA was the right thing to do for our clients," Yahnke says. "We're also Vanguard fans. I've always been on the side of low-cost, tax-efficient vehicles," he says. "That's not an epiphany we had 10 years ago. It's how we started our business 21 years ago."
Brown says he has a good opportunity to build a career at Dowling & Yahnke because the two principals are 55 and 60 years of age — and the company's principals share his investing philosophy. See: Have an aversion to succession plans? Consider a continuity pact as a vital baby step.
Willing to lose clients
Yahnke says he's never been willing to jump on the latest trend such as the high-tech stocks in the late 1990s, and he has lost clients along the way who were seeking higher returns.
"I got fired more in 1999 than any other year. When stocks were going crazy in 1999, I lost clients. But we continued to grow steadily. We're very much the tortoise."
Brown gained his MBA from the Kellogg School of Management at Northwestern University.
---
---
---
Share your thoughts and opinions with the author or other readers.
---