News, Vision & Voice for the Advisory Community
The big search engine -- and the web in general -- may be the two technologies most neglected by advisors
July 6, 2012 — 5:24 AM UTC by Frank Troise Guest Columnist
Brooke's Note: At RIABiz we know the importance of Google Love. It's responsible for a chunk of our web traffic everyday and many of our more loyal readers say they stumbled across us after Google search. This is natural. We are a web-based firm. But Frank Troise makes the case here that basically an RIA better think of itself as an online firm or lose business to one. The good news: it's neither difficult nor expensive. But it means using Google for more than looking up the phone number of the local Chinese takeout.
One of the shows I enjoy watching today is AMC's Madmen. It's a terrific reminder of life during the 1960s and 70s and the surreal idiosyncrasies of life and business then.
One of my favorite episodes is when the office gets a new xerography machine which is incredibly disruptive to the pool of typists and secretaries. Rather than adopt and adapt, the secretaries simply lost their jobs.
Advisors today are at a similar technical juncture. Look at the recent spate of new virtual wealth manager entrants to see the trend afoot. See: After outcry, Betterment 86's (but not on purpose) a blog post inflaming advisors.
All of these participants have one mission: to replace the wealth manager by providing consumers lower fees in a service model. So, as these new entrants look to replace you, and have massive VC funding to compete against you, how can you possibly survive? You have to adapt and evolve your practice now.
While I could opine on many options available to advisors, I want to focus first on the most obvious: the web. It is the easiest and the cheapest. I am still surprised today at how many advisors, irrespective of their size, are absolutely not using the web.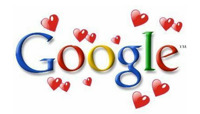 Google Love is finding out your
best friend can also be your
mate for life.
Google works
Advisors today will create web pages as an extension of their marketing, but not much else. That's analogous to a bachelor's romantic strategy of simply putting on cologne, sitting down at a nightclub, and expecting women to show up without any other effort. Today's advisor has to be engaged in the web and accept one simple fact: Google works. Google will significantly lower your client acquisition cost and it is 100% auditable.
"Google Love" was a term introduced to me by our affiliate marketing team as they began our search engine optimization campaign. When I first heard it I thought it was preposterous and could not fathom dedicating any budget to something so profoundly silly (As a native New Yorker I had other "New York" words for it at the time…). But, we are based in Santa Barbara, and Santa Barbara is the hub for affiliate marketing. I knew our team was a heck of a lot smarter than me…so we gave it a go. See: How one firm is supposedly cracking the lead generation code to the tune of 50,000 advisors supplied — by, for now, not trying to create referrals.
Our project goal was simple: Create a web presence that leads mass affluent Baby Boomers to request a meeting with an advisor. The first key metric for us was easy to establish. We had no business coming in through Google and therefore we had a clean start at zero dollars at our launch. What did we achieve? Over a 60-day period over $300+ million in mass affluent referrals averaging $750,000/apiece that wanted to meet with an advisor.
Google relevance
How did we do this? In the eyes of Google we increased our relevance.
To my earlier analogy about the bachelor, our bachelor is now Lieutenant Colonel Frank Slade (Al Pacino's character in Scent of a Woman) as he danced the tango!
What does it mean to be relevant? In your relationship with Google you need to understand who their customer is. It is you. Google wants all of us to know that our search results are relevant to our request. That relevance is established in part by monitoring the behavior of searches across all users and their respective web traffic. I am oversimplifying an extraordinarily complex endeavor, but intuitively it should make sense to you. If people find Walmart useful for discount shopping, then that search result is "relevant".
For advisors that have taken a more proactive approach to Google, and who are using their websites as a proactive component of their marketing, we have seen a significant increase in the relevance of advisors. At our firm we have a large search magnet in one of our offerings: FreeRetirementReport.com, and we encourage advisors to make that an active part of their on-line program.
Co-opting relevance
In effect, by our utilization of a key offering to Google and its search engine, advisors can co-op our relevance to their own benefit. All of which leads to more new client inquiries via the web.
Let's use an example. As a consequence of advisors proactively enhancing their relevance between our offering and their own websites, Google has recognized that there is a relationship between us. Hence, our advisors have "greater relevance" for any on-line search. An excellent case in point is WealthCare for Women which you can see at this link.
This is an excellent example of a firm leveraging our search optimization to their own benefit. Why does this work? Search for "free retirement report" on Google and see how WealthCare places. As a function of the relevance between our two sites, Google now recognizes our client as relevant to any search for "Free Retirement Report". See: Online RIAs will mostly fail — and here are 10 reasons why. See: Outdated RIA websites risk compliance trouble not to mention credibility .
How does this dovetail against some of the larger firms and their on-line spend? Let's look at another example and take a peek at one of the largest firms with a significant on-line ad budget: Blackrock. It's safe to say that Blackrock has an on-line budget of at least 50x the average advisor. How can the average advisory firm compete with a firm of that size? By being pro-active.
Beating Black Rock
When our team tackled this problem for local advisors in Santa Barbara they wanted to be sure they could exceed the search relevance created by Blackrock. If you were in Santa Barbara (or any of our other geo-targeted territories across the country) and were to search for "Blackrock Retirement Calculator" your search results would be similar to this: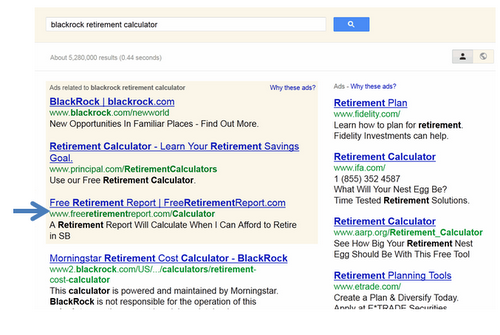 BlackRock.
Our advisors, through their affiliation with us, have just received the same on-line benefit that only BlackRock achieved. What if the user searched only for "retirement calculator"? They would see something like this: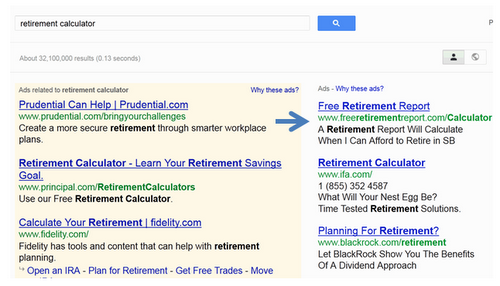 "Retirement Calculator".
Here again, without any on-line ad-spend our advisors are benefiting from the same on-line search as Prudential, Principal, Fidelity, IFA, and BlackRock. All of whom have massive on-line budgets.
These advisors have now leveraged Google to enhance their local presence against significantly larger competitors through a client acquisition platform that is a fraction of the cost of what they utilized before.
Price of a Starbucks coffee
As the Don Drapers (Madmen's main character) of our industry continue to have three martini lunches they will soon experience the Innovators Dilemma. Conversely, the smart, adaptive, and nimble local advisors will have a completely different outcome. Those advisors can now acquire new business each day for the price of a Starbucks coffee.
As I learned…and I laugh as I write this…there is something to be said for "Google Love."
Frank Troise is the founder of My New Financial Advisor Inc. He is a serial entrepreneur and passionate about investing. He has created several successful traditional financial services companies and several in financial services technology. Mr. Troise has a long established record of risk management which began in the early 1990's at ABB Financial Services where he and his team's pioneering work won The Economists' International Risk Manager of the Year Award for their work with Value at Risk (VaR). Mr. Troise's research, work, op-eds and career have been published in The Economist, Institutional Investor, The Wall Street Journal, Barron's, The Sacramento Bee, The Pacific Coast Business Times, Noozhawk, Derivatives Weekly, Pension & Investments, and Investment News. His investment letter has over 12,000 accredited readers and he is a frequent commentator on CNBC regarding market strategy for Squawk on the Street, The New Retirement series, Power Lunch, and Street Signs.
---
---
Share your thoughts and opinions with the author or other readers.
Loic Jeanjean said:
July 6, 2012 — 5:00 PM UTC
Frank,
thanks for the article. However, I am wondering why you did not mention that you were running Adwords campaigns? It seems to me that you are biding on keywords and showing up along other firms that are also participating in the keyword auction on Google.
There's a huge difference between organic search optimization and sponsored search, and for the sake of other readers, it should be clearly stated as such.
By the way, Russ has been doing a tremendous job lately with his social media and web marketing efforts, and it was great to see him reference in your article.
All the best,
Loic
Russ Thornton said:
July 9, 2012 — 12:52 PM UTC
Thanks for the kind words, Loic.
Much appreciated.
Lee said:
July 9, 2012 — 6:08 PM UTC
As Loic mentioned in his comments above, the examples being shown in this article are AdWords, with the exception of Russ Thornton's site, which does appear on page one of an "organic" Google search for "free retirement report".
For those not familiar with AdWords, you pay for positioning. If you want to appear at the top of page one for a keyword search on Google, you can do so with their AdWords service. Simply create an advertisement and set a dollar limit per click and you're off to the races. In researching the keyword term "BlackRock Retirement Calculator" the average cost per click to advertise on the search terms is approximately $12.68 a click. In other words, each time someone clicks on your ad, you pay Google $12.68 for the visitor, regardless of whether or not they submit data.
I also wonder about the earlier claims regarding the number of leads being generated from this site. If you do a little more research on FreeRetirementReport.com, it shows that there were only 1173 unique visitors during the month of May. How can 50K+ advisors in their network be supplied by 1100 hits to the website? Something isn't adding up.
Stephanie Sammons said:
August 31, 2012 — 10:26 PM UTC
I agree with Loic. I'm very concerned with the inaccurate perceptions this company is creating with financial advisors. The claims are misleading. Not only do they fail to mention the use of paid search tactics here, but they also fail to mention that Google's algorithm is a moving target. What shows up in search for one person can be completely different for another based upon geographical location, search history, and to a growing extent social media connections. It seems to me rather than building the financial advisor's brand they are building equity in the "free retirement report" brand. This is a Groupon. My advice: build your own digital assets and cultivate your own lead list organically. Furthermore, if it sounds too good to be true, it probably is.
Stephanie Sammons
http://www.wiredadvisor.com
Brooke Southall said:
September 1, 2012 — 3:35 AM UTC
The space beneath articles on web sites often become places where people write in hysterical tones. RIABiz has mostly avoided that fate. Thank you Stephanie and others for getting your points across in articulate and respectful ways here. This kind of tone and thoughtfulness is helpful to people trying to understand these issues — and encourages other people to contribute meaningfully.
Brooke
Michael Keeler said:
October 7, 2013 — 3:40 PM UTC
This is an interesting article, but as others have pointed out, it is using ads, not SEO. This is a huge flaw in this article.
There is nothing wrong with buying ads on Google, but please be honest about what you are doing. This article should be pulled or rewritten. I'm surprised it has been out for a year and it really makes me wonder about the accuracy of other articles on this site.
---
---