Advizent makes Jack Bogle its standards czar, a no-pay, no-conflict position
The RIA brand will depend on a gold standard of rules and audits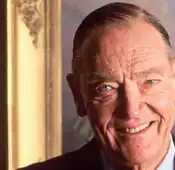 Jack Bogle is the first of seven big names that Advizent plans to put on its board.
---
---
---
Elmer Rich III
You know, let's be honest – JB made a PR career self-righteously skewering the competitors of Vanguard while claiming to be holier-than all the rest. It is deeply cynical and no one ever calls him on this clearly conflicted moralizing.
What a surprise – all the business practices he claims are morally superior are of those of the firm he benefits from!
JB has always been conflicted like everyone else. He is no saint nor even especially knowledgeable about anything other than a clever PR campaign. Nothing of more substance than just being a "loudest voice." Further, the evidence-basis for his statements and claims is thin — at best.
Why has he been given a free ride on his own conflicts and self-serving behavior?
Jamie McLaughlin
This is another feather in Advizent's cap and a sign that they'll marshal the resources to support something in execution that will be more than just a noble concept.