Tim Kochis: I winced when I detected a slight tone of condescension in the presentation.
Brooke's Note: Tim Kochis, formerly CEO of Aspiriant (formed by the 2008 merger of his firm, Kochis Fitz Tracy Fitzhugh & Gott, and Quintile Wealth Management LLC), and now a paying client, offers us this priceless insight of what it's like to find yourself on the other end of the company service equation. It's very "Undercover Boss," but without the disguise. Only a company very secure in itself would allow a column as openly self-critical (albeit self-laudatory at points) as this one to be published. Thanks to Aspiriant and to Tim Kochis for sharing these thoughts with our industry.
Upon leaving Aspiriant as an employee this spring I was eager to continue my relationship with the firm as a customer. I wanted to receive the benefits of Aspiriant's extraordinary talent, resources and platform — but also to experience firsthand where there was room for improvement in terms of client service. See: Tim Kochis retires, months earlier than scheduled, but also years later than planned.
So, accepting a modest "founder's discount" on planning and investment management fees, my wife, Penelope Wong, and I recently became arm's-length clients of the leading independent wealth management firm. To say that I learned more in one month as a client than in 20 years as an executive is, of course, a great exaggeration. But I did learn a lot, and there were some surprises.
Married without children
To get the dingy laundry out first, I was surprised — and Penelope a little put off — by the length, but especially by the inflexibility, of the "intake" questionnaire. We have no children and after about the sixth page of questions about our plans and expectations around our children, we were beginning to wonder whether we were in the right place. This sense of being out of the desired mainstream was compounded when an inexperienced administrative staffer sent a communication addressed to Mr. and Mrs. Kochis. Penelope has used her original surname before and since we married 30 years ago. See: How RIAs like Aspiriant and United Capital are working to put financial planning back at the center of financial planning firms.
The implication seemed to be that anything other than an Ozzie and Harriet traditional-family fact pattern was unwelcome. I knew better, of course, but the uncomfortable feeling was there, especially for Penelope. Like almost all firms, Aspiriant's clientele has every imaginable demographic characteristic: singles, childless couples, married couples with children, same-sex unions with and without children, mixed families, and on and on. See: A refresher on how an advisor should approach the needs of clients as they near retirement.
Having only one questionnaire to accommodate — and welcome — all of this variety is, I discovered, a mistake. Happily, my former colleagues accepted our reactions with grace and are taking steps to accommodate a shorter and more flexible questionnaire process for the broad diversity of clients Aspiriant already has and wants to have more of. Given how much we typically learn about our prospects before we get to the point of taking them on as clients and given the ease of document management now available, we should be able to closely customize a questionnaire document that at least appears to be very specifically tailored.
Rapid response
Now, for some positive surprises. I was very happy to see, and Penelope enjoyed, how rapidly the general client communications apparatus clicked into operation. We began to receive the full cycle of communiqués regarding firm events and investment and planning issues within a week of our signing on. A letter from Rob Francais, CEO, welcoming us to the firm and thanking us for the business, arrived within days quickly followed by a welcome gift of a beautiful coffee-table book on exotic travel. That subject seemed perfect for us, so we permitted ourselves to believe that that was specifically targeted. See: RIAs see mostly silver linings in the wake of Supreme Court's decision on Obamacare.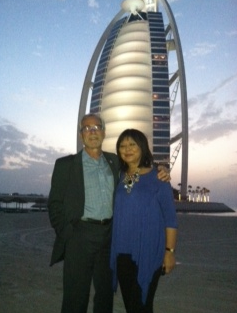 Tim and Penelope are becoming as
unified on financial planning as they
are on the art of living.

New tricks
Another pleasant surprise was how quickly Penelope developed trust in our advisory team. Before we became Aspiriant clients, she relied heavily on me to get things right regarding financial planning, having confidence in my skills and knowing I had full access to Aspiriant's very considerable resources. Penelope had professional and civic endeavors that were keeping her plenty busy and didn't feel she needed to put financial and investment planning on her plate as well. See: Why women just aren't buying what financial advisors are selling.
But now I was convinced that I wanted an expert, objective, dispassionate — and young — team working on our behalf to supplement and soon take over the planning and execution role I had been doing. And I wanted Penelope to be as confident in the team as I was. The natural reaction — "but they're so young!" was precisely the point. Given what I believed about their long-term commitment to this profession and to their making their careers at Aspiriant over the very long term, these talented and highly motivated financial, investment, and estate-planning professionals were likely to still be in the prime of their careers as Penelope and I approach our final years.
After only a very few meetings, Penelope was convinced we had made a great choice in the advisory team and was herself fascinated by the process and heartened by the planning results. She became a very eager participant in the discussions and, no surprise to anyone who knows her, was not at all shy about engaging in the decision-making process. See: Forget their reputation; rich women are more fearless investors than supposed.
Seeing the process through Penelope's eyes, I appreciated more keenly than ever before the key benefits of first-class professional advice: competence, diligence, dispassion and motivation. I have always considered myself a world-class expert in my field. Maybe so. But still I learned a few important nuances from my young colleagues. And, they quickly found some loose ends that I had been neglecting: A too-expensive life insurance policy here, underinsured casualty loss protection there, a wayward old 401(k) plan balance that we never got around to corralling into the rollover IRA, a mortgage ripe for refinancing to save substantial monthly payments. Steps were put in motion to get all those things taken care of … at our first meeting! The updating of a 12-year-old estate plan became a major initial objective. Like many a cobbler, my own shoes were not in perfect shape.
Holes in my strategy
Maybe even more important were the diagnosis and refinement of our investment strategy. In spare moments here and there, I had formed our allocation of assets to look a lot like one of the several "standard" optimal mixes developed to respond to the return needs and appetites of Aspiriant's clients and their willingness to accept the related risks.
But the holes in my "when I can get to it" strategy showed. Some of the specific vehicles were not thoroughly up to date and some rebalancing was well behind schedule. With coaching from our planning team, Penelope and I reconfirmed the fundamental strategy we were already pursuing. But now, we had bright, eager and devoted professionals to make sure our portfolio always reflected Aspiriant's best thinking with an execution discipline that I never made time for myself. Most significantly, Penelope now, maybe for the first time, fully understood the strategy we were pursuing, thoroughly adopted it and had complete confidence in our team's ability and commitment to pull it off.
Underestimating client savvy
Toward the end of that first month as a new client, I attended a client presentation from the firm's investment strategy and research group on a new and sophisticated approach to enhancing the risk-adjusted returns of clients' portfolios. I had, of course, been a party to the initial developments and was an early enthusiast for the benefits this would bring; but this was for me, like other clients, the first exposure to the detailed rollout.
Not surprisingly, I was impressed by the deep and innovative thinking underlying the new approach and extremely proud of the firm for assembling such exceptional talent, giving them the resources to create it and, even more crucial, the permission to think far out of the box.
But, I winced on several occasions when I detected a slight tone of condescension from the presenters — for instance, when one of them said: "This is really complex stuff; don't worry if your eyes are glazing over." I was watching, I didn't see any glazed eyes. When I was an advisor, I always tried to operate as if our clients were even smarter than we were (maybe especially in those few cases where the evidence was to the contrary). Now that I'm on the client side of the table, I'm eager to have the same presumption applied to me.
---
---
Jeff Spears
Great article from a Legend in the RIA business.
A few items stuck with me that are common to my experience as an aspiring Legend:)
1.) Questionarires are for large firms that require cookie cutter solutions. This is where the art should come in and is a differentiator for independent adviors versus large firms.
2.) The coblers son syndrome is alive and well! Unfortunately most wealth advisors that I know do NOT follow the advice that they give their clients. My question is do they not have the time or $ or do they not believe?
3.)One of the most common mistakes advisors make is to disregard the spouse. It typically costs them the business.
4.) Complexity that can lead to condesending exchanges is a HUGE issue.
Hopefully all leaders of independent wealth management forms will follow Mr. Kochis lead again and become a client of their firm.
Janet Tyler Johnson
Thank you Tim, for this wonderful article. Very insightful. You truly are a world-class expert and I appreciate you letting us learn from your experience.
Bill Winterberg
One great takeaway from this column: Don't wait 20 years to feel what it's like to go through your own firm's intake and plan implementation process.
As you read, it can be eye opening.
Dave Grant
Great advice Tim.
I especially like your last paragraph about the tone of an advisor's message. This is far too easy to do, and I think we do it to put the client at ease, but we also do not give the client enough credit.
Linda Lubitz Boone
Tim, as usual, your insightful observations and sharing to make the profession better are much appreciated. I have shared this with all my staff to get their observations on how we can do better. One of the best parts of the article was the photo of you and Penelope enjoying your world travel.
Best to you both.
Linda
Gerri Leder
Tim,
You were more open-minded about the strengths and weaknesses in your former firm's client service model than most of us could be. Thanks for sharing this fresh view from the other side of the conference table!
Rhona Heyl
Very interesting perspective from an "insider." Thanks for taking the time to share your impressions. Rhona
Maria Marsala
Great advice. It's important to be a customer in your own firm or hire mystery shoppers, etc. When I acted like a customer, I realized that my website needed to be simplified… and that's what we're doing!