Hall Capital's new home provides more room for a growing staff and swankier accommodations for its high-end clientele
Brooke's Note: The stock brokerage business was born in New York and then spread nationally. Many people would say that the wealth management business has San Francisco as its hub, based on the tenure, size and sophistication of the practices. So maybe Sourdough City can now push out what it has learned nationally. New York is a natural destination. Not only does it have all that wealth but it is, many believe, behind the wealth management eight ball. For the same reason you buy a Ford if you live in Dearborn or drink wine rather than water in France, you go with a Wall Street broker in New York. Maybe not for long. This story seems like a small but telling chapter in this story of change and evolution.
With its family foundation business growing, Hall Capital Partners LLC last week moved its New York digs from a 7,000 square-foot office to one with double the space.
The New York offices of the San Francisco-based RIA moved from the stately Charles Scribner Building at 597 Fifth Ave. to the Mad Men-era glass high rise at 850 Third Ave. See: In their own words: Five top advisors' secrets for creating stronger alliances to gain more referrals.
Hall Partners had been at the Fifth Avenue location for nearly five years and had signed an eight-year lease.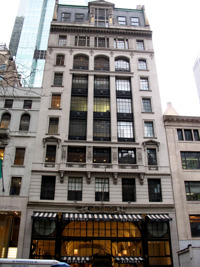 Before: 597 Fifth Avenue — The
Charles Scribner Building
"It was before the crisis and it really paid to be realistic and not optimistic but now with hindsight, we should have been more optimistic," says Simon Krinsky, a managing director at Hall Capital.
"When we signed that lease in 2007, we had seven people in that office and anticipated growing one person a year. We grew much more quickly than we'd anticipated. Now, we have 18 employees in that office."
The RIA has 100 employees in its San Francisco headquarters.
Charm vs. swank
The $23 billion RIA realized the New York office needed more room for visiting colleagues as well as larger and more elegant meeting rooms for family foundations and endowments that want to hold meetings, Krinsky says.
"This is much more light and open. The old place was charming but this new place is really professional," Krinsky says. See: Advisor Spotlight: Monument Wealth Management shows that A-plus office space isn't just for ad agencies and law firms.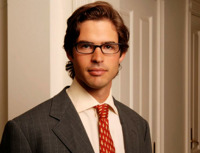 Simon Krinsky: The old place was
charming but this new place is
really professional.
"The new office shares many of the same attributes as the old – clean lines… lots of open space and terrific art," Krinsky says. "Neither office is a crystal palace however."
But he points out that the new office has ample conference space – five total ranging in size from a small breakout room to one large board room that fits more than 20 people.
"We have a wonderful group of foundation and endowment clients, plus a number of family clients with active private foundations," Krinsky says. "We wanted to offer a place for our non-profit clients to gather. So far, clients have raved about the new space."
Krinsky declined to discuss the cost on the nine-year lease, but it was arranged by Cushman & Wakefield.
Foundation tailwind
The firm, founded in 1994, has a 20-person research team and manages $23 billion for 125 clients — a mix of family foundations and endowments. About $9.7 billion of the assets are in alternatives. The average family has about $175 million.
The growth engine for the firm comes from endowments and foundations from non-profits and smaller universities where assets range from $100 million to $250 million. See: How an ex-University of Chicago endowment chief is teaming up with a $4-billion AUM RIA to go after $500-million institutional accounts.
"There's a huge tail wind in that business. These groups had been run by well-meaning consultants but after 2008, they decided to outsource their investment responsibility to a professional firm like ours," Krinsky says.
In the past few years, Hall has struck impressive foundation deals. The firm declines to list the assets of the foundations. But Hall now manages assets for Drew University in Madison, N.J., and the 250-acre New York Botanical Garden in the Bronx. The Botanical Garden carries special memories for Krinsky, because he and his wife got married there.
In addition, the firm also manages the foundation for the Cary Institute of Ecosystem Studies, based in Millbrook, N.Y.
The right spot
Clients and prospects care a great deal about an advisor's office, says Stephen Wershing, president of The Client Driven Practice, a practice managing consulting firm in Rochester, N.Y. He points out many RIAs can land new clients simply by having a ritzy office. Conversely, simply landing at an elite spot doesn't mean prospective clients will flock to you.
"You've got to think about your brand, and where you decide to live is a very important decision because different clients have different kinds of expectations," he says. "I can't say if it's the right move for them but if you're dealing with the uberwealthy as your client base, then they probably do have expectations about what they want to see when they walk in."
"You've got to think about your brand and where you decide to live is a very important decision because different clients have different kinds of expectations," Wershing says.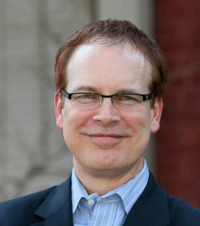 Stephen Wershing: The uberwealthy ,,, probably
do have expectations about what they
want to see when they walk
in.
Wershing says some RIAs have chosen to reach out to clients and get their feedback about things such as decor.
"It really needs to be tailored to clients' expectations," he says. "If they want a high floor overlooking Central Park, then that is what you should deliver to them."
Is mahogany right for your firm?
However, Wershing warns that the danger in setting up too ritzy an office is that some clients might fear that their advisor is spending frivolously on decorations causing them to pay higher fees.
"There are a lot of people who like mahogany and glass tables but on the other hand, if the place was too nice and had really expensive art, a client may feel like they were being overcharged for the expensive decorations," Wershing says.
Sticky business
But there's more to catering to the foundation set than square footage alone, says Krinksy.
"The business is very sticky. We work hard to make ourselves invaluable in the investment process with wealth transitions and multi-generational planning," says Krinsky, adding that the firm is growing rapidly in its San Francisco-headquarters as well — particularly among family offices. See: Family Office Exchange is betting that RIAs and the ultra-affluent can't get enough of each other.
---
---