Stuart Silverman: We're not saying: 'Let's take the culture for 250 (the existing Fusion advisors) and bring it to (all) 1,400 (NFP reps firms).
Brooke's Note: The bad news for NFP is that, rightly or wrongly, it is cited by many experts as the poster example of an advisory roll-up gone wrong. It didn't help its own case by hitting a wall in 2008 (see below). The better news for NFP is that through it all the brand survived quite well, maybe even improved, on the IBD side of things. Both Schwab and Fidelity have cited it, with its IndeSuite platform, as a favored partner for hybrid RIAs. But wrapped in that NFP IBD success was a jewel of 240 really top NFP rep firms who had joined the Fusion Advisor Network. Wisely, it seems, NFP is drawing even closer to the good that is happening under that practice management network by buying it — and signaling not that it's trying to buy its way to success but, perhaps, just the opposite.
After years as a pioneer in the rolling-up of firms, National Financial Partners Corp. is making a deal that will position it to retain — and recruit — advisors without outlays of capital.
The New York-based provider of insurance, employee benefits and independent-broker-dealer services has brought Fusion Advisor Network in-house after it spent almost a decade working in close partnership with the practice management and consulting firm on the broker-dealer side of the business, NFP Advisor Services Group.
Fusion has spurred on some of its NFP's hottest hybrid RIAs. See: What exactly is Fusion Advisor Network and who did it draw to Las Vegas last week.
"After being a partner for so long, we realized we can take it to whole other level," says Stuart Silverman, founder and chief executive of Fusion.
Change from within
The move appears to be a shift in emphasis from amassing firms, people and assets in favor of creating a way to make those assets and employees grow efficiently and organically. NFP's broker-dealer, ASG, is the company's fastest growing segment, accounting for 24.6%, 22% and 18% of NFP's revenue in 2011, 2010 and 2009, respectively, according to SEC documents.
Still, NFP's 10-K states indicates that it has no plans to stop collecting firms. "NFP anticipates continuing acquisitions and subacquisitions that provide recurring revenue and/or strategically complement its existing businesses. NFP believes that opportunities remain for growth through disciplined acquisitions of high-quality businesses."
Getting closer
NFP has been seeking to restructure and fine-tune its business model since 2008, when its shares plummeted into penny-stock territory to and its earnings fell to $14.8 million, from $54 million in 2007. The stock currently trades at less than $15 after going higher than $55 in 2007. See: Bibliowicz's turnaround plan for National Financial Partners includes rolling up RIAs.
The Fusion deal makes sense, according to Tim Welsh, president of Nexus Strategy LLC, a Larkspur, Calif.-based consultant to RIAs.
"The biggest, brightest and most productive node on the NFP grid was Fusion. Rather than build out an entire consulting, business management and marketing platform for their advisors, it became apparent that their best move was to acquire their arm's-length platform and then be able to evangelize it across their other 1,500 advisors," Welsh says.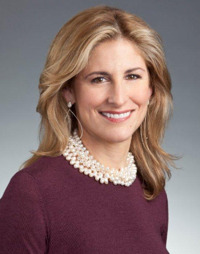 Jessica M. Bibliowicz sees recruiting, retention
and profit-margin magic arising from this
deal.
The deal helps NFP tackle three very important objectives.
"This transaction enhances our recruiting and retention initiatives by empowering us to provide a more robust offering to advisors, while also creating margin improvement opportunities for NFP," says Jessica M. Bibliowicz, the firm's chairman and CEO. NFP anticipates that in 2013, the first full year of post-transaction operations, NFP Advisor Services Group's adjusted earnings-before-interest-tax-depreciation-and-amortization margins will improve by between 75 and 100 basis points. See: NFP found profitability but shed firms and office space last quarter.
Hire power
Still, Fusion is taking care not to spread its culture too thin. A significant factor in its success is the trust it has engendered among its advisors, mostly larger ones, so that they freely share information with each other.
"We're not saying: 'Let's take the culture for 250 (the existing Fusion advisors) and bring it to (all) 1,400 (NFP reps firms).' ... this is not a place you start at, it's a place you graduate to," says Stuart Silverman, founder and CEO of Fusion. Advisors in Fusion's network tend to have a minimum of $500,000 in revenue, he adds. Silverman's new title is chairman emeritus.
Fusion provides an array of practice management services, with particular emphasis on human resources and compensation, to help advisors grow by making effective hires. Philip Palaveev, a former Moss Adams LLP star, known widely as an industry expert and wit, will continue to run the practice management side of the business. See: Former Moss Adams star begins to taste success in the 'real' world.
Advisors don't pay to be part of Fusion. Rather, the firm makes its money by sharing revenue with NFP. Fusion's 240 advisors, with combined revenue of $60 million, use NFP as their primary brokerage relationship — though some have additional custody arrangements with Schwab and Fidelity for RIA assets. See: Fidelity follows Schwab's lead on hybrid advisors.
What's good practice management worth?
Though Fusion has enjoyed success since its 2003 founding by Silverman, the company found it was running up against its own challenges of growth, which he believed would be met by a merger with NFP (NFP also had its initial public offering in 2003).
"As we know, thousands of advisors pay for [practice management] when they can get it for free from any B-D or custodian when they value it — think Peak [Advisors Alliance]," Welsh says. See: LPL's biggest advisor rallies his protégés Nebraska style.
On the other hand, Genworth Financial Wealth Management Inc. has essentially disbanded Quantuvis Consulting Inc. with the departure of its CEO, Stephanie Bogan, earlier this year. The company continues to provide consulting under the Genworth brand. See: Stephanie Bogan: Put me in, I'm ready to play.
United Capital Financial Advisers LLC, another consolidator, also recently made hires aimed at organic growth. See: United Capital makes three exec hires, including a veteran recruiter from Raymond James.
SEC documents show that NFP lists Raymond James Financial Inc. and LPL Financial LLC as big competitors for advisors.
Partners with benefits
Silverman says that one advantage of the deal is that there are technological projects in which NFP and Fusion were duplicating efforts.
James L. Poer, the president of NFP Advisor Services Group, adds that Fusion's expertise can now be infused into NFP technology.
"We said: 'How do we get to the next level?,'" he says.
---
---
Mentioned in this article:
---
---
---