News, Vision & Voice for the Advisory Community
Not all Republicans were thrilled with the plan that would make FINRA king
June 8, 2012 — 3:51 AM UTC by Pat Burns Guest Columnist
The House Financial Services Committee met for a congressional hearing on Wednesday to determine the merits of the Investment Adviser Oversight Act of 2012. The bill, proposed by House Financial Services Committee Chairman Spencer Bachus (R-Ala) and Carolyn McCarthy (D-NY), would form a new, self-regulatory organization (SRO) for investment advisers, possibly FINRA.
Of the six witnesses called, four supported the bill: Dale Brown, President and CEO of the Financial Services Group, Thomas Currey, former president of the National Association of Insurance and Financial Advisors, Chet Helck, COO of Raymond James Financial Inc., and Richard Ketchum, Chairman and CEO of FINRA.
Opposing the bill were John Morgan, the Securities Commissioner of Texas, and David Tittsworth, EVP of the Investment Adviser Association. Morgan claimed that the bill would force state registered advisers to join FINRA, even though, as he stated adamantly, "the states are doing their job."
Tittsworth grilled
Though the number of witnesses supporting the bill was double those against it, Mr. Tittsworth took on the lion's share of the questions, and said in his opening statement that "the substantial drawbacks to an SRO significantly outweigh any potential benefits. These drawbacks include minimal transparency and accountability, insufficient oversight by the SEC and Congress, conflicts of interest, excessive costs, and the lack of meaningful due process protections and cost-benefit analysis restraints."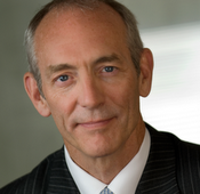 David Tittsworth answered most of the
questions.
Attending the hearings were Representatives from both sides of the political spectrum. Notably questioning the bill were Carolyn Maloney (D-NY), who expressed reservations over the number of exemptions included, and Maxine Waters (D-CA), who said that she was putting together her own legislation that would center around user-fees.
Republican objections
And while it seemed that the only Democrat supporting the bill was Congresswoman McCarthy, the Republican attendees were less unified. Congressman Randy Neugebauer (R-TX) asked "When are we going to start holding the regulators accountable… rather than creating new regulations and new regulators?" Rep. Scott Garrett (R-NJ) also questioned the bill's lack of a requirement for a cost-benefit analysis.
Mr. Ketchum disagreed with their objections, saying in his testimony that the bill "represents a direct, bipartisan response to the SEC's study and recommendations, and is an important and thoughtful effort to help fill the gap in the protection of investment advisory clients. Specifically, the legislation addresses the current lack of Commission resources and allows self-regulatory organizations … to assist government regulators in providing closer and more regular oversight of investment advisers."
Pat Burns is the principal of Advanced Regulatory Compliance, Inc.
---
Mentioned in this article:
---
---
Share your thoughts and opinions with the author or other readers.
---