News, Vision & Voice for the Advisory Community
RIABiz' editor storms The Palace at the San Fran conference, listens in on tech chiefs soothing mobile angst and checks out the after-party in an old-time saloon
June 5, 2012 — 4:03 AM UTC by Brooke Southall
Brooke's Note: I made it to the last few hours of the first day of the Northern California FPA conference at The Palace, a grand dame of marble and ornamentation in downtown San Fran. Not sure if I was properly registered, I tried to remain in motion and to pick a session that crossed both the RIA and RIABiz interest bar by listening in on two tech leaders: Eric Clarke, of Orion Advisor Services LLC, and Ken Golding, of Junxure. In the exhibit hall, I scanned the crowd and was able to have chats with Bill Winterberg — our first meeting — and Michael Kim of Genworth. I also shook Marv Tuttle's hand when he crossed my path. We had never met. I then beat it across the street for the after-party being held by Asset Dedication at the House of Shields. It was a very cool scene — like an old-time SF saloon. There were various California RIAs and many of them were warming up for the evening's SF Giants game.
When Eric Clarke polled his audience at the Financial Planning Association's Northern California conference last Tuesday evening to see how many advisors have mobile technology strategies, he got the perfect response from one sardonic and bespectacled fellow in the front row.
"I've been in the same office for 24 years and I'm not going to move."
Undaunted, the chief executive of Orion Advisor Services went on to explain why advisors really can't wait two dozen years to address the fact that people increasingly live on iPads and smartphones. See: Why RIAs are shunning mobile apps and why Black Diamond, Orion, Fidelity and others are still placing their chips on an iPad future.
"There's a high probability people are looking at your website on a mobile device before meeting you," he said. See: Fidelity, Schwab and TD Ameritrade prep for arms race in mobile technology for advisors.
The crux of the problem for most advisors is that websites designed for viewing over the Internet do not look all that snappy on the newfangled devices. The solution — essentially — is to build a second website that looks good on an iPhone. These are called apps, which are essentially a series of shortcuts from a regular site. See: Attack of the killer app: Dynasty targets the corner-office broker by combining Envestnet and Callan.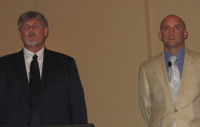 Ken Golding and Eric Clarke take
in a question.
There is an app for that
At that point, one RIA interrupted to say that at the FPA event last year, the tech presenter pooh-poohed apps, saying that they represent an unwarranted expense. See: Dreamforce review: Social media enters the business cloud and why RIAs should care.
Clarke responded: "I think it's really important you have an app strategy. I think you'll find the cost of building a site has come way down."
Some people still prefer the whole site, some of which gets eliminated in the rush to short cuts. But there's an answer to that — a link to the regular site. The numbers back up that this won't happen so much. The average person now spends 74 minutes a day on the Internet but 81 minutes on apps.
Ken Golding, vice president and co-founder of CRM Software (Junxure) of West Palm Beach, Fla,, was on hand to make a similar point: Use the cloud early and often — but maybe not exclusively and not without awareness of its drawbacks.
Up in the air
"It's not all choirs and angels singing," he said. "But the cloud provider is doing the backup. Sleep comes a little easier," Golding said.
Cloud spending was $4 billion in 2010 and is projected at $25 billion in 2015, Golding added.
This mega-evolution has basis in reality.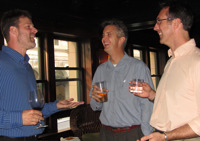 Brent Burns, president of fixed-income SMA
manager Asset Dedication LLC, held court
across the street with a couple
of advisors at his after-party.
"Three years ago it was early for its time; people would lose connections," Golding said.
One cloud-based horror story Golding offered involved a client that went to the cloud with its 150-person office, many of whom had big bandwidth needs as accountants. The speed from the cloud was so slow that people were sitting around waiting for information to flow through. He also mentioned incidences where two partners divorce but only one has the pass codes.
"He who controls the passwords controls the data," Golding said.
He also said that — as far as security goes — the cloud is a bigger target. But unlike the server in an RIA closet, it doesn't have to be hidden away at night. "The security is infinitely better," he said.
---
Mentioned in this article:
Junxure
CRM Software
Top Executive: Greg Friedman
FPPad.com
Consulting Firm
Top Executive: Bill Winterberg
---
---
Share your thoughts and opinions with the author or other readers.
---