News, Vision & Voice for the Advisory Community
The RIA grand brand and co-op gains momentum as Charles Goldman goes all-in
June 4, 2012 — 5:23 AM UTC by Brooke Southall
An ambitious venture aimed at bringing a unified mass of high-AUM RIAs under one umbrella has hit is initial target of $100 billion of provisionally committed assets. See: Steve Lockshin and Charles Goldman begin to unveil Advizent, a venture that could put thousands of RIAs under a single cooperative.
Advizent, based in Boulder, Colo., has commitments 72 RIA firms ranging in size from $250 million to $16 billion of assets, has secured, since April, de facto handshake agreements that these firms will participate in the co-op — and pay dues — if the organization gets off the ground. Fees will range from $25,000 on the low end to $100,000 on the high end based on firm revenues.
This represents a big leap forward for Advizent as co-founders Charles Goldman and Steve Lockshin begin to get the kind of confidence-inspiring commitments they were looking for before pouring themselves and their personal cash into its build out. See: Why a $2-billion RIA is embracing the idea of a $1 million annual marketing tab, and how Advizent fits in.
"When you're asked to sign a piece of paper, it's a real indication of interest," Goldman says.
For now, Advizent consists mainly of a website that is soliciting, petition-style, signatures from RIAs that want in on the new deal. Word was initially put out about the venture when Goldman and Lockshin traveled to the Barron's conference in Phoenix in late March to drum up and test interest. See: What went down at Barron's Top Independent Advisors Summit in the Arizona desert.
One roadblock the Advizent founders have encountered is that firms are withholding their signatures because the exact nature of the standards that Advizent sets has yet to be spelled out. To nail down that standard, the Advizent founders are working with the Certified Financial Planner Board of Standards, fi360 and NAPFA. They're trying to boil it down to five or 10 criteria — a digestible fiduciary standard — that can be audited by Advizent.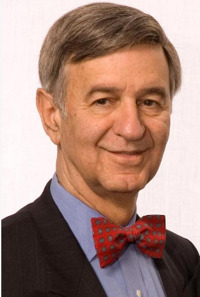 Harold Evensky signed up with Advizent
on the strength of his past
experience in working with Charles Goldman.

Goldman the bottom line
One prominent advisor excited about the new venture is Harold Evensky, principal of Evensky & Katz Wealth Management. The Coral Gables, Fla.- and Lubbock, Texas-based firm manages about $700 million of assets.
Evensky says the decision was not a hard one.
"Bottom line is Charles Goldman," he says. "We'll need to see more of the project but in a sense that's all I need to know. The cost is significant but it could potentially be more than made up for."
Other prominent advisors that have recently on with Advizent include Jane Williams of Sandhill Global Advisors LLC of Palo Alto, Calif. and Blaine Lourd of Lourd Capital Management, which manages about $650 million of assets from Los Angeles. Williams has a large and successful practice helping wealthy divorced women and Lourd has his fair share of Hollywood stars on his client roster. See: Forget their reputation; rich women are more fearless investors than supposed.
All in
A chorus of this kind of interest is what the Advizent partners wanted before jumping in with both feet.
"We're putting money behind it and hiring people. It's green lit," Lockshin says.
Lockshin will continue to run his $10 billion RIA, Convergent, but for Goldman, it'll mean a bigger immediate shift. He says he's "weaning off" his consulting practice and will remain on a couple boards of directors that don't demand a big time commitment — but that his objectives are clear.
"[Advizent] is my full-time endeavor," he says. See: Charles Goldman is seeking his game after tumult and a year of decompression.
Cruising Boulder
Goldman is touring Boulder with real estate agents to find a space that Advizent can call home — and says he has made a bid on one space. Goldman has also hired the company's first employee and others are being interviewed.
The company made an offer to one industry veteran that was declined.

Steve Lockshin: It's green lit.
The hiring will address a number of areas that the company needs to build out including: interfacing with the RIA custodians and asset managers, the development of a membership base, customer relation, legal, marketing and branding. Some of the latter efforts are being farmed out to outsourcers.
The initial hires will focus on marketing.
Just scratching the surface
The principals have found that getting advisors to commit is an incredibly time-consuming process because explaining the business model is not simple.
"We had detailed conversations with all [the RIA principals] ...we told them only to sign up if they believe in it," says Goldman.
As a result, Goldman and Lockshin are outsourcing the initial outreach process to free them up to take on broader enterprise-building efforts.
"We're getting salespeople to have these earlier conversations," he says.
Though Goldman and Lockshin have shifted into a higher gear, they are still setting a new target for themselves of 250 firms with a combined $250 billion of managed assets by year's end. The longer-term goal is 500 to 1,500 firms.
Goldman is optimistic that the next goal can be met.
"We've barely scratched the surface of our networks."
---
Mentioned in this article:
---
---
Share your thoughts and opinions with the author or other readers.
Where is the value???? said:
June 4, 2012 — 5:49 PM UTC
Signing an indication of interest is one thing, contractually obligating to spend $25,000 to $100,000 with a "marketing/compliance/standards company" that is going to roll you up with 1500 other RIAs seems like a waste of time. You can hire some really creative marketing teams to develop your campaigns much more effectively than this.
If you want standards in the RIA world this is a role for an SRO to play, not a for private company. Additionally, the first 72 RIA into this are funding the standard for everyone else. It will take years for this to become a standard that the public even puts any weight into it and without some sort of SEC/SRO label attached to it that was mandetory will probably keep it from taking off. All you have to do is look at the CEFEX certification, outside of people in the business, nobody knows or cares about it. In the end, I think the only people that make money off this project are Lockshin and Goldman. Hopefully the initial 72 "clients" get an equity stake in the company as they are in essence funding it for the rest of the 1500 RIAs they want to go after once they build their brand up over the next 5 to 10 years.
Brooke Southall said:
June 4, 2012 — 6:09 PM UTC
Hi Value???,
You certainly bring up a big issue. I can tell you from speaking to these guys that they are sensitive to it — reiterating (from their comments in the first article we wrote about this) that they won't be comfortable charging dues until they have provable value.
The freeloading issue is more complex but….When I spoke to Harold Evensky for this article he mentioned that the savings alone on E&O insurance might pay his dues. There is a thought of massing everyone together and getting a big policy from Lloyd's of London.
Brooke
Stephen Winks said:
June 4, 2012 — 6:47 PM UTC
The devil is always in the details.
If you were engaged by brokers or advisors who have a billion plus under advisement, to find institutions that support expert fiduciary standing based on objective criteria of statute, case law and regulatory opinion letters, which provides large scale institutionalized support for fiduciary standing so advice was safe, scalable, easy to execute and manage as a high margin enterprise —-you would find no alternatives.
Brokerage firms do not support advisory services beyond treating it as a product brokers sell and custodians do not want to provide the necessary enabling resources for fear of being prescriptive, thus incurring fiduciary liability.
Thus if Advizent is an RIA, with no brokerage conflicts, and has the intellectual and financial capital to fill the holes in the brokerage business model that makes fiduciary standing safe, scalable and easy to execute and manage—Advizent can win massive market share. But, if their initial hires are focused on marketing hyperbole with none of the substantive innovations required, it will be just more hype in an industry notorious for its hyperbole.
Essentially, what is needed to fill the industry's leadership vacuum is a responsible approach to expert fiduciary standing that professionally manages fiduciary liability. So far, no one has met that call. Let's hope Advizent is the first to do so. Extrapolation of brokerage support for advisory services built on vendor infrastructure which does not support finduciary standing does not fill the leadership vacuum.
Advizent needs to get beyond a general description of the challenges the industry faces in supporting fiduciary standing and address specifically how it makes fiduciary standing safe, scalable, easy to execute and manage as a high margin business at the advisor level.
It has been my experience that neither Lockshin and Goldman want to delve into the detail necessary to create large scale institutionalized support for fiduciary standing—which actually resolve the industry's leadership vacuum. If Advizent's solution is to let the individual broker or advisor assume the fiduciary liability forcing each individual to reinvent the wheel, then the safety, scale, ease of execution and management sought for professional standing is not achieved.
Advizent is just in its formulative stages, so high hopes are accorded, but if it is just more hyperbole so common in our industry—again we will be disappointed yet again.
SCW
Where is the value???? said:
June 5, 2012 — 2:24 PM UTC
Stephen,
Well thought out and I agree 100% with your comments. Brooke, Harold Evansky is off his rocker if he thinks that joining Advizent is going to lower his fiduciary liability by the amount of the membership costs as each RIA firm has a different approach to how they manage their business and a one size fits alll group E&O insurance approach will not work. For example, those firms that use private placements and other alternative investment strategies pay a higher fee than those that don't. Same thing with those that are in the ERISA space and have to be covered as 3(38)s.
What should really happen is that RIA firm should do peer reviews of eachother like CPA firms do which you can find here: http://www.aicpa.org/interestareas/peerreview/pages/peerreviewhome.aspx
This probably would only work for 100% RIA firms that are fee only and have no conflicts of interest as they are the only ones that can consider themselves truly fiduciaries.
As far as a value added for RIAs, Advizent if it carries weight with consumers is a nice thing to have but I peg the value of the membership at $2,500 not $25,000. It should be a non-profit, with an independent board of directors, and should serve in an SRO capacity, rather than a for profit motive.
---
---