News, Vision & Voice for the Advisory Community
The ultimate justification of Wall Street-style fees -- that people happily pay them -- may be crumbling
June 3, 2012 — 11:03 PM UTC by Guest Columnist Jeff Spears
Brooke's Note: The bad news is that Wall Street has so much money that it can lobby us all into oblivion in Washington. That is the reality that the pro-fiduciary crowd faces heading into Wednesday's hearing over the Bachus bill. The good news is that Wall Street-minded advisors may yet be hoisted on their own petard of bare-knuckles capitalism — regardless of what the rules say. At least that is what this column suggests. The consumer is voting down Wall Street's expensive offerings but finding value over on the RIA side of the ledger.
For the last two decades, the words "rich" and "stockbroker" have gone together like "heroic" and "fireman."
So much so that it's easy to forget that this was not the case before the 1980s. And indications are that wirehouse advisor compensation is fast heading back to the pre-1980s era.
While this is bad news for stockbrokers and wirehouses, it is heartening for those who work in the independent channel: Compensation for them may be poised for a decade or two of acceleration.
Even before the financial crisis of 2008, a growing number of top brokers and their high-net-worth clients were leaving Wall Street in favor of independent wealth management firms. See: Wells Fargo targets tempting but treacherous UHNW market with Abbot Downing launch.
That movement may soon accelerate beyond anything we've seen to date as the top brokers, who control the lion's share of Wall Street's assets, decide it's time to move on. See: Mariner Wealth Advisors buys a $1.3 billion wealth manager that first unwound its ties to a bank.
Based on original research, Sanctuary Wealth Services new white paper, "Compensation Parity: Why Clients, Independents and Brokers All Win," concludes that diminishing Wall Street compensation and strong asset growth among independent advisors are making it more compelling than ever to go independent.
Bye-bye proprietary products
Over the past three months, Sanctuary has held conversations with 60 top brokers (minimum of $2 million in annual revenues) and 25 elite RIAs (minimum of $500 million in AUA). In those discussions, we found that compensation, before recruiting and retention bonuses, is approaching parity for independent advisors and Wall Street brokers. See: How a swath of billion-dollar-plus RIAs are posing a threat to indie advisors.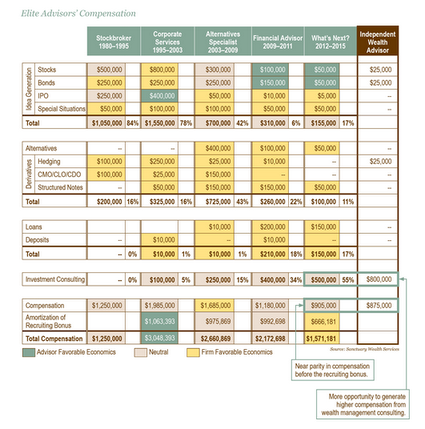 Game is changing.
The main reason Wall Street compensation is coming down is that clients are no longer interested in the complex, high-margin products that have produced multimillion-dollar paydays for decades on Wall Street. See: Two years after taking blame for Wall Street's crisis, structured products are finding a place in RIA portfolios.
The financial crisis demonstrated that many of Wall Street's "sophisticated" products simply didn't work. Worse, many actually had a tendency to blow up. See: In search of alternative income solutions in the current low-yield environment.
The fallout from Wall Street's miscues has prompted many clients to start focusing on the other drawbacks of working with a Wall Street firm; drawbacks that include conflicted advice, short-term thinking, and a propensity to put the firm's interest above those of the consumer. See: Why FINRA's power grab for RIAs needs to be stopped to avert the death of the profession, Part 1.
Show me the money
We all choose our professions for different reasons. People choose the clergy because they actually want to do God's work. Teachers choose education because they love helping children.
My parents always wanted me to grow up to be a doctor or a lawyer. Not only were these respected professions, they also paid well — and that would get me off their dole as soon as possible.
In the 1990s, being a Wall Street broker became another high-paying career option as compensation topped $1 million. With that kind of pay, Wall Street started to attract the best and the brightest — those who formerly opted for high-paying jobs as attorneys or business consultants. Unlike teachers or clergy, though, those who went to Wall Street were all about making money. See: NAPFA's John responds to critic questioning her group's stance on compensation in light of new DOL rules.
Wall Street's million-dollar paydays were possible because of the large profits generated by the complex products brokers sold to their clients. For many years, clients willingly bought these products because they sounded worthwhile and appeared to also have the advantage of having an account with a top Wall Street firm.
Million-dollar-plus compensation was maintained through the financial crisis, as new products were created every few years. (See Chart)
While still above a million dollars, broker compensation began to fall beginning in 2009. Fees from stock and bond trading shrank further, while the big payouts from proprietary products finally declined. At the same time, the single largest component of compensation—investment consulting—had risen to an all-time high of 34%!
For brokers, that's a fundamental shift in their compensation mix. I believe this will be the impetus for many of them to finally leave Wall Street.
Getting paid for adding value
In this new dynamic between broker and client, a broker's business starts to look similar to an independent advisor's.
The problem is that many Wall Street brokers are competing against independents with one arm tied behind their back. Independents have many competitive advantages: a conflict-free, client friendly business structure; no management hassles; and freedom from the aggravation of having to reinvent yourself to sell Wall Street's next great investment product. See: A conversation between a wirehouse advisor and a senior citizen who seeks trust.
Going forward, it's likely to be more of the same. Sanctuary forecasts that in the next few years, half of brokers' compensation will come from "fee-only" wealth management services. Brokers may still come out a bit ahead of independent advisors in terms of overall compensation due to amortization of recruiting bonuses, but the real question is for how long and at what risk?
Given the client movement toward independent advisors and the increasingly negative attitudes about Wall Street, the risk is that brokers may stay long after the party is over.
Independence: More than just good money
If compensation is about equal, the other benefits of going independent take on greater significance.
Independents were pretty clear when talking to us. They reported higher job satisfaction than when they worked on Wall Street. Independent advisors don't face the same pressure to hit a firm-imposed sales target or propose products that potentially conflict with their own ideas about serving clients. They also enjoy the intellectual challenge of designing their own firm.
One of the more interesting findings in talking with brokers is that they spend a fair amount of their time downplaying the publicized problems of their firm. Many actually try to "protect" their clients from their firm's products.
The bottom line
What Wall Street brokers are experiencing is the natural evolution of their job. As any profession matures, it becomes more transparent and easier to value. The good news is that the privilege of managing people's money will still afford advisors a very comfortable standard of living, either as a broker or an independent advisor.
However, if a broker's compensation is about even with an independent advisor's and is derived substantially from wealth management fees, does it make sense to stay on Wall Street?
It's clearly a lot to ponder, but the weight of evidence suggests that the value proposition of going independent has never been more compelling than it is today for brokers, clients, independent advisors — and my Mom and Dad. See: What is the value proposition of a financial advisor — and how is a budding RIA culture upping the ante?.
Jeff Spears is CEO of Sanctuary Wealth Services, champion of the independent advisor. See: West Coast breakaway drops UBS in favor of Sanctuary/Fortigent outsourcing.
---
---
Share your thoughts and opinions with the author or other readers.
---