Steve Hirsch: We didn't want to invest in something that wouldn't be used.
Bringing up the rear in the race to go mobile, Schwab Advisor Services has made mobile access to its RIA custody website available to the 7,000 firms who park their assets with the giant custodian. See: Schwab shifts its strategy on its massive Intelligent Integration.
But it's been a long time coming — months or years, in fact, after Schwab's major competitors have released their mobile apps. See: Fidelity, Schwab and TD Ameritrade prep for arms race in mobile technology for advisors.
The San Francisco-based broker released the software on Apple's iTunes Store at about 10 a.m. yesterday. At press time, it is not known how many advisors have downloaded it.
Next up: iPad app
The release comes directly on the heels of a successful six-week pilot program with 15 advisors. The app is free and can be downloaded by anyone with access to Schwab Advisor Center — a potential pool of 30,000 individuals.
The app allows advisors to view their clients' account balances, positions and transactions, allowing them to easily tap into the real-time data. The Schwab Advisor Center app for iPad is currently under development and will be available to advisors before the end of the year, according to Schwab. See: Bill Winterberg outlines the potential benefits and shortcomings of the Apple iPad for advisors.
Mike Golaszewski, commenting as former managing director of Schwab's Advisor Center team, is impressed with what Schwab has done so far but wonders why the iPhone app beat the iPad app out the door.
"I suspect that some advisors will be disappointed that this first release doesn't support the iPad's native resolution. That being said, it looks like they've created a first-class experience for iPhone."
Golaszewski is managing partner of element-12, a boutique technology consulting firm offering services to the RIA industry. (He is also head of product for Black Diamond).
Win, place, show … Schwab?
The Schwab launch comes nearly a year and a half after competitors, including Fidelity Investments, Pershing and TD Ameritrade, made similar announcements. See: Pershing keeps ahead in the mobile space with an Android app and mobile trading.
Fidelity's chief of RIA technology Ed O'Brien says that the early jump has blossomed into a big lead.
"We have seen tremendous growth in the usage of WealthCentral Mobile since we launched about a year and a half ago. Today we have exceeded over 10,000 downloads of our mobile apps across iPhone, iPad and Android devices. That means over 40% of Fidelity WealthCentral users have used the mobile applications."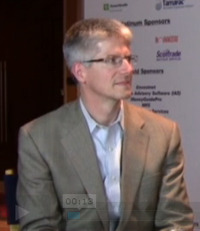 Ed O'Brien says more than 40%
of Fidelity WealthCentral users have used
the mobile applications and that the
next Fido mobile frontier involves allowing
advisors to customize and for access
to third-party vendors.
Deliberate pace
Schwab has been traditionally taken a more cautious approach when it comes to advancing technology, hewing to the homily that haste makes waste. See: What Neesha Hathi has to say about Schwab's oh-so-slow-but-steady technology initiative.
But advancements have shown in recent weeks. See: Schwab moves to keep 3,500 desktop-bound RIAs from walking onto somebody else's cloud.
Steve Hirsch, vice president of institutional web services for Charles Schwab, says that his company has worked at a deliberate pace to get a mobile app to market.
"I wouldn't describe our approach as holding back but taking our time to be supert thoughtful, says Hirsch. "We didn't want to invest in something that wouldn't be used," He adds that feedback from pilot users has been positive.
View only
Schwab estimates show that 50% or more of advisors have an iPhone — many of them owned personally, Hirsch added. See: TD Ameritrade makes trading on iPads for RIAs available before mobile devices.
Most of Schwab's competitors have moved on beyond viewing to allowing advisors to take actions, including the placement of trades. See: Fidelity releases mobile trading for advisors — just don't expect many mobile trades. See: How Orion Advisor Services became a mobile device pioneer and how competitors plan to react.
Schwab does not yet have trading on the drawing board but is open to the possibility.
"We're certainly looking at the capabilities we want to add and we have our ideas, but honestly we haven't firmed up the plan for our next release," says Hirsch.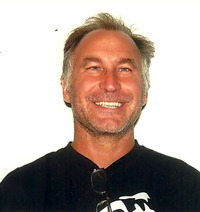 Mike Golaszewski: Schwab can really leapfrog
in mobile is by giving their
advisors the ability to offer a
white-label version of Schwab's retail mobile
app to advisor end clients.
O'Brien says that his company is doing well with trading and other capabilities — and actively looking to yet another frontier for mobile apps.
"We have seen a continuing upward trend with advisors who are trading using the WealthCentral mobile applications," he says. "Advisors consistently provided great feedback on areas that they would like to see continued investment such as integration with other third-party applications and the ability to execute additional account service and trading transactions. Additionally, advisors like the idea of being able to customize the applications for their usage. These are areas that where we have committed resources to make certain that our mobile platforms set the standard in the industry."
Advantage Schwab
But Golaszewski says that Schwab may still hold a trump card in the mobile wars should it choose to play it.
"Where Schwab can really leapfrog in mobile is by giving their advisors the ability to offer a white-label version ofSchwab's retail mobile app to advisor end clients. Schwab's retail mobile offering is so incredibly powerful—especially for things like check deposits, bill payments, and reporting—that I made sure my RIA retained custody of my accounts at Schwab (even during my tenure at Pershing) just so that I'd continue to have access to it," he says.
Golaszewski adds: "The investment that they've made in this platform is a key strategic asset for Schwab and such an obvious chess move that I'm surprised that they haven't played it yet. Giving Schwab advisors the ability to offer such a high-octane branded experience to their end-clients would really create stickiness and, in my opinion, probably drive some asset consolidation."
---
---
Mentioned in this article:
---
---
---
Bill Winterberg
Both Fidelity Institutional Wealth Services and TD Ameritrade Institutional support trading on their iPad apps for advisors, and have for months now, yet "Schwab does not yet have trading on the drawing board?"
This is a missed opportunity for Schwab Advisor Services.