News, Vision & Voice for the Advisory Community
The risk of default remains fairly negligible; the same can't be said for Moody's brand risk in the wake of its misses in 2008
June 27, 2012 — 4:16 AM UTC by Steve Huxley Guest Columnist
Credit downgrades made headlines last week as Moody's Investors Service made good on its February promise to review 17 big banks with global capital markets operations.
Four quick facts:
1. All 17 banks have been downgraded, but all of them remain in the investment grade category (see Table 1 below). Two banks were downgraded in March, the remaining 15 on June 21.
2. Of the 17, six were downgraded by one grade, 10 by two grades, and one by three grades.
3. Of the 17, five are headquartered in the US.
4. Of the $43 trillion in global fixed-income investments, the largest 15 of the 17 have issued $2.2 trillion in debt, or about 5% of the total.
There was no immediate market response, likely due to the fact that most major players in fixed income had expected the downgrades. The attitude appears to be that Moody's is actually playing catch-up to atone for its failures to issue downgrades before the financial crisis of 2008. The market had already drawn its own conclusions about the default probabilities for the big banks, so it was a "ho hum" event for all but the reporters assigned to cover the story.
On a deeper level, the lack of response is also an indication of a growing suspicion about the validity of methodologies used by the credit rating agencies. They have never successfully explained how they could be been so wrong about the investment grade ratings they gave to banks that subsequently had to be rescued (Bear Stearns Cos. Inc., bought by JPMorgan Chase & Co.) or actually went bankrupt (Lehman Brothers Holdings Inc).
Table 1 also shows the default probabilities for 1970-2011 for the basic rating scale used by Moody's for both municipal and corporate bonds. Assuming the ratings can be trusted, the main takeaway is that the likelihood of default within 10 years remains below 1% for 12 of the 17 and below 5% for the others. Moody's does not publish for the general public the probabilities for the subcategories within each category on the basic scale; that is, its tables make no distinction between an A2 and an A3 bond.
A fuller explanation of Moody's actions is available by clicking on the link at the bottom of the table. Our white paper on the safety of investment grade bonds is also available.


c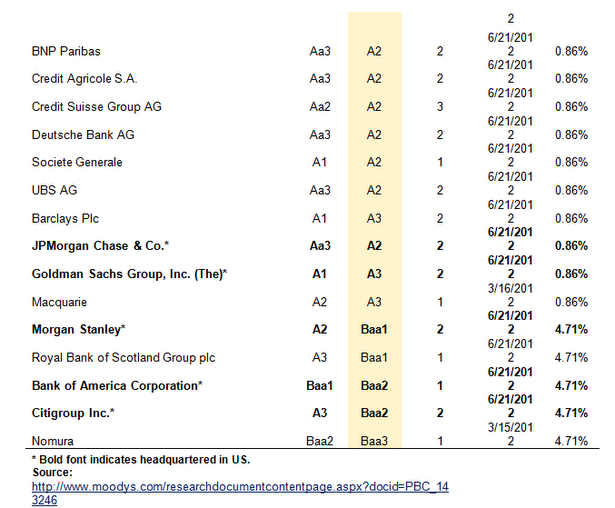 c
Stephen J. Huxley is chief investment strategist and founding partner of Asset Dedication, and professor of business analytics at the University of San Francisco.
---
---
Share your thoughts and opinions with the author or other readers.
Mike Dayoub, CFP® said:
June 27, 2012 — 1:48 PM UTC
Thanks for this, Steve. With their downgrade of the Spanish banks this week, I'd been looking for news and discussion of Moody's ratings for US-based banks.
I wonder if the ratings are buoyed by an apparent too-big-to-fail precedent.
I also wonder if Moody's ratings account for JPMorgan and Bank America shifting their derivatives portfolios to the more protected banking divisions. http://preview.tinyurl.com/7jvhrl4
Can you share any insight on that? I'd be grateful.
Steve Huxley said:
June 28, 2012 — 5:27 PM UTC
Mike –
Good questions. Moody's 57 page report goes into why they did what they did (http://www.riabiz.com/a/14098811#comment-14094819). They state "Our view on support considers efforts by policymakers globally to create resolution and bail-in regimes that allow for more flexible and limited support in a stress scenario." This suggests they consider government support when creating their ratings but Moody's is uncertain if the politicians will provide the same level of support they did in 2008 and 2009.
The report also supports your conjecture that the banks themselves are factoring this into their decisions by changing their business models: "Some are implementing business strategy changes intended to increase earnings from more stable activities, and liquidity and capital positions have consequently improved. These transformations are ongoing, and their success has yet to be tested."
I suspect the election will tend to dominate what happens in the markets and it should be interesting to see if the ratings change next year if the economy turns for the better based on the national mood.
Thanks for engaging in the discussion!
---
---