Heather Ettinger: This year was 180 degrees different ... [Bettinger's] chemistry with advisors seemed so much better.
Brooke's Note: If there's a golden ticket in the RIA business, an invitation to the Schwab EXPLORE conference has to be at or near the top of the list. There's something about absorbing high-level information in an atmosphere of high stateliness that makes us all feel a little more noble and enriched — not that I truly know because I wasn't invited. But …Susan Forman of Schwab again does an exceptional job of capturing in writing this event on its many levels. And Heather R. Ettinger, a managing partner of a big Cleveland-based RIA, who also attended, does an equally good job of drawing attention to which of Schwab's words and deeds jumped out at attendees. Not surprisingly perhaps, it was the positive change in what Walter Bettinger, Schwab's CEO, had to say compared with last year in Colorado at the same event that Ettinger mentioned first about EXPLORE when we spoke. Jon Beatty also made some high-level comments about why the stage is set for the RIA business to double in size. Notable, too — a much stronger feminine presence from Schwab at the event, Ettinger says.
When Heather Ettinger arrived at the majestic St. Regis Monarch Beach in Dana Point, Calif., last week to attend Schwab's EXPLORE 2012 conference, she had three missions on her mind: represent her firm, take notes for RIABiz and stay awake after a long trip from Cleveland.
To be sure the managing partner of Fairport Asset Management LLC accomplished the latter as she took Schwab up on one of its offered Day One activities, a six-mile hike up and down hills along the shoreline 80 miles south of Los Angeles. "I got up at 4 a.m. (Eastern time) so I decided I better keep moving. My God, it was spectacular."
But though she was easily swayed by the natural beauty of California, the no-nonsense Midwesterner in her was still expecting Schwab's executives and conference organizers to show that they really appreciated the fact she had made the long trip from home — and were on her team.
Ettinger was one of nearly 150 top RIA executives, representing a cool $150 billion or assets under management, who gathered for Schwab's annual elite event June 22-24. See: Schwab EXPLORE goes deep into the Rockies with big RIAs.
Terminal decline?
The conference opened with a fireside chat (minus the fireplace) led by historian and Brookings Institution senior fellow Robert Kagan, who is author of "The World America Made" (Knopf, 2012).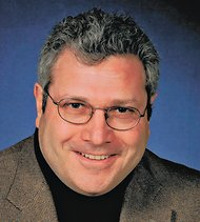 Author and historian Robert Kagan sees
no signs of irreversible decline in
America and cautioned the audience not
to "commit suicide for fear of
dying."
His discussion centered on the question of whether America is in decline — perhaps even terminal decline, as some suggest — a concern he says arises every 10 to 15 years. Kagan said it is the nature of the world we live in to take a dark view of the world stage and geopolitical events. Despite a down economy, complex world events and low consumer confidence, America remains a superpower, prosperity levels globally are higher than in previous generations and the spread of democracy around the world is at its highest, thanks, in part, to the role America plays as the leading world power, he added. Kagan sees no signs of irreversible decline and cautioned the audience not to "commit suicide for fear of dying." He argues for a continued national focus on strong defense budgets to ensure our position in the world order.
Grand Lawn
At the conclusion of Kagan's talk, the advisors, their guests and Schwab staff members shifted ground to the hotel's Grand Lawn for an evening under the stars overlooking the Pacific Ocean, where excellent food and beverages were enjoyed while a light-rock band gently entertained the crowd. Schwab's event staff was heralded by many advisors during the evening for its skill in creating an intimate, convivial setting ideal for advisors to reconnect, share best practices and network. The staff scored extra points this year for the inventive dessert bar, which offered some 15 delicious small bites ranging from homemade peanut butter cups to cake bites on a stick to fruit milkshakes.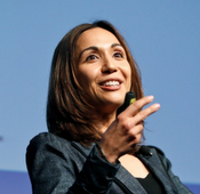 Neesha Hathi noted that EXPLORE has
the feel of a family reunion.

There is a notable feeling of camaraderie and kinship at EXPLORE, which Schwab's Neesha Hathi likened to a "homecoming," or reunion, saying that many of the attending advisors have come to this event for years and now feel like they are meeting with old friends.
Attention is paid
Wednesday's general session was opened by Schwab Advisor Services executive vice president Bernie Clark [who welcomed the crowd saying "There is more behind us than ahead of us" noting the complex environment RIAs have been operating in for the last few year], talked about the great success of the RIA industry, noting that 93% of RIAs have increase their assets (Schwab Independent Outlook Study, 2012), and that taking clients and assets from the wirehouses has become the norm as those clients look for deeper relationships, more planning and a better overall experience than they experienced in the full-service models. See: What Chuck Schwab's talk showed about his complex relationship with RIAs.
Clark joked that the RIA industry has become so successful that even FINRA wants into it, which evoked laughter from the audience. (Note: the increasingly complex regulatory environment was a strong theme at the conference overall and was touched on by Schwab CEO Walt Bettinger as well). See: A big California RIA fires off a letter to Rep. Bachus decrying FINRA as SRO pick.
RIAs increased clientele by almost 10% in the past two years and wirehouses contracted by nearly 13%, according to Cerulli Associates Inc. Clark shared a few data points from Schwab's 2012 benchmarking study, citing that the 1,000-plus firms canvassed had median client attrition of just 2.8% (a three-year low), and asset attrition of just 1.7% in 2011, which he noted was incredible. Clark declared: "We are an industry now, and we're attracting attention." See: Bernie Clark and Skip Schweiss head to Washington next week to fight on behalf of RIAs in Bachus bill showdown.
The advisor is in
While discussing the importance of trust in the RIA model, Clark noted that the high-net-worth-investor study Schwab conducted at the beginning of the year found that financial advisors ranked second, trailing only doctors, as the professionals that respondents trust. the most. Joking that the market has felt a bit like a root canal lately (dentists placed third in the trust wars with HNW investors), Clark declared, "Your clients are not believing in the market; they believe in you." He backed this up by citing study data finding that when asked, only 29% of HNW investors were bullish compared to 45% of advisors, while, interestingly, of those same investors, only 32% thought that it would be difficult for advisors to achieve their goals, while 59% of advisors thought it would be difficult. Thirty-five percent of responding investors thought their portfolio would exceed the S&P 500. "This speaks to the confidence your clients place in you," Clark said.
'It is because we believe so much in this model and what you do that we launched the RIA Stands For You campaign," he told the audience. See: How Schwab's RIA advertising campaign could pay quick dividends for some advisors.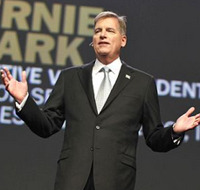 Bernie Clark: The RIA industry has
become so successful that even FINRA
wants in.
Declaring that "We know there are high-net-worth investors, people with complex financial needs, who don't yet know about the benefits of working with an RIA." Clark said: "We're out to change that" and that with the campaign "we are reaching investors to make sure they not only know about the RIA model, but actively seek it out when they are looking for help."
He reviewed the marketing tools Schwab has created — professional brochures, pitch books and the website — to help advisors educate clients and prospects about the benefits of independence. Results include 23 million impressions through the digital advertising, which has been running every day in highly targeted sites frequented by HNW investors, significant website traffic and hundreds of RIAs' embracing the campaign in their own marketing.
Never too young
Clark unveiled the next level of the long-term campaign by showing an end-investor video featuring Albert — a 10-year RIA client. "We're now capturing the stories of investors — real people who work with RIAs, and who want to tell others about the difference that you have made in their lives. I'm sure you agree that your clients are your best advocates. This will be our focus in the coming year."
Clark wrapped up his welcome by challenging the group to come together over the conference's two days to "ask the provocative questions" and work "peer-to-peer to expand your current thinking — you each have much to share and much to gain."
Behavioral problems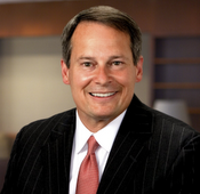 Walt Bettinger on wirehouses: They will
not be able to compete.
Next up was a Q&A with Bettinger, moderated by Clark. The CEO opened by noting that his was his sixth consecutive EXPLORE conference and saying how happy he was to be there. Acknowledging the challenging time for our industry and overall client confidence, Bettinger thanked the advisors in the room for the "work you do with your clients," adding, "We can see a clear differentiation between the typical self-directed or do-it-yourself investor behavior and the behavior of an investor working with an independent advisor." He referenced greater stability, better asset allocation and greater confidence as outputs of this deep relationship.
Bettinger talked about how serving RIAs and providing support for their success is a core part of Schwab's strategy."We fundamentally believe that the RIA model is a better model for high-net-worth investors looking for professional asset management, and it is a model based on a set of principles that are consistent with Schwab's — transparency, client-first and relationships," he said. "Your model is a better mousetrap, and it's core to our strategy and business model."
Bettinger talked about two threats to the RIA space, both of which he characterized as attempts to mitigate the unique and differentiated fiduciary position RIAs take in serving their clients. The first is the attempt to regulate RIAs by an SRO such as FINRA with a rules-based approach, which he said didn't make sense with a fiduciary model. Bettinger added that Schwab supports regulation that makes sense for RIAs and their clients. See: Bernie Clark and Skip Schweiss head to Washington next week to fight on behalf of RIAs in Bachus bill showdown.
Wolves in sheep's clothing
The second threat is the ongoing attempt by wirehouses, regional brokerages and independent broker-dealers to look similar to the RIA model. Noting that "imitation is the sincerest form of flattery," Bettinger said that other models are trying to create the impression in the eyes of their clients that they replicate those things that "differentiate you today." He said that Schwab's RIA Stands For You campaign is important in communicating the difference between "what you do" and the other models, which are trying to blur the difference. See: RIAs and B-Ds don't mix, says Duane Thompson at MarketCounsel Summit 2011.
Bettinger was asked if the wirehouses can successfully compete with the RIA model. He said no — not over the long run. "They will not be able to compete because of the way their economic models work." They are under tremendous pressure to improve their profit margins and have limited ways to do this, including taking a greater share of the revenue split between themselves and the broker, which is unlikely, or trying to raise prices for end investors, he said, adding that the only remaining option would be to sell end-investors higher- cost, higher-margin investment products and solutions.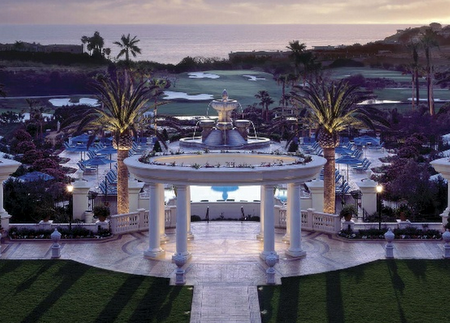 You get the idea.
"Since these products are unlikely to be in the best interest of the client, there will be a constant and steady stream of disillusioned investors and brokers leaving the wirehouses to work with a professional who can and will put their interests first — the RIA." Bettinger said.
In closing, he talked about the most important things for Schwab to do to help RIAs continue to grow and succeed. At the top of his list was continuing to be a leader and advocating for the unique proposition that RIAs offer clients, along with continuing to be a safe and sound place for the custody of assets, providing outstanding service and continuing to invest in technology, tools and practice management that help RIAs be efficient and effective in serving their clients and building their practices.
Ettinger of Fairport, which manages $750 million of assets, said that Bettinger really hit the mark by addressing such specific RIA concerns. Bettinger, she says, appeared uncomfortable talking to advisors at last year's EXPLORE, which occurred on the heels of the news that Schwab was going into the franchise business.
"This year was 180 degrees different … [Bettinger's] chemistry with advisors seemed so much better." She added: "Last year they didn't field a lot of questions. This year it wasn't so stilted."
Ettinger added that she was pleased that Bettinger really took some time to discuss Schwab's balance sheet with advisors and to demonstarte its strength.
"It's great to hear: 'we're not going to jeopardize our balance sheet.' They're not reaching for yield. That's an important message for me to bring home to my staff."
At the edge of a fiscal cliff
Schwab's chief Investment strategist, Liz Ann Sonders, took the stage next and provided a top-notch overview of domestic and global markets with a focus on the eurozone (Italy and Spain being of largest interest – Spain's housing bubble was noted as a concern). The Fed's extension of Operation Twist was more or less expected, which opens the door to QE3. Sonders noted that she doesn't think people are paying enough attention to lending growth, which is up in the United States. High debt remains the biggest domestic concern, but this has been brewing for 30 years, she said. Though the U.S. federal debt is now at 101% of GDP. Sonders believes the pending "fiscal cliff" (end of Bush-era tax breaks, etc.) is weighing on investor confidence more than eurozone issues, but she did cite that U.S. businesses are more optimistic in general today.
The U.S. manufacturing renaissance Sonders talked about at EXPLORE last year is no longer a "pipe dream" with wage growth in China closing the manufacturing-cost differential in a meaningful way — a 16% gap today, which, she suggested, will entice more U.S. businesses to in-source versus outsource, and will also create more interest from other countries looking to outsource their manufacturing to the United States. The energy and auto sectors are among those driving this renaissance.
Growth in a flat market
In a shift from macroeconomics to more immediate trends, Schwab Institutional Services head Jim McCool kicked off the next session on significant industry and demographic trends affecting RIAs by talking about how important it is for industry leaders to recognize that the model of today may not be the model of the future. New and emerging trends must be considered as our industry evolves, to ensure we are optimizing our role and staying current and relevant.
Advisors were asked in advance of coming to EXPLORE to share their thoughts on the top trends and dynamics affecting their business, to fuel discussion at the conference. McCool asked that the audience think big and beyond their day-to-day comfort zone and to challenge Schwab and each other in the breakout sessions that would follow introductions by Schwab Advisor Services' head of sales, Jon Beatty and Naureen Hassan, senior vice president of client experience and strategic integration.
Increased competition
Beatty kicked off his session on the evolving RIA industry by congratulating advisors for another year of solid growth despite mostly flat markets. "RIAs have been a change agent for the industry. The wirehouses think of you as disruptors, and your success has drawn attention. That attention has drawn new players, new capital and new competition to your space." See: Wirehouses will create their own independent models, Tiburon report says.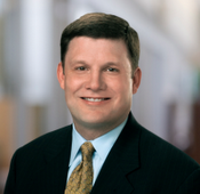 Jon Beatty says if history is
a guide that it could mean
more than 7,000 RIA firms with
$100 million to $1 billion
in AUM are in the offing.

Beatty cued up a discussion on "the rise of competition, its implications and how some firms are responding" by commenting that "the competition is coming from three sources: RIA channel growth; fee model convergence and the potential emergence of regionally branded firms.
He said that the number of advisory firms has grown at an unbelievable rate. During 2010 there were more than 400 new RIA firms with more than $40 billion in AUM. Another 200 advisors joined existing RIA firms.
"Where this gets interesting is if we project the historical growth of the RIA firms into the future, it could mean more than 7,000 firms with $100 million to – $1 billion in AUM, and another 800 managing more than $1 billion," Beatty said. "Where will all these advisors and assets come from?"
Beatty continued by saying there are already more than $1.9 trillion in fee assets in other channels that are "almost plug and play" — ready to start up or join other advisory firms. That's close to a doubling of assets already at RIAs ($2.7 trillion today). "[Entering] our model has never been easier — and many of those coming to the space today come from a business development environment where they are client focused, acquisition focused. There will be a continuous focus on prospecting and growth will come at a fast clip."
Jumping the curb
Another factor increasing competition is consolidation. "When taking a look at how the deals break down by buyer type, we see that there has been a shift in the dominant buyer categories since 2004. See: 10 of the most popular RIABiz stories from 2011 and why they struck a chord. The RIA and national acquiring firm categories continue to be the most active buyer categories and seem to be holding a steady pace for acquisitions," Beatty said. "What happens when the national acquiring firms begin to reach scale? Does this mean that they can establish a brand and benefit from sharing best practices faster? How will you compete with these firms when it comes to your market with their deeper pockets and brand names that people recognize?" See: RIA deals fizzle in the fourth quarter but big-paying banks are getting back into the game.
Beatty asked the audience to think about the effects of increased competition, offering that is has the potential to "impact your margins, your ability to attract and retain employees and your ability to differentiate."
There are factors that could increase advisors' cost to serve, such as regulation, adding firm capabilities [while still charging the same fees as before, which many in the room acknowledged to be the case], and spending more time marketing and developing new clients, he said. Beatty shared that Schwab also learned from its latest benchmarking study that the cost of acquiring new clients has increased as the sales cycle has elongated.
In this landscape of greater competition, differentiation becomes more critical in distinguishing yourself. Investing in and building a strong brand, long term strategic planning and segmentation lead to many benefits including a shortened sales cycle, increased prospect conversion, decreased pressure to lower fees, and improved business value for sale or succession. Competition, Beatty commented, is good for the industry and our model — but it's critical to continue to "jump the curve to continue to survive and thrive." There will be winners and losers, he said. Top-performing firms will enjoy better revenue growth, stronger margins and greater employee productivity — and these firms are rewarded with three times more valuation.
Women controlling wealth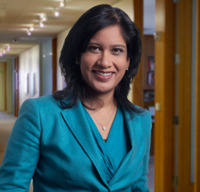 Naureen Hassan says a separate meeting
with the wife can be helpful.

Beatty then previewed the three questions advisors would tackle in their breakout sessions: "What is your experience with the competition?" "What do you consider to be your biggest threats and opportunities?" "What are the characteristics of high- performing firms?
Schwab chief operating officer Naureen Hassan set up the next breakout session with a discussion on knowing and serving your changing client. Her discussion sought to get advisors thinking about the three key opportunities the industry is focused on today: female investors; intergenerational wealth transfer; and younger investors and innovative technology, and to consider the impacts of these trends on advisor service models. See: How to market to women: Don't.
Today, women control 51.3% of personal wealth assets ($14 trillion) and account for 48% of millionaires in the U.S., and they are more likely to engage with an advisor than men. Citing a Boston College Center of Wealth Philanthropy statistic, she shared that it is projected that $29 trillion in assets will be transferred to women by 2050. However, 70% of widows change advisors within the first year after their husband's death. See: Advisor Spotlight: Diane Pearson is building Legend Financial with sensitivity to women.
Advisors need to understand key differences in serving women: they want advisors who listen to and understand their financial and nonfinancial goals and concerns; are concerned with long-term planning in addition to investment returns; and value trust and honesty in an advisor. See: Eavesdropping on the Women Advisors Forum: Rainmakers share their secrets. Hint: They revolve around finding a niche.
Hassan shared a number of case studies demonstrating how advisors are refining their outreach to women clients. One example was of a family office in Missouri that believes that the best financial strategy for a family incorporates both partners' goals. This firm holds a separate meeting with the wife to learn about her distinct goals and concerns, communication style and knowledge of investments. Through the meeting, the wife builds a rapport with the advisor and gains the confidence to share her views in the joint meetings. See: Why women just aren't buying what financial advisors are selling.
Hassan also talked about the particular time restraints executive women face. As in their business, these women want the relevant information to make a financial decision, but don't have the time to compile it. A Chicago-based wealth manager finds alternative ways to connect and build a relationship. This advisor has a client who is a law firm partner and can meet only once a year. The advisor connects with the client by volunteering with her at an annual philanthropic event the client is passionate about.
"Is your service model ready to meet these needs?" Hassan asked.
Ettinger said that, as a woman and advisor, she was gratified by the scope of the feminine presence at this year's EXPLORE with Sonders, Hathi and Hassan serving as a welcome counterweight to the traditionally masculine atmosphere. Still, she said at one point she found herself gravitating to a table of about 10 women sitting together, including Peggy Ruhlin."To Bernie's credit, he came over and joined us at our table. It's very telling of Bernie. He does a good job of listening to everybody."
$27 trillion up for grabs
Switching gears, Hassan posed this question: Intergenerational wealth transfer — an opportunity or a challenge?
Smaller clients on the receiving end of wealth transfer often present challenging economics, she said. But the reality is that ultrahigh-net-worth individuals will pass an estimated $27 trillion from one generation to the next over the next 50 years. Globally, advisors lose 49% of AUM during generational wealth transfer. One firm in Seattle has retained seven generations of one family by building relationships with heirs, often by pairing a younger advisor with heirs because the next generation often wants their own advisor who is loyal to them versus their parents, and because a younger advisor may be able to better relate to that generation's needs. Another advisor in Northern California engages the next generation through career coaching, in addition to offering help with basic financial planning such as with 401(k)s. See: Family Office Exchange is betting that RIAs and the ultra-affluent can't get enough of each other.
Lastly, Hassan talked about Generations X and Y, whose accumulated advised assets are expected to grow from $2.1 trillion in 2010 to $3.8 trillion in 2016 (Cerulli). This new generation accesses financial information and communicates with advisors through very different channels than the previous generation. Eighty-two percent of Gen X and Y have smartphones and expect to access their information at any time of day. Eighty-three percent of Gen Y and 70% of Gen X is on social media. With millions of users on Skype, individuals are communicating from anywhere in the world — allowing individuals to seek out advice and services from companies in different parts of the globe. See: Next-gen advisor breaks the standard RIA mold to grow with her young clientele — many with $100,000 or less of assets.
Some advisors are embracing the trends and investing in innovative technology. One firm in Seattle uses social-media feedback and analytics to understand what subjects its clients are most interested in reading about, and adjusts and customizes its content accordingly. This, it believes, deepens the relationship and quality of communications with clients. Another Seattle firm uses Skype with retired clients who live internationally for half the year, to stay connected. See: Three ways to use social media in turbulent markets.
Hassan sent advisors into breakouts to focus on these questions: How are these trends impacting your firm today? What strategies does your firm have in place or needs to put in place to serve these segments? Will your firm be prepared to serve these clients in the next five to 10 years?
'Seekers vs. seethers'
Following the breakouts and a session break, a packed room of advisors listened to former White House chief of staff Erskine Bowles and former Wyoming Sen. Alan Simpson, who served as co-chairmen the National Commission on Fiscal Responsibility and Reform (2010) — deliver a somber assessment of the current fiscal state of affairs in the United States.
The path we're on today is not sustainable according to Bowles, and he said this is the "most predictable financial crisis in history — and also the most avoidable." Bowles talked about the four primary causes of deficits today — health care, defense, our tax code and compound interest.
Mr. Simpson and Mr. Bowles are speaking up around the country to raise awareness of this pending crisis and what can be done about it given the political stalemate in Washington and a pending national election. When asked by an advisor in the audience what "we can do to help?" Mr. Bowles said:"Write your Congressman, go to town meetings. .. Don't take obtuse answers, and urge your representatives to pull together … and face up to these enormous problems. If we do, we can compete with anyone."
Bowles added that advisors have "real influence in your communities. Talk to your employees … This is real and we need to do something." Mr. Simpson added that "we've forgotten we're citizens first," and said he's looking for "seekers" versus "seethers" to turn this situation around.
Mission menu
The formal agenda wrapped up for the day at the end of this session, at which point Bernie Clark and some of his leadership team hosted a reception and discussion with a group of 50 or so advisors who all expressed interest in speaking with Schwab leaders about better ways to attract and serve more female clients and ideas to attract more women to the RIA field. Potential initiatives were discussed with a view to informing Schwab of advisor priorities.
A spectacular evening at Mission San Juan Capistrano followed. Advisors and their guests were bused to this historic mission for a private event complete with sangria, live music, docent tours of the beautifully preserved mission and a delicious three-course meal, served in one of the mission courtyards. Networking and story sharing were top of the menu at the end of this first full day.
Tech updates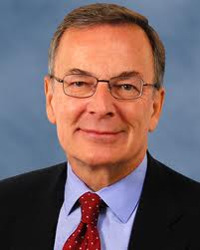 Greg Valliere: We are at risk
of a total stall out in
the markets.
Friday morning kicked off with a town hall-style discussion with the Schwab Advisor Services leadership team. With Clark serving as moderator, Hathi, Beatty, Nick Georgis and Naureen Hassan talked about business priorities each is focused on spanning practice management (bringing more intellectual capital to advisors), platform activity (web trading, mobile technology, Schwab Intelligent Integration updates. Schwab PortfolioCenter enhancements), service (leveraging technology to increase efficiencies in working with Schwab; Schwab Bank), and tools and resources to help advisors with every stage of growth (back office to front office partner). See: Schwab shifts its strategy on its massive Intelligent Integration.
Next up was Greg Valliere, chief political strategist with the Potomac Research Group. In a presentation titled "An Insider's View of Washington," he gave his views on what he predicts will be a very tight presidential race in November and he shared his bearish view that "we are at risk of a total stall out in the markets" due to the dysfunction in D.C.
Echoing concerns noted the day before by Simpson and Bowles, Valliere said that uncertainty over tax rates is causing companies to sit on a lot of cash, and the only way to drive a more upbeat market is clarity on the pending fiscal cliff. Despite a predominantly downbeat forecast, he said there are actually many things to be upbeat about, including the fact that, with a couple of exceptions (namely California and Illinois ), state and local governments are doing well, housing is picking up, a manufacturing renaissance is occurring (echoing Liz Ann Sonders the previous day), an evident energy explosion is under way, corporate balance sheets are strong and gasoline prices are dropping. Valliere did caution that the next few months would be rough, but that overall, he is optimistic about 2013.
Before Clark introduced the final speaker — Retired Navy Adm. Mike Mullen, chairman of the Joint Chiefs of Staff from 2007-11), he closed the meeting by warmly thanking those in the audience for joining Schwab for a great few days of expansive conversation, trend analysis and exploration, and networking and best-practice sharing. "Thank you for your candor, commitment and support — we give it right back to you."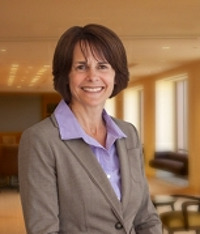 Susan Forman tirelessly took notes to
open a window on this event.

Around the world
Mullen closed the conference by "walking around the globe" to discuss geopolitical issues, threats, leadership tenures and risks to the global economy in a talk titled "The Intersection of National Security and the Global Economy." He listed five of his biggest concerns for the U.S.: our education system ("our greatest vulnerability"); debt; political polarization (a clear theme at this conference overall causing a "dangerous paralysis" in his words); cyberterror ("It can stop the financial system, transportation, and infrastructure. I have seen what they can do, and it scares me to death") and veterans (how do we help them transition as they come home?) "They are wired to serve and are among the best I've seen. They are our leadership for decades to come."). Mullen called on the leaders in the room to play a role in hiring veterans — and thanked business in general for allowing these young people to serve their country by holding their jobs open during active-duty periods.
In talking about the sequestration that will occur if resolution on U.S. debt is not reached, he noted that this is a dangerous time in the world to be weakening our stance.
Ettinger walked away from the event believing it had a better, more diverse feel to it — and a sense that the good vibes that advisors generally enjoy with Bernie Clark had more definitively trickled up to the CEO office. "I went away this year saying: These guys are on my team," she said.
---
Related Moves
---
December 10, 2019 – 2:05 AM
---
---
---
---
Elmer Rich III
It would be more useful for Schwab to share data and evidence rather than opinions. To add our opinions:
- Wealth and population of wealthy are growing at a healthy rate.
- Many (most?) RIAs are getting ready to retire
- In all aspects of the economy "bespoke"/custom solutions of all kinds are in greater demand
- The "big box" brokerage solutions will not go away, nor is it likely their dominant market share will shrink
- Still the absolute numbers of potential customers for RIAs should rise, while the supply may not
Seems bullish to us. With all of Schwab's resources, is seems odd they would spend so much energy competition bashing rather than focusing on better serving their core client's needs. That reveals a "sales" culture bias and not a wider business strategy capability.
null
Focusing on the ostentatiousness of the location was in very bad taste. Glad that the general public doesn't get these articles. When will this industry ever learn?
Brooke Southall
Hi Null,
I appreciate you more fully explaining your point. I don't fully agree but your point is made clearly enough.
I don't want to be disrespectful to readers but I am also trying to keep the comment section constructive.
I find that anonymous commenters sometimes grind axes in ways that can set off a chain of bilious comments.
As for you not being able to unsubscribe to RIABiz Today…. I apologize if that is the case and I'm not sure why that would be. We don't send out any emails other than the day's stories so I presume that's what you're referring to.
If you continue to have a problem with that, let me or Nevin know. I won't blow your cover or get mad at you:) Of course we want to keep you as a reader, without you feeling like we're forcing it into your inbox. I hate that as much as anybody.
Brooke
null
Hi Brooke,
My comment has to do with the fact that the location was glamorous has nothing at all to do with the content of the conference. Details of the lavishness of the location were confusing and leave the reader in a position of trying to figure out what point the author is trying to make. Schwab can do whatever it wants, and their style has and probably always will prevent me from using them as a custodian for my firm. The extreme amount of money this cost an investment firm would undoubtedly detract from the trust the public has for our industry.
I'm curious to know if regulators would want the RIA firms who attended to disclose the soft money issues in the brochures they have to file.
I don't really understand how you are challenging me. Your site allows for anonymous posting. If you don't like it, change that feature. Regarding the comment that my post wasn't "intellectually courageous", is that really how you treat your readers? Coming from a site that blasts me daily with spam email and refuses my requests to remove my email from the list, I am amused.
Brooke Southall
Hi Null,
I'm not sure I get your point.
Are you saying that Schwab should have met at a Days Inn in Harrisburg or that as a publication RIABiz should have swept the location under a rug?
I think I know what you're getting at. Wirehouses send salesmen who really sell, sell, sell to swanky places. But is this the same? (I could see arguments both ways but see differences for sure.)
I'm going to challenge you particularly because you toss in a bit of a potshot as an anonymous commenter, not hugely transparent or intellectually courageous.
Brooke