News, Vision & Voice for the Advisory Community
A tony Monterey RIA event becomes blood sport as 15 private investors unleash frustration on professionals
June 11, 2012 — 3:00 AM UTC by Brooke Southall
Brooke's Note: Loring Ward's annual conference in Monterey, Calif. was one of the better ones I have ever attended. I'm a big fan of ones held in off-the-beaten-path locations where nature frolics. But the San Jose, Calif.-based TAMP also had a great high-low strategy. Eduardo Repetto, co-CEO and CIO of DFA, was there to bring high-level industry and investing thoughts with the judicious practical-professorial blend for which his company is known and loved by RIAs. Counterbalancing the ex-rocket scientist's thoughts was the array of middle-class consumers brought on stage and given full license to blast the financial advisory profession. The obvious conclusion: There is tremendous work to be done to make advisors more professional — but progress won't be made until the profession looks at itself in the mirror. Kudos to Loring Ward and its advisors for being self-assured enough in its DFA-based TAMP and approach to undertake this self-reflection with such a public feedback loop.
The 15 chairs on the stage sat there empty before the 150 attendees of the Loring Ward conference. See: With help from Envestnet and a former Genworth technology whiz, Loring Ward is revamping its TAMP platform.
Soon the seats in the conference room of the Monterey Plaza Hotel & Spa were filled with an assortment of mostly senior citizens — most of whom had financial advisors managing their personal finances.
The people had been paid $250 each to spend 90 minutes offering their candid insights on the three advisors making pitches for Loring Ward in a video. Each consumer was equipped with a handheld device, and as the advisor spoke they were told to rate the advisor's performance on a scale of one to 100, in real time.
Only once did the dial get up near 80 for any of the advisors: When the advisor uttered the most plainspoken line of all the presentations, "I keep you from blowing up."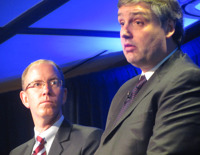 Eduardo Repetto [with Alex Potts on
left]: I asked for coffee and
they brought me a Coke.
Plain English, please
In fact, it got to the point where the casual observer could guess where the rating on the screen would be by listening to the words of the advisors. If the advisor spoke about the consumer as a person and his or her needs, the rating went up. If they managed to avoid polysyllabic words, it went even higher. It became clear to me that what separates a good advisor from a bad one is the same measure used for reporters: the ability to deliver good information in plain-English fashion.
What the panelists didn't know was that the advisors in the video were also sitting in the crowd. The humiliation was fairly profound, and one who got particularly criticized received a series of hugs onstage.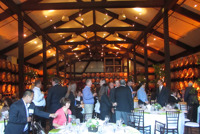 Dinner at a vineyard lent a
tone.
Guessing or trusting
Aside from rating advisors based on video clips, members of the focus group talked about their own advisors. Virtually none were enthused. One common theme was that — in this volatile environment — the investors felt like their advisors were wishy-washy about what to do with cash. One woman who had received an inheritance recalled that her advisor seemed paralyzed about what to do with it. "I think they are fearful," one panelist said.
Other panelists felt as though their advisors were too technocratic. "Sometimes I just need reassurance," one lady said.
About 70 advisors attended the conference, and there 130 total attendees. Loring Ward, the host firm, was founded in 1990 and went private in 2009 after having been listed on the Toronto Stock Exchange. It had about $4 billion of assets at the time and is at about $7 billion today. Loring Ward is a turnkey asset management program that serves more than 800 advisors directly and has another 220-plus who access it through various broker-dealer platforms. See: Envestnet and other TAMPs keep the asset train rolling in the first quarter.
The irony is, perhaps, that when the topic turned to Dimensional Fund Advisors LP itself and how it is working with its public — a public that included virtually everyone attending Loring Ward's conference — communications was also a main topic.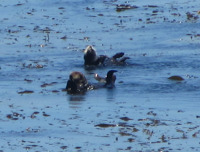 Sea otters played just offshore.
Eduardo Repetto, co-chief executive of DFA and a native of Argentina, with the accent to prove it, got a big laugh when he remarked that he understood the irony of talking about how communication is key when he's sometimes hard to understand, himself.
"You say I don't even speak English. That's how I know [how important language is.] You have to speak their language. Yesterday I was coming here on the plane and I asked for coffee and they brought me a Coke. So I know!"
"In theory, it's great, but you don't know the market price. You have to start guessing or trust in somebody."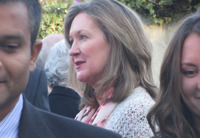 Marie Swift mingled to keep media
under control.
'I like my job'
Accent aside, Repetto, 45, comes across as a master communicator, mixing humor with knowledge. It had advisors asking how he had made the conversion from, literally, rocket science, to a passive-investing shop.
Repetto said he considered the usual professions but they didn't suit him, especially medicine. "I don't like blood."
But then Repetto was asked why he didn't choose a more lucrative slice of the financial world — like hedge funds.
Repetto's response to the advisor was a wry: "I should have met you at the time and I would have done something else" before adding: "I like my job."
---
---
Share your thoughts and opinions with the author or other readers.
http://kino-krab.ru/user/carpinteyromgq/ said:
June 25, 2014 — 9:23 PM UTC
The Apple iphone 3GS is usually a developed edition built from the iphone 3G. According to Apple, the apple iphone 3GS is twice faster in everything as compared for the predecessor. With the new processor, the iphone 3GS is sure to become the most intelligent and powerful gadget to have. The iphone 3GS also boasts improved 3D graphics for better display and gaming experience.
http://www.helmig.com/vista/vrestore.htm said:
June 25, 2014 — 10:55 PM UTC
They can be pretty modest aims nevertheless the I've pointed out earlier mentioned can definitely help to get a younger boy or girl back in line although the actual function in the parents will probably be very important.
---
---