John Burns: We knew we weren't qualified to get this figured out.
Brooke's Note: We are seeing RIAs taking on synthetic names left and right and I'd like to say it's an exciting sign of an industry on the move — and it is. Would any mom and pop dare name itself something like Aspiriant? But the firm that named the BlackBerry, Dasani and PowerBook has doubts that it's such a hot idea. Advisors need to weigh expediency and slickness against the promise made by putting your name on the door. Just ask Chuck.
When the Oklahoma City-based Burns Advisory Group merged with Dallas-based Executive Financial Group this past fall, it didn't make sense to combine the two firms' names into one long new name. Burns Executive Advisory Financial Group would be quite a mouthful and "it didn't necessarily totally resonate," says John Burns, founder of Burns Advisory Group and a principal of the new firm.
Instead, it took six months for Burns and Jerry Georgopoulos, the founder of Executive Financial Group, to settle on a new name for their merged firm. Last week, the pair unveiled their brand: Exencial Wealth Advisors. See: John Furey is creating a think-tank out of six big RIAs that want to grow like roll-ups without the pressures of an IPO
"We are excited about the Exencial name, which orients the firm's identity with our focus on providing superior financial advice to clients with unique wealth management issues," Georgopoulos says in a statement.
Exencial is not the only newly invented handle to grace the masthead of a fledgling RIA. As more firms merge and the number of RIAs increase, it's becoming increasingly difficult to find unique and apropos monikers. That's forcing RIAs to turn to coinages like Advizent, Aspiriant and Fortigent LLC.
Executive + Financial
"We knew we weren't qualified to get this figured out," Burns says about trying to settle on a new name.
Burns and Georgopoulos hired StapleGun, an Oklahoma-based PR and branding firm, to analyze their firm's qualities, interview employees and present prospective name choices that represented the comprehensive planning and investment services offered by the new firm. The name needed to be distinctive — and not already copyrighted. It turns out that finding something not already taken may be the hardest part.
In the end, the experts proposed a moniker that combined Executive and Financial — Exencial. The firm now has about $750 million in AUM.
"There really wasn't anything close to anything like this [name]," says Burns. "Clients have mostly been open to the new name, though change is always hard for people."
'The same nonsense'

Steve Lockshin: It's a disaster trying
to find names these days.
When two firms merge, there's a range of issues that have to be sorted out — not the least of which is whose name goes on the door. Frequently, rather than limit the potential for future partners by sticking with one person's name or getting into a debate over whose name goes first, it's easier to just come up with something new.
The problem, though, is that virtually all obvious wealth management words or some variation of them have been taken, says Steve Lockshin, founder of both Convergent Wealth Advisors, with $10 billion in AUM, and Fortigent, which was recently sold to LPL. See: LPL makes big advance into the RIA business with Fortigent acquisition. Not only do the top merged firms want a new name that is unique and not copyrighted, but they also want to be able to own the web URL (Uniform Resource Locator) and domain name, many of which have been bought up by Internet squatters who try to sell them at an inflated price.
"It's a disaster trying to find names these days," says Lockshin.
While the names Lockshin has drawn on may sound similar — Convergent, Fortigent, and, most recently, Advizent — a great deal of thought went into each.
Convergent started out as Capital Management Strategies because one of Lockshin's first clients already owned the logo for CMS. When the company, which became Lydian after being acquired, was bought by Los Angeles' City National Bank, "we had a hell of a time finding a name," says Lockshin. Eventually, they settled on Convergent simply because City National already owned a business called Convergent Capital Management.
With Grafik, Lockshin's longtime branding firm, they went through the usual process: looking at Greek roots and French versions of those words ringing endless variations on them until eventually settling on something completely new. Still, he says, even with the made-up word Advizent, he still had to buy the URL from someone who had already purchased it.
"Everyone goes through the same nonsense," says Lockshin.
Aspiring to inspire
Aspiriant followed a similar process after the merger of San Francisco wealth manager Kochis Fitz Tracy Fitzhugh & Gott Inc. and family office player Quintile Wealth Management LLC of Los Angeles. The firm hired a branding company and formed a senior committee made up of people from both original firms. But the first name everyone agreed that they loved, says Cammie Doder, director of business development, had already been taken.
"It's a challenge getting a name that's not taken," she says.
It was important to the firm that the name be unique not just in the wealth management industry, but in other financial services as well. Owning the URL without having to add a lot of words was a consideration as well, says Doder.
That meant they were left with a made-up word that conjures feelings of aspiration. "It resonates," she says.
Words, words, words
But, David Placek, a branding expert and founder of Lexicon Branding Inc., which has named the BlackBerry, the Subaru Outback, PowerBook and Dasani, says the trend in RIAs toward made-up names is all wrong.
"Those [names] that are so coined are less efficient," he says, particularly given that financial firms want the name to engender trust.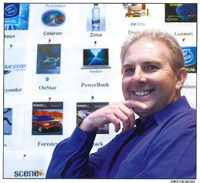 David Placek: Those [names] that are
so coined are less efficient.
Completely made-up names are harder for people to get their heads around, as opposed to words they may know in another context, Placek says. An example would be the HighMark Funds, a set of mutual funds that Lexicon helped name. Both "High" and 'Mark" are words that people already know and have well-established meanings.
Placek acknowledges that increasingly the traditional financial names are already taken, but, he says, that just means it's more of a challenge.
"By no means are we out of resources," he says.
Masthead blues
RegentAtlantic Capital LLC, based in Morristown, N.J., and Private Ocean, a San Rafael, Calif., firm, each went the route that Placek suggests, opting for words that are well-known in other contexts.
Both of these firms, though, initially opted to simply combine the names of the firms that were merging in their respective deals.
For nearly four years after merging, says RegentAtlantic CEO Chris Cordaro, the firm was called Bugen Stuart Korn & Cordaro, after the principals' last names. But, when it came time to add more partners, "We didn't want to get into that law firm game," he says. Keeping owners' names on the masthead is considered old-fashioned and can often limit the growth of the company.
But, "the made-up names I find hard to remember," Cordaro says.

Chris Cordaro: The made-up names I
find hard to remember.
Instead, they spent a year trying to come up with a name on their own, first opting for Devonshire before finding it was already taken. Eventually, they settled simply on RegentAtlantic, which denotes power and authority as well as the firm's coastal location.
No cigar
Private Ocean was initially known as Salient-Friedman after Salient Wealth Management merged with Friedman and Associates in 2009, but that just didn't fit, says Susan Dickson, chief operating officer of Private Ocean. The firm hired a branding company, but rejected a number of suggestions, including Hegemony, Monopol, and Caliber, she says.
"Private Ocean jumped out from the very beginning," says Dickson.
Private is supposed to convey the sense of privacy and intimate relationships the firm builds with clients. Ocean, on the other hand, resonated with the two owners, who were fans of sailing, but also drew up images of depth — depth of resources; depth of credentials.
Besides, Dickson says, it has the benefit of not being a common name for a wealth management firm, hopefully leading potential clients to wonder: What is Private Ocean?
Free association
While financial institutions traditionally have tended toward names that inspire strength or status, Placek says it's important in the current marketplace to also connote responsiveness and trust.
"We think names are very important," Placek says. "They can get attention in what is a very crowded marketplace."
Lockshin says, though, a brand name is only as good as what people learn to associate with it. Some of the biggest companies have some of the worst names according to Lockshin, citing Accenture — the name hurriedly adopted by Andersen Consulting in 2001 to differentiate itself from its former sibling, accounting giant Arthur Andersen LLP, in the wake of the Enron scandal — as a case in point.
"It's possibly one of the dumbest names in history." Yet, he concedes, it's unbelievably popular and nearly everyone knows what Accenture is now.
Brooke's Note: Because I knew that Kelly was working on this article, I was aware that I was in the presence of a manufactured name, Syntal, an RIA that was formed by Merrill Lynch breakaways in Midland Texas on Friday. See: Merrill Lynch PBIG team breaks away in tumbleweed country to better pursue next-gen oil fortunes. Yes, says Shirl Penney, CEO of Dynasty Financial Partners, who helped the firm make the transition, his company came up with the name and, yes, it was a very deliberate move not to have the brand of the firm too closely tied to the principals. The name is a conflation of "synergy" and "talent."
---
---
Joe Anthony
RIA firms are either identified institutionally or they are known in assocation with the names of their top executives. In other words, firms become synonymous with their founder if they don't have an institutionalized perception. With publicity and social media accessible on a cost-effective basis, RIA firms today have a better chance at institutionalizing the perception of the firm behind any brand name than they did ten years ago. My take is that the actual name of the firm doesn't matter as much as the investment firms make in their client service and marketing to back up that name.
Elmer Rich III
We do a lot of M&A. It's tough but what is the alternative? Transitions have to occur.