Ron Rhoades: "Suitability" is a failed doctrine. FINRA itself is a colossal failure, by any measure.
Brooke's note: The vision portrayed in Part 1 of this article, published by RIABiz yesterday, while fictional, is not without substantial rationale. The remainder of NAPFA chairman-elect Ron Rhoades' column explores FINRA, its substantial role in the financial crisis and other scandals in recent history, and reveals additional reasons for denying FINRA oversight of investment advisors.
FINRA's leading role in the financial crisis of 2008-'09
In 2008-09, a massive financial crisis shook the United States and the world. The source of the financial crisis can be traced to a decade before. Mortgage-backed securities created from toxic mortgages — the "sh***y products," as Sen. Carl Levin (D-Mich.) famously demeaned them in the Goldman Sachs hearings in April 2010 — became increasingly devalued. Wall Street's investment banks made billions packaging toxic mortgages into pooled MBS investment vehicles, then selling them to unsuspecting investors — both institutional investors and individual consumers.
Just as the largest and most powerful FINRA members worked in the late 1990s to ensure that the over-the-counter derivatives market would be kept out of the purview of government agencies, they also worked to ensure that FINRA would fail to oversee the risks increasingly posed by mortgage-backed securities and credit default swaps (a type of OTC derivative). Counter-party risk rose even further due to the prevalence of credit default swaps, the holdings of trillions of dollars of which made capital in the investment banks impossible to accurately judge, and credit markets froze.
As the financial crisis and its resulting Great Recession continued, hundreds of largely innocent community banks were seized. The larger investment banks, most with large broker-dealer organizations, were bailed out by Congress — and subsequently thrived and further expanded their already huge market share of the banking sector of the economy.
Undue influence
The cause of the crisis lay squarely in the hands of one regulator — the Financial Industry Regulatory Authority Inc., formed in 2007 by the merger of NASD and the enforcement arm of the New York Stock Exchange. See: In the duel of FINRA vs. state courts, one comes out on top for most advisors.
At its core, FINRA was charged with the regulation of brokers and dealers and their related business activities. Yet FINRA, being a membership organization heavily influenced by the same large Wall Street firms which it also regulated, largely ignored the mounting risks to America's economic vitality and failed to regulate the market-making activities of its member broker-dealer firms. FINRA's failure to perform its direct oversight duty led to the spectacular and costly collapse of two of its larger members, including the largest bankruptcy in U.S. history.
As the Alliance for Economic Stability, a nonpartisan economic policy organization dedicated to promoting a fair financial marketplace, subsequently observed: "FINRA, as an SRO, has the closest relationship with and most direct scrutiny of Wall Street investment banks. When these investment banks initiated discussions on policy regarding OTC derivatives in 1994, FINRA [then NASD] was in the best position among regulators to intercede and assure appropriate supervision. FINRA failed to do this, even after recommendations for oversight from the GAO."
AES also noted that despite its expansive powers over broker-dealers, "FINRA failed to oversee the risks posed by OTC derivatives, though all transactions were carried out through FINRA member broker-dealers or their affiliates."
Finally, AES observed that "FINRA has shown itself to be inept at properly addressing gross negligence done by its members, even when that negligence impacts the entire world economy." ["Securities Regulatory Reform: Addressing FINRA's Inherent Conflict and Moral Hazard," a Report of the Alliance for Economic Security Jan. 4, 2010 (hereafter "EAS 2010 Report").
FINRA misleads Congress and the public about Its role with Madoff
FINRA lay largely silent in the two years following the financial crisis, and by means of its silence largely escaped congressional scrutiny for its key role in effecting the financial crisis. But then, in 2011 and 2012, FINRA began to lobby Congress extensively for an expansion of FINRA's powers, under the pretense that such an expansion would have prevented Bernie Madoff's massive Ponzi scheme. Yet many industry observers noted that it was FINRA's own failures as a regulator which enabled Madoff's Ponzi scheme to grow to such massive proportions. See: One-Man Think Tank: The SEC's custody examinations leave gaps big enough for Madoff to drive a bus through.
FINRA acknowledged that "Mr. Madoff engaged in deceptive and manipulative conduct for an extended period of time…." (Testimony of Stephen Luparello, interim chief executive of FINRA, before the House Financial Services Subcommittee on Capital Markets, Insurance and Government Sponsored Enterprises, Feb. 4, 2009).
FINRA even acknowledged that during the 20 years before the Madoff scheme was revealed, "FINRA (or its predecessor, NASD) conducted regular exams of Madoff's broker-dealer operations at least every other year." (Id.) Instead of acknowledging its key failures, FINRA instead asserted that it "regulates broker-dealers, but not investment advisers," and complained that it could not have detected Madoff's massive fraud.
FINRA had jurisdiction over Madoff
But many industry observers note that FINRA's own failures were largely responsible for enabling Bernie Madoff to perpetuate its fraud. As professor John C. Coffee Jr. testified before Congress: "Prior to 2006, Madoff Securities was only a broker-dealer and not a registered investment adviser. Thus, during this period, I see no reason that FINRA (or at that time NASD) should have abstained from examining and monitoring the advisory side of Madoff Securities. This side was never formally separated in a different subsidiary; nor was it even geographically remote." ["The Madoff Investment Securities Fraud: Regulatory and Oversight Concerns and the Need for Reform," Testimony of John C. Coffee Jr., Adolf A. Berle professor of law, Columbia University Law School, before the Senate Banking Committee, Jan. 27, 2009).
Coffee continued: "Madoff Securities had no right or privilege to resist any inspection by NASD (or later FINRA) or to fail to provide information on the ground that its investment advisory business was exempt from NASD oversight. If it resisted on this ground, the NASD and FINRA had full power to discipline it severely. NASD Rule 8210 makes it clear beyond argument that NASD can require a member firm to permit NASD to inspect its books, records and accounts, and to provide other information. As NASD further advised its members in its Notice to Members 00-18 (March 2000): 'Implicit in Rule 8210 is the idea that the NASD establishes and controls the conditions under which the information is provided and the examinations are conducted.'" (Id.).
Furthermore, as noted in the AES Report: "In addition to Coffee's testimony, Peter J. Chepucavage, general counsel at Plexus Consulting Group LLC; Pete Michaels, partner at Michaels Ward & Rabinovitz LLP; and Samuel Y. Edgerton, partner at Edgerton and Weaver LLP; all of whom are competent to opine on FINRA's jurisdiction, have made statements concluding that FINRA had jurisdiction over Madoff."
Two simple questions
Over the 20-year span of its multiple examinations, all NASD/FINRA had to do was to ask Bernie Madoff one of two simple questions, which should have been discerned from even a cursory review of the Madoff Securities' firm's operations: "Why is Madoff Securities not also registered as an investment adviser?" and "Where are all of the trades you state you make as an investment adviser?" (These trades didn't show up in the records of Madoff Securities' clearing arm, as would be expected.)
Even though Bernie Madoff's investment scheme was uncovered in the year after Madoff Securities finally registered with the SEC as an investment adviser, Rep. Spencer Bachus bemoaned the "lack of oversight [of investment advisers] particularly in the aftermath of the Madoff scandal" in proposing a bill to effect FINRA's power grab over investment advisers. In so doing, Rep. Bachus has perpetuated FINRA's inappropriate characterization of the Bernie Madoff scandal as a "regulatory gap" — rather than, as so many experts have opined, a colossal failure by FINRA itself.
The failed Maloney Act experiment: A long history of FINRA blunders
FINRA, then the National Association of Securities Dealers, was created to raise the conduct standards for broker-dealers and their registered representatives. In 1938, the assistant general counsel of the Securities and Exchange Commission stated that the "Commission has concluded that the next stage in the job — the job of raising the standards of those on the edge to the level of the standards of the best — can best be handled … by placing the primarily responsibility on the organized associations of securities dealers throughout the country." (Chester T. Lane, Address Before The Seattle Bond Club, March 14, 1938).
The theme of continually raising the standards of the industry was repeated in a speech by SEC member George C. Matthews, shortly after the Maloney Act was passed in Congress, in which he stated, "I wish to re-emphasize the evolutionary character of the program provided for in the [Maloney] Act … it is our hope … that the work of construction [of regulation] will continue through the years until there shall finally have been erected a professional edifice commensurate with the importance of the investment banking and over-the-counter securities businesses in our national economy." (George C. Matthews, A Discussion of the Maloney Act Program. before the Investment Bankers Association of America, Oct. 23, 1938)
Sen. Francis T. Maloney himself noted that the Act had, as its purpose, "the promotion of truly professional standards of character and competence." ( Sen. Francis T. Maloney, Regulation of the Over-the-Counter Security Markets, Address at the California Security Dealers Association, Investment Bankers Association, National Association of Securities Dealers 2, Aug. 22, 1939, transcript available in the SEC Library at 11 SEC Speeches, 1934-61).
A litany of failures
Yet here we stand, more than seven decades later, and we see that NASD/FINRA has resisted every attempt to raise the standards of conduct for its members above the low standard of suitability which existed nearly 75 years ago. The organization has completely neglected its mission to protect consumers, and instead has fostered conflict-ridden business practices and the lax regulation of its members. To observe these failures one need only recall just the recent failures by FINRA:
1. FINRA's role in the Bernie Madoff scandal
An internal report found that FINRA didn't fully probe Bernard Madoff's firm (despite inspecting it annually). While FINRA officials denied any wrongdoing in the failure to detect Madoff's Ponzi scheme, Coffee, a securities law scholar, said in his testimony before the Senate Banking Committee that "Madoff's brokerage business was by definition within … FINRA's jurisdiction." T
2. FINRA blew it repeatedly: Stanford's multibillion-dollar fraud
Additionally, in an internal report FINRA admitted that it repeatedly failed to investigate tips about R. Allen Stanford's alleged $7 billion fraud. See: A big California RIA fires off a letter to Rep. Bachus decrying FINRA as SRO pick. (FINRA, "Report of the 2009 Special Review Committee on FINRA's Examination Program in Light of the Stanford and Madoff Schemes" September 2009.
3. FINRA fails to oversee derivatives
FINRA failed to seek appropriate supervision of derivatives created and sold by its members, a regulatory oversight which was a substantial cause of the 2008-09 Great Recession from which America still suffers today. See: The 10 most likely contributors to the next market panic. FINRA has failed to be held accountable for these many failures to protect the public interest and the financial crisis caused by its failure to regulate its member firms.
The Alliance for Economic Stability's report, cited above regarding NASD/FINRA's failure to assure proper supervision of the OTC derivatives market, details two other major failures by the SRO:
FINRA has the most expansive jurisdiction of any regulator. It can request whatever information it sees fit about its members' business affairs or even personal affairs, without the same constraints of due process imposed upon government agencies. As such, it could have initiated investigations into the activities surrounding mortgage-backed securities. It failed to do so.
FINRA has failed to take any disciplinary action against Joseph Cassano from American International Group Inc.'s financial products division. Even if Cassano did not willfully intend to act as recklessly as he did, his behavior nonetheless shows a gross negligence which has had an impact upon the world financial system whose cost is beyond estimation. FINRA's disciplinary procedures focus on breaking of specific rules. FINRA has shown itself to be inept at properly addressing gross negligence done by its members, even when that negligence impacts the entire world economy.
According to the report, "The reason for FINRA not taking steps to address its apparent deficiencies is that FINRA serves to benefit the interests of its members. FINRA worked for the interests of its members to the detriment of the public in the price-fixing in the OTC stock market; it did the same in the OTC derivatives market; FINRA continues to do so now by not addressing its mistakes and toughening its rules."
*4. The stock analyst conflict of interest scandals"
FINRA failed to prohibit the promulgation of stock analyst conflicts of interests, leading to the many scandals of nearly a decade ago. Only actions by the SEC and the state securities regulators, resulting in a 2003 landmark settlement with 10 of the nation's top broker-dealers, forced these Wall Street firms to address conflicts of interest between their equity research analysts and investment bankers. See: Advisory factions steel for end game as SEC's verdict on FINRA SRO comes down.
However, even now FINRA's rule making in this area continues to stall. A 2012 GAO Report found that "FINRA has not yet finalized its 2008 proposal designed to consolidate the SRO research analyst rules and implement recommendations made by NASD and NYSE staff in 2005 … FINRA staff, as well as most market participants and observers we interviewed, acknowledged that additional rule making is needed to protect investors, particularly retail investors. In that regard, until FINRA adopts a fixed-income research rule, investors continue to face a potential risk." (United States Governmental Accountability Office (GAO): Report to Congressional Committees, Securities Research: Additional Actions Could Improve Regulatory Oversight of Analyst Conflicts of Interest, January 2012).
5. FINRA abets fraudulent use of titles and descriptors
FINRA continues to permit its members and their registered representatives (who also receive commissions) to call themselves "fee-based." This misleading term is designed to confuse the public, just as the titles "financial consultant" and "wealth manager" used by registered representatives, also infer a relationship based upon trust and confidence when none actually exists. "[T]o give biased advice with the aura of advice in the customer's best interest — is fraud." (Professors James J. Angel and Douglas M. McCabe, Georgetown University, Ethical Standards for Stockbrokers: Fiduciary or Suitability? Sept. 30, 2010). Yet FINRA does nothing to prevent this ongoing fraud from occurring! See: Should I dump my securities licenses?.
6. Many more scandals SRO failed to prevent
Through its lax regulatory practices and oversight, NASD/FINRA failed to prevent a number of other often-repeated industrywide scandals that have plagued the broker-dealer industry over the last decade — from the insider trading scandals to penny stocks, limited partnerships, unsuitable mutual fund share classes and inappropriate sales of auction-rate securities.
7. SRO's advocacy in opposition to fiduciary standards
Unlike the aloofness expected of a regulatory organization, NASD/FINRA engaged in a decade-long advocacy promoting fee-based brokerage accounts without subjecting such accounts to the Investment Advisers Act of 1940 and its members to the fiduciary standard of conduct required under that act.
8. SRO defended price-fixing by its member firms
NASD/FINRA failed to prevent — and even defended — the price-fixing activities of its market-making member firms in the mid-1990's. Former SEC Chairman Arthur Levitt stated that the evidence showed FINRA "did not fulfill its most basic responsibilities" and concluded that by FINRA's failure "American investors — large and small, sophisticated and inexperienced, institutional and individual — all were hurt by these practices." Levitt further stated that FINRA was "the cop on the beat" that "simply looked the other way." (Arthur Levitt, Securities and Exchange Commission press conference regarding NASD, 1996.)
9. NASD opposed split of broker and dealer functions
Goldman Sachs settles to make its scandal die, and Congress passes financial services reform. What does it mean for RIAs? Not much, yet.
10. FINRA's fines support its own members!
When FINRA does act against its member firms, the fines it imposed on its member broker-dealer firms are paid to FINRA — to fund FINRA's activities itself. In essence, its member firms indirectly benefit from their own fines, which serve to lower the annual fees the firms pay for their "self-regulation."
11. FINRA repeatedly lied to the SEC
In 2011, the SEC stated that FINRA provided "altered documents" during SEC inspections. According to the SEC's order, the production of the altered documents by FINRA's Kansas City district office was the third instance during an eight-year period in which an employee of FINRA or its predecessor, NASD, provided altered or misleading documents to the SEC. The SEC ordered FINRA to hire an independent consultant and "undertake other remedial measures to improve its policies, procedures and training for producing documents during SEC inspections." SEC Press Release 2011-277.
12. FINRA refuses to share information with state securities regulators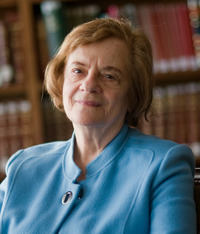 Tamar Frankel wrote in 1965: "NASD
... [does] not, as do the
professions, consider the public interest as
one of [its] goals."
FINRA's continues to refuse to share information with state securities regulators, important government authorities in protecting consumer interests and the successful identification and prevention of fraud. See: What advisors should know about the next sweeping change: the switch from SEC oversight to state regulation. (See testimony of Denise Voigt Crawford, Texas securities commissioner and president, North American Securities Administrators Association Inc., before the House Financial Services Committee, Oct. 6, 2009).
Why has FINRA had so many documented failures? Because — at its core — FINRA acts as the protector of its member firms, rather than protecting the public interest. As Tamar Frankel, America's leading scholar on fiduciary law as applied to the securities industry, wrote in 1965:
"NASD … [does] not, as do the professions, consider the public interest as one of [its] goals … Let us consider the attitude of the professions toward the public interest. The goal of public service is embedded in the definition of a profession. (Pound, The Lawyer from antiquity to modern times 5 1963). A profession performs a unique service; it requires a long period of academic training. Service to the community rather than economic gain is the dominant motive. We may measure the broker-dealer's activities against these criteria … Although at least part of his trade is to give service, profit is his goal. The public interest is stated in negative terms: he should refrain from wrongdoing because it does not pay. This attitude is the crux of the matter, the heart of the difference between a profession and the broker-dealer's activity … The industry emphasizes its merchandising aspect, and argues that the broker-dealer is subject to the duties of a merchandiser even when he is also acting is his advisory capacity … the NASD [has] proved incapable of establishing accepted standards of behavior for the activities of the trade … Past experience has proved that it is unrealistic to expect the NASD to regulate in the public interest …." (Tamar Frankel, f/k/a Tamar Hed-Hoffman, "The Maloney Act Experiment," 6 Boston College L.R. 186, 217 1965).
In short, FINRA possesses an inherent conflict of interest because it is controlled by Wall Street's large broker-dealer firms, while also regulating broker-dealers. This means that FINRA will always be an ineffective protector of consumers, and that its rules and regulations will instead foster the excessive profits of its members.
Failed doctrine
Nearly 50 years after Frankel's observations, and more than seven decades after the Maloney Act authorized the organization's creation, we can only conclude that the Maloney Act experiment was an utter failure. FINRA should not be rewarded for its huge, numerous failures.
In summary, "suitability" is a failed doctrine. FINRA itself is a colossal failure, by any measure. FINRA now wants to control (and stamp out, through high fees) the small professional firms of registered investment advisers which compete with FINRA's large Wall Street firms. Don't permit this to occur.
Why does FINRA exist?
Indeed, we should instead ask why FINRA has not already been disbanded. Its continued protection of its Wall Street broker-dealer members from serious oversight and better conduct standards leads to the compelling conclusion that the Maloney Act is a failed experiment, and that direct oversight of broker-dealers by the SEC itself would be a far better choice for the protection of individual investors. Disband FINRA now — repeal the Maloney Act and transfer FINRA's functions back to the SEC.
The dire consequences that would result from FINRA oversight of RIAs
What will happen if FINRA should prevail in its grasp for greater power and influence over the financial lives of all Americans?
1. FINRA would have broker-dealers regulate their competition
FINRA, a "self-regulatory organization" for broker-dealer firms, essentially proposes that broker-dealer firms would regulate their competition — independent registered investment advisory firms. It's like drug companies being given control over the regulation of physicians. Only here, investment product manufacturers and their distributors would take over the regulation of fee-only independent financial advisors. It does not take a rocket scientist to realize that the role of the independent financial advisor would be diminished, through regulation, in favor of the product-sales-driven broker-dealer firms. See: New FSI chairman isn't sugarcoating FINRA's shortcomings but blasts the SEC on porn and BlackBerrys in this letter.
2. It's not "self"-regulation anymore
FINRA's proposal does not expand, but rather destroys, the concept of "self-regulation." In this instance, independent small financial advisors would be regulated not by their own professional leaders, but rather by the conflict-ridden large Wall Street broker-dealer firms with which they compete. And since these large broker-dealers and their regulator, FINRA, would love to stem the flow of their customers and their employees from the product-sales-oriented broker-dealer firms to the fiduciary fee-only registered investment advisers, there is no doubt that regulation after regulation would be adopted to make it onerous for investment advisers to survive, much less thrive. Consumers would be forced back into the hands of profit-driven, conflict-ridden Wall Street firms.
3. Another layer of bureaucracy is added, forcing small businesses to cease to exist or raise costs ultimately borne by consumers
FINRA seeks to impose an additional layer of costs and bureaucracy on registered investment advisers, who have been directly overseen by the SEC for more than seven decades. See: Creating an SRO would cost 100% more than SEC exam program, study shows. Even if FINRA's own estimates of the additional costs of its regulation were believable, the small businesses which make up the core of the registered investment advisory community would pay thousands and thousands of dollars a year in additional fees. These fees would be the death knell for many of the small, professional firms which seek to provide low-cost investment and financial advice to their clients. The remaining firms would have to raise their fees to their clients substantially to pay the increased registration fees and the attendant compliance costs. Consumers of modest means, such as the young couple starting a family, or the single mother struggling to save and invest for her future retirement needs and the educational futures of her children, would be unable to afford to pay these resulting higher costs. See: United Capital unveils national mass-affluent strategy keyed to a radio program.
4. FINRA, long opposed to the application of a true fiduciary standard, seeks to redefine the true fiduciary standard out of existence
FINRA and its members seek to redefine the highest standard of conduct under the law — the fiduciary standard — as a much lower "new federal fiduciary standard." In essence, they want the low standard of conduct for their members to be one in which conflicts of interest are not avoided — or even brought out into the open. All they desire is the disclosure: "The interests of my firm may not be the same as yours." Of course, such disclosures don't adequately inform the consumer. Moreover, Wall Street firms are keenly aware of the large body of academic research which reveals that even robust disclosures are ineffective to protect the interests of individual investors in today's highly complex modern financial world. That's why a true fiduciary standard — long opposed by FINRA — is so important. And why the fiduciary principle which so greatly protects the clients of fee-only, trusted investment advisers must be preserved. See: How 10 top groups define 'fiduciary'.
5. The failed "suitability doctrine" continues to permit "s***" products to be sold to individual consumers*
The failed doctrine called "suitability" would continue to permit broker-dealer firms to manufacture and sell to their customers "sh***y products" (as Sen. Carl Levin called them), such as securities stuffed with junk mortgages. The SEC is currently preparing to impose higher standards of conduct on broker-dealer firms under the authority granted to it by the Dodd-Frank Act of 2010. See: As DOL contemplates stiff fiduciary-related penalties on advisors, NAPFA and FPA find rare concord with FSI.
Yet, FINRA's members want to escape these higher standards by controlling the continuing development of standards — not only for themselves, but also for the trusted investment advisory profession which is their competition. For more than seven decades FINRA and its predecessor, NASD, have resisted efforts to raise the standard of conduct of its broker-dealer members above the failed, horrendously low standard of "suitability;" they desire to preserve this failed standard, which offers little protection for the customers of broker-dealers and instead preserves the high profits of broker-dealer firms. Only just recently, FINRA stated that it believed "it would be a mistake to … impose the investment adviser standard of care and other requirements of the Advisers Act to broker-dealers."
6. Consolidating power in FINRA over all investment business gives Wall Street control over America's economy
FINRA would continue as the most powerful organization affecting nearly all aspects of the securities industry. Yet it is an organization whose failure to achieve the purposes for which it was created makes it highly questionable whether it should even continue.
7. Individual Americans denied affordable, trusted advice
Individual Americans — all of whom deserve trusted, independent advice — would be denied the protections of the true fiduciary standard and access to professional investment advice — a woeful prospect for the future economic security of all Americans — and America itself. "[E]ffective financial planning is important to the success of a free-market economy. If people do not make careful, rational decisions about how to self-regulate the patterns of consumption and savings and investment over their life cycles, government will have to step in to save people from the consequences of their poor planning." (Jonathan R. Macey, "Regulation of Financial Planners," 2002 white paper prepared for the Financial Planning Association, p.2.)
8. FINRA's dishonesty should not be rewarded
FINRA is dishonest. In 2007, NASD and NYSE's member regulation, enforcement and arbitration functions merged to form FINRA, the primary securities industry SRO responsible for overseeing broker-dealers. At the time of its formation, objections were made by the Financial Planning Association to FINRA's all-encompassing name, with the FPA saying that the name implied that the self-regulatory organization would have jurisdiction over more than just the brokerage industry. FINRA's response? "I would need a degree in psychology to comment on the level of paranoia in this press release," said a FINRA spokesman. See: FINRA attacks Boston Consulting Group over SRO study. Yet now, less than five years later, FINRA seeks oversight over registered investment advisers, a direct contradiction to its earlier statements. While one might seek to subscribe such action to a "change of heart," in September 2007 this author spoke to a FINRA vice president who admitted that not only had FINRA contemplated within the preceding year oversight of registered investment advisers, but that it even had a committee explore the resources needed for such a task.
Conclusion: Disband FINRA; protect independent, objective investment advice
The independent small businesses and firms which make up the core of the registered investment adviser community, providing access for individual Americans to cost-effective and truly objective financial and investment advice, are not alone in their criticism of FINRA and its attempt to gain authority to oversee registered investment advisers. As stated by the Project On Government Oversight, an independent nonprofit that investigates corruption and other misconduct in order to achieve a more effective, accountable, open, and ethical federal government:
"[A] cursory examination of FINRA's current leadership paints a clear picture of a regulator that is still captured by the [broker-dealer] industry it is tasked with regulating … Effective, independent and efficient government regulation is the only proper way to safely oversee our markets. Our economy is too important to be left in the hands of the very financial industry that brought us to the brink of collapse.
Today, FINRA's website and brochures continue to highlight the organization's commitment to "putting investors first." FINRA has also spent a lot of money defending its record through advertisements in The Washington Post, commercials on CNN, and "public interest" spots on National Public Radio. One possible reason for all the publicity is that FINRA seems to be angling for more power.
This apparent power grab continued at a recent congressional hearing when FINRA chairman and CEO Richard Ketchum testified that FINRA should be given the authority to oversee investment advisers in addition to securities brokerage firms. In an attempt to justify this expanded authority, Ketchum argued that FINRA has a "strong track record in our examination and enforcement oversight."
However, POGO believes that FINRA's track record tells a very different story. In fact, financial sector self-regulators, despite the power vested in them by the federal government, have failed to prevent virtually all of the major securities scandals since the 1980s.
POGO letter to Congress calling for increased oversight of financial self-regulators, Feb. 23, 2010)
FINRA's new attempt to expand its broad reach to another segment of the financial services industry goes beyond any definition of "self-regulation." It is an ill-conceived, conflict-ridden attempt to stamp out the thousands of small businesses who provide the truly objective, fiduciary financial and investment advice which consumers (desire) and to which more and more advisors are migrating. Rather than reward FINRA for its long history of regulatory missteps, failure to raise the conduct standards of its member, and lax oversight, Congress should disband FINRA and return broker-dealers to direct oversight by the SEC.
FINRA has no experience with investment adviser oversight, while the SEC possesses more than seven decades of experience in the inspection of RIAs. Moreover, FINRA's rules-based standards, See: Improbable win for fiduciary standard: Congress set to hand SEC power to impose fiduciary duty on broker-dealers, which are mostly prohibitory in nature, are wholly incompatible with the fiduciary duties and the affirmative, broad obligations (duties of due care, loyalty, and utmost good faith among them) owed by registered investment advisers to their clients.
It is acknowledged that investment adviser oversight, due to inadequate funding of the SEC, as well as a poor focus of examiners during both on-site and remote examinations, leaves room for improvement. But FINRA is clearly not the answer to these concerns. Instead, Congress should request that the SEC undertake a study specifically on the role of investment adviser examinations to detect and deter fraud, with a focus on the examinations required for the small investment advisory firms (which typically lack custody of client securities). Additionally, Congress should consider empowering the SEC to impose additional risk-based registration fees (i.e., user fees) on registered investment advisers, in order to permit the SEC to undertake an expansion of its examination program, as necessary to fulfill the SEC's need for proper examinations.
FINRA, its members and their various lobbying organizations, including the Securities Industry and Financial Markets Association and the Financial Services Institute Inc., form one of the nation's wealthiest and most influential special interest groups. Don't permit them to succeed in this power grab — one which would, if successful, undermine decades of progress in which small businesses and firms, as registered investment advisers — commit to protecting the best interests of their clients at all times.
FINRA's failures should not be rewarded; rather, FINRA should be disbanded and its functions returned to appropriate governmental agencies.
Ron A. Rhoades, JD, CFP® is director of the financial planning program at Alfred State College, Alfred, N.Y. A frequent writer on the fiduciary duties of registered investment advisers and financial planners, he was awarded the 2011 Tamar Frankel Fiduciary of the Year award for "changing the nature of the fiduciary debate in Washington." Ron was recently named chairman-elect of the National Association of Personal Financial Advisors, the nation's leading professional association for fee-only financial advisors. Rhoades is also a Steering Group member for The Committee for the Fiduciary Standard, a member of the Financial Planning Association and a certified financial planner. The views expressed herein are those of Rhoades and may not necessarily be the views of any organization or publication with whom he is affiliated. Rhoades may be contacted at RhoadesRA@AlfredState.edu.
---
Related Moves
August 2, 2019 – 12:48 AM
---
---
Mentioned in this article:
---
---
---
jwb
Ron has put together a comprhensive and accurate analysis, and his recommendation to disband FINRA makes sense.
Jeff mcClure
Whoa! This is the best summation of FINRA's role in the real world I have ever seen! Now, how do we get members of Congress to read it?