News, Vision & Voice for the Advisory Community
Neil Hokanson offers a boots-on-the-ground perspective about why changes brewing in Washington are bad for consumers and advisors alike
May 2, 2012 — 2:20 PM UTC by Neil Hokanson Guest Columnist
Brooke's Note: In the battle over who will regulate financial advisors and how they will do it, there has been a missing voice — the chorus of RIA principals themselves. To some extent this is understandable: The process of hashing out these issues has been laborious, with lots of hurry-up-and-wait. It's easy to see why a busy RIA principal would think twice before spending valuable time on such an endeavor. But really, it appears to be coming down to crunch time. This letter from Neil C. Hokanson, president of Hokanson Associates Inc., a Solana Beach, Calif. firm with $440 million of AUM and 12 employees, may be just what the doctor ordered — especially if it inspires some of you send your own notes from the trenches to the generals at HQ making critical decisions. See: Avoiding FINRA oversight may depend on talking sense to an options-trading House Republican.
Neil's Note: I took some time from my practice to pen my thoughts on this issue because it's so important. It's true that having FINRA regulate advisors would be bad for the fast-growing independent advisory community and the clients it serves. The regulatory landscape simply does not need more opacity and conflicts of interest. But far more important is the impact it would have on U.S. consumers, who face the need to save in a challenging environment and with potentially more muted investment returns in the years to come. American consumers of financial advice are best served with vigorous competition in such areas as the quality of investment advice, products and services, transparency and costs. Regulation of the growing independent advisory community by the shrinking captive wirehouse model does not serve the nation's interest.
4/27/2012
Congressman Spencer Bachus
U.S. House of Representatives, Washington, D .C. 20515
Re: Regulation of Registered Investment Advisors (RIA's)
Dear Congressman Bachus,
I am writing to you in your capacity as chairman of the House Financial Services Committee, and in particular with respect to address options being considered for the regulation of registered investment advisors currently regulated by the Securities and Exchange Commission, as you are well aware.
As you know, there are three options being considered with respect to this issue: (1) continued regulation by the SEC, (2) establishment of a self-regulatory organization (SRO) and (3) regulation by FINRA (formerly the NASD/NYSE regulatory arms).
While I don't generally get involved in public affairs, I feel it is incumbent upon me to weigh in on this issue. I have been in the financial services field for 32 years, and I have been regulated by either the NASD, NYSE, or the SEC, or both, during this entire time. In addition, I have served as a securities arbitrator for the American Arbitration Association. I have been a CFP since 1984, I am a graduate of [The University of California at Irvine, and I hold an MBA in international business. I am the president of Hokanson Associates, an independent advisory firm celebrating its 25th year.
Unacceptable alternative
I'm sure you are a busy man, so I will cut to the chase: Continued regulation by the SEC, or by a yet-to-be established SRO, is acceptable to the great majority of investment advisors — in fact, by a ratio of 4 to 1. Regulation by FINRA, however, is not an acceptable alternative.
The reasons are essentially twofold. One is that FINRA as an organization does not meet a professional standard acceptable to ethical advisors, while the second is that U.S. consumers would be poorly served by having the broker-dealer community regulate their primary competitor — independent advisors.
Allow me to start by addressing the first of these two issues. As most Americans will appreciate, transparency is essential to good governance. FINRA, a private organization, is not subject to the Freedom of Information Act, nor is it subject to the Administrative Procedures Act, nor is it subject to the Sunshine Act 2. lts board meetings are not open to the public. We are in the year 2012, and FINRA — charged with regulating stockbrokers who advise millions of Americans — behaves like a background shadow organization from a bygone era.
This is not just my opinion. In August 2010, FINRA's own members passed a resolution calling for an independent investigation of FINRA's directors' and officers' potential ties to Bernie Madoff. (As you know, Mr. Madoff's brother Peter was a vice chairman of FINRA's predecessor, the NASD. The FINRA board rejected the proposal.)
The SEC has weighed in as well, issuing charges in October of last year charging FINRA with securities violations. This marks the third time in eight years that FINRA employees have given the SEC altered or misleading documents.
FINRA provides very little transparency with respect to its budget and pay practices. The U.S. Chamber of Commerce observed that FINRA does not observe "the traditional checks and balances placed on government agencies". Compensation for FINRA's top 10 executives exceeded $11 million in 2009, while the SEC chairman's earnings were about $175,000, the FINRA chairman earns over $2.5 million. Really? For what?
FINRA not only missed Ponzi scammers Madoff and [R. Allen] Stanford (the SEC shares blame here), but it failed with respect to regulating firms in what should be its area of core competency, such as Bear Stearns, Lehman Brothers and Merrill Lynch.
Rife with conflicts
I would now like to address the second main point that I made for rejecting FINRA as a regulator of independent investment advisors — a subject dear to my heart. I left a traditional broker-dealer, Dean Witter Reynolds (now Morgan Stanley), for the same reason thousands of financial professionals and millions of investors have. The broker-dealer model — not unlike FINRA itself — is rife with conflicts of interest and lack of clear disclosure of conflicts and fees faced by American consumers of financial advice.
Over the years, a better-informed American public has made a clear choice towards greater transparency and more consumer-friendly alternatives. Vanguard — a low-cost no-load mutual fund company, is now the nation's largest. Charles Schwab — a small broker-dealer when I left the firm that became Morgan Stanley — now roughly equals the latter in total assets, despite the recent addition of the assets of Smith Barney to Morgan Stanley. Much of Schwab's growth is the result of its commitment to serve independent registered investment advisors such as my firm, Hokanson Associates.
Industry analyst Cerulli Associates [Inc.] confirms this trend. While the independent advisor community is growing rapidly, the institutional advisor community is shrinking. From 2007 to 2010, assets in the financial advisory industry grew to $11.2 trillion from $11 trillion, while "wirehouse" assets declined from $5.5 trillion to $4.8 trillion. In fact, Cerulli projects that wirehouse market share will decline from 43% in 2010 to 35% in 2013 .Frankly, this is a rout. In the first quarter of 2012, at least 50 advisors managing nearly $12 billion in assets have left Merrill Lynch alone. We run into "breakaway brokers" on a regular basis now, and they uniformly cite the need for independence and objectivity as their primary reason for becoming independent.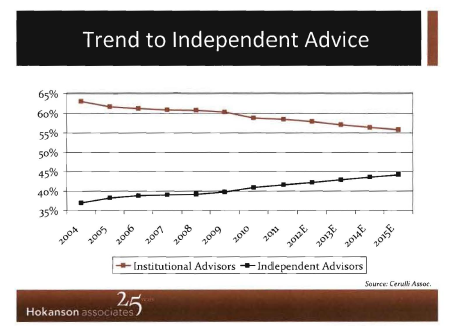 Unmistakable trajectories.
In summary, not only is FINRA an anachronistic organization doing a poor job of serving the public welfare, but allowing FINRA to regulate its primary competitor industry — which has grown so rapidly on the basis of greater transparency, lower fees, more disclosure and fiduciary standards absent in the broker-dealer world — would result in a huge step backward for the U.S. consumer and for our country.
Sincerely,
Neil C . Hokanson, President
201 Lomas Santa Fe Drive, Suite 360 Solana Beach, CA
92075 Tel. 858 755 8899 Fax: 858 7554449
---
---
Share your thoughts and opinions with the author or other readers.
Patrick Horan said:
May 2, 2012 — 4:22 PM UTC
Neil – excellent job, you articulated the problems with the bill very well and I fully concur with your point of view and facts presented. I was in the middle of crafting my own letter but I think I would like to send this off to Bacchus and the committee members saying that I support your position. I hope other RIA's across the country take the time to write to the committee members as well. We do not need to be regulated by FINRA or an SRO when the SEC just needs to step up or overhaul their program. Patrick J Horan, CFP, ChFC,
Larry Steinberg said:
May 2, 2012 — 4:59 PM UTC
Why do we need so many regulators with overlapping responsibilities and turf battles in the first place?
James W. Byrd said:
May 2, 2012 — 6:58 PM UTC
Below are excerpts from our May 31, 2008 letter to the Chairman of the U.S. Securities and Exchange Commission regarding FINRA/NASD's fifteen year attempt to regulate independent investment advisors. We would be happy to document our severe concerns regarding this proposed legislation as it relates not only to our industry but more importantly to the future of our country. We highly recommend to those who share our misgivings to immediately contact their U.S. Senators and Representatives.
Dear Chairman Cox:
We strongly encourage the SEC to continue to fulfill its crucial responsibility to regulate independent (non-broker/dealer) investment advisors as the integrity of the capital markets is essential to the economic future and stability of America. This is because it is imperative for the government to protect independent advisors' ability to function without intimidation and repercussions from any entity that does not respect the economic system that created countless opportunities and unprecedented wealth and liberties. Therefore, any recommendation that FINRA (which through their predecessors have habitually been deplorable and illicit examples of broker/dealer and exchange self-regulated organizations or SROs) oversee non-broker dealer advisors is unacceptable to those who care about our future.
Should the SEC choose to relinquish or delegate this authority to an SRO then independent advisors should be regulated by independent advisors with a fiduciary responsibility to maximize returns rather than an external entity whose primary objective is to maximize expenses (whatever the repercussions may be). Secondly, severe criminal penalties must be implemented rather than meaningless and occasional civil fines when rules are broken. Thirdly, the SEC should customarily and clearly state that they – not an SRO – ultimately regulate the securities industry.
Lastly, as George Washington stated: No punishment is too great for the man who can build his wealth upon his country's ruin.
Alex Potts said:
May 2, 2012 — 7:00 PM UTC
Neil, thanks for making the time to do this. I can't imagine the lobbying pressure that the wirehouses must be placing on this move. The best part of the solution: the market is making this transition from suitability to fiduciary happen. I fully agree that the SEC has the capability to monitor the RIA business and keep the sides "patted in" without damaging what's in the best interests of clients. Keep up the good work.
Neil Hokanson said:
May 2, 2012 — 8:42 PM UTC
Thanks for the kind remarks, gentlemen, and for your own obvious efforts in this area. We are certainly outfunded on this issue by FINRA, but perhaps by getting our peers involved and making our clients aware, we can move the needle a bit on this issue. As Alex mentions above, the market is voting with its feet. Hopefully Congress will do their homework.
Mal Davis said:
May 2, 2012 — 11:03 PM UTC
Neil,
Great job, terrific perspective and a very lucid explanation. Thank you on behalf of our company which is in its 34th year as a wealth manager, currently overseeing about $2.4 billion of assets. FINRA is clearly not in the best intersts of our industry or our clients.
Robert M. Davis, CEO
R. M. Davis, Inc.
Portland, Maine
Jaime A Hinojosa, CFP said:
May 14, 2012 — 6:29 PM UTC
Excellent analysis and letter. Thank you for taking the time to write it. After 32 years we have definitely been through many supervisory bodies. Let's pray for the best results. We will need it.
---
---