Iconiq's San Francisco offices are little more than a receptionist's desk and a row of trading screens -- but it's more than enough to manage the assets of Facebook's billionaires.
Brooke's Note: One of the many ways that Wall Street has managed to keep so many of the chips over the decades is its ability to get the megaflows of capital coming and going. The RIA business has been able to disrupt some of the flow on the fringes but has not always been able to disrupt the gushers. When Goldman Sachs does your IPO, you're likely to toss some cash their way for management. The trend, particularly on the West Coast where tech IPOs cause sudden wealth, is starting to work for RIAs. But perhaps there is not a starker case than what appears to be happening for Divesh Makan, the principal of Iconiq. The former Morgan Stanley advisor who is poised to scoop up tens of billions of assets under management from the biggest owners of the Facebook IPO (of which Morgan Stanley is the lead underwriter) saw this all coming while he was still at MS and formed an RIA at the 11th hour — presumably to better and more profitably manage the assets. With this in mind, the Facebook IPO may be one of the biggest events to happen to the RIA business in quite some time. In no time, Iconiq may be the biggest or among the biggest RIA in the game and Fidelity, which is the custodian, will get a big lift in the bargain.
Above a steakhouse in San Francisco, behind an unmarked entrance, is a five-month-old RIA that could be poised to become one of the biggest firms in the business in the wake of Facebook's IPO. See: Orion will take a page out of Facebook to help RIAs achieve better inter-office chats.
Iconiq Capital LLC, founded by three former Morgan Stanley advisors in December, already serves some of the top executives at Facebook, according to advisors familiar with the firm and as reported last month by the The Wall Street Journal. Among them are founder Mark Zuckerberg and chief operating officer Sheryl Sandberg.
But, even in an industry known for serving wealthy CEOs and heads of companies, Iconiq is practicing an uncommon level of discretion. Because of the nature of its clients, says Kevin Foster, senior vice president at Iconiq, the firm "doesn't comment on anything."
And he means it.
What is Iconiq?
Divesh Makan, Michael Anders and Chad Boeding founded Iconiq in December 2011. The trio, who worked together at Goldman Sachs until leaving in 2008, left Morgan Stanley Smith Barney to start their own firm, taking with them a handful of analysts and advisors — and top clients. Makan earned his MBA at Wharton.
Although they broke away from the wirehouse, sources say Iconiq still contracts with MSSB to provide some back-office support and access to proprietary deals. Iconiq also uses Fidelity as a custodian.
While at Goldman Sachs, Makan, 38, wooed Facebook executives from early in the company's trajectory, meeting with them in 2006 when the company was still relatively under the radar and establishing connections with Sandberg. Makan used a similar approach to win other technology start-ups as clients, who would go on to make it big. Makan eventually signed on Zuckerberg and Sandberg, along with Facebook founding president and Napster founder Sean Parker and Zynga CEO Mark Pincus. Iconiq has about 120 clients, according to its ADV. See: RIAs fed up with Facebook should hop on the Google+ bandwagon.
Update (as of March 2014): Iconiq now has a combined $7.6 billion of advised assets, according to its SEC ADV form on this day. Iconiq now has grown to 55 employees including 27 financial advisors. It has 22 clients and has a loose minimum of $25 million to open an account though it "reserves the right" to accept smaller accounts. Its stated annual fee is 1.5% of managed assets.
Update (as of April 29, 2015) Iconiq now manages $12,517,000,000 in assets including $3,374,900,000 under its discretion and $ 9,142,100,000 managed on a non-discretionary basis. It has 75 full and part-time employees for about 300 clients.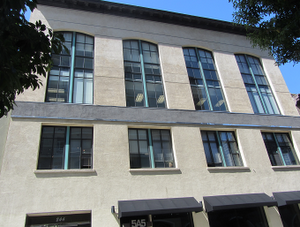 Iconiq sits at the edge of
San Francisco's financial district and above
a restaurant on the third floor.

When Makan, Anders and Boeding left MSSB to start their own independent family office this past December, those top clients came with them, despite the fact that the move was so sudden the firm didn't have an actual office until February.
"Divesh has a presence about him," says Ralph Pahlmeyer, the co-founder of New York-based Vestorly Inc.
Facebook cred
"Iconiq Capital certainly appears to have a first mover advantage in the case of the top executives at Facebook," said Tom Myers, a principal at Brownson Rehmus & Foxworth Inc., which manages about $8.1 billion of assets. With Facebook preparing for its IPO as early as today, newly minted millionaires at the social-media company will need financial advisors. Myers is not the only RIA hoping to win some of that business. See: Why sudden wealth at Facebook is gushing into a $7-billion RIA and triggered a merger of two DFA giants
Although Iconiq's March filing with the SEC says that the firm has just $168 million in discretionary assets and another $1.4 billion in non-discretionary assets, industry sources familiar with the firm say that, because of Makan's connections with Facebook, Iconiq could be poised to become one of the biggest RIAs in the industry.
Iconiq will not comment on any of this information.
Old money, too
Iconiq's website is simply a landing page asking visitors to submit their login and password. No contact information for the company is available online; no phone numbers are listed. Having struck out with nearly everyone connected to Iconiq and coming up against a wall from the firm, RIABiz traveled to the Iconiq office, whose address was published only on the firm's SEC filing.
There, we met Foster, who repeated what he had said over the phone: The firm doesn't comment on anything.
Iconiq occupies the third floor of a building a few blocks outside of downtown San Francisco. The door on the street is unmarked and the only identifying label is the firm's name listed on the elevator directory.
The office itself resembles an open trading floor, with one large room and a bank of computers running down the middle. It has a pristine, new-office feel and is devoid of the knickknacks and wall decorations common to most offices.
According to its March SEC filing, Iconiq employs just 13 people, only eight of whom are advisors. Although the firm's technology clients have gotten the most public attention, it also serves a number of old-money individuals and wealthy families overseas. The multifamily office is registered as an RIA such with the SEC.
Iconiq is becoming well-known throughout the RIA industry as a boutique firm that serves top-end clients. Part of the reason it is media-shy is that it simply doesn't need the publicity. "We're not doing marketing," says Foster.
Splitting from Morgan Stanley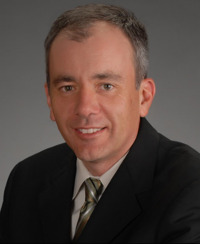 John Furey: There could be reasons
to maintain a relationship.
Many firms that go independent have two problems: capital and clients. Iconiq has neither of those problems, according to Cecile Munoz, founder and president of U.S. Executive Search. As a result, it can really zero in on having the right talent and using it properly.
Despite rumors that some of those top Facebook clients stepped in as Iconiq broke away from Morgan Stanley and helped get the new firm on its feet, Iconiq is completely owned by the three principals. Additionally, while there may be some bad blood between the Iconiq trio and Goldman Sachs, the split with Morgan Stanley was amicable, a source added.
Morgan Stanley declined to comment on the back-office arrangement, but John Furey, a principal at Advisor Growth Strategies, LLC, says advisors continuing to have affiliations with the firms they broke away from happens throughout the industry.
"This practice is somewhat uncommon, but it does happen," says Furey. HighTower Advisors LLC still has some affiliations with MSSB, he says, because of advisors' past work there. "There could be reasons to maintain a relationship. It could be research, institutional capability, or a certain unique client requirement."
Morgan Stanley is the lead underwriter for the Facebook IPO, scheduled for today ahead of JPMorgan Chase & Co. and Goldman Sachs. While Makan's connections are said to have helped close the deal, Morgan Stanley also did the Zynga and LinkedIn IPOs last year. Michael Grimes, the head of MSSB's technology investment banking unit, helped get all those IPOs through connections he has fostered in Silicon Valley. See: SEC sends sharp warning to advisors using social media.
"It's absurd to suggest we got the IPO because of [Makan's] relationship," says Morgan Stanley spokeswoman Chrissy Pollak.
Earlier this week, Facebook bumped its asking price up to $34 to $38 per share, which could push the company over the $100 billion valuation mark.
What is Addepar?
It may not be a surprise that Iconiq chose a connected, up-and-coming Silicon Valley company that is equally media-shy to supply its tech platform. See: Addepar means to be the only technology platform RIAs will ever need — and has MIT minds and PayPal money to back it up.
Addepar, a Silicon Valley-based start-up backed by a number of prominent venture capitalists, is building an integrated data and technology platform for the wealth management and hedge fund industries.

James Carney: It's a spreadsheet on
steroids.
"Addepar is really a ground-up new platform for advisors," says James Carney, president and CEO of ByAllAccounts. Addepar is a client of BAA.
While other technology companies offer portfolio management and aggregation of accounts, Carney says, Addepar offers a level of analytical capabilities and ease of use not available elsewhere. The data are gathered at a central hub and reports can then be run quickly and easily by the advisor, without having to rely on other staff members. Ultimately, says Carney, an advisor could be in a meeting, have a question come up, and be able to run the report right there.
"It's a spreadsheet on steroids," he says.
Addepar was founded by Joe Lonsdale and Jason Mirra. Lonsdale previously founded Palantir Technologies, a data company in Palo Alto, Calif., and worked as an executive at Clarium Capital Management LLC. Peter Thiel, the venture capitalist and president at Clairum, is an investor in Addepar, as is The Founders Fund. Addepar also just opened offices in New York and London.
Makan reportedly served as a beta tester for Addepar while still at Morgan Stanley and is unlikely to be paying for the platform now, a source says. Addepar declined to respond to multiple requests for interviews.
The Facebook factor
Although Iconiq has become the go-to advisor for Facebook and Silicon Valley clients, that doesn't mean other independent RIAs aren't also hot on their trail.

Rahul Shah: It's an 'is there
an app for that' mentality.
At wirehouses there's often a specific coverage team of advisors for large companies, such as Facebook, says Rahul Shah, principal at Peninsula Wealth LLC, a San Francisco-based RIA with $100 million in AUM. That coverage team is typically assigned based on connections advisors made, and can define an advisor's career. Unless an advisor is on the coverage team for Facebook, though, they can't take on Facebook clients or even meetings without approval — even if they're approached directly by a potential client. It was a reason Shah chose to break away from Merrill Lynch — twice. See: Why one Merrill Lynch advisor needed to break away twice to become an RIA.
Independent RIAs, on the other hand, don't have that bureaucracy to deal with and can pursue clients based on their own strengths and personal connections. That means that plenty of RIAs in San Francisco and Silicon Valley are working on building connections with up-and-coming tech clients.
Myers says that he's been taking meetings with Facebook and expects Brownson Rehmus & Foxworth will get a "reasonable share" of Facebook clients, but the focus has to be on serving existing clients. Even if Iconiq wins the majority of accounts, there's a limited amount of clients and assets any one firm can take on.
"I view this as more of a marathon than a sprint," says Myers. Brownson Rehmus & Foxworth has been in Silicon Valley for 40 years, he says.
Shah has been focusing on his niche, the $1 million to $20 million accounts. Younger RIAs, he says, have been more on top of the Facebook and tech start-up clientele, even watching what companies well-known investors are backing.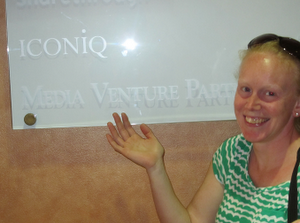 Kelly O'Mara did some gumshoe reporting
to get details for this article.

"There's definitely a lot of competition to close the business," says Shah.
In fact, so many advisors have been cold-calling Facebook that the social-media company has an informal blacklist of advisors going around the office, according to one source who visited the offices this week.
Much of the Facebook money will likely end up in the hands of the three major firms underwriting the IPO, simply because these newly wealthy people don't know where else to turn, says Vestorly's Pahlmeyer, who hopes his company can solve that kind of problem.
Many of these potential RIA clients coming out of Facebook will be shopping for financial advisors for the first time. And Myers believes that they may ultimately realize there are other options than the ones they initially go with or may try different advisors, looking for the right fit. Shah agrees that it's a different mentality for many of the tech-wealthy, who are used to doing things on their own with the help of technology and may not even see the need for an advisor.
"It's an 'is there an app for that' mentality," says Shah.
Final Note: Here at RIABiz, we are unaccustomed to having RIAs not speak openly on the record. So when that turned out to be the case with Iconiq, Kelly and I took the unprecedented step of approaching them on foot. Their offices are just a few miles away and we figured, given the proximity, it was a reasonable bit of due diligence. Considering that we essentially barged into their offices with no appointment, we were treated perfectly cordially and didn't get the bum's rush. It was a fairly short conversation considering that Kevin Foster was under orders not to say anything. But the young advisor with the soft Southern accent pushed us in the right direction so that we could, hopefully, avoid factual blunders. We saw Divesh Makan, who was coming out of a meeting with a couple of executives who looked serious and well-dressed, and there was an E.F. Hutton moment where we asked questions of Foster and you could hear a pin drop as people listened. To make the most of our expensive parking, Kelly and I also canvassed the two restaurants on the block to see if anybody had seen Mark Zuckerberg around and whether they knew his money was set to be managed upstairs. The maitre d's were amused and a little baffled by our questions.
---
---
Mentioned in this article:
---
---
---
Bill Winterberg
I'm not surprised you made little progress with Addepar. They, too, have declined my requests for interviews.
Addepar's current sweet spot are the ultra-HNW and family offices like Iconiq, not the traditional RIA market.
Jeff Spears
Iconiq joins the ranks of LARGE Independent firms founded by ex-Wall Street brokers – Lumious, Constellation, Three Bridge, Seven Post, Argos, BBR and The Presidio Group.
These successful moves have definitely made the remaining corner office teams on Wall Street take notice.
If Facebook shareholders follow the same path that Google shareholders did they will start with the brand names and move to independents RIAs once they are more knowledgable and liquid.
Greg Brown
What a success story. A lot of us were wondering where all that wealth would end up.
Considering what little access you were given its great work and an interesting story by both of you!
Congrats Kelly and Brooke.