Zohar Swaine: I think it's the next wave of technologies we will tap.
Brooke's Note: As this story was set to publish, I got this note from HiddenLevers co-founder Raj Udeshi: "In other good news, just today we got fast-tracked by Fidelity, who sees the obvious need to have a risk management product easily available to their audience. They have committed to complete portfolio integration and auto-sync by mid-June."
TD Ameritrade Institutional has been billing its approach to technology as a sort of Apple App Store for RIAs. It sounds good, but the app-for-that side of things has been missing to an extent. There hasn't been much of the worlds of whizbang technologies that make app stores candy stores for geeks.
Across the Hudson
But a deal the Jersey City, N.J.-based RIA custodian did with across-the-Hudson River HiddenLevers shows it is now getting around to creating some fun, for a modest price. HiddenLevers is charging an annual $3,000 fee for a single user and $6,000 for a group license (up to five users).
With the backdrop of knowing that companies such as Schwab Advisor Services and Fidelity Institutional Wealth Services are spending months or years melding technologies, it seems rather remarkable to know that TD Ameritrade snapped this app into place in about two weeks.
The general response of these firms in the past has been that not all integrations are created equal and that one done less than perfectly can be more trouble than it's worth. In other words, you get out of an integration what you put in to it. See: What Neesha Hathi has to say about Schwab's oh-so-slow-but-steady technology initiative.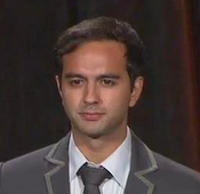 Raj Udeshi: We got fast-tracked
by Fidelity.
But the intriguing aspect of TD's application program interface or API approach — where it opens its code to outside developers and allows them to build to it from the outside — is that it can outsource the labor free of cost to a party, the app provider itself, that is concerned that it works.
60 vendors
"We are currently working with 60 vendors to connect with Veo through our open API. [and] 20 vendors are currently live and available to advisors through Veo. An additional 40 technology vendors are at various stages of the onboarding phase, with vendors regularly showing interest in joining the platform," says Jessica Taylor, spokeswoman for TD.
"We have seen vendors take just a few short weeks to become integrated while others have taken months," Taylor adds. "We anticipate that the vendors that are currently working to come online to be available to advisors by the end of the year, however there is no guarantee that the vendor will complete the integration."
Praveen Ghanta, HiddenLevers' co-founder, said: "Regarding integration with TD, it did only take a few weeks in the end, and TD's open API definitely helped the process along … TD having an API and existing test environment helped with integration from a technical perspective, and having a standard vendor process from a contract perspective helped as well."
Relative obscurity
The implications of this ease of connection— and the relative obscurity of what HiddenLevers is and what it does — relate directly to TD's vision and strategy surrounding the creation of a grander technology ecosystem around Veo. Typically advisor tech ecosystems contemplate only CRM, performance reporting, rebalancing and planning apps.
Things such as compliance software and eSignatures are on tap at TD.
"I think it's the next wave of technologies we will tap," says Zohar Swaine, managing director, institutional strategy and product for TD Ameritrade Institutional. "I like to think we're leading that effort."
What's so fun about HiddenLevers? The company suggests going to its warroom webinars, where you can see the predictions it was making months ago and find out if they were right.
The company also has had lots of interest in its charting tools. It recently added the ability to include a logo with embedded charts, so that advisors can post charts on their website and maintain a smooth branding experience for their clients. Here's an example:
Stress test
Still, HiddenLevers co-founder Raj Udeshi says that stress-testing portfolios isn't ultimately about fun and games. John Betterman, principal with Madison Family Advisors Inc. of Evanston, Ill., credits HiddenLevers with helping him keep a $110 million account happy, by showing how well his bond funds stack up against equities in a eurozone collapse, a China hard landing, and Japanese-style deflation, according to a release.
"We got pretty far in the process with Pershing, having been ushered in by their top brass. But its been stalled since December. I'd love for them to get us back on track."
Mark Tibergien, CEO of Pershing Advisor Solutions, says that his company did not stall.
"We consciously focused on other priorities geared to serving our high-end advisors that for the moment trumped HiddenLevers. And while we find his concept interesting, bringing our name up in the media this way probably won't help move it up the priority list with us."
---
---
Mentioned in this article:
---
---
---
Mike Golaszewski
TD Ameritrade should really be commended for taking a truly innovative and open approach to integration. The model that they've created—as well as the community they appear to be fostering among providers—really sets the stage that will allow smaller companies like Hidden Levers to unleash a barrage of creativity against problems that advisors face each and every day. It's not exactly the Apple model, but it's as close as you're probably going to get in a highly regulated, business-to-business environment.
Ultimately, each custodian is creating tremendous value via their independent integration efforts, and advisors are poised to reap tremendous benefits from all of them. In my opinion, though, the winner here is going to be the company which can open up their platform the quickest and then get out of the way.
Two weeks to create an integration with a custodian?!? That's eye-popping!