News, Vision & Voice for the Advisory Community
Brighton Jones is getting marketing religion despite needing very little to get to its current size in 12 years
April 9, 2012 — 5:48 AM UTC by Brooke Southall
Brooke's Note: When I was writing Thursday's article about Advizent coming into being I included snippets of thoughts from a number of big RIAs. But I had a more in-depth conversation about the thinking behind the thinking of Jon Jones of Brighton Jones. I wanted to know why the new effort to brand RIAs in aggregate excites him and he told me some very interesting things. My interviews with Steve Lockshin and Charles Goldman also yielded interesting details that got left on the cutting room floor. I tried to get most of those thoughts into this article, as gracefully as I could.
Since leaving Deloitte & Touche LLP 12 years ago to found Brighton Jones LLC, Jon Jones has seen tremendous success with very little overhead associated with marketing.
But instead of concluding that the moral of the story is that marketing is a waste of money, Jones now sees spending significant amounts on marketing in a different light.
"We have more than $2 billion [of AUM] from word of mouth. It tells me if we can get to $2 billion with no sales and marketing whatsoever, what an opportunity it would be if the consumer really understands the difference between an independent fee-only RIA and a large producer at a wirehouse."
Small price to pay
The co-CEO of Brighton Jones made that comment in the context of the prospect of paying substantial fees to Advizent. He would use the cooperative being formed by Steve Lockshin and Charles Goldman as a means of garnering referrals and truly addressing the market confusion of the difference between wealth management services as provided by RIAs and by registered reps. See: What is the value proposition of a financial advisor — and how is a budding RIA culture upping the ante?.
Based on his preliminary sense of fees that Advizent will charge, Jones, 41, anticipates that he could be charged between $50,000 and $100,000 annually. (Lockshin, CEO of Convergent Wealth, confirmed that his estimates of cost are accurate. He has told advisors that the fees will range from $25,000 on the low end to $100,000 on the high end based on firm revenues.) This amount does not seem daunting to Jones, given that he readily imagines a time not far down the road when it would behoove his firm to spend as much as $1 million annually to market itself.
"Five years ago, I would have said I would never spend $500,000 a year on marketing. But now I'd be surprised if I don't spend a million (eventually)."
Top shelf
For an RIA to spend $1 million is a certainly a significant commitment, says Ross Ozer, senior vice president of marketing for Fidelity Institutional Wealth Services. "From the standpoint of the advisory industry, it would be on the high side." See: Top marketing trends for 2011, and checklists for handling each.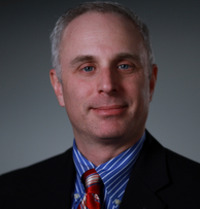 Ross Ozer: From the standpoint of
the advisory industry, it would be
on the high side.
John Rafal, CEO of Essex (Conn.) Financial Services Inc., says that his firm has increased its assets under management by a compounded 14.5% over the past 15 years to attain its current stature of $3.5 billion of AUM. But he still sees using Advizent's services as a spur to growth.
"We've been growing [rapidly] without Advizent, but I really believe in the people running this," he says.
How they'll grow
Indeed, Ozer says that larger RIAs tend to see the value of marketing more readily. See: Fidelity goes deep dish on marketing in Chicago with 25 advisors — including how to make bios more punchy and casual.
"As firms get larger, they say: 'We started to lose our way on what makes us different. Marketing can help that.'" Ozer adds that a marketing-minded RIA can spend $1 million pretty rapidly. For instance, a good PR firm may charge $20,000 a month. "You could spend a quarter million a year just for a solid PR strategy." See: Fast take on growth: Five tips on marketing and sales strategies that work amid fears of a double-dip.
The thinking behind this budgetary shift at Brighton Jones is based on the principals' desire to capture assets up to $5 billion over the next few years. The key to reaching that goal, they say, is the long-term viability of the firm. See: How a swath of billion-dollar-plus RIAs are posing a threat to indie advisors.
"To the firms that say: 'I don't need to do it,' I say: 'Employees need a career path and they need to see you growing,'" Jones says.
Keeping people
There is a shortage of good talent in the advisory business at a time when baby boomers are going to need more and more advice as they get serious about planning their retirements, legacies and paying college bills. Mark Tibergien, chief executive of Pershing Advisor Solutions' LLC, estimates that shortfall as about 10,000 people in the RIA business alone. See: Tibergien uses brutal honesty to captivate big Schwab RIAs and others at San Francisco event.
Jones says that the importance of keeping talent can't be overstated, because it is the key to keeping clients.
"All you think is: keep my people, keep my people. I have to attract the best people in the industry. That's how you keep the clients."
Currently, Brighton Jones has 50 employees, but it plans to have 62 by the end of 2012 and 78 by the end of 2013. Having 160 people in eight offices is the long-term goal.
Still Jones wouldn't use Advizent as a marketing vehicle if it weren't for the people running the firm. "These guys are pretty easy to rally around." He knows and trusts the abilities of Lockshin from a relationship going back eight years, but he believes that Goldman, the ex-chief of both the Schwab and Fidelity RIA custody units, will be the key.
A little hungry
"I think Charles Goldman has made some money but not so much that he's not [fully motivated]. If it was just Steve, I wouldn't be as confident. I think it's going to take a lot of work. See: Charles Goldman to leave Fidelity.

Steve Lockshin: I said, "if I'm
going to share equity, I want
it to be a superstar."
Lockshin says he is plenty committed, too. "I'm emotionally committed to allocating significant personal financial and time resources to building top-tier firms."
But Lockshin allows that Goldman will be instrumental in the venture's success. In fact, he says, Goldman was on a very short list when he considering with whom to partner.
Ultra-short list
"He actually was the only person on the list," Lockshin says. "When I formulated the idea, I said, 'if I'm going to share equity, I want it to be a superstar.'" See: Postscript to the story of Charles Goldman parting ways with Fidelity Investments. Goldman and Lockshin had been talking for about eight months but the idea really came together over Christmas when they agreed to get the website built.
Goldman says that the task before him is appealing because of his love of the advisory industry.
"It's really what I want to spend the next 20 years of my life doing. I want to make a difference, and Steve wants to make a difference."
Advizent and dissent
Still, there's one thing about the venture that Rafal says he's not thrilled about — the name "Advizent."
Goldman responded to Rafal's concerns about the name with this comment: "As for the name, we are just getting started. We have a lot to do on marketing."
For more, see: Steve Lockshin and Charles Goldman begin to unveil Advizent, a venture that could put thousands of RIAs under a single cooperative.
---
Mentioned in this article:
---
---
Share your thoughts and opinions with the author or other readers.
---