Steve Lockshin: We are never going to succeed unless we build a brand.
Brooke's Note. This incubating venture could be a very, very big deal for the future of the financial advisory industry. For all the talk of making the fragmented world of RIAs into a business, well, the truth is that the efforts to do so are themselves as fragmented as custodians, roll-ups, outsourcers and other configurations. Charles Goldman and Steve Lockshin are thinking big about creating a much more all-encompassing collective organization. Better yet, some of the biggest, most esteemed advisors out there are fired up about the idea and its protagonists, as this article shows. See: Why a $2-billion RIA is embracing the idea of a $1 million annual marketing tab, and how Advizent fits in.
Charles Goldman and Steve Lockshin are rapidly assembling what may be the most ambitious venture yet conceived for making RIAs competitive with Wall Street.
The dynamic duo of executives is executing a rolling launch of Advizent, which is intended to be an umbrella brand for an agglomeration of the best registered investment advisors — and a way for consumers to match up with them effectively.
Lockshin, 45, has enjoyed giant RIA success by founding both Convergent Wealth Advisors, a Los Angeles-based RIA with $10 billion of AUM, and Fortigent LLC, which acts as an outsourcer to $50 billion of RIA assets and was recently sold to LPL. See: LPL makes big advance into the RIA business with Fortigent acquisition He is also rated as Barron's top financial advisor both for California and the United States.
Goldman, 50, is widely known and respected for having headed the RIA custody units of both Charles Schwab & Co. and Fidelity Investments — which have a combined $1 trillion of assets in custody for 10,000 advisory firms. He is still consulting large RIA firms from Boulder, Colo. but has been looking for a venture to sink his teeth into. See: Charles Goldman is seeking his game after tumult and a year of decompression.
"We've got two of the most prominent industry leaders and that in and of itself deserves attention," says Andy Berg, CEO of Homrich Berg Wealth Management, which manages about $2.3 billion of assets for 500 clients from Atlanta. "I think (Advizent) is only a positive for our industry."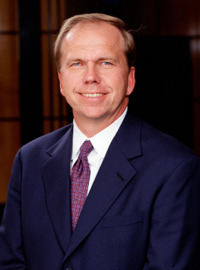 Andy Berg: I think [Advizent] is
only a positive for our industry.

For now, Advizent consists mainly of a website that is soliciting, petition-style, signatures from RIAs that want in on the new deal. Word was initially put out about the venture when Goldman and Lockshin traveled to the Barron's conference a couple of weeks ago in Phoenix to drum up and test interest. See: What went down at Barron's Top Independent Advisors Summit in the Arizona desert. "Advizent created some big ripples at the Barron's conference and several RIAs we know had their interest piqued," says John Furey, principal of Advisor Growth Strategies, LLC of Phoenix who wrote the RIABiz article about the event as our embedded columnist.
Catching fire
The two entrepreneurs weren't necessarily planning to, for instance, talk to a journalist from RIABiz this early in the process, but the overwhelming response they have gotten from some of the biggest, highest quality advisors encouraged them to accelerate the unveiling. At the end of my 45-minute interview with Lockshin, he told me — as a demonstration of how quickly the effort is catching fire — that three big RIA firms had signed on with Advizent just during the course of our conversation .
"We think we're talking to the right firms," Goldman says. "As we talk to firms we learn a lot."
One of the RIA principals I communicated with for this article was Edward Lazar, president of Threshold Group LLC, a Gig Harbor, Wash.-based multifamily office, with four offices, 55 client-family relationships, approximately 40 employees and $3 billion in assets under management.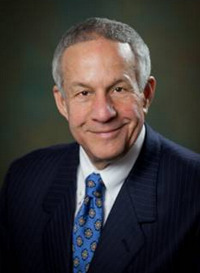 John Rafal: I believe this has
the potential to be the go-to
[brand].
"I think this will be a success because I believe in Steve's passion around this topic, combined with his proven ability to build a thoughtful and sustainable enterprise by engaging others, like me, who are of like mind," he says. "As Advizent's website states, 84% of the investing public don't even realize there is an alternative to buying products from huge financial institutions. Being able to 'get the word out' that there is an independent, objective, transparent and product-free solution is a bigger and more expensive job than any one of us who are independent RIAs can do alone. It is a bit like a gang of Davids taking on a gang of Goliaths. We have to band together on this if we hope to turn heads."
Schwab started making an effort in this direction last fall though it's been quiet since then. See: Schwab to pump millions of dollars into promoting RIAs as a channel.
First to market
The Advizent venture relies on gaining a critical mass (somewhere between 500 and 1,500 firms initially) of large, top-flight RIAs that express strong enough early interest to encourage Goldman and Lockshin to pour both their time and personal cash into taking the venture further.
What it could be about, in a best-case scenario, is being the first mover to in bring together independent advice in one supermarket, according to Tim Welsh, president of Nexus Strategy LLC of Larkspur, Calif.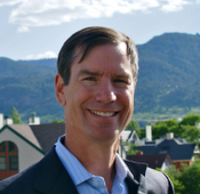 Charles Goldman: There will be a
physical review. [In Boulder with a
stiff mountain lapel-blowing breeze in attendance.

"It sounds very intriguing. Any time you aggregate an industry you have a chance to be a dominant player — whoever gets there first wins."
Goldman is also encouraged by RIA response. "The feedback has been phenomenal."
John Rafal, founder and chief executive of Essex (Conn.) Financial Services LLC, which manages about $3.5 billion, has signed on to Advizent because of his excitement about the founders and what they hope to accomplish.
""They're high-end, established, capable people. I believe this has the potential to be the go-to [brand]; I'm willing to see what that's about."
A desire to invest
Rafal adds that he's known Lockshin since 2004 through Barron's Top 100 gatherings. Rafal's liked what he's seen though he's never worked with Goldman. Essex Financial keeps all of its assets in custody at Pershing LLC. Rafal has had positive experiences with this kind of collective organization — having been an early owner in M Financial, the Portland, Ore.-based co-op for high-end insurance agencies. (Lockshin says that a critical difference between Advizement and M Financial is that he's willing to invest heavily in making the brand recognizable to consumers and M Financial never has.)
Neither Goldman nor Lockshin anticipates seeking outside funding unless there is an unforeseen need to build the business rapidly. For Lockshin's part, he says he is willing to pour his own capital into the venture before looking to raise funds from outside sources. "I'm happy to fund it until it gets to many millions of dollars." The executives say that people have stepped forward with a desire to invest.
Alternative criteria
Though there have been various attempts at creating the machinery to match consumers with RIAs — both in terms of referral programs at the RIA custodians and independent efforts — Goldman and Lockshin believe that they are trying a "disruptive" business model that stands a better chance to achieve the critical scale for success.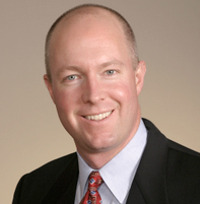 Tim Welsh: Any time you aggregate
an industry you have a chance
to be a dominant player —
whoever gets there first wins.
The big value that Advizent aims to bring that has yet to be seen in the industry, Goldman says, is the auditing of those firms that are brought under the brand.
The audit won't be a financial one per se, but will vet qualities that matter most to consumers of wealth management services. One of those is size and, for now, Advizent is seeking only RIAs with $250 million or more of assets, Lockshin says. Other aspects of an RIA practice to be scrutinized will be its independence, how best practices are applied in operations and technology, its audit history and information in the firm's ADV presented in a digestible manner. "We can say we actually read through the ADV and the disclosures are clear," Goldman says.
Lockshin adds: "The real goal is going to be to separate the wheat from the chaff." Two factors that he anticipates being on the checklist are that an RIA have a good succession plan and that it's properly insured for errors and omissions. For now, the group is leaning away from having hybrid advisors under the brand.
Inherent conflicts of interest
Though others, such as BrightScope, Inc. and Schwab — for its referral program, Schwab Advisor Network — do some vetting of advisors on behalf of consumers, Advizent believes it can take that process to a new level.
"I would argue that it'll be much more in-depth than Schwab Advisor Network. There will be a physical review."
Schwab and Fidelity declined to comment for this article. Pershing did not respond to a request for comment.
Goldman and Lockshin believe that their connections and credibility give them the necessary edge to bring onboard a critical mass of advisors willing to pay a membership fee. That fee is expected to fall between $25,000 and $100,000 and would vary according to the revenues of the practice . "We won't charge a penny until we can deliver demonstrable value," Lockshin says.
Jon Jones, principal of Seattle-based Brighton Jones LLC, which manages about $2 billion of assets, believes that the value proposition is solid.
"It fits perfectly with our mission, vision and values. I love the fact that it is all about providing a better solution for the customer and getting the message out to the marketplace about the inherent conflicts of interest with the large brokerage firms. It is impossible for a small firm to spend enough money on marketing, messaging and branding to educate the marketplace on the different types of advisors and what a fee only financial advisor is … Advizent might just be the solution for this.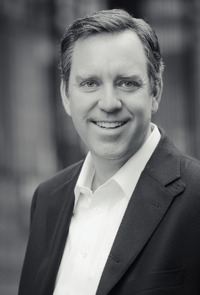 Jon Jones: It is impossible
for a small firm to spend
enough money on marketing, messaging and
branding… Advizent might just be the
solution for this.
Half-court shot
The vetting is aimed at the more general goal of making Advizent into a wealth management brand that is on a par with a Merrill Lynch or Goldman Sachs with retail investors. Those companies spend on the order of $100 million annually to keep their brands solid, and Lockshin believes that Advizent has the objective of having a similar advertising budget if it can attain enough RIAs with a combined $1 trillion or more in assets.
"If we can double the assets of the independents over the next five years – a reasonable expectation – that will add trillions. $100M shaved from those dollars is a rounding error, " Lockshin says.
A big budget aside, the goal of creating a national brand may be even more challenging than it sounds, Welsh says. Branding, he points out, is most effective with a mass-affluent audience, and Advizent may not want somebody who fits that category of wealth.
Lockshin says that he wants Advizent to be a place where consumers of any means can go — even with as little as $5,000. He is seeking to have RIAs join Advizent with the framework to handle the needs of those smaller investors.
Another challenge is that most people still do not know what an RIA is.
"This is more of a half-court shot than a layup," Welsh says.
Lockshin allows that the marketing challenge is big. "We are never going to succeed unless we build a brand."
Super egos
But he says the company is plenty mindful of the marketing challenge if faces and is taking steps to address it.
"We're bringing on [in the near future] someone who's very experienced in that area, but we're going to outsource this to the major [marketing firms] with the $100-million budget."
Right now the company is receiving marketing counsel from Judy Kirpich, CEO of Grafik Marketing Communications LLC, a Washington DC-based marketing firm that has companies such as T. Rowe Price, Fortigent and Verizon on its client list.
The biggest challenge in getting Advizent to succeed is getting enough RIAs to be unified in their support, Lockshin says. He already has spoken to RIAs who say they have things figured out and don't want their secret sauce mixed in with anyone else's. It's a phenomenon that Lockshin sums up with the word: "Egos."
"The concept is innovative and groundbreaking — executing will be the challenge as large RIAs tend to like the moat around their castle," Furey says.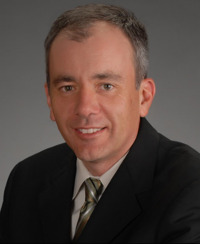 John Furey: Large RIAs tend to
like the moat around their castle

Lockshin believes that one antidote to this issue will be the momentum of the venture itself. "If we quickly get to $200 billion [of combined AUM from joining RIAs], the custodians, outsourcers and other vendors will have to take notice."
We have met the enemy…
Aside from doing a group buy on advertising, Lockshin has designs on having RIAs go in on a massive Lloyd's of London-backed errors-and-omissions insurance policy. The benefit would accrue to clients of RIAs because they could get perhaps five times the coverage for a lower price than they're paying now, he says. The idea is that this heightened coverage would protect investors from a Bernie Madoff-like extinction event.
"We'll be able to bring things to the RIA that nobody else will," Lockshin says.
Another thing Advizent plans to bring to its members is critical intelligence on how to run their practices — something that Goldman, a former management consultant with Boston Consulting Group and Lockshin, a serial entrepreneur, are qualified to deliver.
Some of those issues run throughout the RIA industry and need to be addressed in aggregate.
"I think the industry is challenged," Lockshin says. "There are few firms that are purely advice only … and I think the industry is not priced properly. The biggest risk for the industry is each other. We keep cutting our fees."
---
---
Mentioned in this article:
---
---
---
Jeff Spears
Great idea!
The M Group is a good road map for an effort like this.
Wonder who will provide this structure for the hybrid advisor?